Stuffed Turkey Breast
This Turkey Breast Roast is easy, and flavorful with gluten free Tuscan Kale Stuffing.
Posted On:

Nov, 3
| Author:

Savita
Bring festive colors of this roasted stuffed turkey breast roulade to this year's Thanksgiving dinner!
Moist and bold-flavor Stuffed Turkey Breast with Tuscan kale and cheese stuffing. This turkey roast is easy to put together, and makes gorgeous festive presentation on holiday dinner table. Gluten free.
Stuffed Boneless Turkey Breast is my favorite to serve for Thanksgiving dinner-for-two or for friends-giving when our different guests have different diet needs.. Few are vegetarians, some chicken-tarians, and others turkeytarians.. On such occasions, we cater to everyone by making a little bit of everything. a whole chicken roast, some veggie-forward main course, and a few stuffed turkey breast roasts.  
This stuffed turkey breast recipe is worry-free, leftovers-free, and fits perfectly in our budget. Guests are happy because it tastes delicious and looks so good on dinner table. With gluten free stuffing.... Even gluten-free guests are covered! No one misses whole turkey for sure. A complete win-win!
One stuffed turkey breast is good to serve 2-3 guests. Recipe doubles easily. You can make as many as you like.
So, let's prepare some moist perfectly roasted Stuffed Turkey!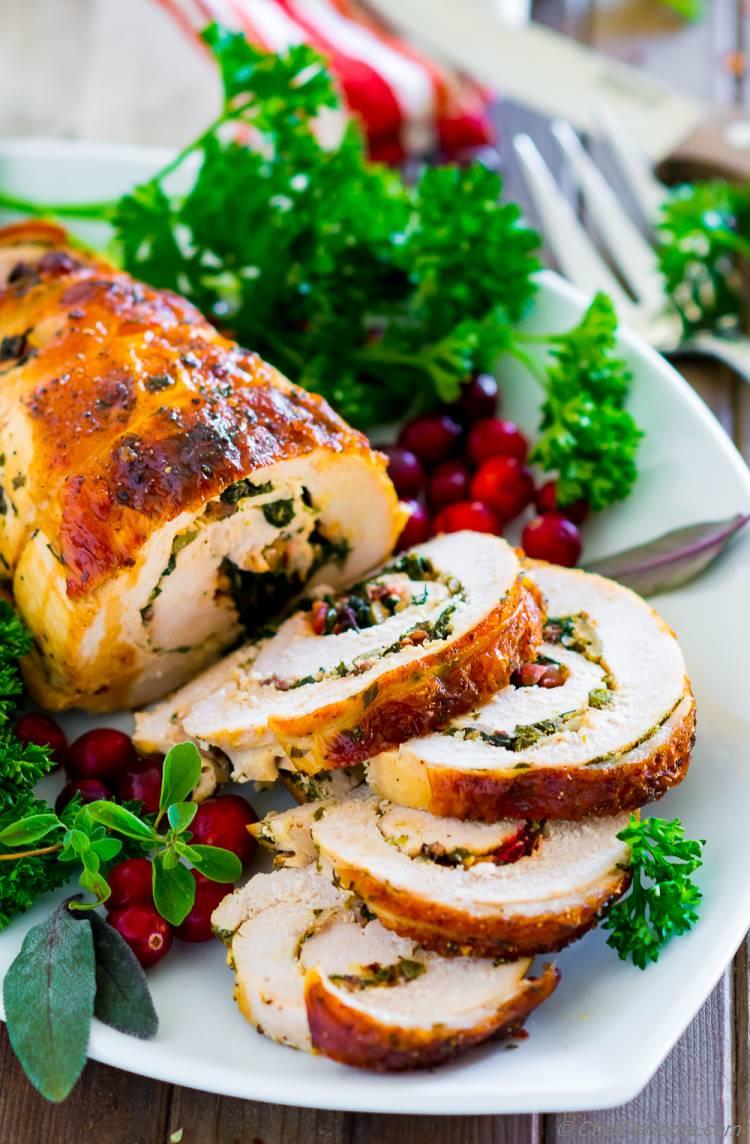 Cooking a boneless turkey breast is very easy. The best cooking method is to simply marinate, stuff, roll, and bake. Baking it stuffed keeps turkey breast more moist compared to baking whole. If you remember our Whole Chicken Roast recipe of last week? For all poultry, the two sure ways of keeping meat moist is: marinate and temperature of roast. When turkey breast is cooked rolled with stuffing.. it has flavor and stuffing inside the roll to keep it moist and flavorful. Let me share this in detail:
Moist Stuffed Roasted Turkey Breast:
Marinade: I like to marinate pounded boneless turkey breast before roasting for full flavor and moist juicy roast. I pound it first because after mainating, pounding will not be easy. So please make sure to follow the steps in same order.
For this recipe, I used marinade of olive oil, lemon zest, minced garlic, with seasonings. Keeping breast coated in marinade for at-least 30-40 minutes to overnight works best. In this time, marinade softens the meat, fat from olive oil stays in meat when it is roasted making it moist and flavorful.
If you serving stuffed turkey breast for dinner tonight? I recommend marinating it for at-least 30 minutes.
While turkey absorbs the marinate, I prepare the stuffing and ready rest of the ingredients. Time management works out so well with first marinate then prepare stuffing and ready rest of the ingredients. It never feels like I'm waiting for marination. Note: You can also marinate turkey breast overnight.
Stuffing: A good stuffing also helps keep meat moist from inside. This is why I decided to use no bread crumbs or bread in this stuffing. Bread can absorb moisture leaving turkey dry where as veggies such as kale, softened onions, garlic, cheese will make delicious filling and moistune the meat from inside. Bonus is that recipe is gluten free.
Butter or Oil: Massaging the inside-out of bird with some oil and butter also helps in keeping meat moist. I like to mix herbs with room temperature salted butter and rub inside-out for herbaceous flavor and juicy seasoned turkey roast.
Remember, flavor and moist texture go hand-in-hand when cooking a boneless turkey breast or any bird. More flavor means more moist meat. So, always remember to marinade, and stuff with bold flavors for a delicious roast turkey breast.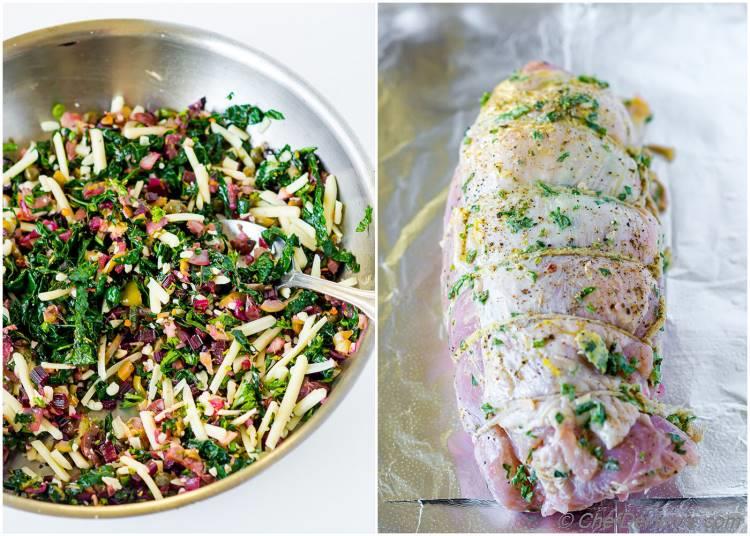 Once turkey breast is marinated and massaged with herb butter. I then spread an even layer of stuffing with skin side down. I like to roll breast tight and tie with butcher twine so that stuffing stays inside. Tying also helps in keeping the breast in pin wheel shape when baking. Resulting roasted turkey is gorgeous looking always!
Tip: Never discard the skin of turkey breast. I like to reserve it. It does not fit whole roulade but I spread it top side of rolled turkey breast before tying with twine. Skin gets crispy while roasting. Looks beautiful. Tastes scrumptious!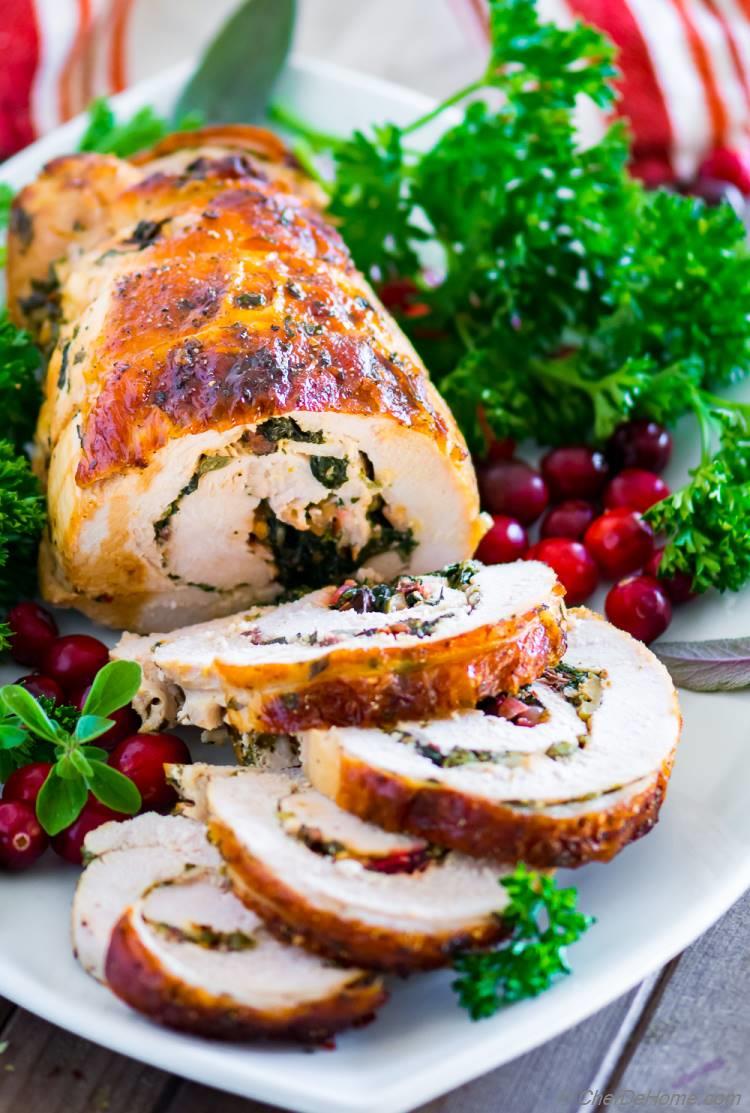 How long to cook Stuffed Turkey Breast:
How long to cook stuffed turkey works hand-in-hand with what temperature it is cooked at. 
1) You can either cook stuffed turkey breast for 60-70 minutes at 400 degree Fahrenheit oven temperature.
2) Or follow my technique of first cooking at 450 for 12 minutes... Then lower the temperature to 350 and continue cook for another 35-40 minutes until internal temperature of turkey breast reaches 165 degrees Fahrenheit. The initial high temperature helps crisping the skin and rendering fat. Remaining time at low helps with cooking the turkey breast fully while not drying the breast meat because temperature is not very harsh/high. Due to low temperature, it stays moist.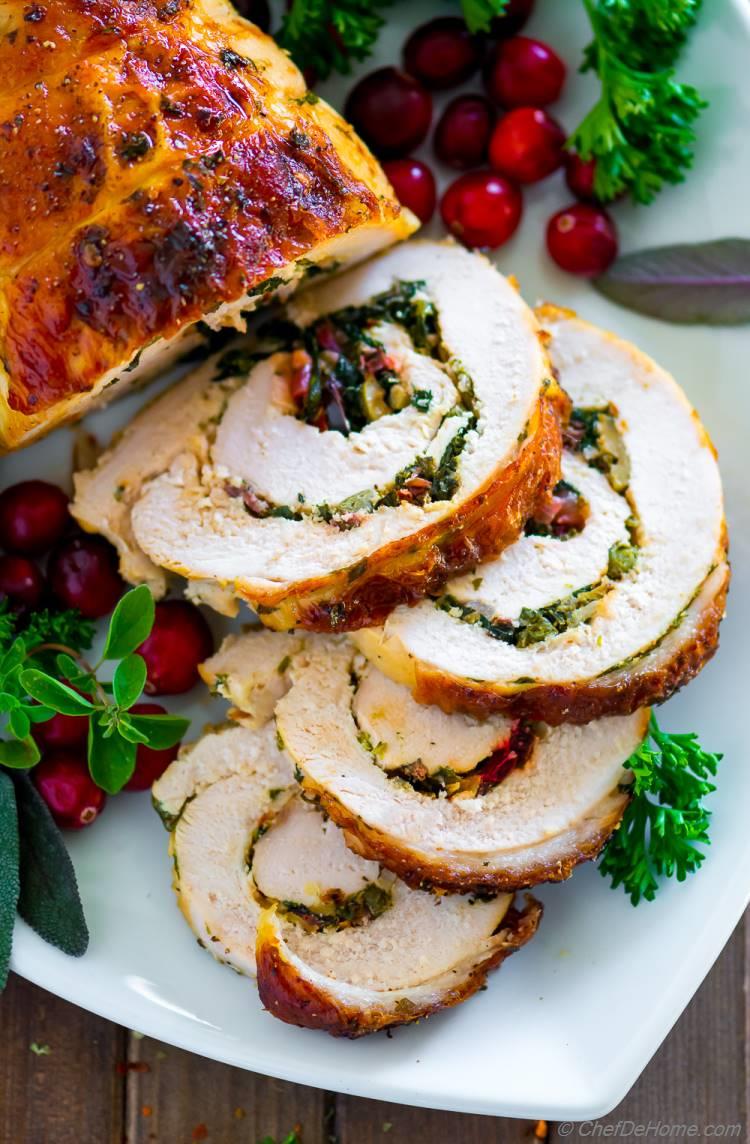 Festive Tuscan Kale Stuffing:
I must tell you about this stuffing which is important part of this turkey breast recipe. Other than the fact that it is gluten free. It is also very delicious, herbaceous, healthy, and loaded with flavor. This is a kind-a stuffing I love enjoying with spoon too. :)
1) I picked hearty green - Tuscan kale for color and texture. Kale won't melt like spinach. So I could use sharp cheese to compliment the refreshing flavors of olives, capers, and lemon zest.
2) Sharp cheddar cheese not just adds flavor but also binds the stuffing well. Stuffing won't fall apart when turkey is sliced to pin wheels. That being said, I have not used a lot of cheese because I not wanted to make color of stuffing yellow full of cheese. It is a festive roast. So colors are important.
3) For similar reason, I also added 1/4 cup of chopped beet root stems in stuffing. This is not a common ingredient and not required. You can skip or replace it with chopped rainbow chard stems, or dried cranberries. 
4)  I loaded the stuffing with fresh chopped parsley, sage, and oregano. These herbs pair very delicious with holiday roasted turkey and compliment the flavors of olives, and cheese.
A hint of chili flakes is my weakness. I have to have some heat. You can skip it if you like. 

I promised to share more of my smart thanksgiving menu. a.k.a Friendsgiving menu. Stuffed turkey breast is one important part of our festive dinner menu. This helps me keep leftovers to minimum, is economical and so gorgeous festive looking.
I hope it also make your dinner table sparkle.
I will see you next week with another delicious recipe.
Happy Thanksgiving month! Happy Holidays!
Enjoy!
-Savita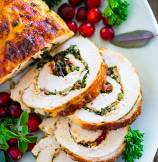 Total Time:
Prep Time:
Cook Time:
Cuisine:
American
(

Main Course

)
Difficulty:
Easy
Yields:
8-10 Turkey Slices
- Serves:
2
(

No. of servings depends on serving size.

)
Smart Swap: You can also replace Kale and Cheddar with Spinach and Feta.
Directions
1.

In a small bowl, mix 2 tablespoon olive oil with a tablespoon lemon juice, 1/2 tsp oregano, 1/2 tsp minced garlic, and generous 2-3 pinches of salt and a black pepper. Set aside. To make herb butter, in room temperature butter mix half teaspoon of lemon zest with 2 tablespoon of fresh herbs (I used chopped parsley, oregano and sage). Mix well to combine and set aside.

2.

Lay butterflied turkey breast on cutting board. Cover with plastic wrap and pound until about 1/2 inch thick. Gently coat breast with marinade. Place in container. Cover and refrigerate until ready to use. (at least 30 minutes)

Additional Notes:

Don't pound too much or skin will tear. It is okay to be little uneven at some places. everything adjusts when breast is rolled with stuffing.

3.

To prepare stuffing, heat 1/2 tbsp oil in a saute pan. Add remaining garlic, dried oregano, shallots and cook stirring often until shallots are soft (1-2 minutes). Don't let garlic burn. Add fine chopped kale (almost shredded). Season with pinch of salt and black pepper. Saute until kale is soft. Remove from heat. When kale mixture is cool to touch, mix in small chopped olives, capers, remaining lemon zest, half of chili flakes, grated cheddar cheese, 2 tbsp of fresh chopped parsley, a tsp fresh sage, a tsp fresh oregano. Taste and adjust salt and black pepper. Mix and set aside.

4.

When ready for stuffing, preheat oven at 450 degree Fahrenheit. Rub turkey skin side with 2 tablespoon herb butter. Flip turkey back to skin side down. Rub top with a tablespoon of herb butter. Sprinkle with generous pinch of salt all over and remaining chili flakes. Spoon kale-cheese stuffing on top distributing evenly. Starting from smaller side, roll turkey breast tightly with stuffing to make roullade.

5.

Place reserved skin on top of roll. Tie with butcher twine 1 inch apart to secure the roll. For clean presentation, tie such way that knots are on seam side and skin side is facing up.. Place on sheet tray. Bake in preheated oven at 450 degree Fahrenheit for 12 minutes, then lower the oven temperature to 350 and continue cooking for 35 - 45 minutes or until instant thermometer reads 165 degree internal temperature. Don't overcook, check temperature after 35 minutes. Then check every 3-4 minutes until it is 165 degrees.

Additional Notes:

For easy cleanup line sheet pan with aluminium foil. If you want to use drippings to make gravy, then place directly on sheet pan.

6.

Once ready. Let rest for 15 minutes before slicing. Slice to 1/2 inch pin wheel slices. You can use pan drippings to make a flavorful gravy.
Savita's Notes:
*I added 1/2 cup of gorgeous red beet root stems (NOT beet root) to stuffing for some red festive color. You can also use rainbow chard stems or dried cranberries. All are completely optional. I saute these with kale for 1 minute after Kale has wilted.
DID YOU MAKE THIS RECIPE?
Tag
@SAVITACHEFDEHOME
on Instagram and hashtag it
#SAVITACHEFDEHOME
© Chef De Home. Post content including video and photos are copyright protected.
We Think You'll Love