Instant Mashed Cauliflower
Instant Garlic-Parm Mashed Cauliflower ready in just 10 minutes. Low carb and healthier than regular mashed potatoes.
Posted On:

Nov, 27
| Author:

Savita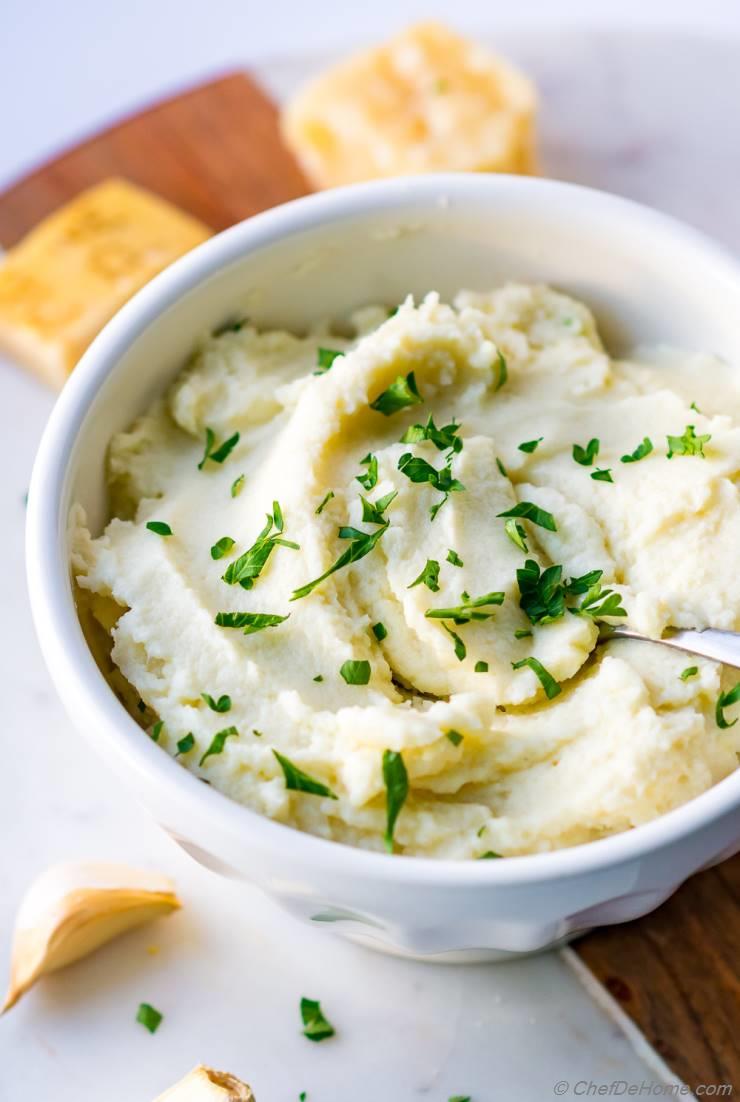 Starting Monday with this Instant Mashed Cauliflower or in healthy words - Cauliflower Mashed Potatoes Recipe. I call this Instant Mash because in just 10 minutes, this low-carb, creamy-dreamy cousin of mashed potatoes fly from kitchen to dinner table. Plus you don't even need to switch on oven or stove for this recipe.
Mashed Potatoes are ultimate comfort food. Since my first intro to Mashed Cauliflower.. I love serving some whenever we are in mood of a comfort winter dinner. This gives me opportunity to keep meal low-carb yet deliciously comforting. This recipe is my special favorite because I never have to think twice to cook it. Neither I need to switch on stove or oven, nor I need pots of boiling water or fancy potato ricer. Just a microwave safe bowl and my trusty food-processor do the job.
How good does that sound?
So, let's make some Cauliflower Mash today?! Recipe also comes with a video of making mashed cauliflower. (30 seconds)
Also, this recipe is part of Chicken Fried Eggplant Meal Prep.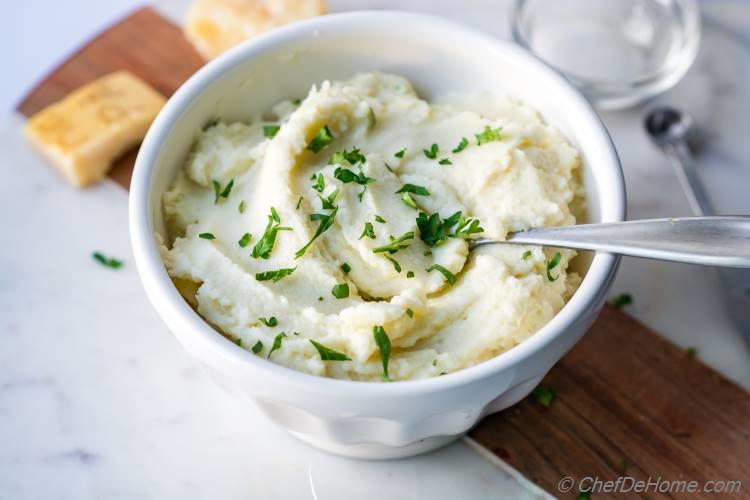 In my humble experience, a healthier side can be sold to picky-eaters in two ways. (I have two in my family - Vishal and myself.) 1) It should taste good. Taste good because otherwise mission will fail drastically. 2) It should be quick to prepare. Quick to prepare so that picky eater (who is also lazy cook) will not have to think much to make it. You know whom I'm talking about. :-) Oh, trust me. I'm a lazy cook. 
Luckily this mashed cauliflower recipe passes both tests. It tastes delicious. I mean, it is garlic-parmesan cauli-mash! Garlic and parmesan! What can go wrong if a dish has garlic and parmesan?!
To give creamy consistency to mashed cauliflower, I add a little heavy cream and butter. I highly recommend adding these two because not just creamy texture, cream and butter also compliment the flavors of garlic and cauliflower... making'em creamy like mashed potatoes. Once the mash is ready, it is hard to tell in first bite if it is mashed cauliflower or mashed potatoes.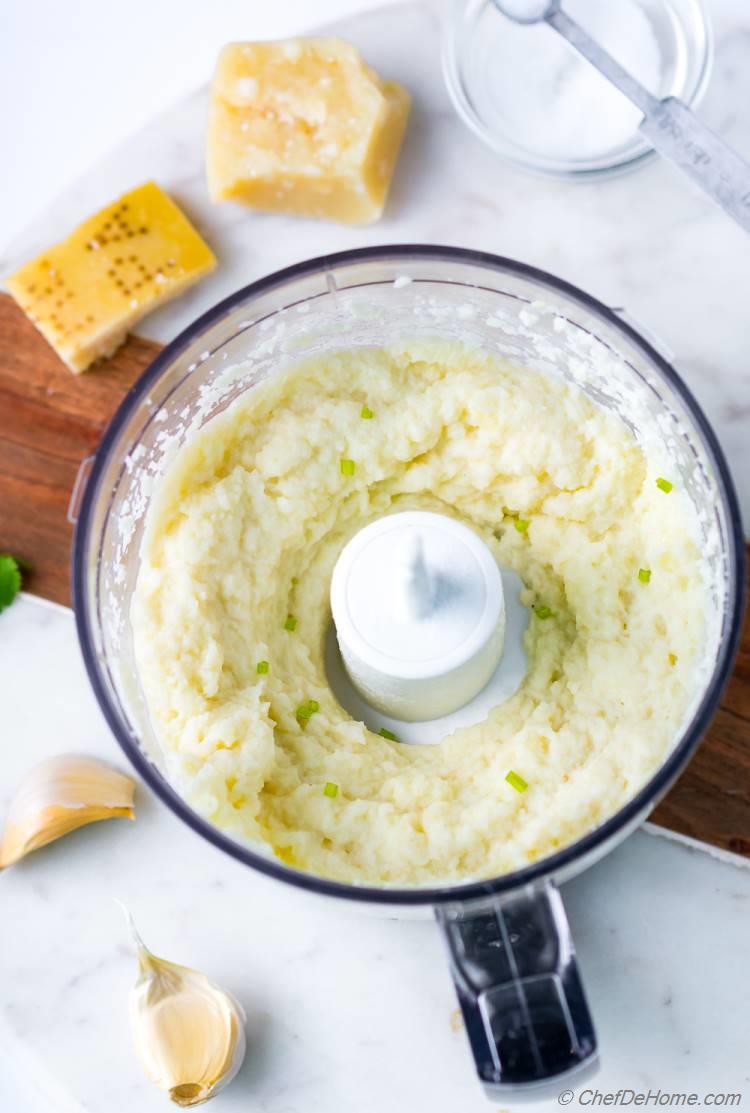 Few reasons, why I prefer mashed cauliflower to mashed potatoes:
Well, we all know the obvious reason: yes it is healthier and low-carb than potatoes. I also like it because;
1) It is not starchy and makes lightest mash ever.
2) it is easy to cook, and has far quick cooking time than potatoes. This is why I have it ready in 10 minutes.
To make mashed cauliflower, I start by giving rough chop to cauliflower. (it is best to discard the center hard stems and only use florets.) Add in wide microwave safe bowl with 2 teaspoon of water at the bottom. Then, I wet two paper towels and cover the cauliflower with wet towels. Microwave on high for 2 minutes at a time until cauliflower is soft. Half head of cauliflower in a wide bowl takes about 6 to 7 minutes.
That's it. Once cauliflower is cooked. I add it to food processor with seasonings, cream, butter. Pulse until mixture is smooth, creamy and fluffy.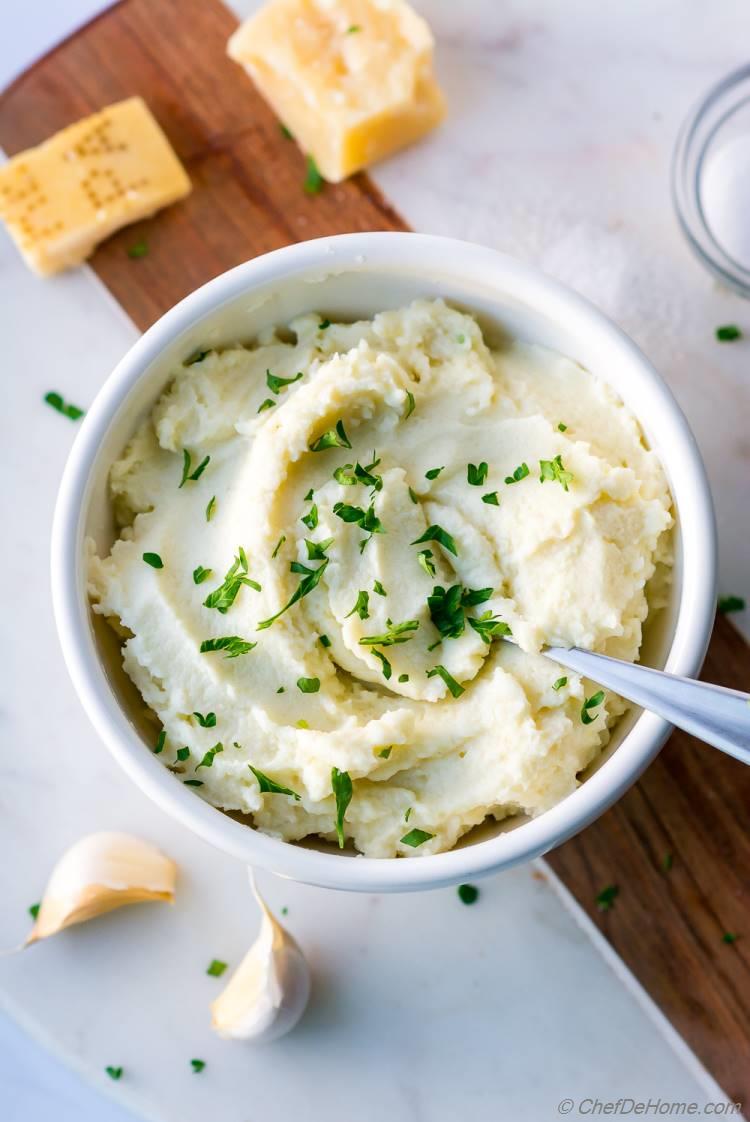 Secret to Lite and Perfect Cauliflower Mash:
The secret to lite and silky cauliflower mash is "least moisture". Often cauliflower mash, even potato mash gets sloppy because of water content. Creamy mash and water don't belong. If cooked cauliflower or potato are not dry when whipped/mashed... resulting mash will be sloppy and not lite, and creamy.
This is more one reasonb why I'm fan of cooking cauliflower in microwave. Instead of boiling, microwave cooking keeps cauliflower much dry and easy to work with. No need to leave it to dry or use endless paper-towels to soak liquid. Hence, saves time and make creamy-dreamy mashed potatoes.. Oh, I meant Mashed 'Cauliflower' Potatoes.

Please bookmark this Mashed Cauliflower recipe. This week, I'm sharing a quintessential winter meal prep, comforting yet healthier than ever. This cauli-mash is perfect side for that meal. (any guesses?)
Stay tuned and follow us on Instagram @savitachefdehome for related stories.
Watch Video
Instant Garlic-Parmesan Mashed Cauliflower
This Instant Garlic-Parmesan Mashed Cauliflower is ready in just 10 minutes. Low carb and healthier than regular mashed potatoes.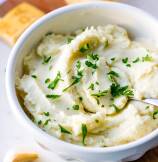 Total Time:
Prep Time:
Cook Time:
Cuisine:
American
(

Side Dish

)
Difficulty:
Easy
Yields:
4 Servings
- Serves:
4
Nutrition:
181 calories per serving
Directions
1.

Cook Cauliflower

:

Place small dice cauliflower in a wide bowl. Cover with 2-3 wet kitchen towels. Microwave on high for 6 minutes. Check and stir once in between until cauliflower is tender. Make sure towels are wet or re-wet and continue.

2.

Make Mashed Cauliflower

:

In food processor, add cooked cauliflower with garlic, heavy cream, butter, and parmesan. Pulse until cauliflower is smooth pureed. Taste and adjust salt. Pulse once again to distribute salt in puree. Add black pepper. (optional)

3.

Garnish and Serve

:

Transfer to bowl, garnish with fresh chopped parsley or chives. Serve and enjoy!
Savita's Notes:
Nutrition Information: 181 Calories per serving. Recipe yields 4 servings.
Calories - 181, Total Fat: 17.3g, Saturated Fat: 10.8g, Sodium: 409mg, Total Carbs: 5.9g, Dietary Fiber: 2g, Total Sugars: 1.8g, Protein: 2.4g 
Make it Your Own: This recipe is very flexible. You can add/replace ingredients based on your dietary preferences. For example, use half and half instead of cream to cut on dairy calories. Use low-sodium salt or liquid aminos to cut on sodium.
Seasoning: For medium half-head cauliflower, I used about 1/2 tsp salt and 1/4 tsp black pepper. Please adjust per taste.
DID YOU MAKE THIS RECIPE?
Tag
@SAVITACHEFDEHOME
on Instagram and hashtag it
#SAVITACHEFDEHOME
© Chef De Home. Post content including video and photos are copyright protected.
We Think You'll Love