Chicken Bone Broth in Instant Pot
A speedy Chicken Bone Broth for glowing skin. Ready in 25 minutes in Instant Pot, or Pressure Cooker.
Posted On:

Dec, 18
| Author:

Savita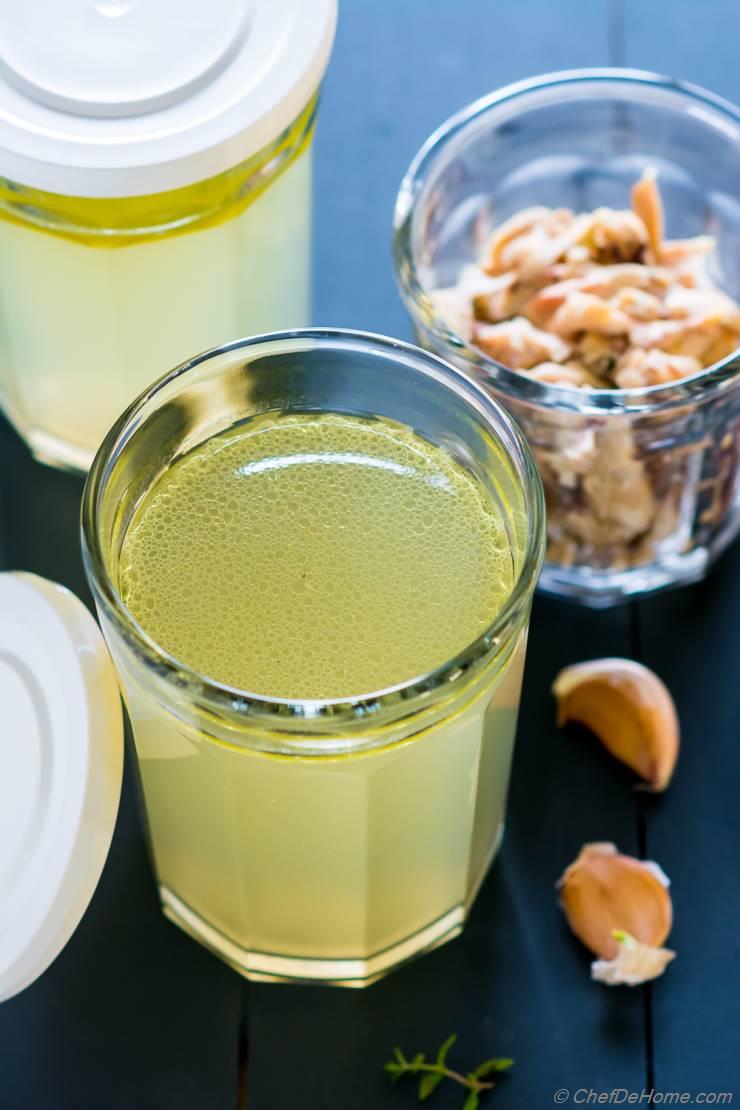 Chicken Bone Broth, a nutrient rich, collagen-loaded and flavorful chicken broth. Add it to Chicken Noodle Soups or just sip a cup everyday for healthy glowing skin. In one line, it is natural Botox for healthy younger looking you. Plus ready in just 25 minutes in Instant Pot. Gluten free, dairy-free, low-fat and no preservatives. 
Instant Pot is one of the best way to extract collagen and flavor from bones in very less time. Instant Pot reduces 4 hours of slow simmer time of broth making to only 25 minutes. Plus extract nutrients and collagen from bone without wasting any liquid. If you want to make Bone Broth in regular dutch oven.. It needs long 4-5 hours of slow simmering time, plus additional time of browning of bones and making sure there is enough liquid in pot at all times. When cooked under pressure, in electric pressure cooker or an Instant Pot on Pressure setting.. The same broth can be prepared way quicker, there is no loss of liquid, no browning of bones, and still it has same depth of flavor.
That's not it!
You know the best part? You don't even need to thaw the chicken to use in Instant Pot. Even frozen chicken will work perfect here. (Only add additional 5 minutes cooking time when using frozen chicken.)
I have always been fan of Pressure Cooker cooking. Have you tried my Pressure Cooker Vegetable Broth recipe? It is loaded with flavor, healthier and great way to enjoy a veggie-forward diet.
We usually buy chicken bone (wings, drummettes) in bulk. I portion'em in 12-20 per pouch and freeze. This comes in handy when we want to enjoy some wings for Sunday game. Or when I want to make a batch of chicken bone broth. 
When ready bone broth sits in refrigerator, the collegen released from bones sets broth like jello. It is the essence of a good bone broth. It is NOT fat. It is good for you. I thought to share this with you because few days ago I found, Vishal too did not know about it.
Usually, I would serve him bone broth hot as chicken soup (his favorite). One such day, when I packed him bone broth for lunch. He told me, I throw away half of it. I asked Why. He replied, I thought jelly was fat. LOL! So, I had to explain him. Jelly is extracted from bone broth. It is not fat.
Benefits of Chicken Bone Broth:
Consider homemade chicken broth the best remedy for cold and flu season.  A cup of warm chicken bone broth with some fresh herbs and you will feel better in matter of minutes.
But chicken broth, specially bone broth is more significant nutrient rich than regular broth. It is full of collagen derived from bones which make it beneficial for glowing skin, healthy nail and hair, and bone strength. 
Remember, my Instant Pot Pho recipe? That uses lamb bones which are also great source of nutrients. If you own an Instant Pot,. This recipe is also a must try.
How to use Chicken Bone Broth?
Okay, I have made a pot of broth. Now what?
Good question!
Like I said, just like my veggies broth, a cup of warm chicken bone broth with some fresh herbs is my favorite way to enjoy it. 
Without doubt, can't beat a good Chicken Noodle Soup made with homemade chicken broth. 
Don't just stop at Chicken Noodle Soup, you also use chicken bone broth for low-cal Bone Broth Diet. (more on this soon) Plus, can use it as base flavor for many kind of foods. List is endless..
1) Use it as flavor-base for soups to quickly put a delicious soup together. 
2) Use it to cook grains. e.g. Replace liquid in rice with chicken broth for more flavor.
3) Use in curries for extra richness and depth of flavor.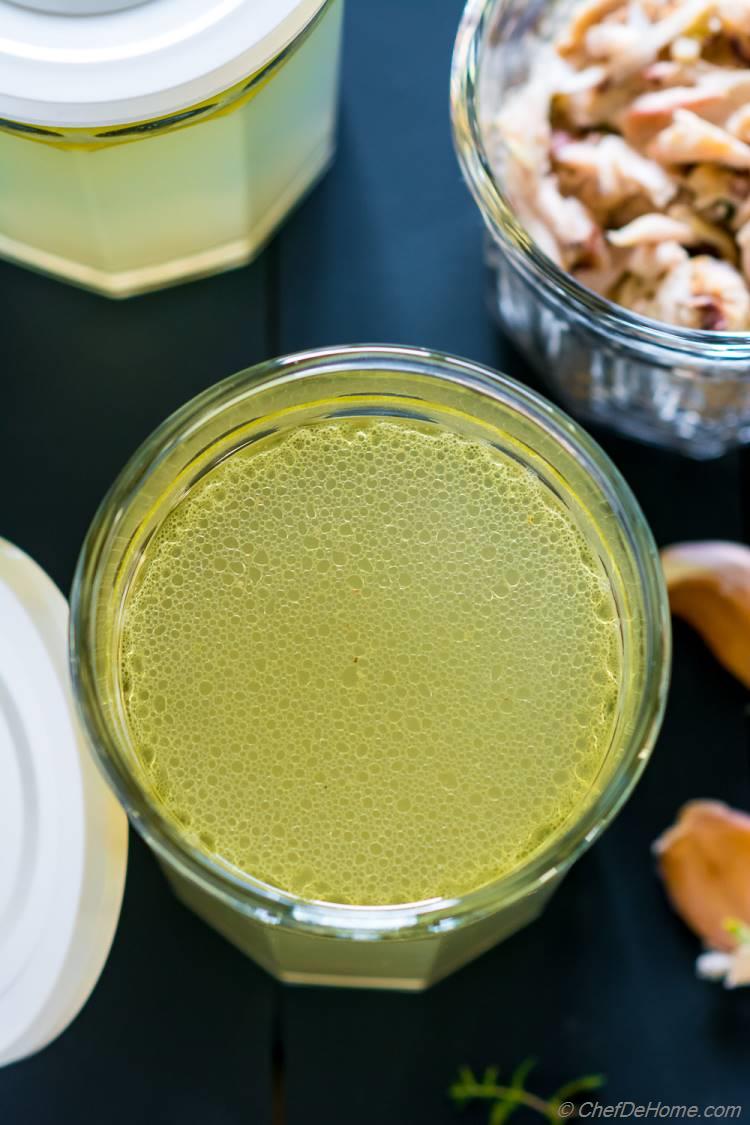 How to keep Chicken Bone Broth Low-Fat?
The picture you see here was the bone broth just out of Instant Pot. So, fat droplets are melted and seen on top. Fat has flavor but you can get rid of it. Let chicken broth cool slightly. Then, refigrate in container with lid for 1 hour. In this time, fat layer with collect at the top. This can be easily removed with spoon or strained again to separate.
Friends, this season, make more homemade chicken bone broth. It is healthy, flavorful, great remedy for those under-the-weather days, and perfect for glowing skin. 
I hope you will enjoy it as much as we do.
Have a wonderful day.
-Savita
Chicken Bone Broth in Instant Pot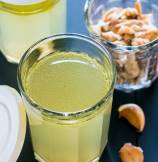 Total Time:
Prep Time:
Cook Time:
Cuisine:
American
(

Soup, Lunch, Side Dish

)
Difficulty:
Easy
Yields:
6-8 Cups
- Serves:
4
Smart Swap: For more low-fat, use skin-less wings and drummettes:
Directions
1.

Switch instant pot to saute setting on high. Heat oil in the pot. Add chicken wings and bones. Saute for 5-6 minutes or until skin is brown and fat started to render.

Additional Notes:

(if prefer, drain the extra fat rendered from skin.)

2.

Add all of the remaining ingredients - onion, garlic, herbs, bay leaf, star anise, black peppercorns and salt. Saute until onions are slightly soft. Add 8 cups of water. Close the lid of instant pot. Set it to cook on high pressure for 25 minutes.

3.

When cooking is complete, let pressure auto release or for quick release instructions from Instant Pot manual. Once pot is easy to handle, pass it through fine mesh or strainer.. Pick bones, extract any meat and pack in separate container. Portion soup and *refrigerate or freeze.
Savita's Notes:
**I use a mix of wings, drumetts, neck bones (per availability) If possible, ask butcher to cut the drummetts and wings in half. Or if you have cleaver, slit the bones to release more flavor/nutrients in broth.
*Freeze or refrigerator: Soup stays good in refrigerator for up-to 10-14 days. Freeze well for 6 months.
DID YOU MAKE THIS RECIPE?
Tag
@SAVITACHEFDEHOME
on Instagram and hashtag it
#SAVITACHEFDEHOME
© Chef De Home. Post content including video and photos are copyright protected.
We Think You'll Love