Chicken Risotto Instant Pot
Lemon Garlic Chicken Risotto (Instant Pot) with green peas for hearty weeknight dinner.
Posted On:

Mar, 14
| Author:

Savita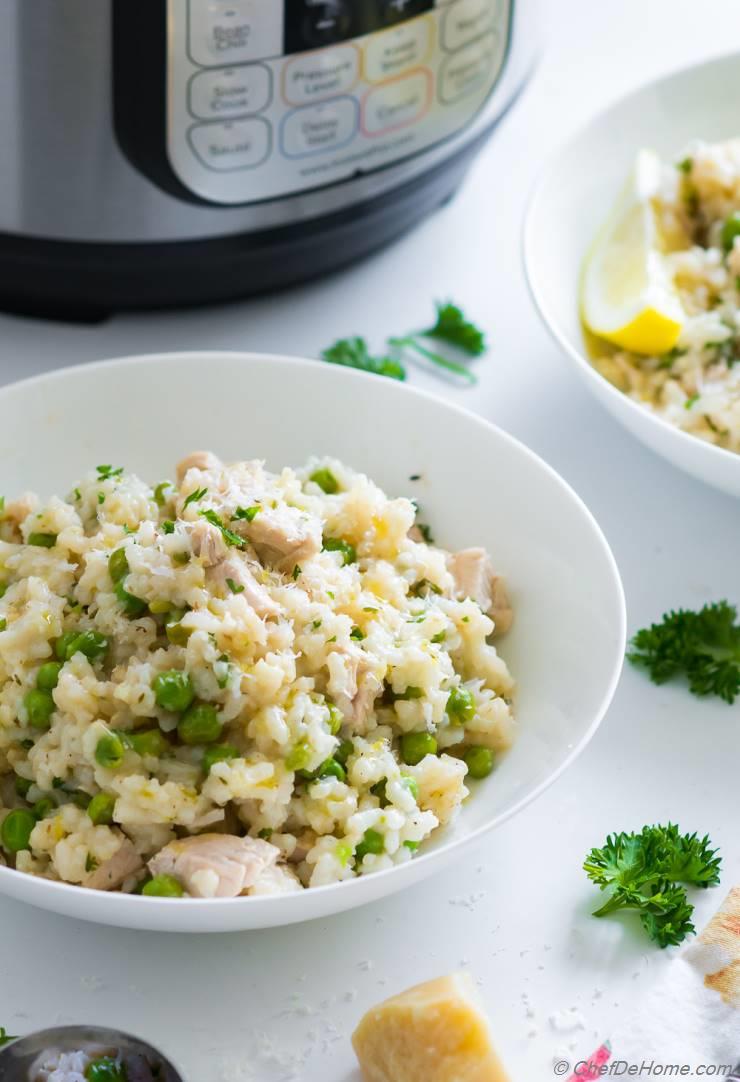 This is not just any Chicken Risotto. It is Chicken Risotto with garlic, parmesan, lemon and green peas fully prepared in Instant Pot. Risotto is know as a notorious, stir-intensive Italian Rice dish.. but Instant Pot delivers a dreamy no-stir risotto with just 15 minutes of cook time. Surprisingly perfect for weeknights!
Forget all rules: stirring risotto to release starch, keep adding stock, don't let stick to pan etc etc. In Instant Pot, just do this: make a flavor base, add rice, chicken and let the Instant Pot Pressure Cooker do the rest. Easily a restaurant worthy dinner at home, much clean and least expensive.
Three years ago when I totaled my last manual pressure cooker, Instant Pot was clearly the new choice. It is all-in-one. A pressure cooker, slow cooker, steamer, rice cooker. One appliance and done. Seriously loving it. I'm special fan of IP's Pressure Cooker. Pressure cooker cooks under pressure and evenly. There are no high heat or low heat areas. This makes cooking consistent, less surprises (if you follow the recipe), and moist tender meats, beans. Anything which is time-intensive will benefit from pressure cooker cooking.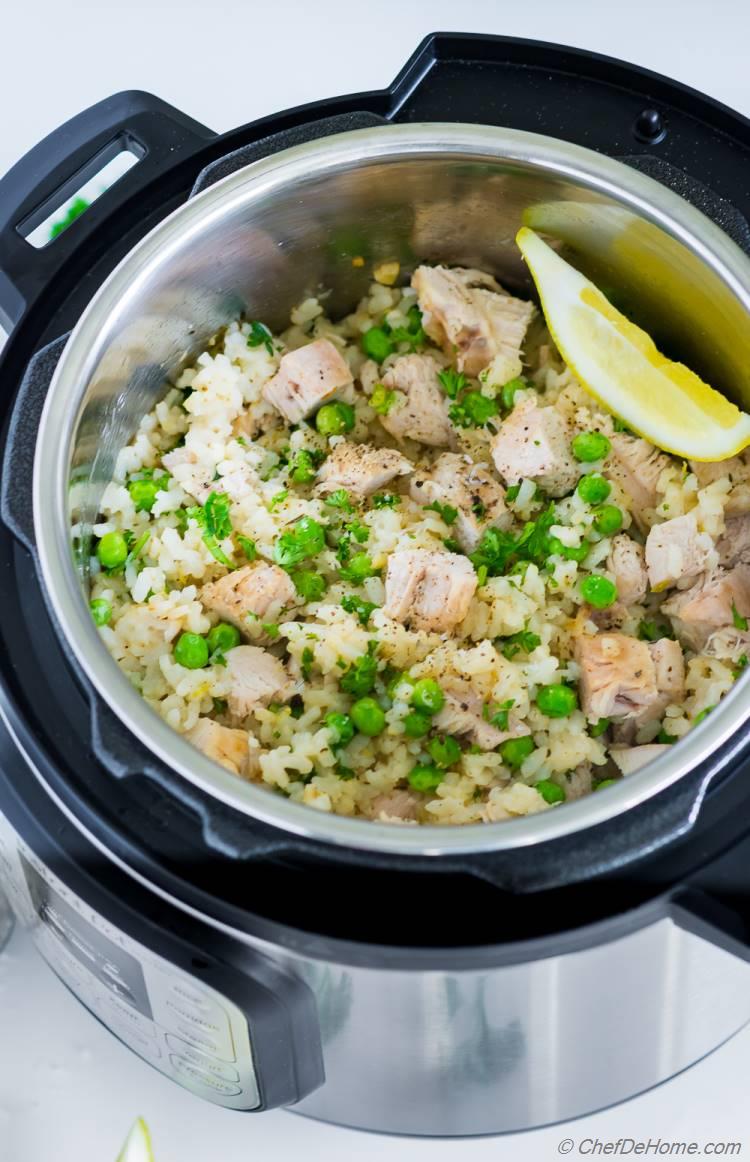 Like this chicken risotto! Can you believe only 15 minutes of total cooking (from flavor base to ready risotto with raw chicken)? And no stirring? Who knew Risotto can be a weeknight meal?! 
In my world, a recipe becomes keeper when my family specially ask for it. Risotto prepared traditionally takes time. It is not something I will make on a weeknight. Chicken Risotto in Instant Pot is another story. It is quick, easy with tasty results. First time I made it on a weeknight, Vishal was super impressed. He thought I spent whole day cooking where I entered kitchen 30 minutes before he arrived. score!
Honestly, creamy, easy weeknight dinner. You won't believe I'm talking about a chicken risotto. Isn't it?
While I was preparing to share this chicken risotto recipe.. I realized I'm continuing Chicken and Rice theme on blog. How do you like it so far?
Make-it-your-own Risotto:
Risotto is flavorful base rice dish. You can go many directions to add flavor, protein, veggies. You can easily make it your own.
Like my previous Chicken and Rice recipes - Chicken Burrito Bowl, Chicken Curry Rice, I wanted to add lots of flavor, protien and veggies in this Chicken Risotto recipe. Idea was to have a complete one pot meal. I added white meat chicken for protien which I cooked with risotto to get max nutrient benefit, garlic, lemon, parmesan for flavor, and green peas for veggies. 
This is the benefit of cooking at home, not only a clean meal but an option to make it healthier. Sneak-in more veggies, top with some sauted garlic shrimp. Make it your own.
PS: Shrimp goes super good with garlicky tasty Chicken Risotto.
Note: You can make this risotto more loose by mixing in more stock at the end (read notes in recipe directions). In my home, we like risotto creamy but with no sign of liquid. So this was perfect consistency for us.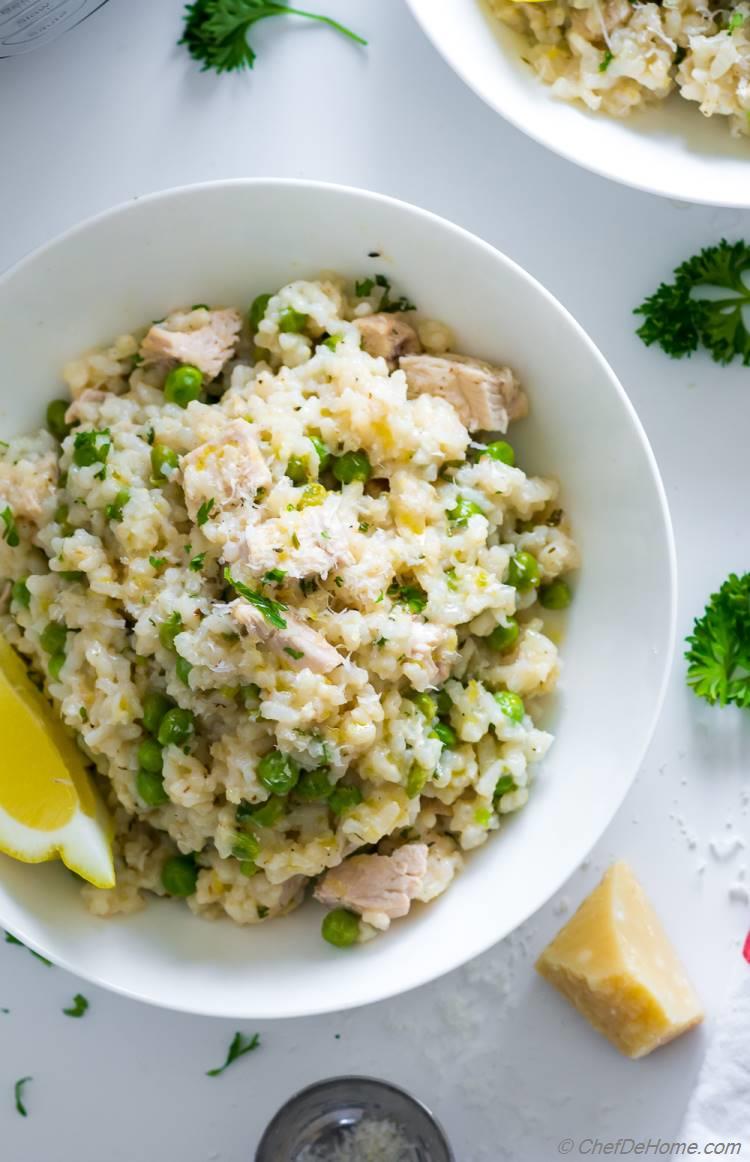 When cooking in Instant Pot, I recommend to not estimate (don't guess). Follow the instructions (there are detailed steps in every recipe). If you follow the instructions, Instant Pot recipes will never go wrong. The amount of liquid, amount of time and cooking method. If these three are correct, Instant Pot will make delicious one-pot meal.
Raw or Cooked Chicken for Risotto? 
You can use pre-cooked - grilled or rotisserie chicken for risotto. But I use (and recommend) raw chicken for a reason. To make chicken risotto in instant pot, I start by par-cooking raw chicken breast seasoned with salt. This seals in juices of chicken. Later I cook whole breast with risotto in the Instant Pot. This flavors the broth even more and makes risotto more tasty. (loaded with yummy chicken flavor). By the time risotto cooks, the chicken is ready too. Later I dice the chicken and mix it back in risotto just like you would mix pre-cooked chicken. 
Now, tell me. Who knew Chicken Risotto (with all fresh ingredients) can be an easy recipe with just pour, seal and get ready to eat? 

Before you head to the recipe card.. Let me sum-up this super awesome risotto recipe for you:
1) Creamy delicious Chicken Risotto with garlic, Parmesan, and lemon. Perfectly balanced. Simply scrumptious.
2) Easy no-stir Risotto perfect fit for weeknight dinner. Thanks to Instant Pot.
3) Nuts free, and gluten free with surprise of sweet green peas. (add more veggies if you prefer)
If you like Risotto. I recommend trying my Butternut Squash Risotto recipe.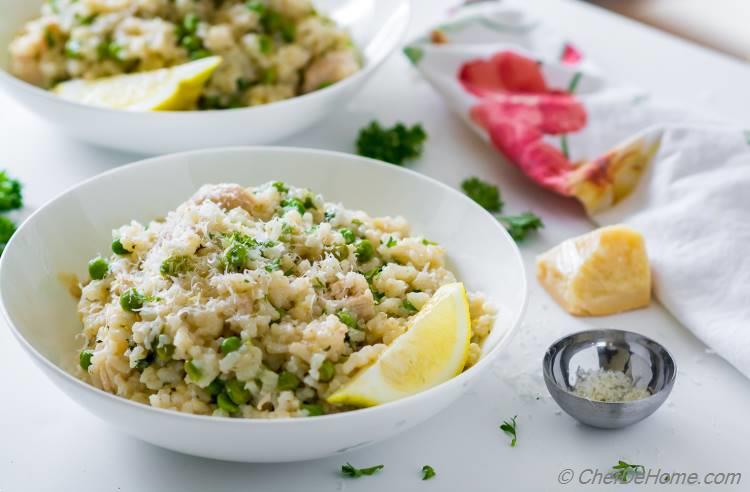 Friends, we are at door steps of Spring (hurray). I'm hoping to send lots of freshness your way this Spring. Stay tuned.
Have a wonderful day.
-Savita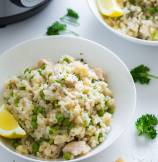 Total Time:
Prep Time:
Cook Time:
Cuisine:
Italian
(

Main Course

)
Difficulty:
Easy
Yields:
2-3 Servings
- Serves:
3
(

No. of servings depend on Serving Size.

)
Smart Swap: Top with sauted shrimp for a delicious seafood twist.
Directions
1.

Heat oil in Instant Pot at Saute setting. (medium) When oil is hot, add chicken (1 breast cut into two pieces) seasoned with salt. Cook until no longer pink from both sides. (It will not be fully cooked just juices sealed in.) Remove in a plate and set aside.

2.

Add onion in same oil. Saute onion until translucent. Add garlic, thyme with rice and cook stirring often for 2 minutes.

3.

Add white wine and cook 2-3 minutes until it evaporates. Now, add a teaspoon salt, and 2 cups of chicken stock (or 2 cups of water mixed with one chicken bouillon cube).

Additional Notes:

Use salt as per the sodium in chicken stock.

4.

Top with par-cooked chicken. Place the lid. Cook on Manual, High Pressure for 6 minutes. Once timer is done, let Natural Release the pressure.

5.

Open pot, remove chicken and dice. Mix parsley, parmesan, green peas, lemon zest and juice in rice along with 1/2 black pepper and diced chicken. (if **risotto has absorbed all the liquid, add 1/2 cup to 2/3 cup more stock (eye ball it) and gently fold in until get desired consistency.)

6.

Ladle into bowls, garnish with more parmesan, parsley and serve immediately. Drizzle more olive oil before serving (optional)

Additional Notes:

*Longer risotto sits, it absorbs liquid. Always keep some chicken stock handy to revive leftovers.
Savita's Notes:
*Liquid can be bouillon+water or low sodium chicken stock. When Instant Pot lid is opened, risotto may look little runny or dry. It will look more risotto like once rest of ingredients are mixed in. Also, use following tip to adjust the consistency.
**Creamy Risotto: You can make this risotto more loose by mixing in more stock at the end (read notes in recipe directions). In my home, we like risotto creamy but with no sign of liquid. So one shown in picture was perfect consistency for us.
DID YOU MAKE THIS RECIPE?
Tag
@SAVITACHEFDEHOME
on Instagram and hashtag it
#SAVITACHEFDEHOME
© Chef De Home. Post content including video and photos are copyright protected.
We Think You'll Love