Roasted Tomatoes Orzo Pasta
Creamy Garlic Herb Orzo Pasta with quick oven Roasted Tomatoes for an amazing weeknight pasta dinner.
Posted On:

Aug, 7
| Author:

Savita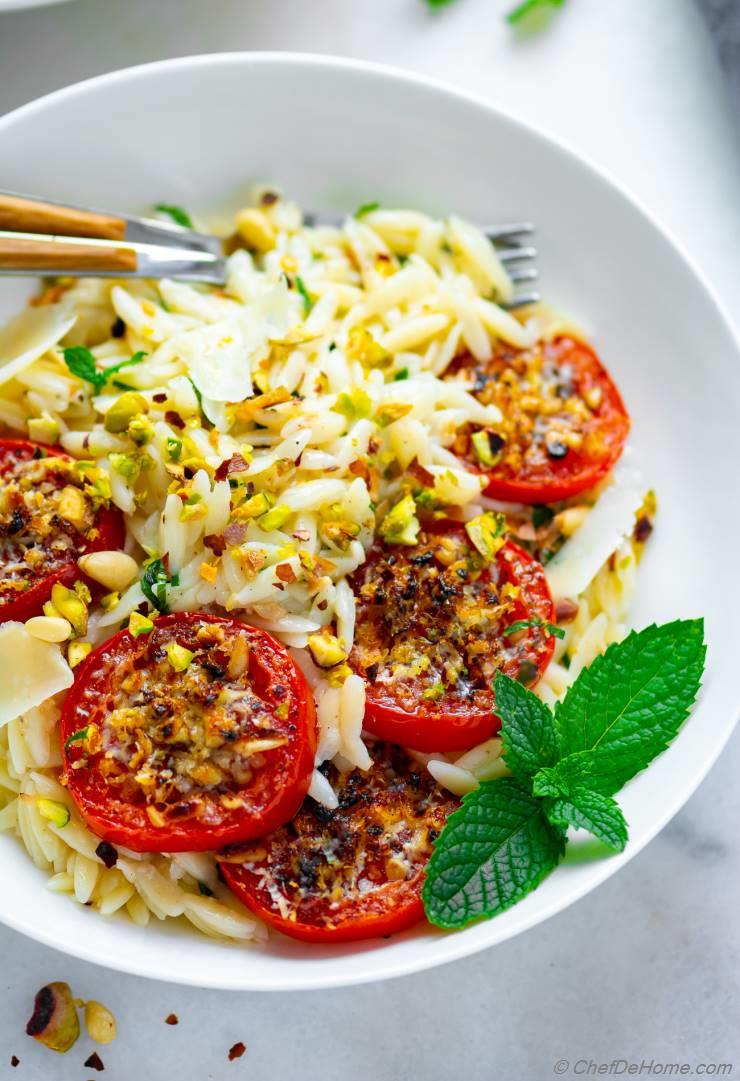 You are going to love this Roasted Tomatoes Orzo Pasta. It is officially my favorite fresh tomatoes pasta dinner this summer. It is loaded with garlic and parmesan flavor, makes creamy orzo pasta without creams,  and needs only pantry staples you already have. It is vegetarian, perfect for meatless days or even great on side with your favorite roasted chicken.
Oh, also sharing tips 1) how to make delicious and creamy orzo pasta with pantry ingredients, and 2) how to roast summer tomatoes to juicy perfection.
Bring on all summer bounty of tomatoes from garden and let's make this Roasted Tomato Pasta for dinner. My mini garden yielded beautiful Roma Tomatoes this season. I have used most of them to make this, multiple times, past few weeks. 
Let's dig in!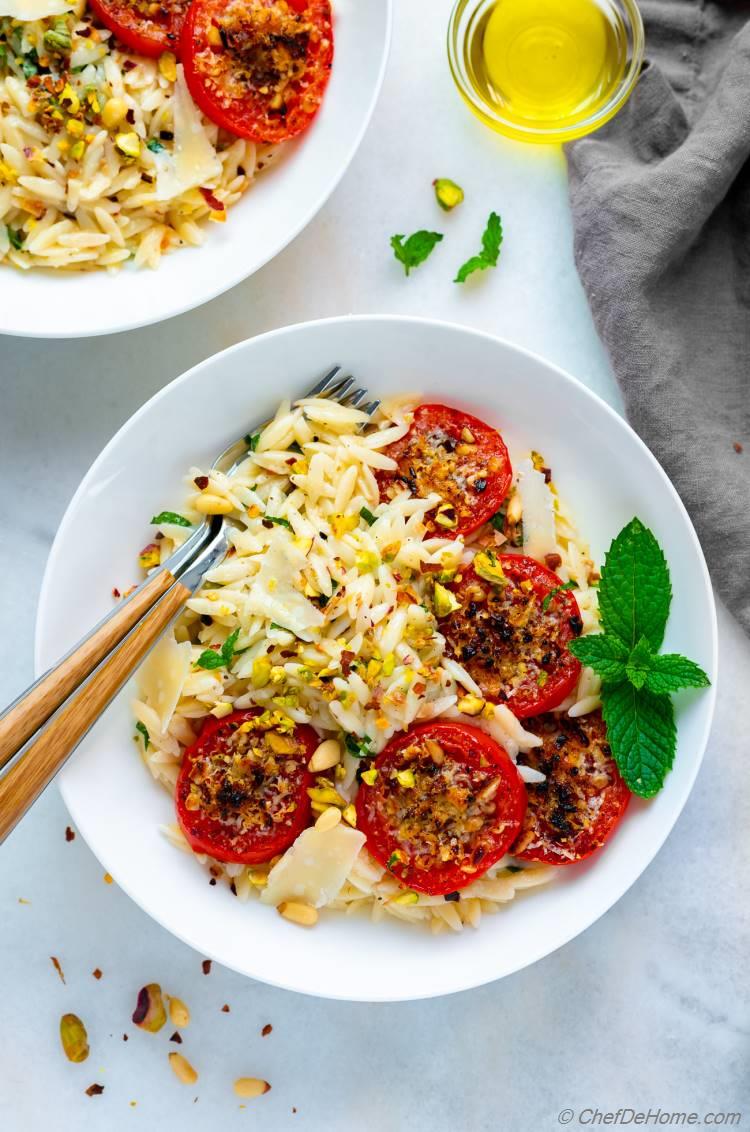 The star of the show is Garlic Parmesan Roasted Tomatoes. My only request is to use freshest possible, firm roma tomatoes for this recipe. Soft or over-ripe tomatoes don't belong here.
To roast the tomatoes, I opt for oven-broiler method instead of regular oven roast. It is fast, sear tomatoes fast without making'em mushy. This is the key to best oven roasted tomatoes. Don't let'em get mushy, soft or overcooked. A quick sear under broiler works perfectly.
For extra layer of flavor, I brush garlic oil on sliced tomatoes, season with salt and cumin, and top with parmesan mixture. then, in just 3-4 minutes, under boiler, parmesan melts, and heat infuses salt and garlic-oil flavor into tomatoes. Resulting tomatoes are sweet, garlicky, with delicious parmesan flavor. These tomatoes also hold shape and juices inside. One bite and these burst in mouth. Super yummy!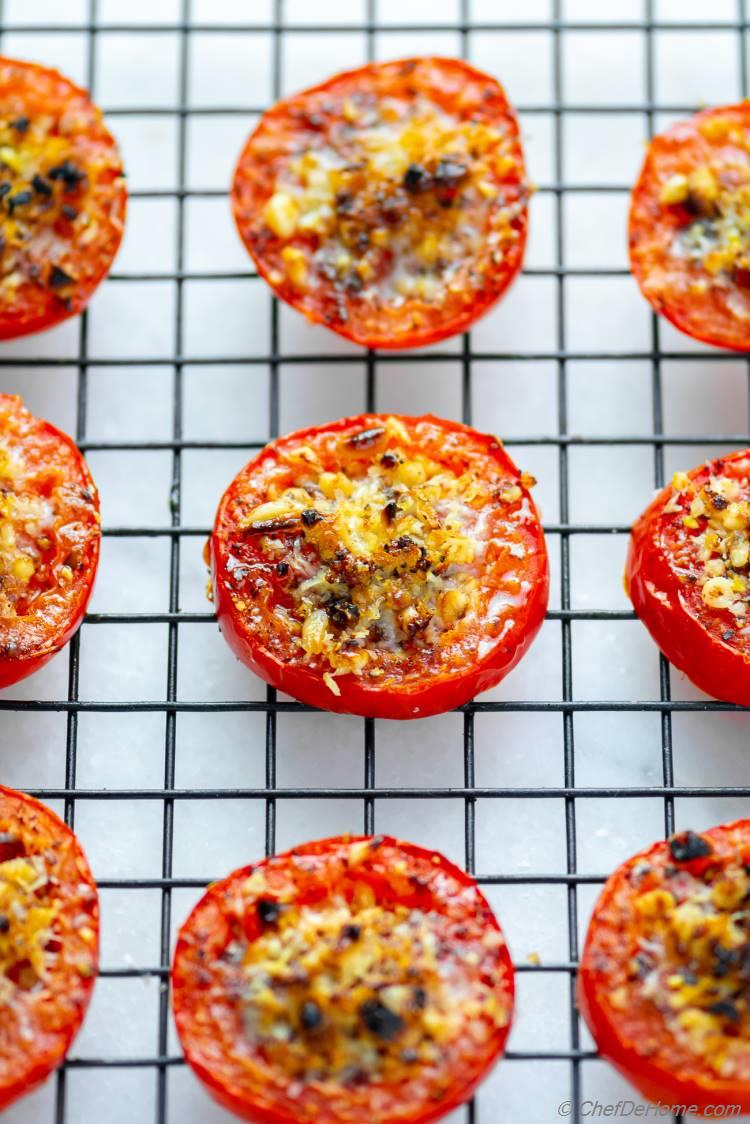 In-fact, if you like tomatoes I recommend spending 5 minutes to just make Roasted Tomatoes. Serve on side of any summer meal or early Autumn meal.
I'm the biggest tomatoes fan at home and Vishal is pasta fan. This pasta dinner was also on rotation because we both love something about it. Plus Orzo Pasta is one of the easiest pasta to cook for weeknight dinner. this rice-shaped pasta cooks quickly, holds shape well. When prepared well and creamy, it tastes like a delicious Garlic Parmesan Risotto. 
This reminds me, have you tried my Garlic Chicken Risotto Recipe? I highly recommend checking it out.
Key to Creamy Orzo Pasta without Creams?
Key to creamy Orzo Pasta without creams is Pasta Cooking Water. Small shape of orzo makes cooked orzo stick to each other fast. I like to keep good quantity of pasta water in hand to revive the pasta plus make it creamy. Once I'm ready to serve, I heat pasta water in microwave, then mix half of it with cooked and drained orzo. Add Parmesan, herbs, and garlic-oil.
Note: From creamy pasta I mean, rich and silky pasta, and not coated in cream sauce. There is no cream used in this recipe.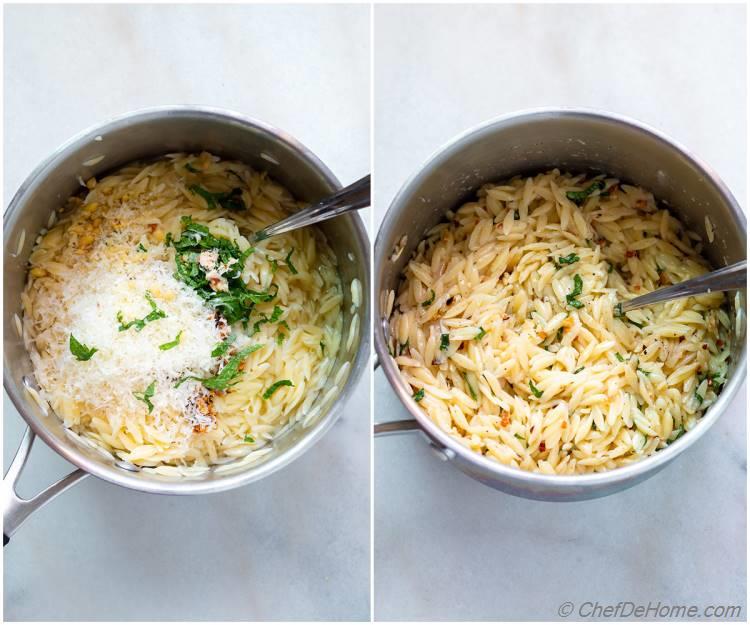 Mix until pasta regains it shine, keep adding more until it is silky, and smooth. Then, taste and adjust salt and black pepper. 
Orzo Pasta is loaded with garlic and lemon flavor. After mixing everything, the resulting pasta is silky, has prominent flavor of garlic, and lemon. 
For amazing garlic flavor, I cook garlic in oil until it gets crisp brown (but is not burnt). Key is to remove it form stove as soon as you see first sign of brown garlic. Leave of heat for sometime and it will brown in residual oil heat. In this time, oil infused with amazing garlic flavor. (This is my go-to recipe to make garlic oil for garlic bread.)
When garlic, oil, and lemon juice is mixed in orzo, it give orzo delicious lemon notes with pronounced garlic flavor. You can't miss it. That being said, orzo sauce recipe is so simple. I do recommend using as-is. Try it once and you will love it. 
Note: Pasta water already has salt. So, it does not need a lot salt at the end. Just a pinch or two are sufficient.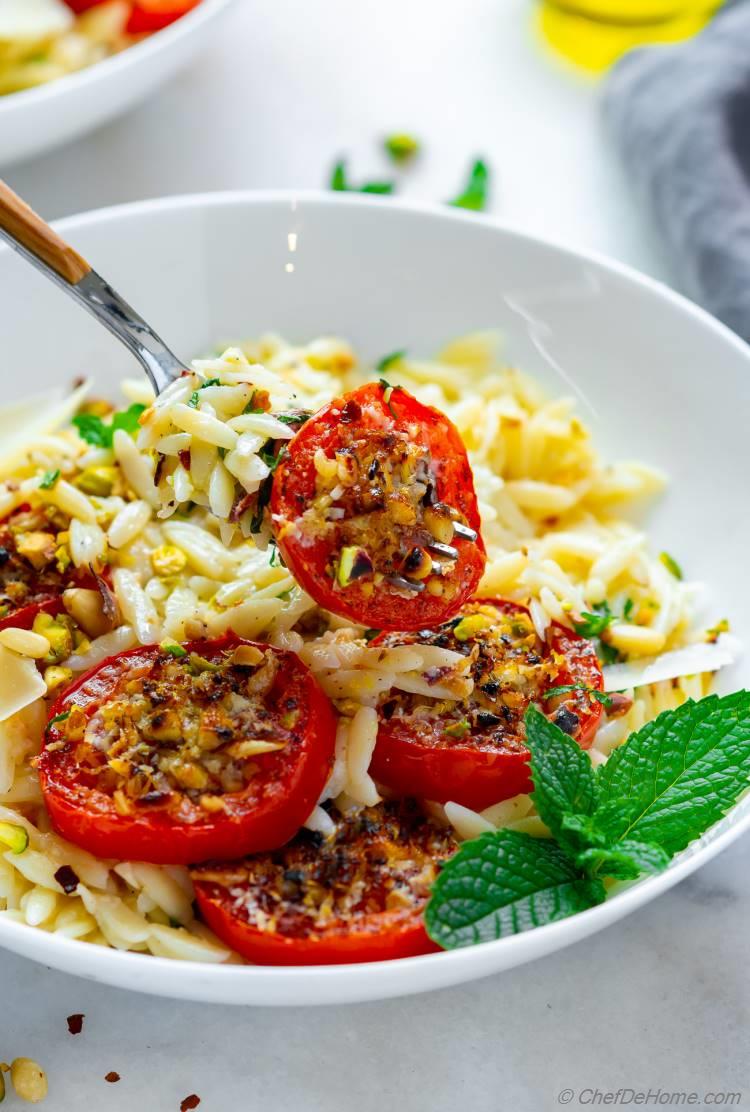 That's it. Orzo Pasta is ready, tomatoes are roasted. Ladle into plates. Garnish with your favorite herb (I used fresh mint. Use any favorite herb or greens: such as basil, parsley or chives.). An amazing summer dinner is ready to devour.
Does it look delicious or what?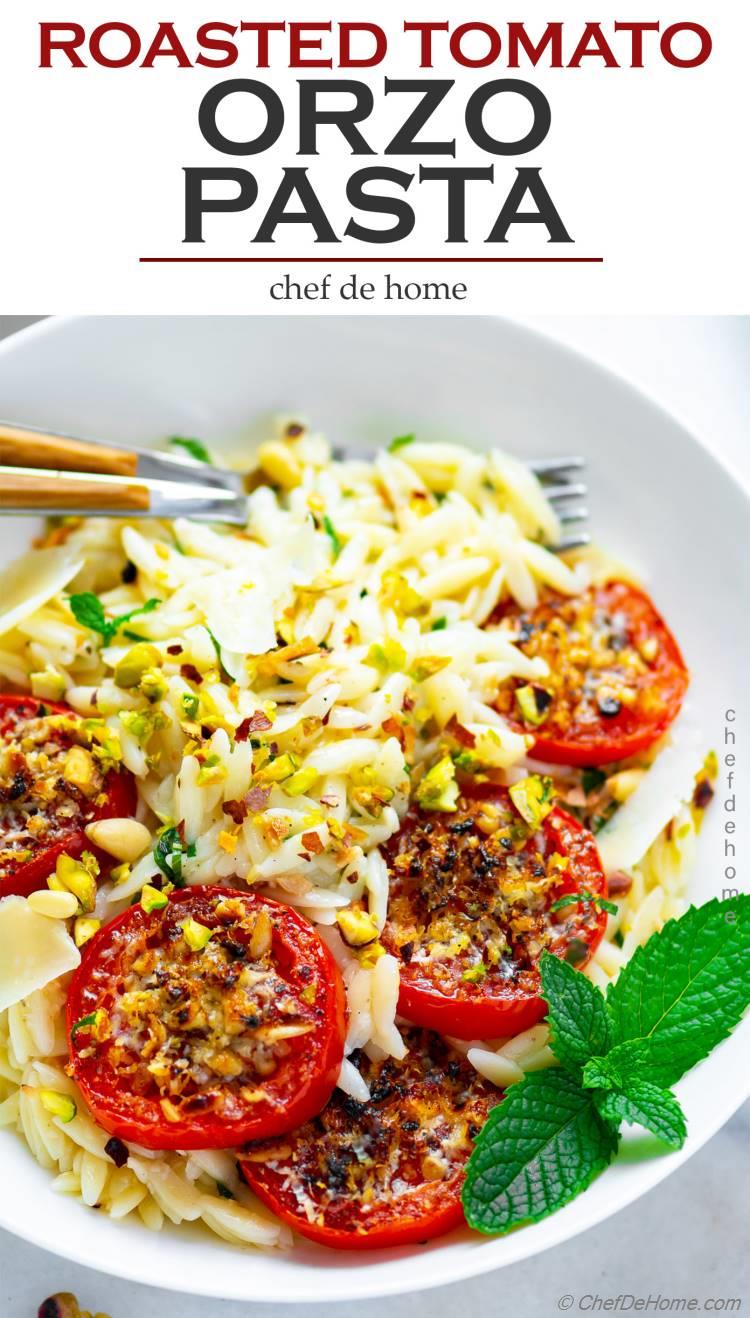 I hope you will enjoy it as much as we do. 
Happy Cooking my friends. -Savita x

Serve a side salad:
Roasted Tomatoes Orzo Pasta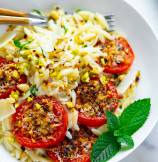 Total Time:
Prep Time:
Cook Time:
Cuisine:
Italian
(

Pasta, Main Course

)
Difficulty:
Easy
Yields:
4 Servings
- Serves:
4
(

No. of servings depends on serving size.

)
Ingredients
Roasted Tomatoes Orzo Pasta
Smart Swap: Add more veggies such as broccoli, or asparagus for veggie-full dinner.
Directions
1.

Cook orzo past according to package directions. I like to bring pot of water to rolling boil. Season with salt and cook pasta for 7-8 minutes or until it is al-dente. Once cooked, drain reserving 1 cup of pasta water and set aside both.

2.

Prepare ingredients. Slice tomatoes to 1/4 inch thick slices. Chop pine nuts, add 1 cup Parmesan cheese. Set aside.

3.

Heat oil in a shallow skillet. Add minced garlic and chili flakes. Cook for 2 minutes or until garlic get crisp brown. Remove pan from heat, don't let garlic burn or get black.

4.

Season sliced tomatoes with generous pinch of salt, cumin, and black pepper. Place on wire rack. Brush each tomato with oil from oil-garlic mixture. (reserve remaining oil-garlic). Top with parmesan and pine nut mixture.

Additional Notes:

For best results, mix 1/2 tsp of salt with cumin and 1/4 tsp black pepper, then sprinkle on both sides of tomatoes.

5.

Broil for 3-4 minutes or until parmsan cheese has just melted. (keep an eye to avoid burning the pine nuts). Remove from oven and set aside.

6.

In cooked pasta, add reserved parmesan cheese, with chopped herbs, lemon zest, lemon juice, and reserved garlic-oil mixture with 1/2 cup of reserved pasta water. Coat well. Add more pasta water until consistency is creamy and pasta is not dry or sticky together. (I use almost 1 cup of it). Taste and adjust salt and black pepper.

7.

Ladle to bowl, top with roasted tomato and serve, garnish with chopped pistachios. Serve and enjoy!
DID YOU MAKE THIS RECIPE?
Tag
@SAVITACHEFDEHOME
on Instagram and hashtag it
#SAVITACHEFDEHOME
© Chef De Home. Post content including video and photos are copyright protected.
We Think You'll Love