Spicy Black Bean Soup (Instant Pot)
Creamy and spicy Black Bean Soup with heat of chipotle, spices and 25 minutes kitchen to table promise.
Posted On:

Oct, 19
| Author:

Savita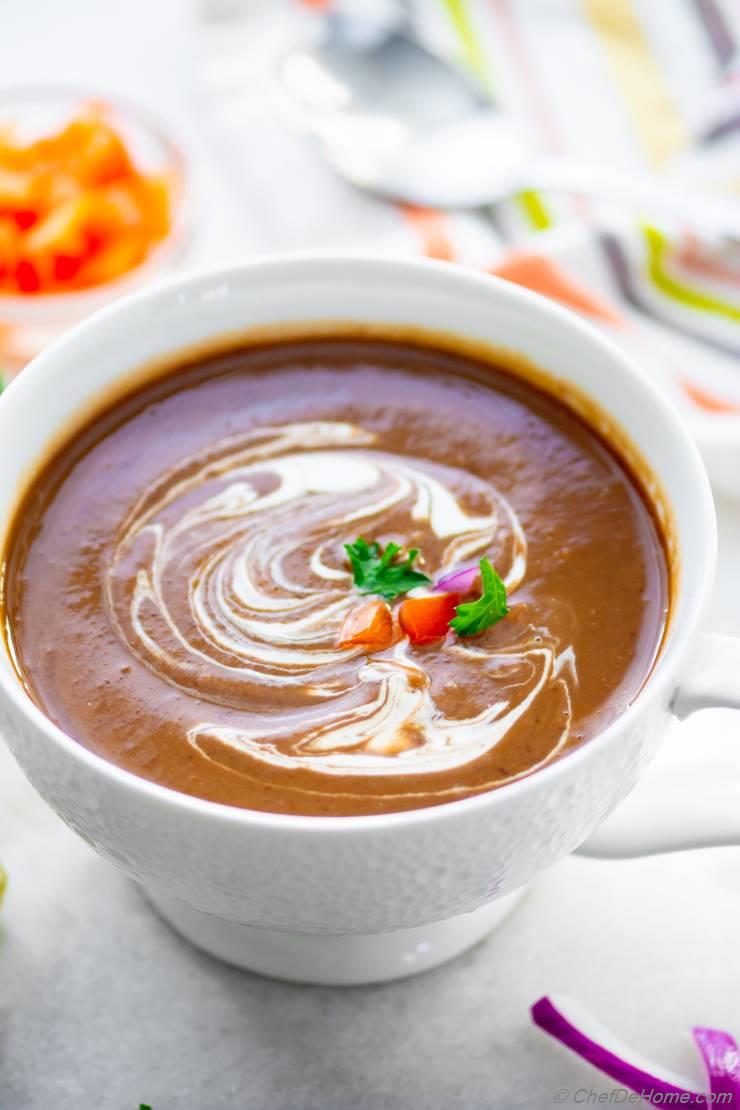 Sharing today, amazingly spicy Black Bean Soup recipe with beans, chipotle, herbs, and spices cooked in Instant Pot for a delicious, rich soup ready in matter of minutes. So flavorful and easy that you will want to cook it every day! Perfect for chili night dinner. Make-ahead and refrigerate up-to 5 days.
Also including tutorial on how to adapt this Bean Soup Recipe to your family's diet preference. If you have never imagined cooking black bean soup for weeknight, this recipe and Instant Pot can make it possible. (Also sharing alternate cooking method if you don't own an Instant Pot.)
So, let's fix weeknight dinner with my speedy, spicy Black Bean Soup!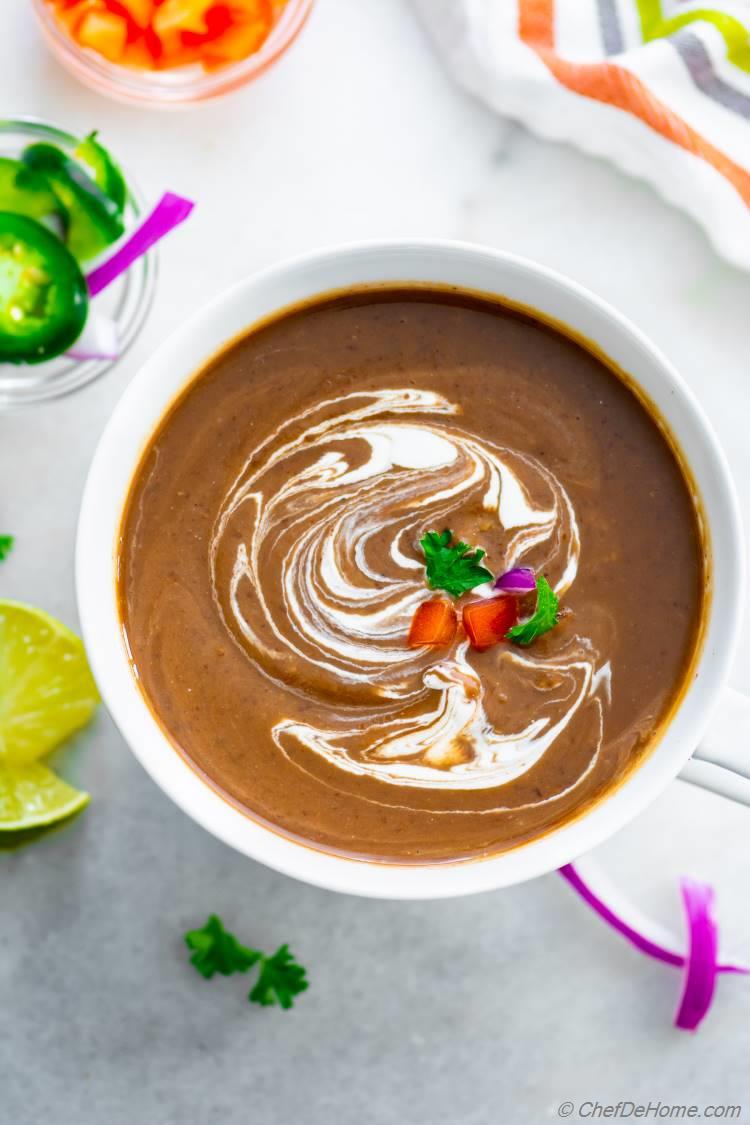 Traditional Black Bean Soup is made, starting from scratch, with dried beans. I'm sure you will often see me share recipes for Instant Pot that use dried pre-soaked beans. But today's recipe is homage to those days when I forget to soak beans oven night or don't even have dried black beans in pantry. Recipe uses canned black beans. A delicious magic happens when chipotle, aromatics, spices join black beans in IP. With easy-to-find magical pantry ingredients, this simple yet super flavorful soup fly from kitchen to dinner table. The flavors of this soup is so bold and addictive you won't believe it is made with canned black beans. 
That being said, Black Bean Soup using dried beans is completely different recipe. I promise to share it sometime soon.
Today is for speedy, lip-smacking, Black Bean Soup with pre-cooked black beans!
Speedy Instant Pot Soup:
The bold rich flavor of soup, delicious flavor of spices (my obsession), crunchy toppings and fresh herbs will everyone feel like they tasting a soup cooked for hours... where you actually need only 10 minutes prep and 15 minutes cooking time. Cooking time is free. This is where Instant Pot does it's magic. Close the lid and return when timer is up. Puree soup, arrange a bread or some rice on side, and dinner is served. One of my favorite way to dinner when weather is cold. Leftovers are great for lunch. 
If you don't own an Instant Pot, I highly recommend investing in one. However, you can make today's soup even without it. Keep reading to learn to make soup in regular dutch oven. (Only cooking time changes. Rest of recipe stays the same.)
Spicy Black Bean Soup:
I rate this soup pleasantly spicy. Not very hot spicy but flavorful spicy. 1 tbsp chipotle adobo sauce adds perfect amount of flavorful heat for a quart black bean soup. For more heat, use 2 tbsp or adjust with adobo sauce (only sauce not pepper) when adjusting seasoning. 
Chipotle is for heat and smokey flavor. I also add ground cumin powder, aromatics, garlic, and oregano (one of my favorite Mexican herb) which give bold depth of flavor to the soup. 
Tip: For fresh spicy heat, add some chopped fresh jalapeno to soup toppings. If you like heat, you will love jalapeno. Honestly,  for me, all toppings that you serve with tortilla soup work with this black beans soup. Crunchy, spicy, yumm!
I call this, a black bean soup for everyone. No kidding.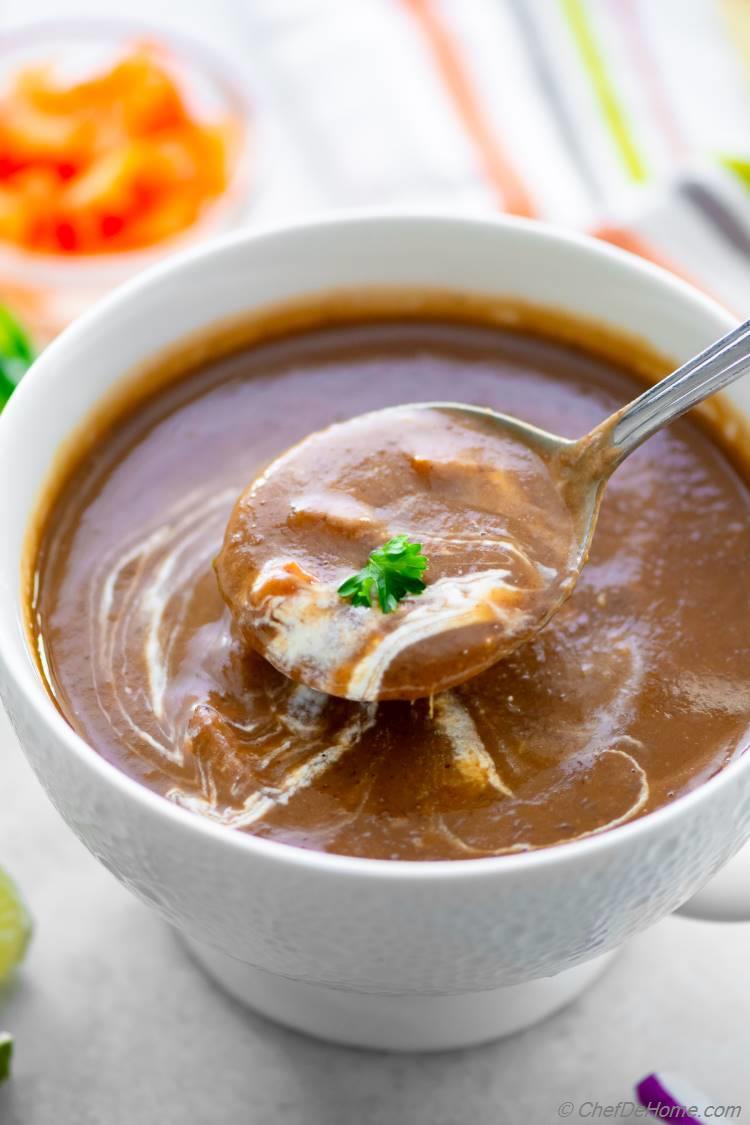 Thick, Creamy Gluten Free Soup.
No need of starch or flour to thicken it. Beans are natural thickener. To make soup thick without starch, I do following:
1) Puree Soup: I puree the whole soup to a creamy consistency. This gives body to the soup making it rich and creamy without a drop cream or thickener.
2) Do not Rinse Beans: Another key to creamy soup and more flavor is NOT rinsing the canned black beans. Only use No-Salt Added Organic Black Beans. No-Salt beans give me option to adjust salt and other flavor as per the recipe. Plus I don't have to drain/rinse beans. Trust me, this liquid is good contributor to flavor, color and texture of soup.
Note: Please read Recipe Card notes if you like chunky black bean soup.
Can be Vegetarian/Vegan.
This Black Bean Soup can be easily vegetarian. I have kept base vegetarian without ham (a traditional and famous bean soup ingredient). I do use chicken stock or water with chicken bouillon which is my secret ingredient for ton of flavor without any added meat. However, I often replace later with vegetable stock or vegetable bouillon. Specially when we are our meatless-diet days.. when no meat/chicken is allowed in kitchen.. my back bean soup still makes to dinner table. Score!
There is no dairy in the soup. If you use vegetable stock and use no sour cream, soup is vegan.
Dutch Oven Soup:
To make the black bean soup in Instant Pot read Recipe Card. To make soup in dutch oven, in Step-3, bring to rolling boil, set heat to medium and cover. Simmer for 25 minutes. Stir 2-3 times in between. If liquid seems less, add 1/2 cup more.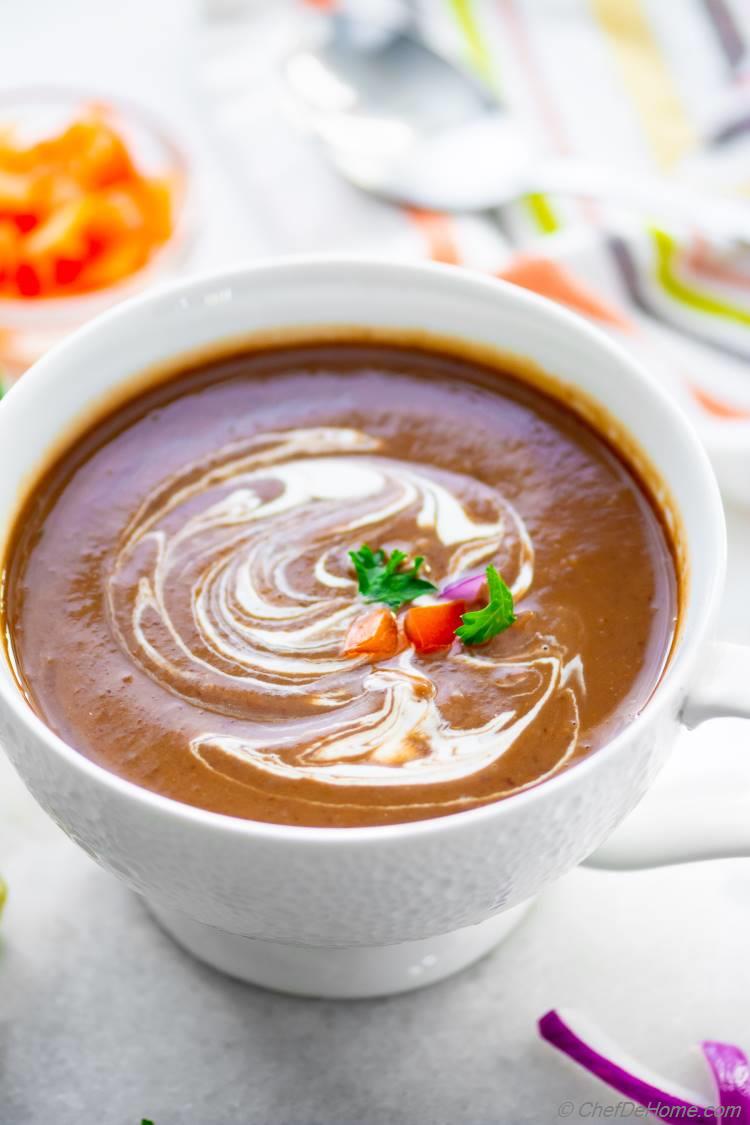 I have a good collections of Spicy soups to share with you this season. Lot more homemade soups to hit blog. Until then, don't forget to pin this recipe. Check my 50 Soups recipes to add previous delicious soups in your weekly menu.
Enjoy! -Savita x
Few more spicy bean and chili recipes to try:
Spicy Black Bean Soup (Instant Pot)
reviews

)
(5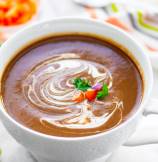 Total Time:
Prep Time:
Cook Time:
Cuisine:
Mexican
(

Soup, Side Dish, Lunch

)
Difficulty:
Easy
Yields:
1 quart soup
- Serves:
4
(

Total time does NOT include Instant Pot Pressure Build and Release Time.

)
Ingredients
Black Bean Soup
Directions
1.

Cook Aromatics

:

Heat oil in regular dutch oven or in Instant Pot at saute setting. Add diced celery, onion, and carrot with a generous pinch of salt. Cook stirring occasionally until soft and slightly browned. About 5-6 minutes. Add cilantro, thyme, bay leaf, garlic, chipotle, cumin and oregano. Cook for 1 more minute.

2.

Add Beans

:

Add beans along with liquid (do not drain), and 2.5 cup *stock. (or 2.5 cup water + 1 bullion). Stir well. **Add 1/2 tsp salt.

3.

Pressure Cook

:

Place lid of Instant Pot. Cook on High Pressure for 8 minutes. QR or let pressure auto release.

Additional Notes:

If using dutch oven, bring to rolling boil, set heat to medium and cover. Simmer for 25 minutes. Stir 2-3 times in between. If liquid seems less, add 1/2 cup more.

4.

Puree Soup

:

For smooth pureed soup, use an Immersion Blender. For little chunky soup, blend half of soup in mixed blender. Mix back in.

Additional Notes:

If soup is too thick, add about 1/4 cup more liquid.

5.

Season and Serve

:

Add lime juice, and black pepper. Mix, taste and adjust the seasonings with salt, more adobo sauce. (if like more heat). Best when served with crunchy veggie ***toppings.
Savita's Notes:
*For good flavor of soup, use homemade stock (low sodium). Vegetable or chicken. If don't have stock, use water with a chicken bouillon.
**Add salt only if using "no added salt" beans and low sodium stock.
***Toppings: Creamy spicy soup such as this Black Bean Soup need lots of fresh crunchy toppings. All toppings that work for Tortilla Soup work here. I highly recommend Sour Cream, Red Radish, Red Onion, Tomato, Jalapeno, Cilantro, generous splash of lime juice. Enjoy!
DID YOU MAKE THIS RECIPE?
Tag
@SAVITACHEFDEHOME
on Instagram and hashtag it
#SAVITACHEFDEHOME
© Chef De Home. Post content including video and photos are copyright protected.
We Think You'll Love