This recipe is Copyright of ChefDeHome.com

Vegetables and Rice Dum Biryani
Vegetable Biryani is a famous one pot dish. It can be a complete meal in itself. Biryani is a rich dish, cooked with a sort of spicy curry, made with veggies or meat or chicken or fish. Lamb biryani is perhaps the most popular of all the biryanis. Vegetable Biryani is not only liked by vegetarians. Even meat eaters love Vegetarian Biryani. Like any other traditional biryani, the par-cooked vegetables are sandwiched between the layers of fragrant long-grained basmati rice. And then this layered preparation is cooked on dum (in sealed vessel in a hot oven). Traditionally, vessel is sealed with layers of wheat dough, but we are using modern method to seal it with aluminum foil and Dutch oven lid. This is a challenging process as it requires sharp attention to time and temperature to avoid over- or under-cooking the rice and vegetables. Although this recipe calls for multiple steps, we assure you that it is an easy to cook dish. With elaborated steps, you will enjoy cooking and eating it.
Pairing Ideas:
Craving for more?
Join us: Weekly Newsletter, Facebook, Google, Twitter, Pinterest
Shop products we use: CDH Amazon Shop (affiliate links)
Vegetarian Biryani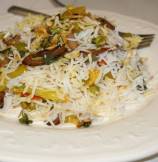 Total Time
Prep Time
Cook Time
Serves
4
Ingredients
1 lbs

Mix Vegetables

(Diced carrots, Cauliflower, Scallions, Green Beans, Potatoes, Green sweet peas)

2 Cup

Basmati Rice

1 Cup

Cilantro

(Leaves)

6

Cardamom

(4 green and 2 black)

1/4 Cup

Mint

(Leaves)

4

Cloves

1 Cup

Yogurt

1 tbsp

Oranges

(Zest)

1 tsp

Turmeric

1/2 tsp

Red Pepper Powder

2

Bay Leaf

1 tbsp

Garlic

(paste)

1 tbsp

Ginger

1 tbsp

Coriander Powder

2 tbsp

Canola Oil

1/2 Cup

Green Onion

(Chopped)

1

Yellow Onion

(Round Slices)

1

Hot Green Pepper (small)

(Chopped)

1 & 1/4 tbsp

Salt
Directions
Hide Step Photos
1.

Mix well yogurt with 2 tbsp of water. Add Saffron, orange zest and set aside.

2.

Heat 1 tbsp oil in pan, add round sliced yellow onions and stir fry till onion caramelize. Drain on paper towel and set aside.

3.

Heat 2 tbsp oil in a heavy bottom pan. Add 2 cloves, 2 green Cardamom pods and 2 black cardamom, cumin seeds, curry leaf. Fry for 1 minute.

4.

Add ginger, garlic paste and fry for 2 minutes. Now add all vegetables and stir fry for 5-6 minutes.

5.

In a small bowl, mix together red pepper powder, coriander powder, 1 tbsp salt and turmeric. Add this powder mixture to vegetables. Coat well and stir fry for 2-3 minutes. In mean time, wash Basmati Rice and par cook in boiling water. Add 1 Bay Leaf, 2 Cardamom pods and 2 Cloves, 1/4 tbsp salt while cooking.

6.

In a Dutch Oven, spread some caramelized onions and cooked vegetables at the bottom of pan. Add layer of par cooked rice. Top it with few more caramelized onions and cashews. Layer vegetables on top of rice. Top it with 2-3 spoons of saffron flavored yogurt. Few leaves of mint, cilantro and 1 tbsp chopped green onion.

7.

Repeat layers of vegetables and rice with yogurt and mint leaves 2 more times. Layer such a way that rice layer can be the last layer. Top that layer with leftover yogurt and greens. Top it with caramelized onions.

8.

Seal the dutch oven with Aluminium Foil and cover it with Dutch Oven lid. Bake it in pre heated oven at 350 F for 20 minutes.

9.

Open it just before serving and enjoy this aromatic delicious mouthwatering Vegetarian Biryani also known as Vegetable Dum Biryani.
© Chef De Home. All contents and images are copyright protected. DO NOT copy or re-use content/images/videos. For all content/post mentions with link back, contact ChefDeHome for permission.

Craving for more?
Join us: Weekly Newsletter, Facebook, Google, Twitter, Pinterest
Shop products we use: CDH Amazon Shop (affiliate links)
What would you like me to cook next?: Request a Recipe