Instant Pot Lentils
Aromatic and creamy Lentils cooked in Instant Pot with spicy Thai curry flavor and creamy coconut milk. Perfect for any day speedy dinner!
Posted On:

Aug, 28
| Author:

Savita
An easy recipe for creamy, spicy, and delicious Lentils with coconut milk, and Thai curry flavors prepared in Instant Pot for a speedy any-day dinner. Refrigerate up-to 1 week. Freeze up-to 6 months. Gluten free, Dairy-Free, Vegan. 
This Lentils recipe is super special because it is creamy, spicy, and delicious but still healthier. All is magic of Coconut Milk, Red Thai Curry and Instant Pot.
Coconut Milk:  Coconut milk adds all the flavor, and make lentils extra-creamy but without a drop of cream. It dairy free.
Instant Pot: Preparing lentils in Instant Pot makes it super-quick with perfect results every-time. No perching on stove. No need to check water many times. I have cooked lentils in Pressure Cooker all my life. So, Instant Pot's pressure cooker setting is my best buddy to make creamy perfect-cooked lentils in just 20 minutes. Pressure Cooking in Instant Pot also preserve nutrients, making it one of the best way to make lentils for dinner, any time!
Thai curry: With Red Thai curry and spices, flavor is like lentils cooked on stove, low and slow, for an hour. If you wonder what is Thai curry. I have complete collection of Homemade Thai curry paste recipes. All curry pastes go well with this Lentils Recipe. Read more about homemade Thai Curry Pastes.
So, let's make some Instant Pot Lentils today (Fragrant with Red Thai Curry and creamy with Coconut Milk)!
(Oh, if you like Lentils? Don't forget to checkout my Mujaddara (Spiced Lentils and Rice), Spicy Vegan Yellow Lentil Curry, Cabbage Lentil Soup recipes.)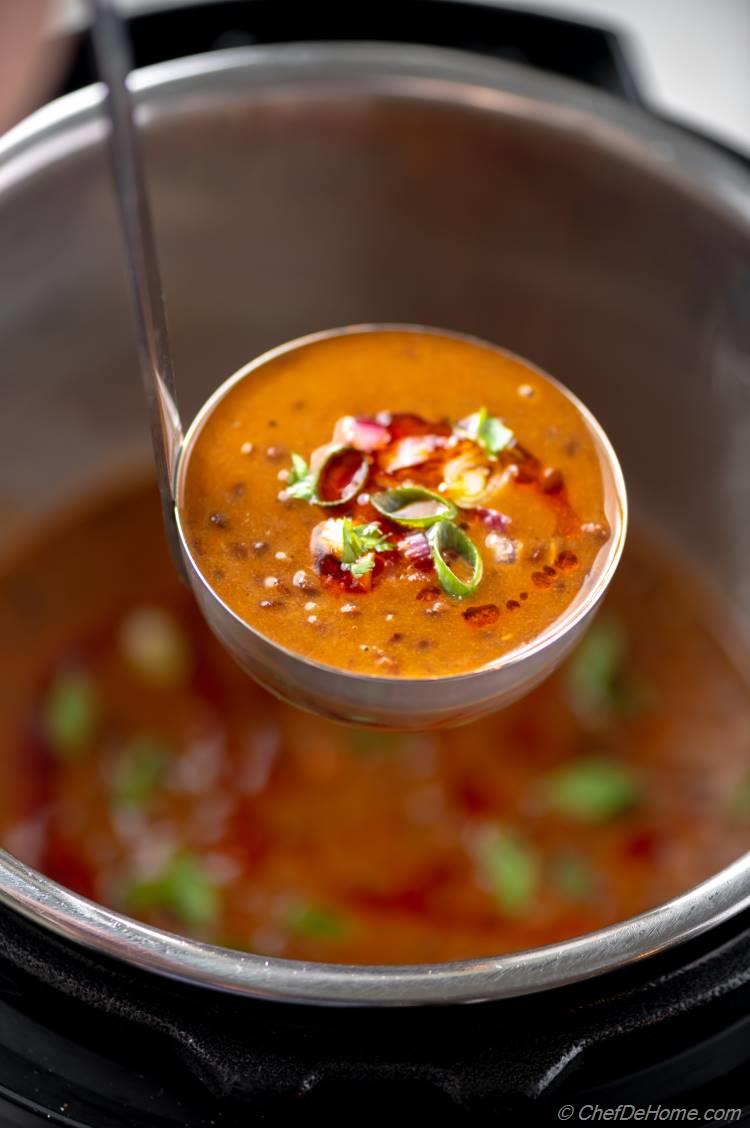 CHOOSE YOUR FAVORITE THAI CURRY
These Lentils recipe is very flexible. Really, you can use any Thai Curry paste you prefer. Luckily, I have shared all three Thai curry pastes on blog - Green Curry Paste, Red Curry Paste, and Yellow Curry Paste. Pick the one you like. All paste stay good for many weeks. That said, you can always use premade Thai curry paste as well. In store bought, I use Thai Kitchen Red Curry Paste. It is 100% gluten free and vegan.
CHOOSE GOOD QUALITY COCONUT MILK
Star ingredients of Instant Pot Lentils are 1) coconut milk, and 2) Thai curry paste.
I recommend to use a good quality coconut milk. Such as my favorite is Organic Thai Coconut Milk. This is unsweetened, organic and 100% vegan. I use unsweetened milk because Lentils Curry don't really need much sweetness. I only add some 1/2 tbsp sugar to balance the heat. Please use it as per your taste preference.
Whichever curry paste you use. Please make sure to always taste and adjust seasonings. Little salt, lime juice or sugar (if you really need it) will make all the difference in making these lentils your favorite go-to Lentils Recipe.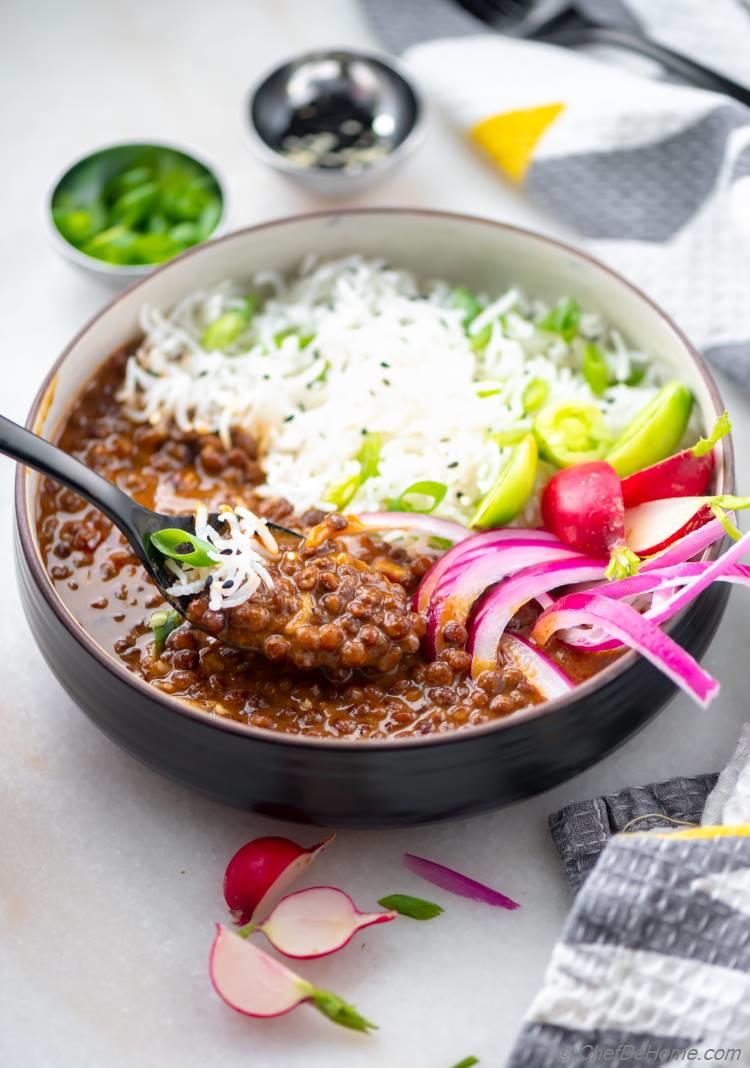 Imagine aroma of lentils cooked with coconut milk, fragrant Thai curry flavors filling kitchen. Make some tonight! It is super easy!
To prepare the lentils in Instant Pot, I start by thoroughly washing the french Green Lentils. Also, prepare the veggies - slice onion, ginger, garlic. Take out the spice.
Note: If using fresh homemade Thai curry paste. I make sure to prepare some a day before. Paste stays good for several days. So you cut the prep time to 1/4 by preparing paste in advance or use premade when in hurry.
Once Instant Pot reads "hot" on display setting. I saute the curry paste and aromatics to awaken their flavor. Then add the washed lentils, coconut milk, seasonings. Cook on High Pressure for 20 minutes.
That's it. It is THAT easy to prepare Lentils in Instant Pot. And flavor! Flavor speaks for itself. In these 20 minutes, lentils cook to creamy consistency and spices marry so well. This Red Curry Lentils will beat any store-bought or restaurant Lentils you have ever tried. I guarantee!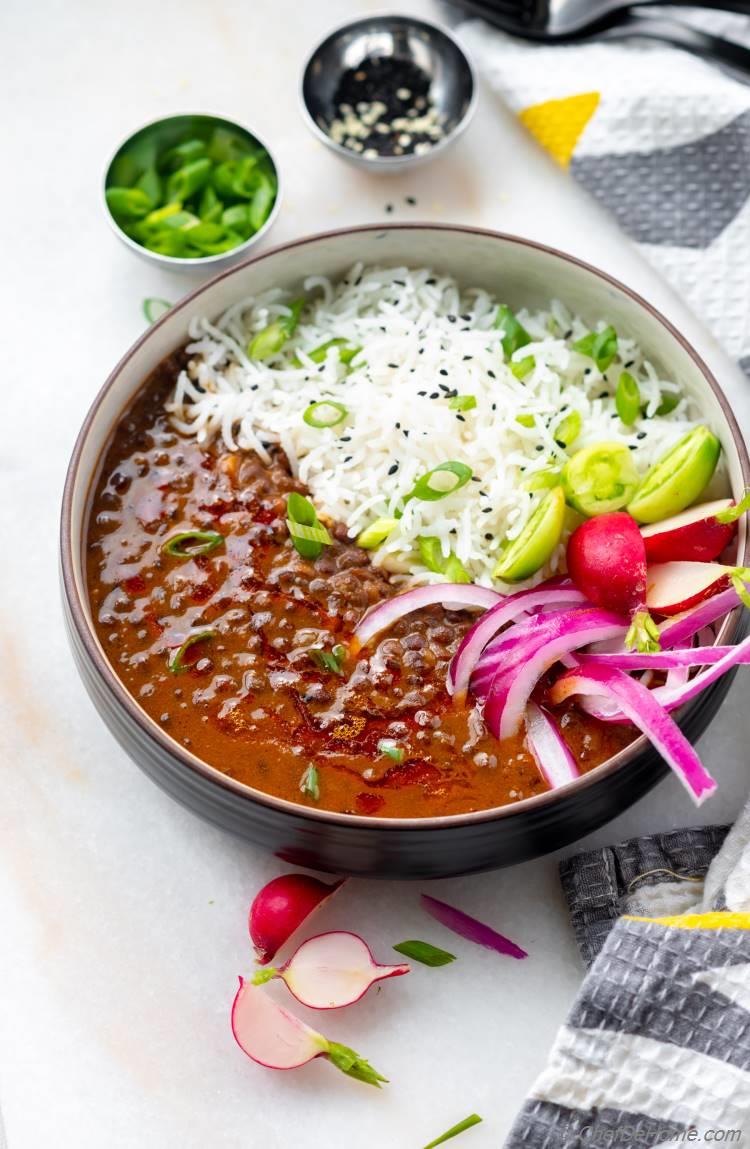 Let me summarize why should you try these Lentils:
1. Coconut Milk - Creamy lentils without cream. You can also make it low-fat with lite Coconut Milk.
2. Thai Curry - Use any Thai curry flavor. I used Red Curry. Green and Yellow works perfect. 
3. Lentils are Vegan, Gluten free, Nuts Free (only tree nut - coconut used).
4. French Lentils cook perfectly in 20 minutes. These still hold shape and taste super creamy.
5. Lentils stays good for up-to a week in refrigerator. Freezes well up-to 6 months.
Thaw/Re-Heat: Please note lentils soak liquid and get very thick very quickly. To thin-out, add some vegetable stock or water. Reheat. Taste and adjust seasonings such as salt, sugar, lemon juice. Add the Tempering Oil (is using) just before serving. In case thaw/re-heat, after reheating.
Make some tonight for Vegetarian Lentils and rice dinner!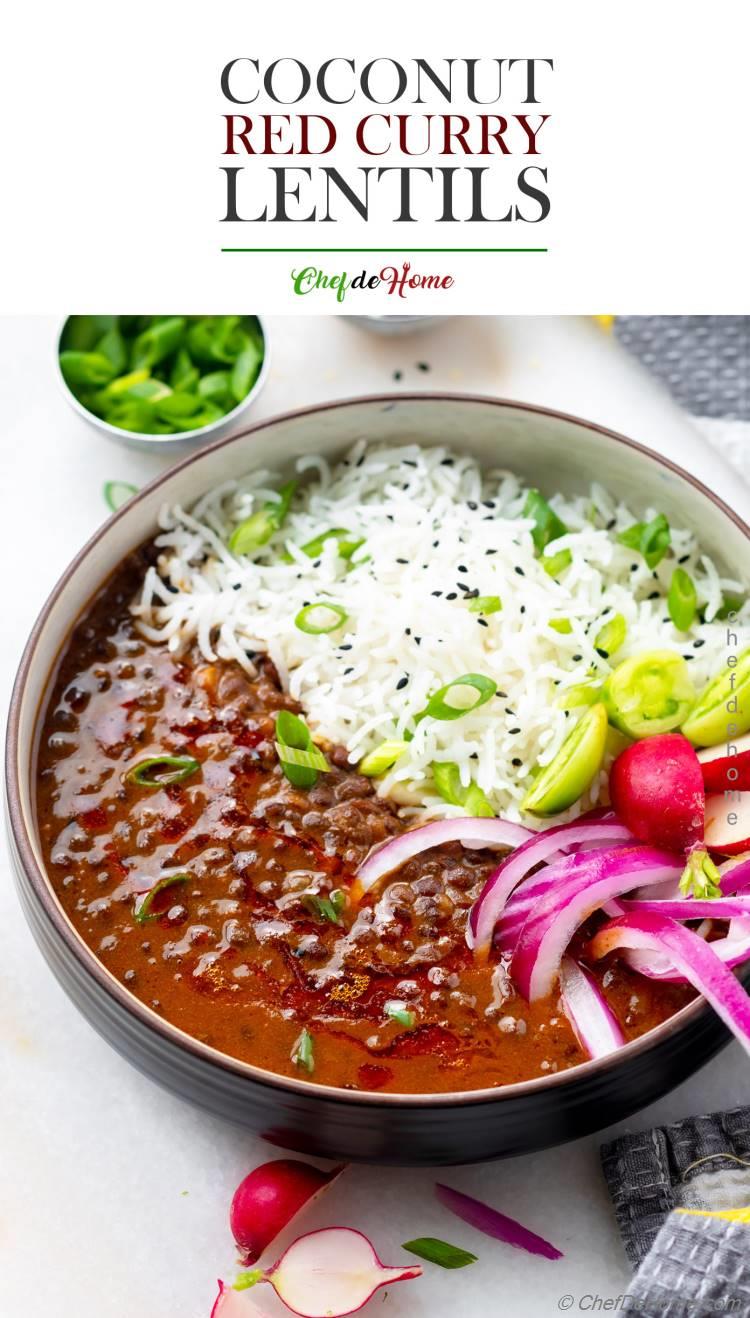 What is you favorite flavor of Lentils? Leave a comment below and share with me.

Try these bread recipes to serve on the side: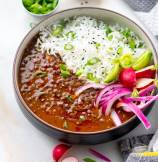 Total Time:
Prep Time:
Cook Time:
Cuisine:
American
(

Curry, Soup

)
Difficulty:
Easy
Yields:
2 quart
- Serves:
5
(

No. of servings depends on serving size.

)
Directions
1.

Heat oil in Instant Pot at Saute Setting. Add minced scallion, garlic, ginger and cook stirring often until onions are soft and have started brown slightly at edges. (3-4 minutes)

2.

Add red Thai curry paste (or yellow/green curry paste if using), all-spice, cumin powder, and continue saute for 2 more minutes or until curry paste is fragrant, releases oil, and darkens in color.

3.

Add washed lentils, 1 cup of water, coconut milk, sugar with 1/2 teaspoon of salt. Place the lid of Instant Pot. Seal and set vent to "sealing" position. Cook at high pressure for 20 minutes. Quick Release, and open the lid.

4.

Mix in 1 tbsp of lime juice, chopped fresh herbs. Taste and adjust seasonings with more salt, and lime juice.

5.

Ladle lentils into bowls. (See Note 3) Garnish with toppings of choice. I recommend one or all - scallion, cilantro, red onion, red radish. See Note for optional garnish of Paprika Oil. Serve with side of boiled Jasmine rice and enjoy!
Savita's Notes:
Homemade Curry Paste: When using Homemade Curry Paste, I use 3 tablespoon curry paste. For store bought curry paste, I use 2 tablespoon paste. I used Red Curry Paste for this recipe. Yellow and green curry pastes also work well. I have shared these Thai curry pastes on blog - Green Curry Paste, Red Curry Paste, and Yellow Curry Paste. Try making one at home. It is easy.
Paprika Oil for Garnish: This is one of my favorite topping for smokey sweet paprika flavor but it is completely optional. Heat a tbsp of cooking oil in small pan, add 1 tsp mild or sweet paprika. Let paprika heat for 15 seconds. Then pour oil over curry lentils just before serving.
Lentils Consistency: Lentils may absorb more or less water based on: 1) quality of lentil , 2) and size of Instant Pot. If after cooking, lentils gravy appear too thin to your liking, leave aside for 10-15 minutes. Lentils adjust consistency very quickly. If lentils appear too thick. Add 1/4 cup of water at a time. Reheat on Saute setting on low.
DID YOU MAKE THIS RECIPE?
Tag
@SAVITACHEFDEHOME
on Instagram and hashtag it
#SAVITACHEFDEHOME
© Chef De Home. Post content including video and photos are copyright protected.
We Think You'll Love