Mujaddara - Spiced Lentils and Rice
Fall inspired warm spiced vegetarian dinner of savory and spiced Mediterranean Lentils and Rice with fried onions and pine nuts.
Posted On:

Oct, 1
| Author:

Savita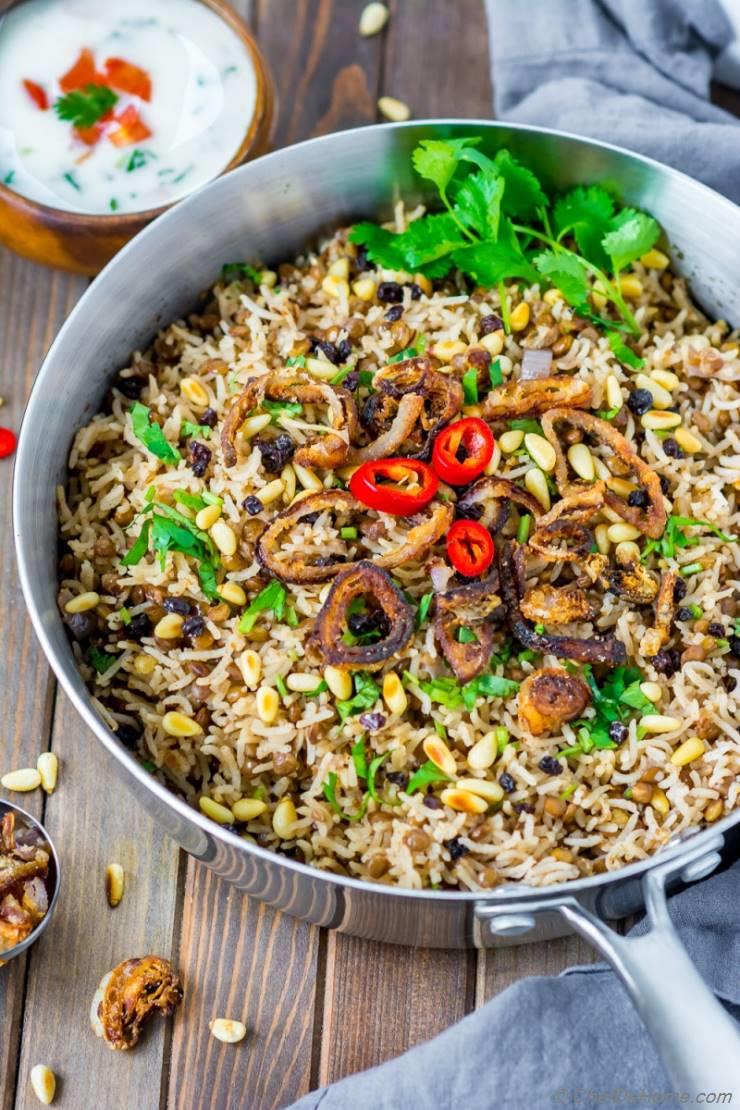 Mujaddara - Spiced lentils and rice prepared with long grain Basmati Rice, Brown Lentils, and warm spices which make this vegetarian meal rich, protein-packed, and delicious. With crunch of toasted pine nuts, sweetness of black currents, and traditional crunchy fried onions.. this comforting rice and lentils meal make perfect cozy and healthy, fall-inspired Monday dinner.
Other than the flavor and kitchen full of aroma of spices, my favorite about making mujadara for dinner is: simple and easy preparation. There is no fancy sauce preparations or no over-perching on stove. I simply make mujaddara in three steps: 
1) Boil Lentils
2) Fry onion, wipe clean the pot, saute spices.
3) add everything and cook until ready.
Really, an almost one-pot meal, and so flavorful.. can't be easier than this!
Mujaddara, or Mujadara, translates to a middle eastern staple Rice and Lentil preparation which is everyday staple in every Lebanese home. My first introduction to Mujaddara or I should say, Lebanese Lentils and Rice, was through a colleague how brought taste-of-home to an office potluck. One pot Lentils and Rice are very common in my home. So one taste and I could immediately connect with dish.
Mujadara specially reminds me of my mother's special favorite version of Lentils and Rice which we call "Khardi Khicadi". It means lentils that stand-out in rice, have some bite and texture and are not dissolved in rice. I pretty much grew up eating that with yogurt raita. Our version is prepared with skinless split Yellow Peas. Legume used for Mujadara is disk shaped skin-on Brown Lentils or Green Lentils.
I'm just going to stop here and not bore you explaining my Khardi Kichadi no more. :) Let's get back to today's star: Mujaddara.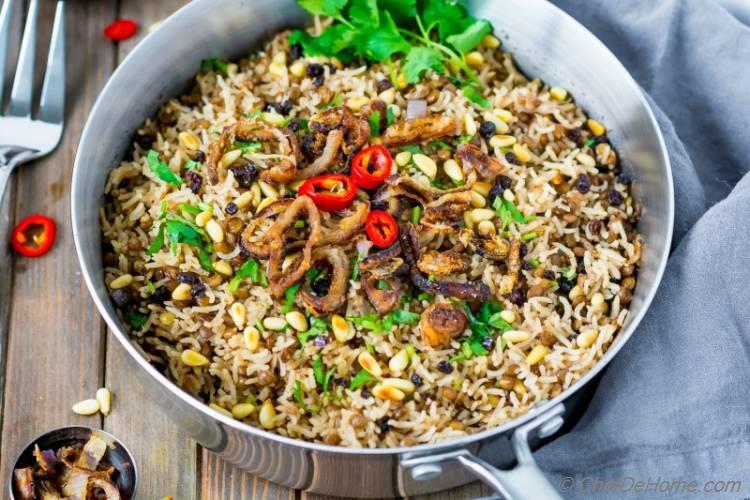 Like I said, brown lentils are most commonly used legume for Mujaddara. These retain shape after cooking, have some texture, and taste very hearty, and are filling. One thing though, all these qualities come with price. Brown lentils take a little longer to cook than rice. So, as a result, I prefer not to cook lentil and rice together for Mujadarra because rice will cook faster and lentils will not be ready in same time.
To prepare Mujaddara, I first wash the lentils and boil these with fresh clean water and salt until lentils are almost ready. Tender but firm enough to hold their shape.
While lentils boil, I prepare rest of Mujaddara Ingredients. Wash the rice. Slice onions for crispy topping. Collect spices, the quintessential Mujadara ingredients - all-spice, coriander, cumin, chili flakes (or paprika), cinnamon, black pepper etc.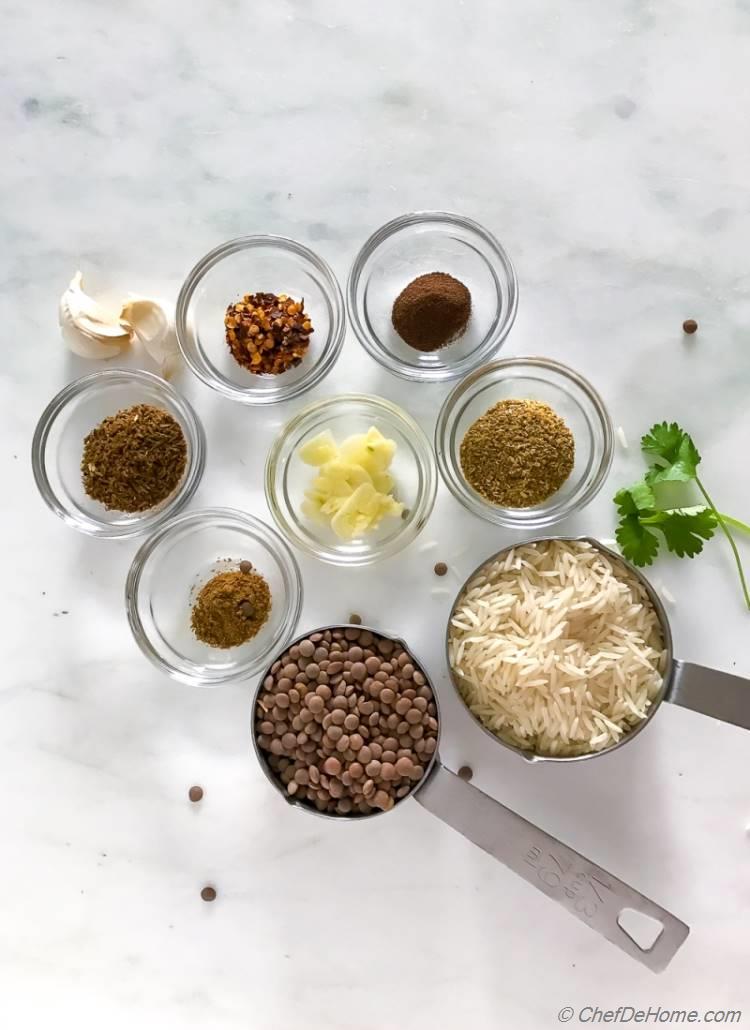 Once lentils are ready, I drain and leave these aside.
Next, I fry the shallot onions. Fried crunchy shallot onions are quintessential topping for traditional Mujaddara. I keep the process of frying shallots very simple. To quickly dry-out their moisture, I slice onions and then toss in couple of tablespoons of all purpose flour (seasoned). When just about an inch of oil is hot in pan, I add dredged onions and fry until onions are crispy. I discard this oil and use fresh for sauting the spices.
Fried onions not only add texture but an extra layer of flavor to these Lentils and Rice. I highly recommend trying once. However, if you are time pressed, you can choose to skip. 
I must tell you that this Mujaddara Recipe is gluten free only when served without fried onions. It is also vegan. It can be nut-free when pine nuts are not used.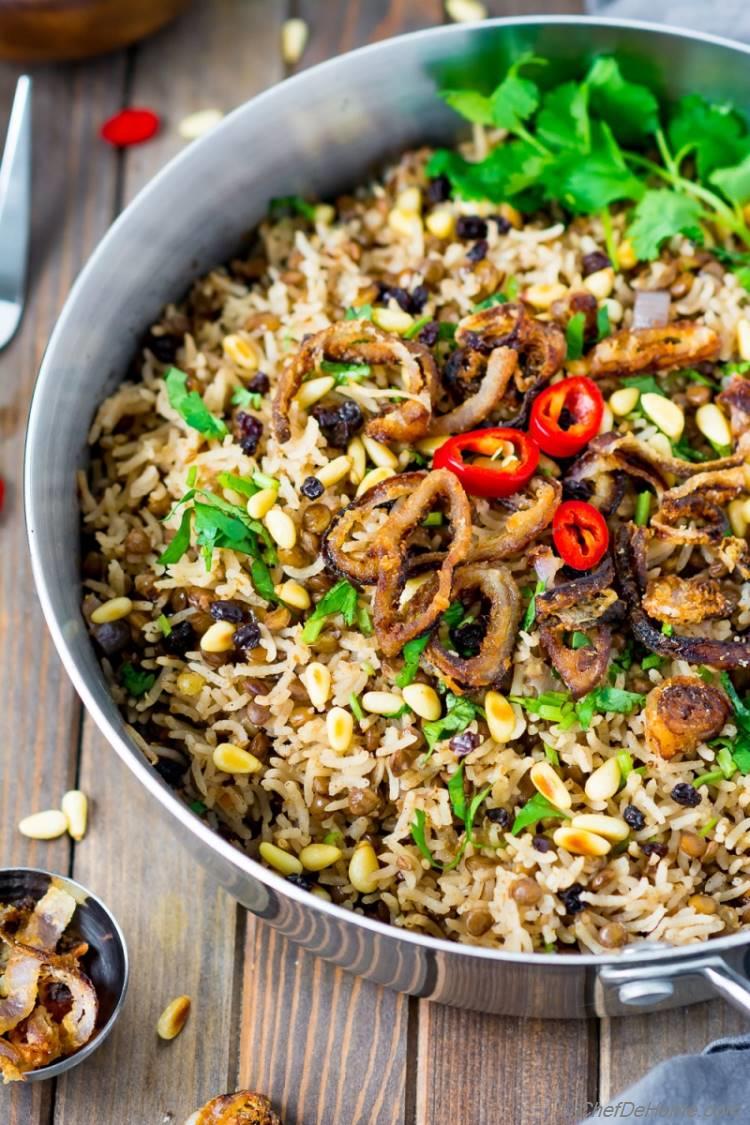 Once Fried Onions are ready. I saute onion, garlic, and spices until onions are soft and spices are toasted.
Are you wondering why am I using more onions while sauting spices?!
The simple reason for this : building flavor. The base for any good recipe is flavor and seasonings. When a recipe involves more than 1 separate components, I like to season and build flavor in each layer to get bold consistent flavors. So please don't skip onions. Also, by adding onions while sauting spices gives me option to skip fried onions if I'm really time pressed.
Once spices are sauted, I add in rinsed rice and toast these for 1-2 minute to bring out their nuttiness. Mix in cooked lentils. Taste and adjust seasoning. Boil until rice has absorbed all water and are tender.
That's it!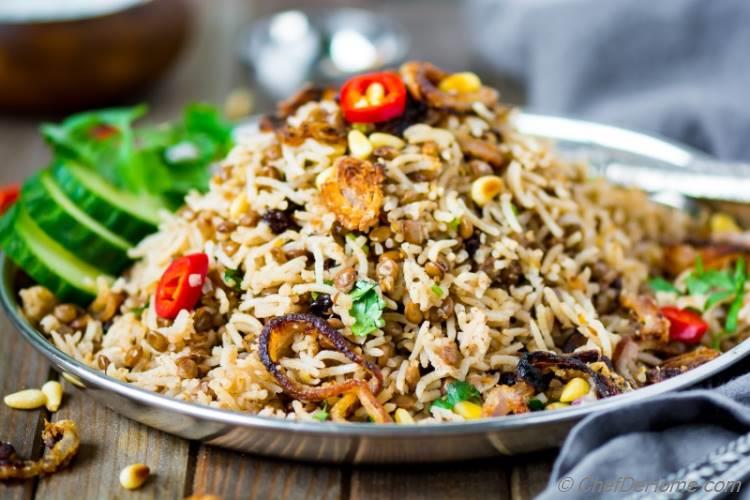 A flavorful weeknight dinner is ready to devour! Mujadara is so versatile that you can serve it any day of year. I'm also listing below some warm and cold condiments to serve on the side.
Serving Suggestions:
I highly recommend serving Mujaddara with homemade Garlic Yogurt Sauce - Tzatziki and Apple Chutney. The tangy bite of these condiments goes very good with savoury spiced Lentils and Rice. This Moroccan Carrot Salad will also compliment the flavors and go great on the side.

If you are Lentils and Rice fan? Try something different for a Monday dinner. A bowl of Mujadara with spices, savoury lentils, rice, crunch of pine nuts and onions will make you dig every spoonful! I can tell you, this recipe is a keeper!
I hope you enjoy as much as we did.
-Savita x
Mujaddara - Spiced Lentils and Rice
reviews

)
(6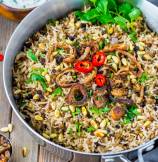 Total Time:
Prep Time:
Cook Time:
Cuisine:
Mediterranean
(

Main Course

)
Difficulty:
Easy
Yields:
4-6 Servings
- Serves:
4
(

No. of servings depends on serving size.

)
Ingredients
Lentils and Rice
Fried Onion (garnish)
Smart Swap: Replace rice with quinoa, add some chickpeas for a delicious twist!
Directions
1.

Wash lentils under cold running water. Add to a pot with 4 cups of water and 1 teaspoon salt. Bring to boil, reduce heat and simmer for 17-20 minutes or until lentils are tender but still holding shape. Once done, drain and set aside.

2.

For *Fried Onions: In a heavy bottom pot, heat oil for frying. In a bowl mix in AP flour with 1/4 teaspoon of salt and 1/2 tsp black pepper. Thin slice 2 shallot onions. Dredge onions in flour. Shake-off excess flour, and fry onions until brown and crispy. Remove on a plate lined with paper towel. Set aside.

3.

Once onions are fried. Heat fresh 2 tablespoon of oil in a heavy bottom pan. Add remaining sliced shallot onion and saute until onions are soft. Add sliced garlic and all spices and saute for 30 more seconds.

4.

Mix in washed rice and toast rice with spices for 2 minutes.

5.

Now, add cooked (and drained) lentils, 2 cups of fresh water, and 1/2 teaspoon salt. Mix well. Taste water and adjust salt. (check **tip in notes) I end up adding 1/2 teaspoon more salt.

6.

Bring to boil, then simmer covered on medium heat for 10 -12 minutes or until rice are fully cooked and have absorbed all of the water. Leave covered for 5 minutes. Open, fold in chopped cilantro, toasted pine nuts, and raisins ( or current if using). Serve warm with side of yogurt or chutney. Enjoy!
Savita's Notes:
*I normally don't reach for fryer for frying these onions. I heat 3-4 tablespoon oil in same pot in which I'll later cook Mujadarra. Thin sliced dredged onions don't need much oil, will quick very fast, and will be crispy.
**Tip to Season Rice Perfectly Every TimeTo make sure rice are seasoned well every time.. Once water is mixed in... Taste a little bit of water to check for salt. Salt should taste little sharp than you normally eat. The extra sharpness is absorbed by rice and overall seasoning is always spot on.
DID YOU MAKE THIS RECIPE?
Tag
@SAVITACHEFDEHOME
on Instagram and hashtag it
#SAVITACHEFDEHOME
© Chef De Home. Post content including video and photos are copyright protected.
We Think You'll Love