Homemade Orange Chicken
Crispy tangy Orange Chicken with signature made-from-scratch Orange Sauce. A Panda Express Copycat that you can make at home in 35 minutes, start to finish, with mostly pantry ingredients. Must try!
Posted On:

Feb, 3
| Author:

Savita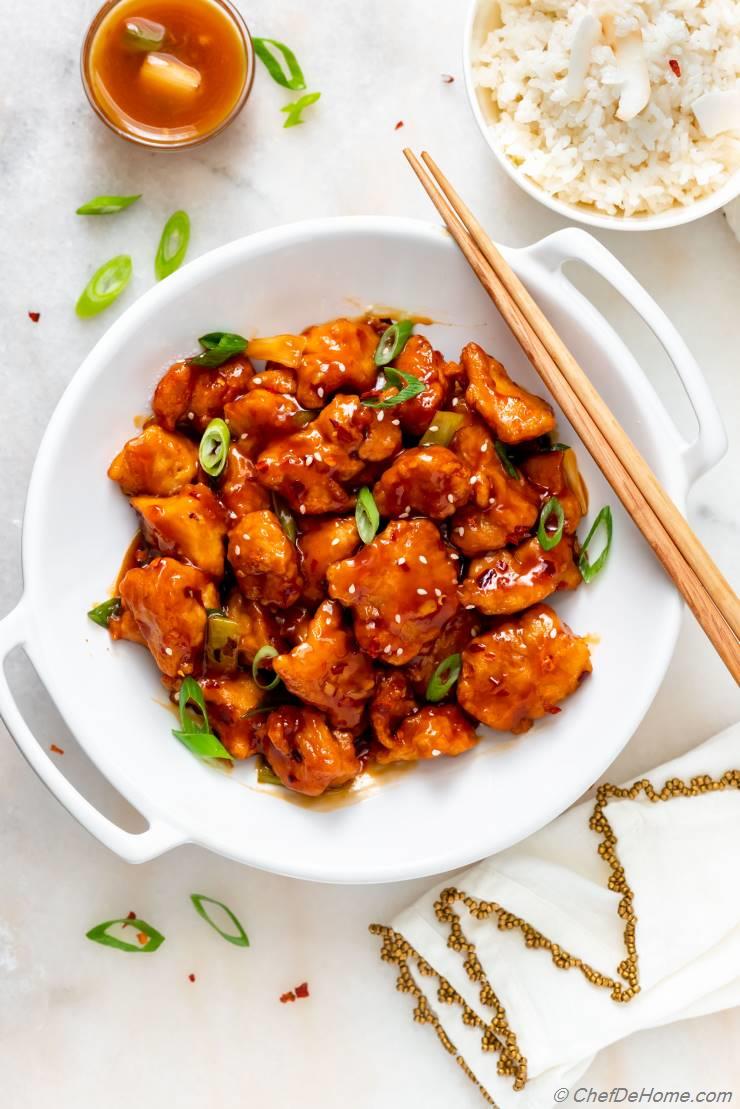 Tangy, sweet, crispy, sticky homemade Orange Chicken with easy Orange Sauce. Tastes just like Panda Express Orange Chicken. Actually has even better Orange Sauce to devour with rice. Needs only 15 minutes of prep. Serve with steamed rice for a homemade Chinese dinner quicker than takeout or wait for delivery. Gluten Free. 
Did you know, you can make Orange Chicken at home without a grocery store tip? Read on to know more. Also sharing substitutes so you can find all in the pantry/fridge. Plus to make it suit family's diet preference such as make it skinny, add more veggies.
Let's make Orange Chicken!
Orange Chicken
Orange Chicken is an American Chinese chicken stir-fry. Very famous dish from Panda Express, Orange Chicken is crispy shallow-fried chicken breast pieces coated in thick sweet and sour Orange Sauce. It works perfect with side of steamed broccoli, fried rice or chow mien (noodles stir fry).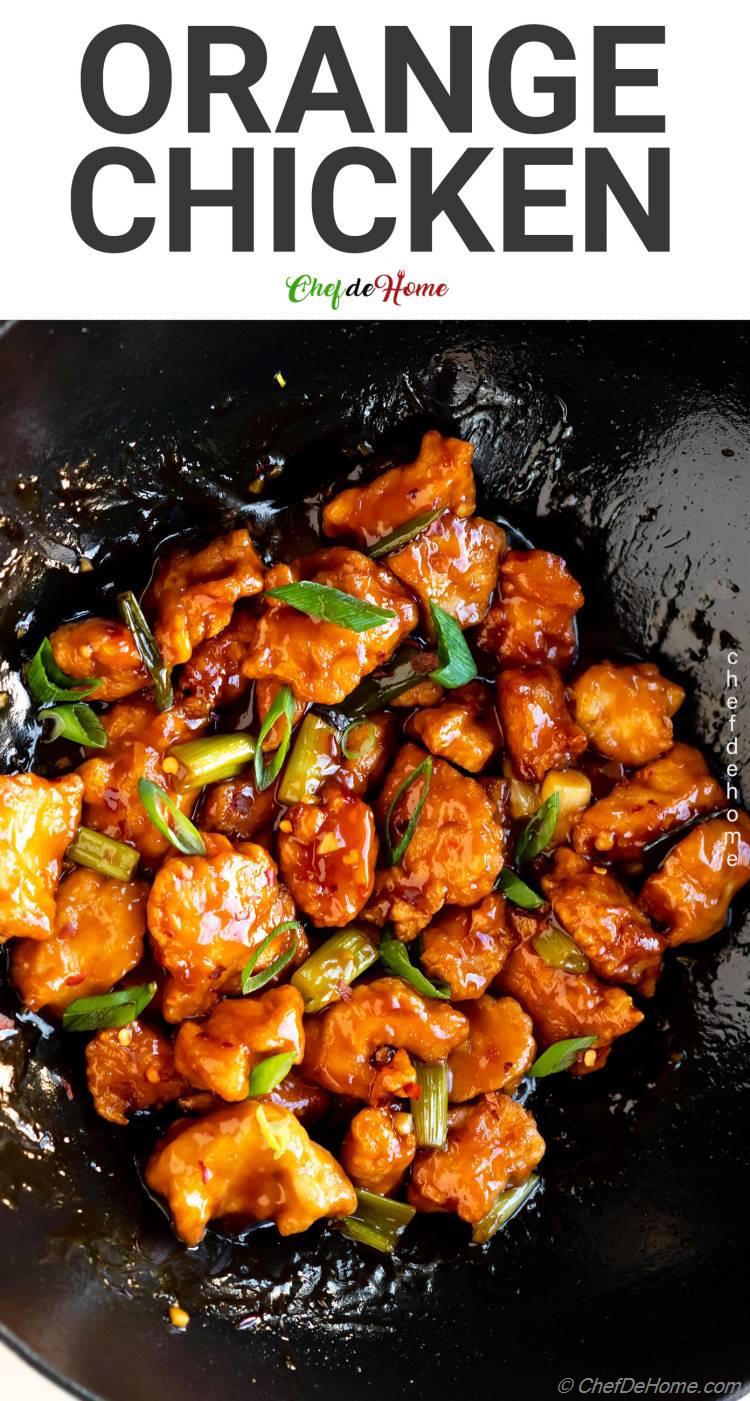 You will not find a single person not ordering Orange Chicken in takeout from Panda Express. There are many variations of Orange Chicken offered by many local small take-out eateries and large stores such as Costco and Whole Foods. 
Honestly, we love the crispy Orange Chicken from the Panda Express. This recipe is copycat of Panda Express Orange Chicken in flavor and texture.
Like my other favorites, I had this in my to-do list for blog since long. Finally got time to share the recipe. Seriously, I made it so often during lock-down. It was Chinese take-out experience purely homemade. Specially with homemade Coconut Rice. SO so good!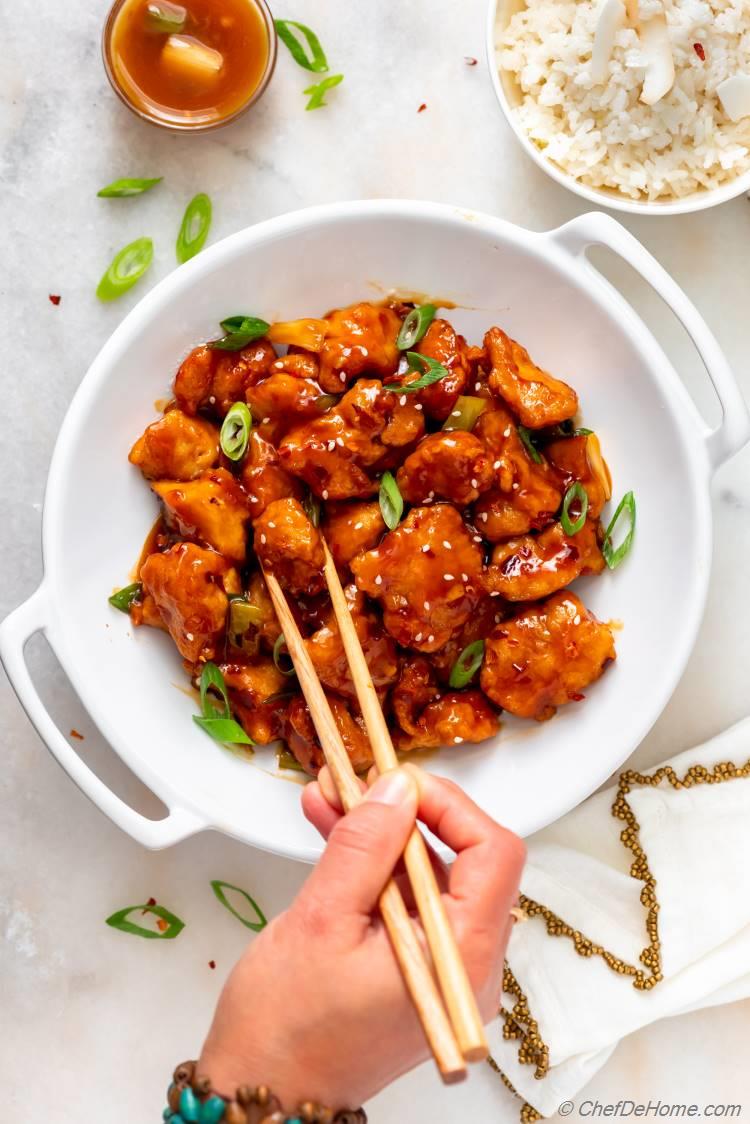 Orange Chicken Ingredients:
If you love to cook Chinese at home, I'm sure most of these ingredients are already in your pantry and fridge. Here are the main Orange Chicken Ingredients:
Chicken Breast (boneless, skinless)
Orange Juice
Corn Starch
Soy Sauce
Sugar
Rice Vinegar
Sesame Oil
Scallions
Garlic
Cooking Oil
Chili Garlic Paste
Orange flavor in Orange Chicken recipe is very subtle. Honestly, Orange Chicken is misinterpreted as Chicken made with Orange Juice Sauce. Actually, "Orange" in orange chicken is hinting towards the bright orange color of the dish rather than the Orange Juice flavor. So, if you don't have orange juice, use any mild sweet fresh juice. 
Corn Starch is the ingredient to make take-out style crispy Chinese Chicken at home. It is needed to make batter for fried chicken. It is also used to thicken the sauce.
Orange Chicken Marinade
Panda Express Orange chicken is so crispy from the outside and moist inside. To achieve crispy texture and flavor curst, I made Orange Chicken marinade with egg white, corn starch, soy sauce and sesame oil. 
Egg White and Corn Starch get crispy crusted when marinated chicken is fried. Soy sauce and Seasme oil make crust delicious.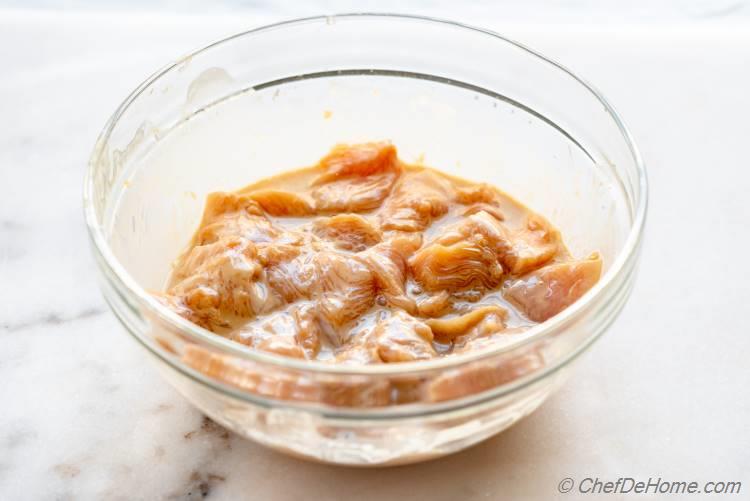 To marinate Orange Chicken, in a medium bowl, add orange chicken marinade ingredients and whisk until corn starch is fully incorporated in the egg white. It will look like thin pancake batter. Mix in diced chicken and set aside for at-least 15 minutes up-to an hour.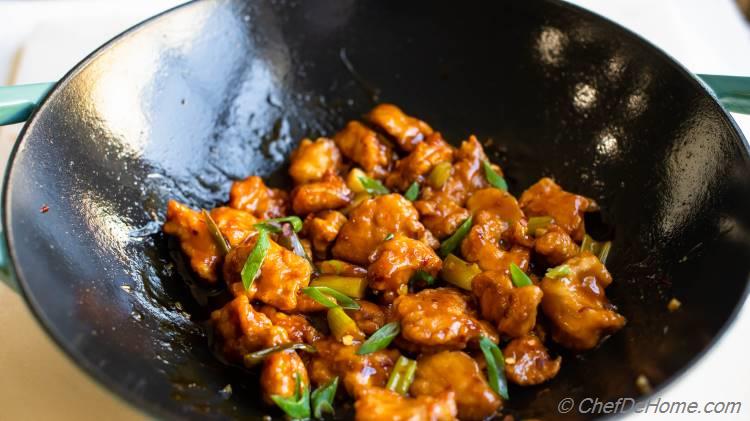 To make Orange Chicken, first marinated and then shallow fry the marinated chicken.
To make the Orange Sauce, cook garlic, scallion, and chili in a tablespoon of fresh oil. Next, mix in the orange sauce ingredients and heat until sauce is bubbling and thickens. Add fried chicken and coat in sauce, heat until chicken is heated through and glistens i.e. sauce has well coated the chicken with delicious signature orange color. Yum!
Orange Chicken is ready to devour. Garnish with scallions. Serve while still hot with side of rice.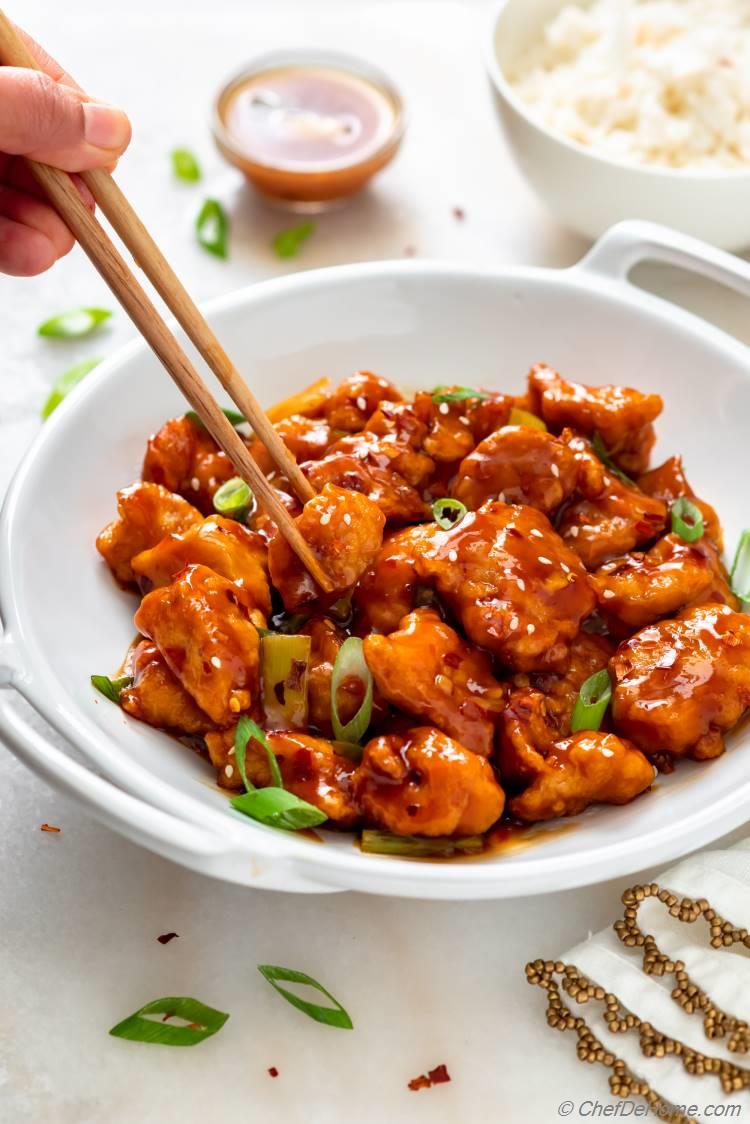 Substitutes:
I often use these substitutes/adjustments to cook homemade Orange Chicken as per my diet preferences and availability of ingredients.
Honey Orange Chicken - Replace sugar in the recipe with honey to make Honey Orange Chicken. It will be little less sweet but will have delicious subtle flavor of honey if using a good quality honey. I have tried this recipe with Wild Orange Blossom Honey and it was delicious.
Gluten Free Orange Chicken - This recipe is gluten free. Only make sure to use Gluten Free Tamari Soy Sauce instead of regular.
Healthier Orange Chicken - Skip frying chicken. Marinate chicken in soy and sesame oil. Skip corn starch. Sauté chicken until no longer pink. Use rest of the recipe as-is to make skinny orange chicken.
Spicy Orange Chicken - This orange chicken recipe has just the right amount of heat. If you like spicy, increase chili flakes to 1/2 tsp.
Veggie up the Orange Chicken. Make it your own. I only added scallions. You can also add leeks, bell peppers, zucchini, carrots, broccoli. Add the same time you will add scallions but before cooking sauce. Cook a little longer to make sure veggies are cooked per your preference.
Orange Juice Substitutes: If you don't have orange juice, use any mild sweet fresh juice. Such as pineapple juice, or apple juice. If juice is pre-sweetened, add less sugar in the Orange Sauce.
TIP: You can also use Orange Marmalade instead of Orange Juice. If using marmalade, then use only 1/2 tbsp more sugar.
Friends, try homemade Chinese for dinner tonight. Make some rice and this homemade Orange Chicken. Side of steamed broccoli and dinner is served! I can't wait to hear how you liked it. Happy Cooking!
Serve Orange Chicken With: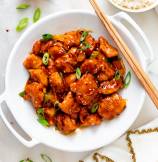 Total Time:
Prep Time:
Cook Time:
Cuisine:
Asian
(

Dinner, Main Course, Lunch

)
Difficulty:
Easy
Yields:
1.5 lbs Chicken
- Serves:
4
Ingredients
Chicken
Orange Sauce
For Serving
Directions
1.

Prepare Marinade

:

To make the marinade, in bowl, add egg white, soy sauce, sesame oil, corn starch. Gently whisk until corn starch is fully mixed with egg white. Add diced chicken. Coat in egg mixture and set aside for 15 minutes.

Additional Notes:

Recipe needs egg white of a large egg. If using a small egg, use whole egg instead of just egg white.

2.

Orange Sauce

:

Meanwhile, in a small bowl add orange juice, sugar, ketchup, soy sauce, rice vinegar. salt and corn starch. Whisk until sugar is fully dissolved. Set aside.

3.

Shallow Fry Chicken

:

Start by heating 1/2 inch oil for frying in a heavy bottom dutch oven pan. When oil is hot but not smoking, add battered chicken. Working in batches, fry breaded chicken until crispy golden from all sides and is fully cooked.

4.

Cook in Batches

:

I fried chicken in 2-3 batches, 5-6 minutes each batch. Remove fried chicken on a paper lined plate to drain excess oil.

5.

Cook Orange Sauce for Chicken

:

Heat a tablespoon fresh oil in a clean sauté pan. Add garlic, chili flakes, white of scallions, chili garlic paste and stir fry until garlic is fragrant. (30 sec to 1 min). Don't let garlic burn. Add Orange Sauce mix made in Step 2. Heat until bubbling and starts to thicken, about 3-4 minutes.

6.

Finish Orange Chicken

:

Add fried chicken and coat in sauce, heat until chicken is heated through and glistens i.e. sauce has well coated the chicken with delicious signature orange color. (1-2 minutes) Garnish with sliced scallions. Enjoy with side of rice.
Savita's Notes:
Mix ingredients for sauce before starting to fry the chicken. When I use one wok to make whole dish. I first fry the chicken, drain excess oil from the wok, then fry the premixed sauce and add chicken to glaze in the orange sauce.
Chicken must be fried in batches. Due to egg based batter, overcrowded pieces of chicken will stick to each other. I drop one pieces of chicken in oil, at a time. This prevents chicken pieces from sticking together. Fry in 2-3 batches.
Since shallow fried, don't worry if chicken sticks to the pan. Let chicken fry undisturbed for few minutes. It will lift easily once batter is cooked and golden. Next, flip and continue cooking.
Use a high smoke point oil to fry the chicken. I use vegetable oil, canola oil or peanut oil.
If sauce is too thin, mix 1/2 tsp corn starch with 1 tablespoon of water. Add to sauce. Heat until corn starch cooks and sauce thickens.
Veggie up the Orange Chicken. I only added scallions. You can also add leeks, bell peppers, zucchini, carrots, broccoli. 
Adjust the heat per preference. Skip chili flakes for mild. Increase chili flakes by 1/4-1/2 tsp for spicy.
This recipe makes Orange Chicken bit more saucy than Panda Express. Panda express adds the measured amount of sauce to the orange chicken. But with homemade you can enjoy extra sauce with rice.
Serve with rice, noodles, or steamed veggies. Try this Coconut Rice recipe to serve on the side.
Gluten Free Orange Chicken. This recipe is gluten free. Only make sure to use Gluten Free Tamari Soy Sauce instead of regular.
DID YOU MAKE THIS RECIPE?
Tag
@SAVITACHEFDEHOME
on Instagram and hashtag it
#SAVITACHEFDEHOME
© Chef De Home. Post content including video and photos are copyright protected.
We Think You'll Love