Instant Pot Garlic Brown Rice
Garlic lover's dream Garlic Brown Rice loaded with flavor and ready in minutes in Instant Pot.
Posted On:

Oct, 9
| Author:

Savita
These perfectly cooked Brown Rice are ready in minutes with this Instant Pot Garlic Brown Rice recipe. 
Oh, and with flavor of garlic.. These are the garlic-lover's-dream-come-true garlic rice! You will be amazed how a 5 ingredients, or I should say, 5 pantry ingredients make such delicious rice that no one be able to resist. Even not-so-brown-rice-fan person will love it. Also including instructions on how to cook brown rice in pressure cooker, rice cooker, or even plain old heavy-bottom pot. (check notes for additional instructions) 
Recipe is gluten free, can be easily vegan. I added a tablespoon butter to enhance the flavor of garlic. You can skip this or add some olive oil while rice are still warm for silky buttery garlic bite. My favorite! Yummmm! :)
Fill in tacos, burritos, or serve onside with Mexican-style dinner at home. I often serve garlic rice on side of Mole Chicken, Chicken Tinga, Chipotle Barbacoa. And Vegan Tofu Sofritas when we are on meatless diet.
Okay, time to dig-in! Let's make some garlic brown rice.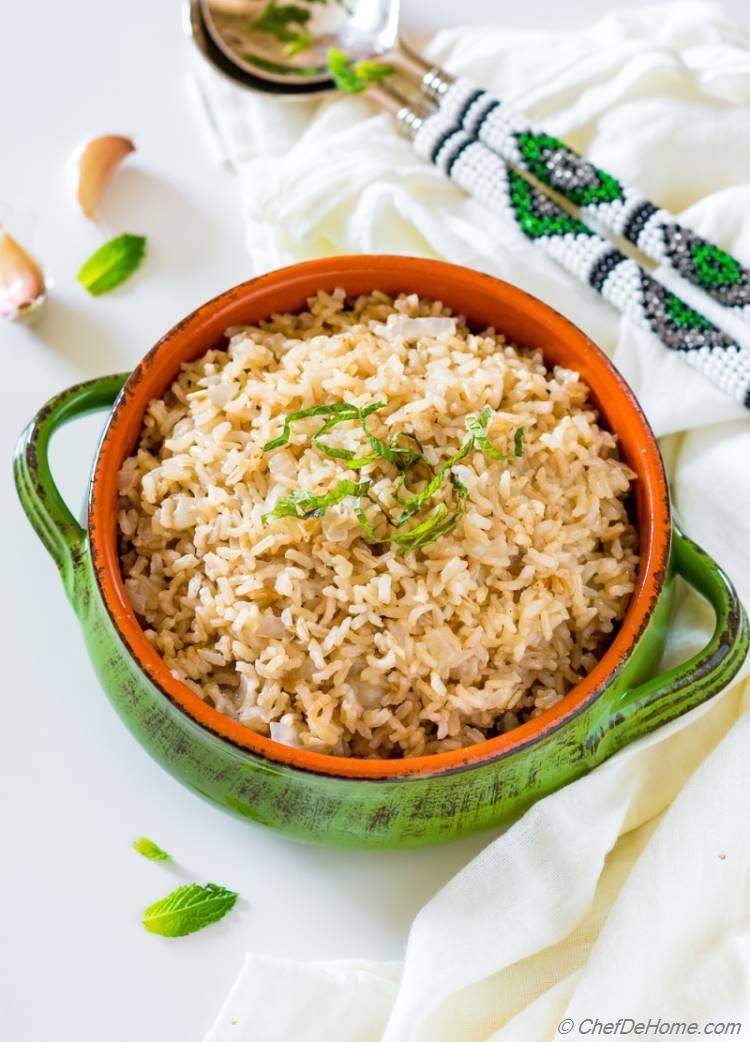 Two things make my family very happy to look at dinner plate: zippy fresh salad and perfectly cooked fragrant rice. No matter what the season, our dinner has more sides than main course. Flavorful sides serve twin purpose for us: make dinner special and leftovers work great for lunch the next day.
I had my share of struggle with cooking brown rice which Vishal would eat. Honestly, we are very fond of long-grain Basmati white rice. In my experience, those who like fragrance of these rice don't easily agree with brown rice. But brown rice are so good source of fiber and healthier choice than white rice. So, few weeks ago, I sat in kitchen with my spatula and knife to only come out when I have developed the delicious and fragrant, the best brown rice recipe ever! 
My secret weapons were: garlic and instant pot. 
1) Garlicky Buttery and Flavorful Brown Rice: This is one thing that will make rice flavor pop without much fancy-dancy ingredients! Garlic and lots and lots of it! Not just it tastes good but garlic is also good for you. Never buy supplements for such God's natural gift. Add it to food, friends!! 
In short, if you love garlic or wants to eat more of it, then this recipe will be new on your favorite-garlicky-food list. I promise.
This preparation is Mexican-style garlic rice flavored with sweet yellow onion and butter. Butter is just a tablespoon but it brings out flavor of garlic even more. Onions give it sweet bite. 
2) Instant Pot Rice: Instant pot is one of the best method to cook perfectly cooked brown rice. No much work or no perching on stove. Switch on instant pot, prepare flavor base and let cooker do it's thing. 22 minutes later enjoy delicious rice cooked to perfection.
Note: I find brown rice taste best when just cooked, just out of instant pot. At this point, these are very creamy and have perfect texture. If you plan to refrigerate the rice, I recommend reheating with some oil or butter.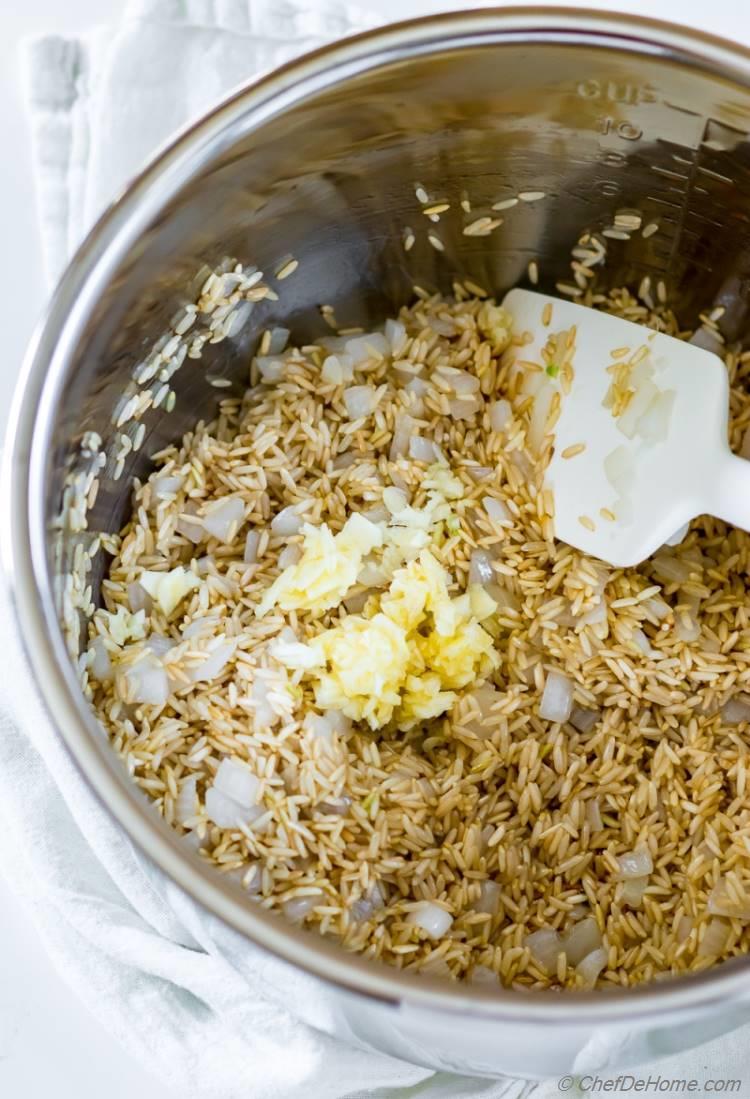 To cook brown rice in Instant Pot, I start by switching-on instant pot on saute setting. I enjoy this part THE most. I mean, when working with appliances like slow cooker, you have to saute stuff on stove then add to slow cooker pot. Not for Instant Pot. It's saute setting makes me very happy. So true to it's name, just one pot and done. Saute, build flavor base, or sear meats right in the pot!
So, when pot is hot, I add in oil, diced onions with little bit of salt. Saute until onions are soft. As onions cook, these become sweeter and add lot of flavor to rice. It is important that garlic is not cooked with onion. I add garlic in last, after toasting brown rice with onions. Cooking garlic release it's flavor in oil. Instead, I want rice to absorb the flavor of garlic which is why I add garlic in last. Fresh grated garlic works best for most amazing garlic flavor. Please only use fresh garlic and grate it before adding to the rice.
Toasting rice with onions brings out their nutty flavor. For best result, saute rice until these turn milky white. This does take 3-4 minutes but you will love the texture it gives to cooked brown rice.
Once rice are toasted, grated garlic goes in, then I add the water (or broth when using) to the pot. Honestly, I decided to use only water even though chicken or vegetable stock will add more flavor, for two reasons:
1) To keep this recipe vegetarian. 
2) I personally love the clean garlic flavor of garlic-rice. This can be well achieved by plain old water.. no stocks needed.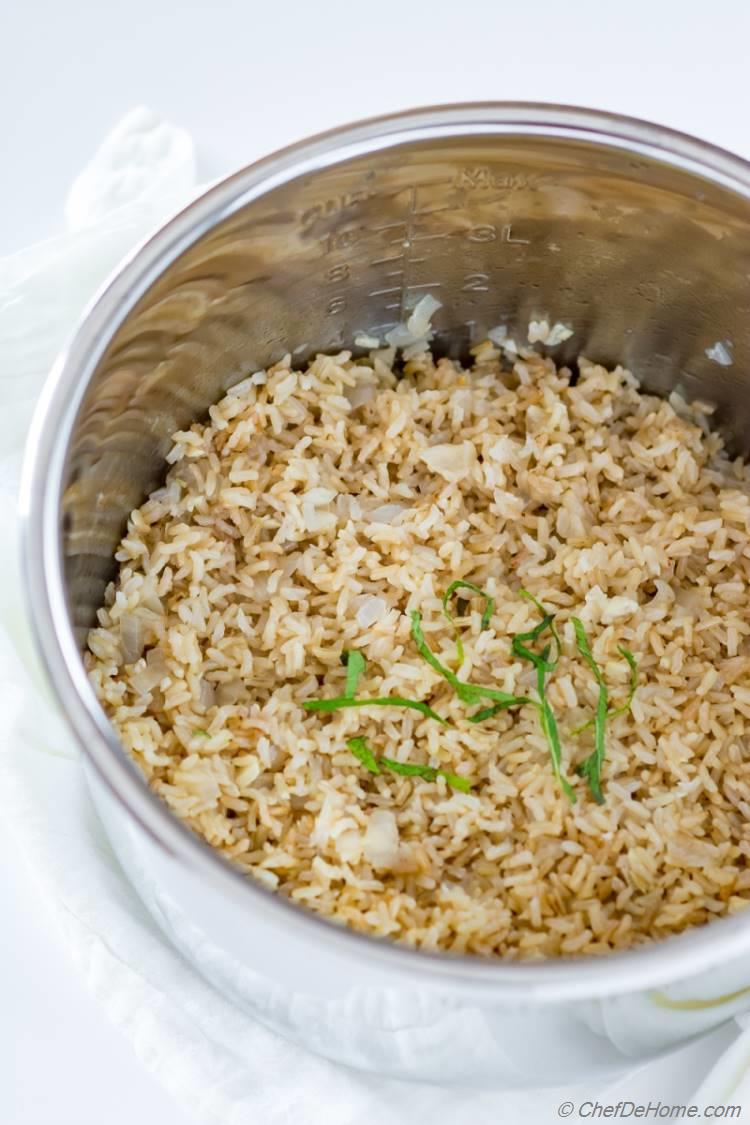 When cooking brown rice in Instant Pot, the amount of liquid is very important. You can't adjust water in pressure cooker or Instant Pot like cooking on stove top in an open pot. So amount of water should be just enough to cook rice without drying out and also no water should be left behind once rice are ready.  
Liquid - Rice Ratio: Instant Pot needs 1.25 cups of liquid for every 1 cup of brown rice. Follow this simple rule and never have soggy or dry rice again.
Seasoning: I also have a fool-proof tip for perfectly seasoned rice every-time! Once everything is in the pot. Taste the water. The amount of salt should taste little sharp than you normally like. This extra sharpness is absorbed by rice as these cook. And you get perfectly seasoned rice every-time!

Brown rice are unpolished rice. These are good source of fiber, and filling. Plus garlic in rice is also good for you. Recipe is Gluten Free and you can easily make it vegan by skipping or substituting butter with vegan alternatives.
So friends, dust off your instant pot and cook something different to serve on side with your favorite dinner tonight.
Update: Try new Instant Pot Mexican Rice Recipe.
Happy cooking! - Savita
Pairing Ideas:
Instant Pot Garlic Brown Rice
reviews

)
(3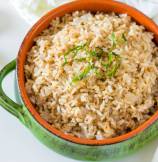 Total Time:
Prep Time:
Cook Time:
Cuisine:
Mexican
(

Side Dish

)
Difficulty:
Easy
Yields:
5 Cups
- Serves:
4
(

No. of servings depends on serving size.

)
Smart Swap: Use Organic Brown Rice for healthy nutrition.
Directions
1.

Set instant pot to saute setting. Add oil. When oil is heated, add onion and saute for 2-3 minutes or until onions are soft. Add dry brown rice with butter and continue saute for 5-6 minutes or until rice turn milky white.

2.

Add in minced garlic, 1 teaspoon salt (adjust per taste), water or stock (if using). You would need 1.25 cups for every 1 cup of brown rice. I used 1 and 3/4 cup plus 2 tablespoon of water for 1.5 cup of rice. Mix well. Make sure there are no grains hanging on sides of pot outside water.

3.

Close lid of instant pot cooker. Set it to Pressure Cook on High for 22 minutes. Once 22 minutes are up, quick release pressure and leave lid covered for 5-10 minutes. Or let auto release pressure in 10 minutes. Open and fluff rice with fork. Serve warm and enjoy!
Savita's Notes:
Pressure Cooker: Pressure cooker instructions are same as Instant Pot since I cooked rice at Pressure Cooker setting of Instant pot.
Dutch Oven Or Pot on Stove: Follow steps as-is up-to to step-2 above but use 1.5 cups water for every one cup of brown rice. Bring to boil on high heat, then simmer covered until water has been absorbed. Let cool a little then fluff with fork.
DID YOU MAKE THIS RECIPE?
Tag
@SAVITACHEFDEHOME
on Instagram and hashtag it
#SAVITACHEFDEHOME
© Chef De Home. Post content including video and photos are copyright protected.
We Think You'll Love