Coconut Rice
Jasmine rice cooked in coconut milk and seasonings for a flavorful savory side whole family will enjoy. Rice cook lite sweet, fragrant, and delicious. Perfect on the side of curry, stir-fry, or stew.
Posted On:

Jan, 31
| Author:

Savita
Thai Coconut Rice is a kind of side you look forward to more than the main course. Must try!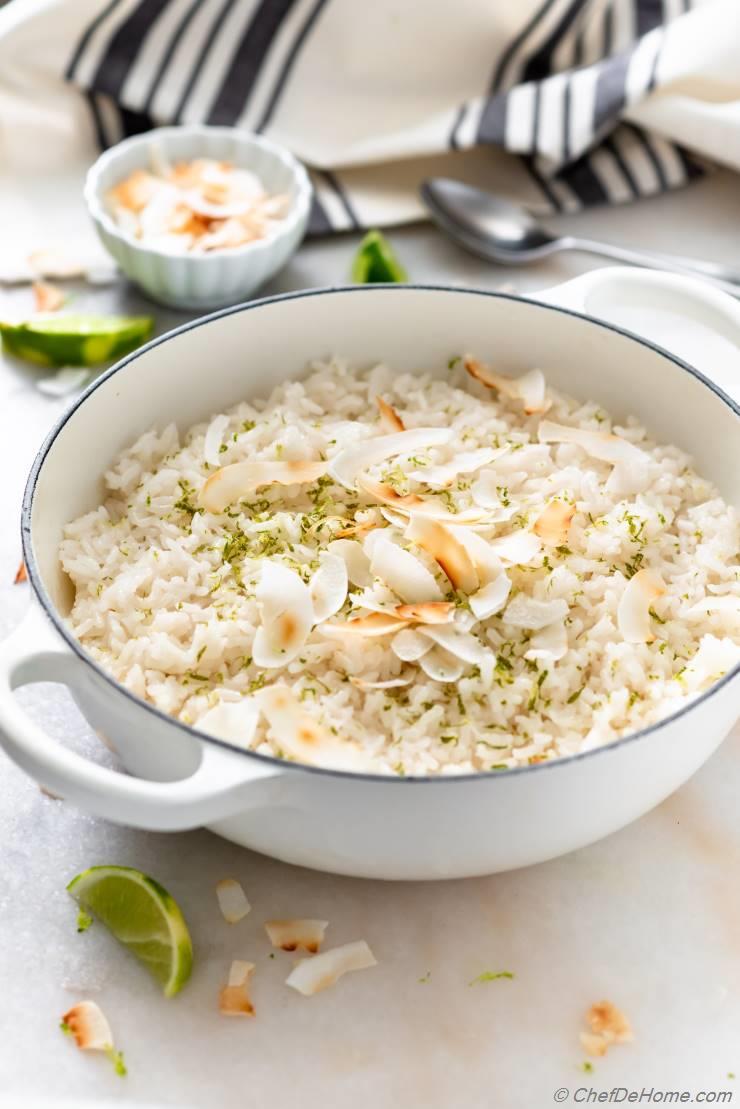 Coconut Rice, savory Jasmine rice cooked in low-fat coconut milk for a delicious and flavorful side dish. Cooking rice in coconut milk instead of water makes rice rich, aromatic with lite coconut flavor. If you have never tried rice cooked in coconut milk, this is a must try recipe. You will love how simply one ingredient i.e. coconut milk will season plain old rice and make a special side dish. Gluten Free, Vegan, Dairy Free. 
Fragrant and lite sweet, coconut rice are special favorite among kids. Goes great with spicy food such as curry or stir fry. It is a side dish everyone ask for second serving. 
Coconut Rice
This recipe for Thai Jasmine Coconut Rice is a side dish, not a dessert. The sugar in coconut rice is lite and subtle just to make rice pleasant to eat with spicy food.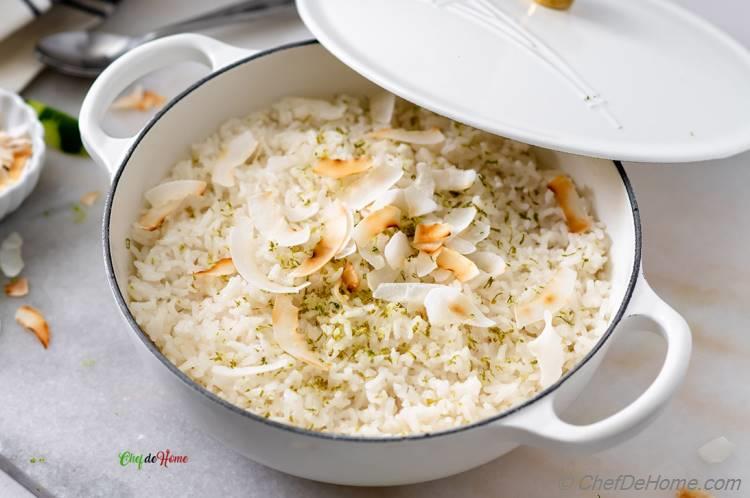 Coconut Jasmine Rice are very commonly served in Asian - Malaysian, Thai, Indian, and Indonesian cooking as a fragrant side with all meals. Specially in tropical regions of these countries where coconut is in abundance. You will find coconut milk used in lot of dishes including everyday rice. Each region has their own recipe and method of preparation.
Today's recipe is inspired from the traditional preparation. But when I make coconut rice at home, I use low fat coconut milk and simplest (age old tested) method to cook rice in coconut milk.
What do you Need To Make Coconut Rice?
This Coconut Rice recipe needs only 5 ingredients. If you like cooking with coconut milk, I'm sure you will have few cans of coconut milk in your pantry. Rest, it needs only 6 more ingredients for coconut rice. Jasmine long grain rice, sugar, salt, toasted dried coconut, lime zest, and aromatic whole spice such as screwpine leaf, bay leaf, cardamom or cinnamon.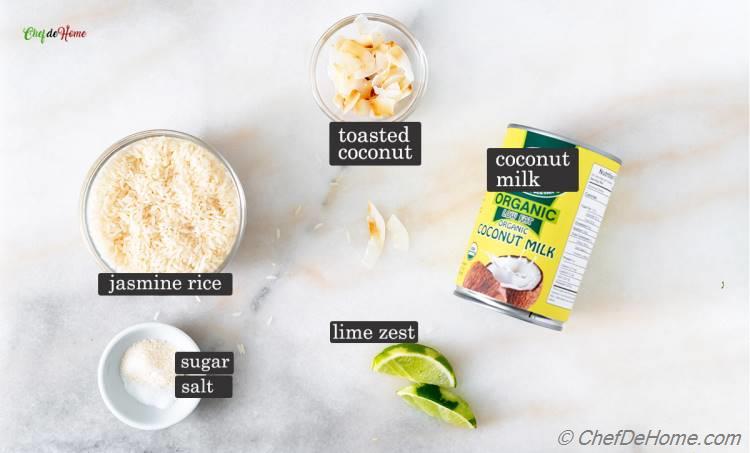 I make coconut rice with all or one of the aromatics. However, don't worry if you don't find or have aromatic spice in pantry. You can also use lemon grass or just lime zest and toasted coconut.
In fact, I highly recommend adding the toasted dried coconut chips. These add to the richness of coconut rice cooked in coconut milk. Highly recommended. 
Cooking Coconut Rice
To make coconut rice, I start with washing the Jasmine rice under running water until water runs clear. I get so many questions on importance of washing rice before use and how long to wash rice before cooking. 
This time, I times myself and it takes 3 minutes to wash rise under running water until water runs clear. This is helps remove extra starch from rice. Resulting rice cook fluffy, absorb less water, are lite and not that sticky.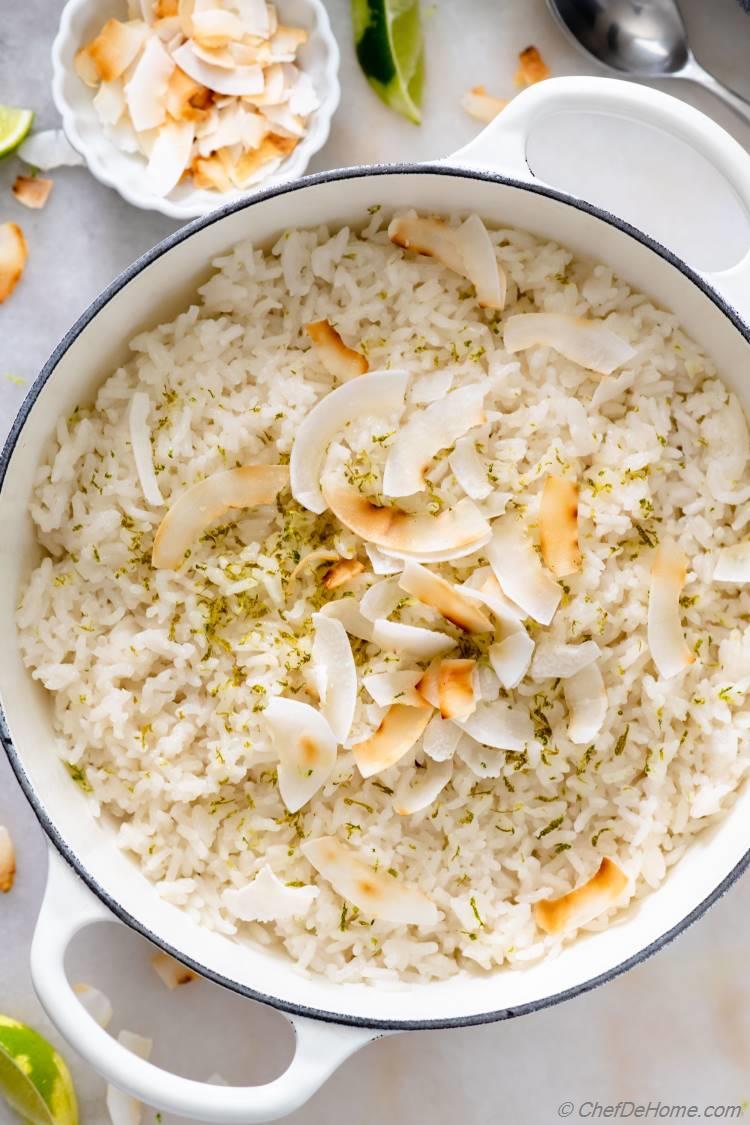 Once rice are rinsed, rest is one simple step. Mix all ingredients and simmer on low until rice are cooked. Coconut rice are slightly sticky because of coconut milk and sugar. Don't be alarmed as these tastes delicious. You will love the flavor.
When boiling coconut milk and rice, the mixture has tendency to boil over. It is very important to stir rice a few times and simmer on low to prevent catching rice at the bottom of the pan.
Don't forget to fish and discard the aromatic spicy before serving.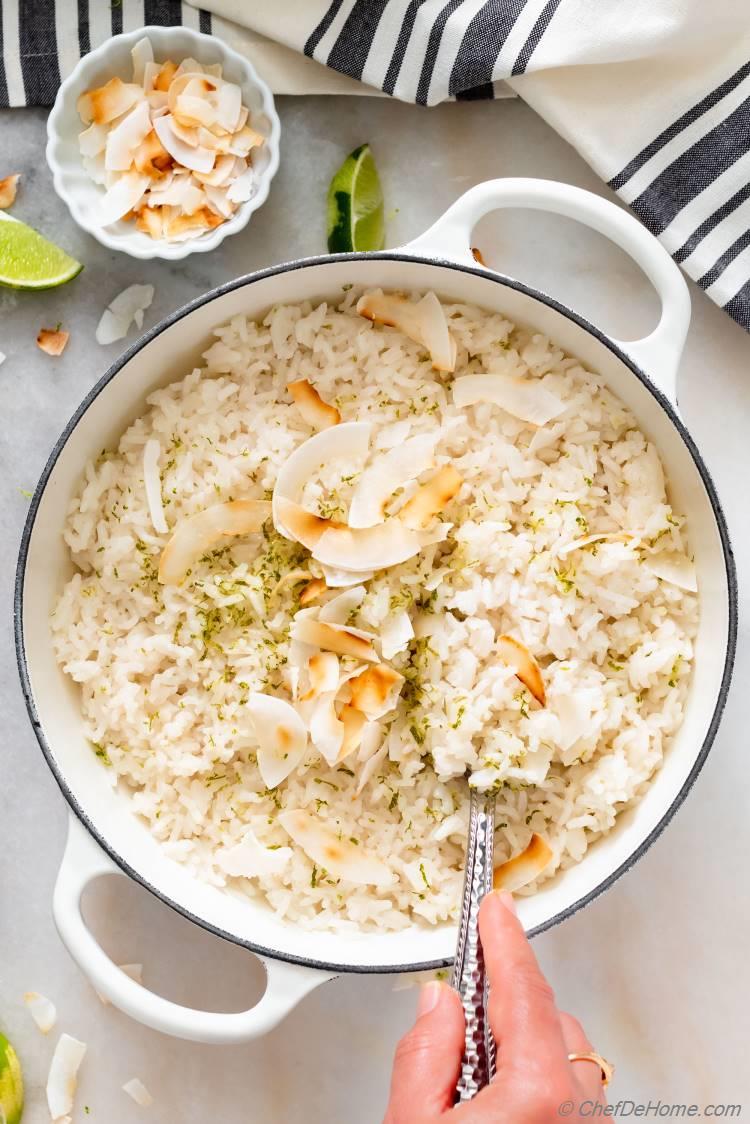 Serve Coconut Rice with: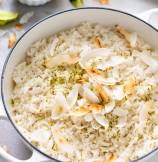 Total Time:
Prep Time:
Cook Time:
Cuisine:
Asian
(

Side Dish, Dinner, Lunch

)
Difficulty:
Easy
Yields:
6-7 Cup Rice
- Serves:
6
(

Additional 15 minutes Rest Time

)
Directions
1.

Wash Rice

:

Wash rice under running water until water runs clear. Drain and set aside. (about 3 minutes)

2.

Cook Rice

:

In a heavy bottom deep pot, add water, coconut milk, salt, sugar and aromatic (screwpine leaf or cardamom pod with cinnamon). Stir to mix sugar with liquids. Add rice (washed and drained). Bring to rolling boil.

3.

Cook Rice

:

Once started to boil, stir once, lower heat to lowest and cover the pot with tight lid. Cook for 10-18 minutes or until rice are cooked, most of liquid has been absorbed. Stir 1-2 times in-between to avoid boil over or avoid catching rice at bottom. (See Note 1 and 2)

4.

Rest Rice

:

Once all liquid has been absorbed. Switch off heat. Cover rice with clean kitchen cloth and place lid back on top. Leave aside for 15 minutes.

5.

Garnish and Serve

:

While rice are resting, heat a dry skillet. Add coconut chips and toast briefly until chips just start to brown at edges (1-2 minutes). Remove from heat and set aside. Once rice are ready, fish and discard aromatic (if added in step 2). Fluff rice with a fork. Garnish with toasted coconut chips and lime zest. Serve while still hot. See notes for serving suggestions.
Savita's Notes:
When boiling coconut milk and rice, the mixture has tendency to boil over. It is very important to stir rice a few times and simmer on low to prevent catching rice at the bottom of the pan.
If rice are cooked but are still slightly wet. Don't worry. Rice will absorb remaining water in the rest time (Step 3 above).
If rice are not cooked and all water has been absorbed. Add few tbsps of water, stir, and continue cooking covered. 
Coconut Rice cook moist and little sticky. Once rested, use a fork to fluff rice. Use gentle strokes to fluff and be careful not to break rice grains.
Use unsweetened coconut milk. That way you can control the sweetness per preference. 2 tbsp sugar makes rice very lite sweet which balances well with salt in the recipe. If you prefer extra sweet, add 1-2 tbsp more sugar. However, I recommend to resist adding more sugar as that will move this dish towards dessert. This coconut rice recipe is meant to enjoy as a side with your favorite spicy food. 

I prefer low-fat coconut milk. But this recipe works perfectly well with full fat whole coconut milk. Full fat milk will make richer rice.
To cook Coconut Rice in Instant Pot, follow all instructions as-is up to step 1. For cooking, add 1/2 cup less water and pressure cook at high for 5 minutes. Don't quick release pressure. Let IP pressure release naturally. 
Recipe doubles easily. I formulate it such a way that it uses one standard size coconut milk can (13.5 ounce) for one recipe. 
I tested this recipe with Long Grain Jasmine Rice. If using different rice, please adjust the cooking time and liquids accordingly. 
Optional for Serving: Add chopped fresh Thai basil leaves on the top. 
DID YOU MAKE THIS RECIPE?
Tag
@SAVITACHEFDEHOME
on Instagram and hashtag it
#SAVITACHEFDEHOME
© Chef De Home. Post content including video and photos are copyright protected.
We Think You'll Love