Chicken Pesto Pasta
Creamy Pesto Sauce, chicken and bow-tie pasta, a homemade master-piece Chicken Pesto Pasta dinner that tastes better than restaurant.
Posted On:

Mar, 14
| Author:

Savita
Chicken Pesto Pasta, a creamy chicken and pasta recipe with bow-tie pasta and succulent chicken cooked in lightened-up yet creamy Basil Pesto Sauce. Only 15 minutes of prep makes this recipe perfect for quick dinner. Plus pasta is tasty, lite, and flavorful. I bet more flavorful than Pesto Pasta from your favorite Italian restaurant. Give it a try!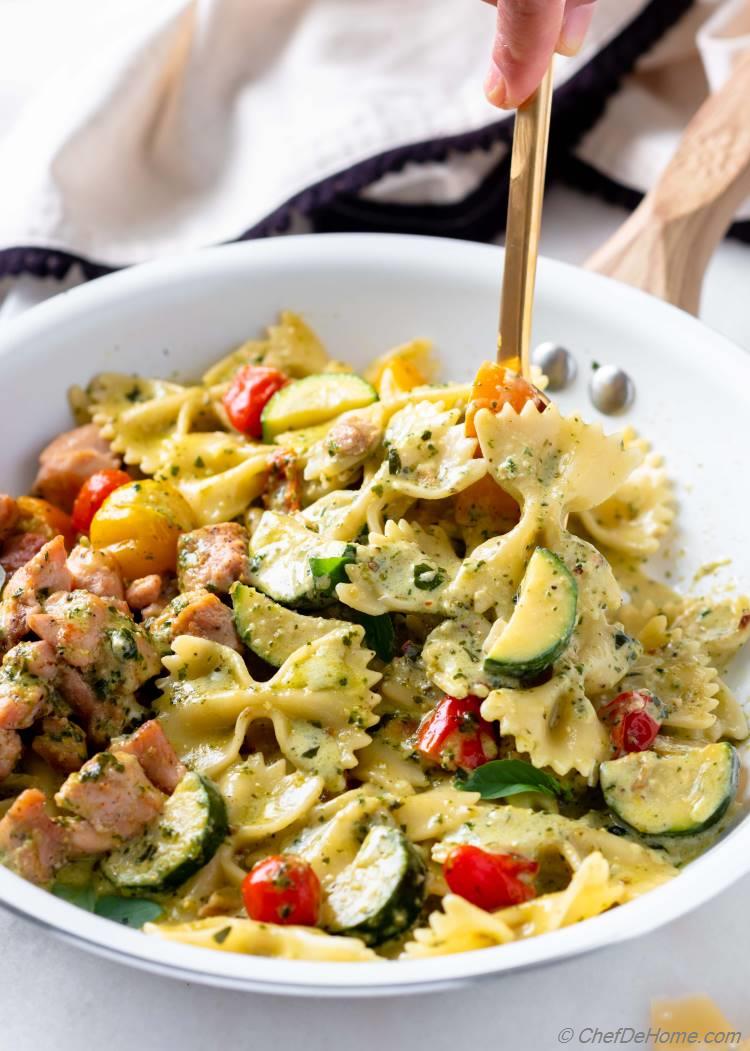 My version of Chicken Pesto Pasta is special. Sauce is creamy yet lite with delicious flavor Pesto. Just three things make all the difference:
I use Homemade Basil Pesto. (Don't worry if you can't. Also sharing few of my trusted store-bought Basil Pesto brands.)
To lighten-up the pasta sauce, I replace heavy cream with half-and-half. (half the cream and half the milk).
I give sauce more depth of flavor with herbs and by cooking chicken in same pan before making sauce. Flavor of cooking chicken and seasonings makes sauce bold and delicious.
The resulting Pesto Pasta is creamy, indulgent, and has knock-out pesto flavor. So delicious!
I highly recommend trying this recipe. Needs only 15 minutes of prep. Once you have the Basil Pesto, rest of recipe comes together in minutes. Simply cook fresh bowtie pasta. While pasta cooks, cook chicken and sauce in one pan. Mix the two with some parmesan cheese. Wallah! Dinner is ready to devour!
So, let's make some Chicken Pesto Pasta tonight!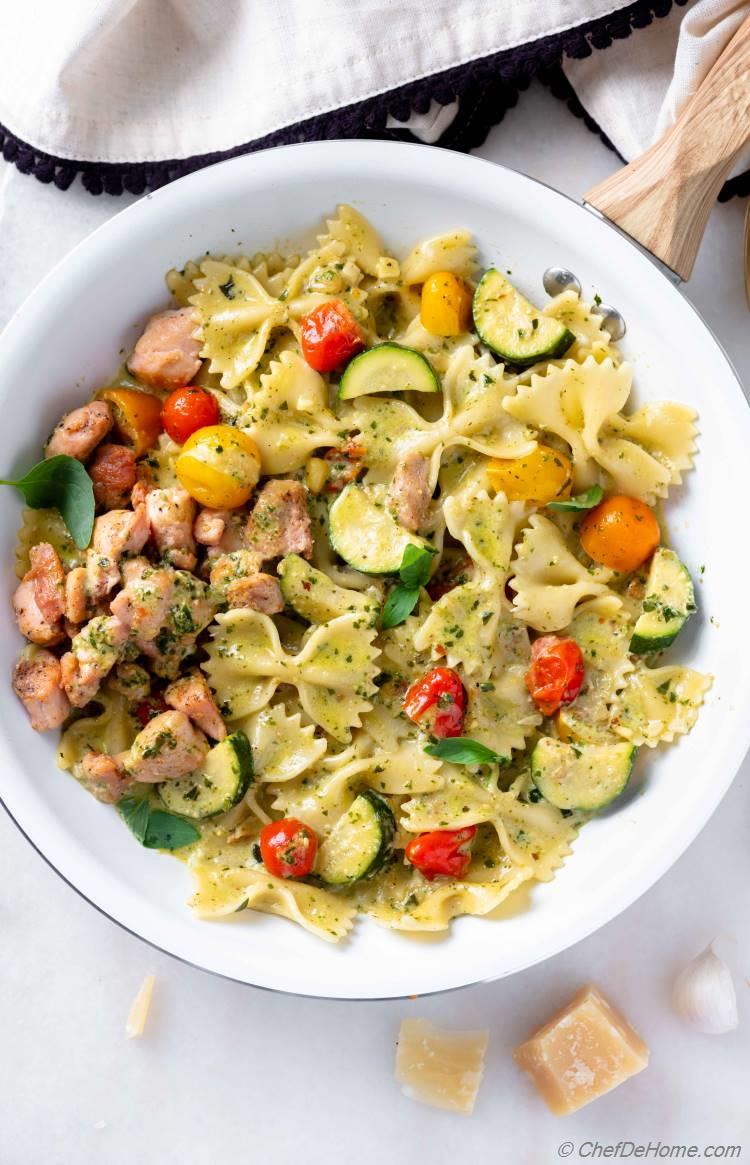 PESTO CHICKEN PASTA
Basil Pesto (also know as Green Pesto) and cream sauce is the heart of this Creamy Pesto Chicken Pasta. In-fact, the fragrance of fresh Pesto was my inspiration behind creating this chicken dinner. 
Making Pesto Pasta Sauce is easy and super quick. You need only 6 ingredients. 
Fresh Basil Pesto
Garlic
Parmesan Cheese
Heavy Cream or Cream Half and Half.
Lemon juice
Chicken Stock - I skip chicken stock when making Chicken Pesto Pasta because I saute chicken with seasonings in the pan first, then make sauce in same pan. The flavorful bits of chicken stuck on pan give delicious depth of flavor to the sauce without chicken stock. If you are making only Pesto Sauce, I recommend using the Chicken Stock.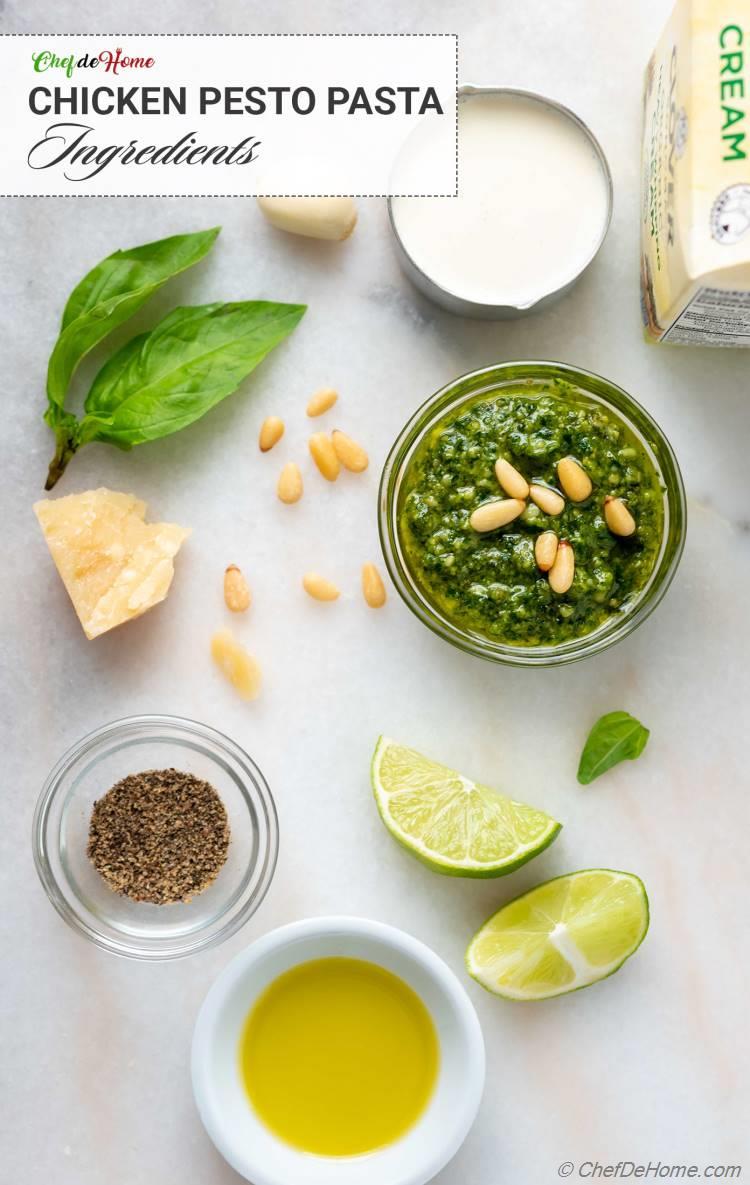 Tip: You can even make pesto sauce ahead of time and refrigerate. When ready to eat, cook pasta, saute chicken, add sauce and pasta. That's it. Ready to serve.
Besides Pesto Sauce, two quintessential ingredients of Chicken Pesto Pasta are: Veggies and Chicken.
VEGGIES:
We often eat chicken pesto pasta with tomatoes and broccoli. When I'm out of broccoli, I love adding zucchini, summer squash and green peas for substantial serving of veggies in the pasta. In my humble opinion, all of these veggies - tomatoes, zucchini, and broccoli benefit from the fragrant and creamy pesto sauce. I cook veggies al-dente. With sauce, these tastes crunchy and so good! Even picky eaters love'em. Trust me, I know because I have a picky eater at home who devoured whole bowl of pasta - zucchini tomato included.
So, you can use any of these veggies in Pesto Pasta:
Tomatoes Or Cherry Tomatoes.
Broccoli
Mushrooms
Zucchini
Summer Squash
Green Peas
Bell Peppers
Artichokes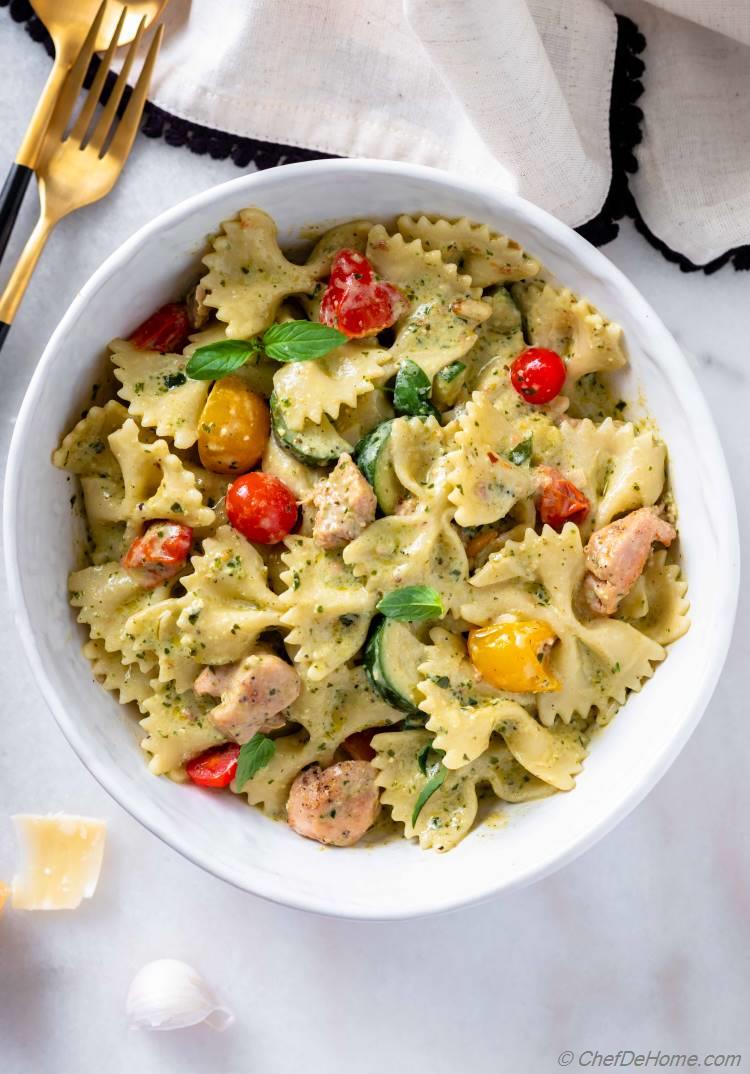 CHICKEN:
Chicken for Pesto Pasta can be cooked various ways. I like to cook small diced chicken thighs in saute pan and then build sauce in same pan to add flavor in Pesto Sauce without Chicken Stock. You can also use Rotisserie Chicken to save some time. I only recommend to heat the chicken in sauce to make sauce more flavorful or use 1/4 cup of chicken stock. 
You can make Chicken Pesto Pasta with Grilled Chicken. For grilled chicken pesto pasta, season chicken with oil, lemon and seasonings (salt plus  herbs/spice-blend of your choice). While chicken marinates, heat a grilling pan or an outdoor grill. Grill chicken on hot grill until grill marks appear. Let cook both sides until internal temperature of chicken registers  165 degrees Fahrenheit. While chicken grills, cook pasta and make pesto sauce as suggested in the recipe card. I recommend to add 1/4 cup chicken stock in the sauce for more flavor. Once chicken is ready. Let it rest for 5 minutes before slicing. Serve sliced grilled chicken with Pesto Pasta.
Tip: You can also serve Pesto Pasta with lean protein such as shrimp, white-meat chicken or tofu. Cook any of these proteins in pan with salt and pepper before cooking sauce. You can also grill protein like I described above. 
PASTA:
Honestly, options are endless. Whether you like penne, farfalle, spaghetti, or tagliatelle. All these pasta shapes work with cream basil pesto sauce. Sauce coats the pasta very nicely.
When I make pasta, I follow a simple tip that I learned from Chef Giada of Food Network. Add pasta to sauce, don't mix, first add the grated parmesan (or cheese of choice) on the hot cooked pasta. This way, cheese sticks to the cooked pasta, then this combination holds sauce very nicely. You will never eat bland pasta. I bet.
Tip: Try Zucchini Pasta (zucchini noodles) instead of wheat pasta for a low-carb Pesto Pasta dinner.
If you don't have chicken/shrimp, this Pesto Pasta also works perfect vegetarian. (hint hint)
Try something different for dinner tonight. I have made Chicken Pesto Pasta easy to prepare at home, as a complete meal - Pasta with fragrant Pesto Sauce, chicken, tomatoes and zucchini.
Drop a message and share with me your favorite Chicken and Pasta Dinner?
Stay safe and take precautions to beat the COVID-19 virus out of this world.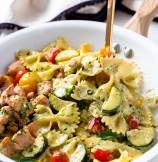 Total Time:
Prep Time:
Cook Time:
Cuisine:
Italian
(

Pasta, Main Course

)
Difficulty:
Easy
Yields:
2 Entrée
- Serves:
2
Ingredients
Chicken Pesto Pasta
Pesto Sauce
Directions
1.

Cook Pasta

:

Bring pot of water to rolling boil. Season with salt. Add pasta and cook boiling until pasta is al-dente (about 10-12 minutes) For best results, check pasta package for al-dente cooking time.

2.

Cook Chicken

:

Heat oil in a large heavy bottom skillet to medium-high heat. Add garlic and chili flakes. Cook stirring often for 20-30 seconds or until garlic is fragrant. Don't let garlic burn. Add diced chicken. Sprinkle generous pinch of salt on chicken before stirring. Stir cook chicken for 2-3 minutes or until chicken is no longer pink and develops some color. Transfer chicken to a plate.

3.

Make Pesto Sauce

:

In, now empty, same pan on medium heat, add basil pesto. You don't need more oil since pesto has oil in it. Cook pesto for 30 seconds to 1 minute or until it is fragrant. Add cream half and half, water (or stock if using). Bring to boil then lower heat to medium. Mix in half of the parmesan cheese. Add chicken back into the sauce with cherry tomatoes and zucchini. Cook for 3-5 minutes or until Pesto Sauce thickens and chicken is fully cooked. Once sauce thickens, mix in lemon juice and salt. Taste and adjust salt and black pepper.

4.

Assemble Chicken Pesto Pasta

:

Add cooked and drained pasta to chicken with pesto. Sprinkle remaining parmesan cheese on the top of pasta. Now, coat the pasta in the sauce. Add 2-3 tbsp of the chopped fresh herb of your choice. Serve Chicken Pesto Pasta while still hot. Enjoy.
Savita's Notes:
Try this with my Homemade Basil Pesto - 12 minutes, 6 ingredients and Basil Pesto so delicious that you will never buy from store.
Have leftovers or making ahead? Reserve some pasta cooking liquid to freshen-up the sauce. Add to the pasta when reheating. Taste and adjust with seasoning/splash of cream before serving.
DID YOU MAKE THIS RECIPE?
Tag
@SAVITACHEFDEHOME
on Instagram and hashtag it
#SAVITACHEFDEHOME
© Chef De Home. Post content including video and photos are copyright protected.
We Think You'll Love