This recipe is Copyright of ChefDeHome.com

with pine nuts and Parmesan cheese
Classic basil pesto recipe with fresh basil leaves, pine nuts, garlic, cheese and extra virgin olive oil. Everything you need for this basil pesto recipe are easy to find local market ingredients.
Basil Pesto is most delicious basil based sauce which can be enjoyed with many main dishes. Be it baked or roasted potatoes to basil pesto pizza, options are endless.
This pesto recipe is easy with simple step-by-step easy to follow instructions. Making basil pesto at home is very economical. If using farm fresh basil and garlic, homemade basil pesto is half the price spent to buy it from store.
Above all, homemade basil pesto will be fresh and healthy without any preservatives.
Notes: For best results, make basil pesto 10-20 minutes before serving. This time allows flavors to marry well and olive oil absorbs good sharp basil taste.
Love Basil? Few delicious basil recipes from my kitchen!
Craving for more?
Join us: Weekly Newsletter, Facebook, Google, Twitter, Pinterest
Shop products we use: CDH Amazon Shop (affiliate links)
Classic Basil Pesto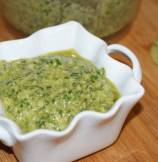 Total Time
Prep Time
Cook Time
Difficulty
Easy
Yields
1/2 Cup Basil Pesto
Serves
4
Notes
Good to cook pasta for serving 4.
Ingredients
1 Cup

Basil

(Fresh Basil Leaves)

1/4 Cup

Parmesan Cheese

(Grated)

1/4 Cup

Pine Nuts

Salt and Black Pepper

1/4 Cup

Olive Oil

2

Garlic

(cloves)
Directions
Hide Step Photos
1.

Grate the parmesan cheese if not already grated.

2.

Pulse all ingredients together except olive oil and parmesan cheese. Slowly add olive oil while pulsing the ingredients.

3.

Add parmesan cheese and pulse again.

4.

Serve it with baked rustic potatoes or use it in pasta of your choice.
Savita's Notes:
After making the pesto let it sit for 10-15 minutes to marry the flavors.

© Chef De Home. All contents and images are copyright protected. DO NOT copy or re-use content/images/videos. For all content/post mentions with link back, contact ChefDeHome for permission.

Craving for more?
Join us: Weekly Newsletter, Facebook, Google, Twitter, Pinterest
Shop products we use: CDH Amazon Shop (affiliate links)
What would you like me to cook next?: Request a Recipe