Homemade Restaurant-Style Indian Garlic Naan
Posted On:

Apr, 24
| Author:

Savita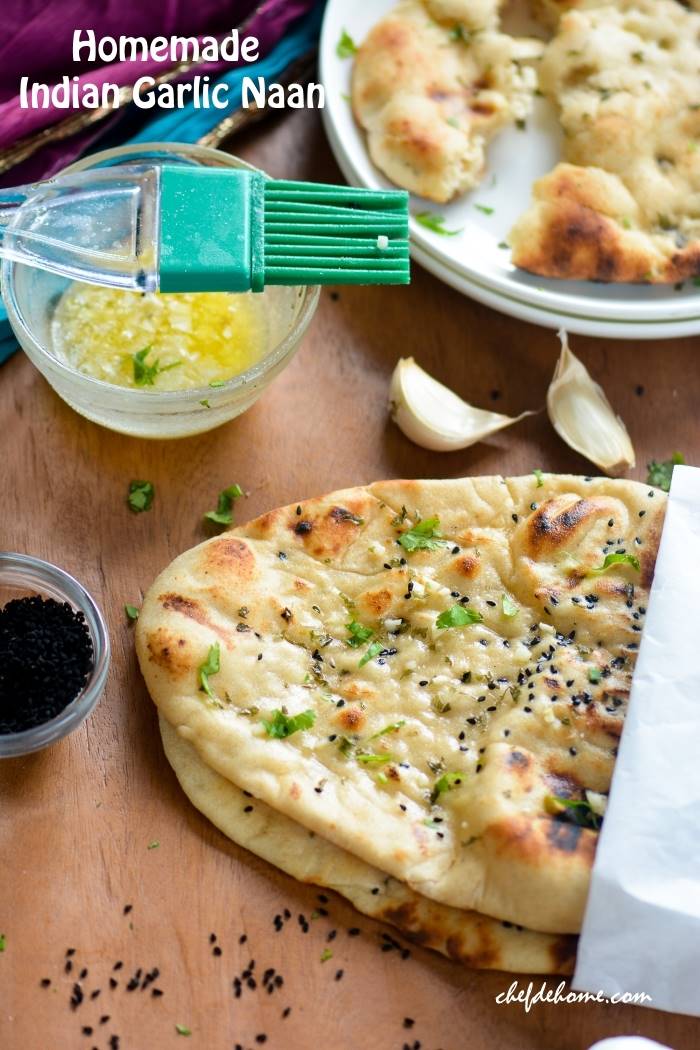 Sharing with you one more, special dear to my family, recipe of Indian flat bread, world famous as "Garlic Naan". Not just me, this naan is favorite of everyone who have ever tried Indian food. Isn't it?
A quintessential Indian bread served in every Indian Eatery, big or small, Garlic Naan is heart-throb of million Indian Cuisine Lovers! My family is no exception either. It's funny, when I told them that I finally shared my Naan Recipe on blog, no one..... simply NO ONE, asked me, how did it go?! They just asked... was it a Garlic Naan? I said, "No! it was not a Garlic Naan. A plain butter naan. I didn't want to jump to Garlic Naan recipe without sharing the basic naan bread." You know, what was the answer, "uhmm... okay... I'm sure.... garlic naan would have been better!" 
Not going too far, even my husband, asked me to make a garlic naan from leftover dough of plain butter naan. ;)
Well... well.. I get it... garlic naan is so so desirable. Hence, I'm here to share the recipe with you. This version of garlic naan is pretty close to my Butter Naan recipe, though, I'm also sharing instructions to make it in oven this time. Even though, any given day, I will prefer "Stove Top Naan" to oven naan, but still felt to share both methods.
Why I prefer Stove Top Method?
Well, good question! Let me share with you why?!
Indian Tandoor (clay oven) which is traditionally used to cook naan, is a very high temperature and intense heated vessel. Our modern home ovens can't match (by far) the heat of real burning fire in traditional tandoor. End result? Home oven baked naans end-up being dry, deprived of moisture or victims of low-heat cooking. 
So, if you plan to cook this naan dough in oven, make sure to keep naan little thicker, so that it can be fluffy and not dry.
However, there is a way to make soft naans in modern home oven and I'll share the recipe for that whenever I get time. I made it!! Cook'em on stove top or make'em little thick and follow the "oven cooking" recipe here Oven Naan Recipe. (I finally made an Oven Version!!)
Since, garlic naan are favorite of everyone, I have also doubled the recipe ingredients and increased size of bread. After all, no one will want just one naan! Right? and by making a little bigger naan, you will do little less work :) Amount of wheat flour and all purpose flour ratio is same. Hence, naan will be soft, fluffy, and not at all rubbery or tough.
I love adding Nigella Seeds (Kalunji) on my garlic naan for some extra oomph! However, it is totally optional.  Even for this batch, I made few garlic naan with Kalunji, for me, and some without kalunji for Vishal.
One thing is certain, these naans will sure make you forget store-bought naan. Plus these are healthier than Restaurant Naans! Chances are, you might start making'em at home very often than ordering from Indian restaurant.  :)
I'm telling you, that aroma of fresh cooking garlic naan slathered in warm garlic-butter is killer! A dream-come-true for garlic lover (like me and my family) and a jack-pot for any Indian Cuisine Fanatic!
And... last but not the least... there is one more reason to make'em at home. The freaking high price of naans in restaurants! Don't you think?? I don't lie, we Indians also go eat Indian food and order naan in Indian eateries all the time. Especially when feeling lazy to cook at home.
Across the street from our apartment, there is a new Indian Restaurant. They make killer garlic naans! Right in front of your eyes for every order! Being Indian, I can tell their naan are very authentic. So, we went to eat their,...... Vishal and I, both really liked the naans and ordered a couple of times. The best part was, just 75 Cents per naan.
Then, it so happened that we not visited the place for good few months....
Recently, we visited again, and you know what was the price of one ala-carte naan, now?
2.99$.
I was like, Really? Are you selling gold-plated naan here??? lol ;)
Seriously, I'm better with my homemade naans. I'll rather prefer to freeze a few for rainy-day.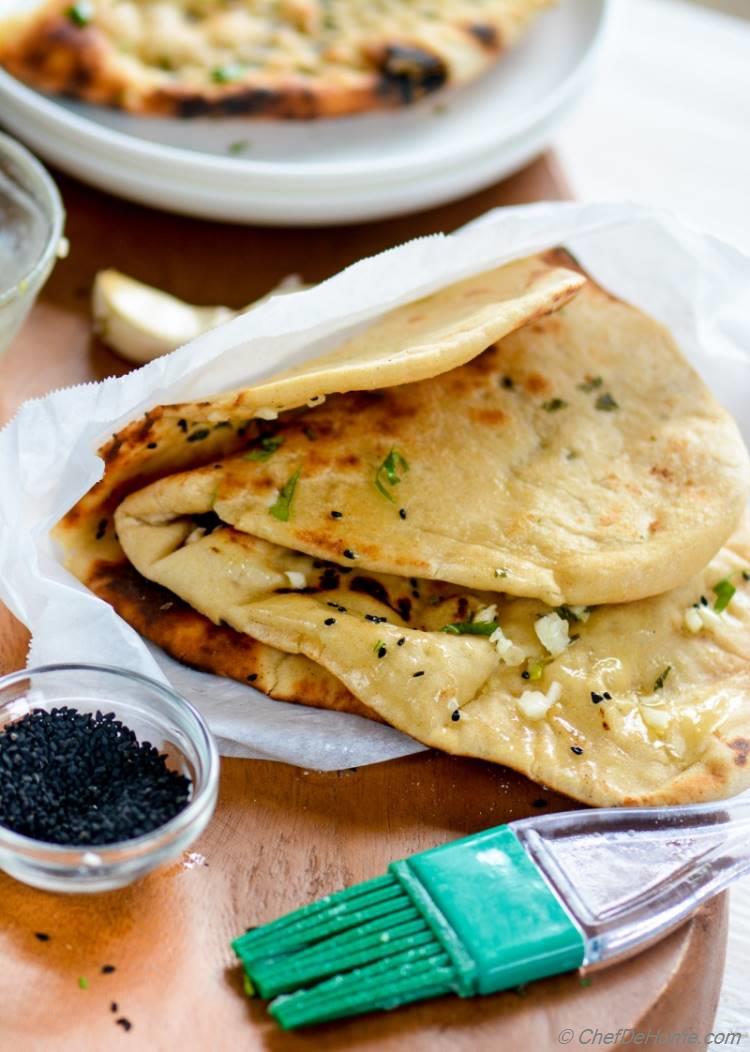 Last time everyone said, Naan needs more butter. SO I have applied a generous layer for pictures. You can use it as per liking. These naan are not vegan or gluten free. But, I think I have to make some to satisfy my inner conscious and share with you. It kills me when I don't bring health on the table. Give it to authenticity of Indian Cuisine, this how we eat naan. And I guess, it's okay to indulge once-in-a-while! Don't you think?  Though, in these naans, I have used good serving of whole wheat and healthy dose of garlic. Rest, I will keep for some other day.... 
Freeze Instructions:
The beauty of homemade naans is that you can freeze them for later use. Both cooked or uncooked. Since it made-at-home, so freshness is sealed right in the beginning and then perfect Homemade Indian Food any day of the week! Check the instructions to freeze here.

Let's head straight to the recipe! Enjoy!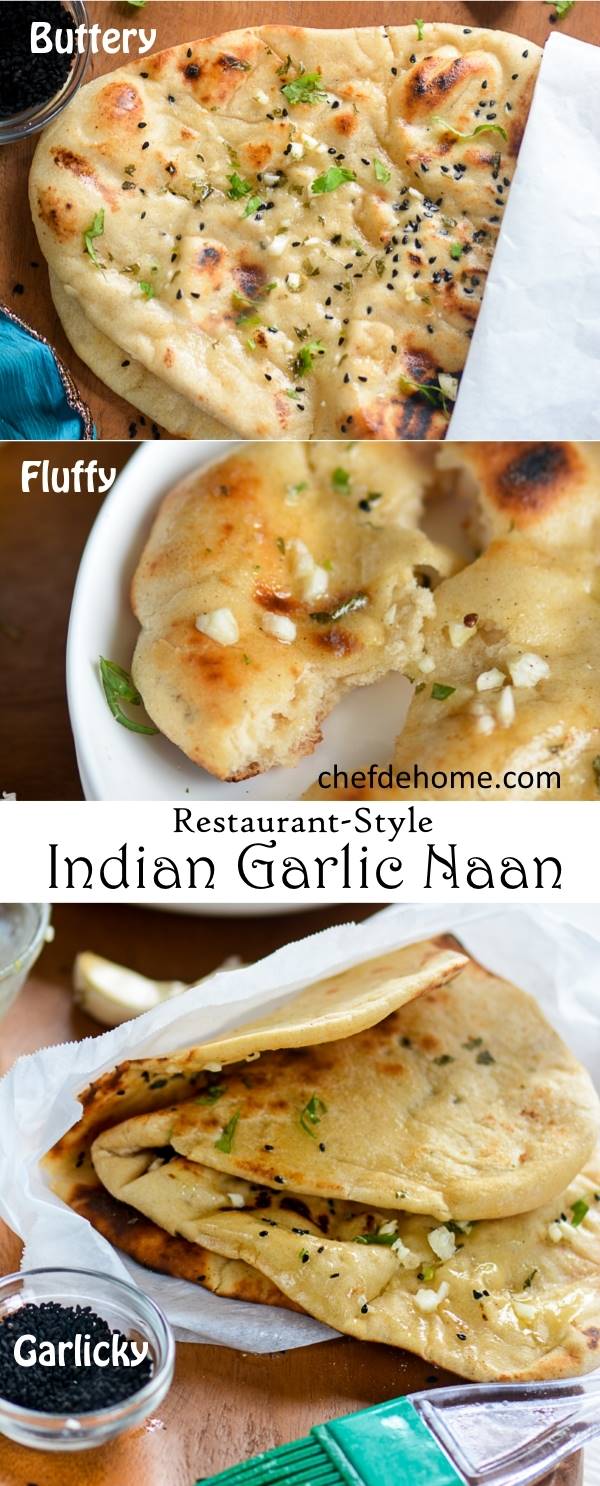 List of curries, to pair with Garlic Naan, are endless... However, I have picked these few special ones for you:
Homemade Restaurant-Style Indian Garlic Naan
reviews

)
(19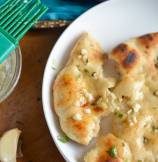 Total Time:
(Idle Time:

1 hr 10 mins

)
Prep Time:
Cook Time:
Cuisine:
Indian
(

Side Dish, Bread

)
Difficulty:
Easy
Yields:
8-10 Naans
- Serves:
5
Nutrition:
125 calories per serving
(

Total Time includes Idle Dough Rest Time

)
Ingredients
Garlic Naan Dough
Toppings
Smart Swap: Use all Wheat Flour for a Whole Wheat Naan!
Directions
1.

Lukewarm 1 cup water, add sugar and yeast. Let it sit until foamy. (about 10 minutes.)

2.

Add lukewarm milk, wheat flour, garlic paste, all purpose flour (all but leaving 1/4 cup), oil, salt over bloomed yeast.

3.

Mix all ingredients. Add 1 tbsp remaining flour at a time until dough comes together. Knead the dough briefly, just for 1-2 minutes in the bowl. Dough will be little wet. If feels too wet or sticky, add 1/2 tbsp flour more at a time. Dough should not be very dry.

4.

Coat the bowl with 1 tsp oil, add dough and coat in oil. Cover with plastic wrap and then with clean kitchen towel. Leave to rise at warm place until double in size. (1-2 hrs)

5.

This is how it looks after about 1.5 hrs. Punch down the dough and transfer to work surface (flour dusted board)

6.

Heat an iron skillet or heavy-bottom pan. Or Preheat oven at 500 degrees Fahrenheit. Microwave and melt the butter in a microwave safe bowl for 15 secs, add chopped garlic and set aside. Divide dough into 8-10 equal parts.

7.

Roll each dough to a (about 6" wide - 10" long) oval shape (or round if you prefer).

Additional Notes:

If planning to cook in oven, leave naan a little thicker than as shown in picture.

8.

Spread 1/4 tsp nigeella seeds on boards, place naan on top and gently roll once.

Additional Notes:

If using oven, place a sheet pan in oven to start heating up while you roll naans.

9.

Stove Top : Place one rolled naan on heated skillet and let it cook for 1-2 minutes or until yeast action shows tiny bubbles all over the naan. Flip the naan, place it on direct gas flame until slight charred and cooked on other side (just 10-15 secs max) Always keep a tongs/spatula handy to lift or flip the naan.

Additional Notes:

While you roll next naan, keep the rolled naans covered with kitchen towel.

10.

Oven: Place rolled naan on hot sheet tray, two or three, depending on size of sheet tray. Bake for 4 minutes, remove, bush butter, put back in oven with broiler on for 1-2 minute, or until top are nice and charred.

11.

Remove cooked naan with tongs and place next naan on skillet/oven, repeat until all naans are cooked. Immediately brush butter-garlic on cooked naans and spread some chopped cilantro. Butter will keep them moist while you finish cooking the rest. Serve hot garlic naans with you favorite curry and enjoy!
Savita's Notes:
Amount of flour needed can be a tbsp more or less based on quality of wheat and weather conditions. Always start with 1/4 cup less flour, then add 1 tbsp at a time until desired dough forms.
Cooking time is estimated as it depends on method opted and also on size of skillet/sheet pan. It will take less time if you cook multiple naans at once.
Update: Aug-25-2016 I recently added few more homemade naan recipes. Check'em out!
Stuffed Paneer Naan is one of the top Indian Breakfast Naan.
Quick and Soft Baked Garlic Naan If you are in mood to bake, baked Garlic Naan calling you name!
DID YOU MAKE THIS RECIPE?
Tag
@SAVITACHEFDEHOME
on Instagram and hashtag it
#SAVITACHEFDEHOME
© Chef De Home. Post content including video and photos are copyright protected.
We Think You'll Love