Salmon Burgers with Lemon-Caper Wine Sauce
Gourmet Burgers that are easy to prepare and taste like ordered from a restaurant. You will fall in love with the flavor of Lemon-Caper Wine sauce with Crispy Fried Shallots and Salmon. Yumm!
Posted On:

Jun, 25
| Author:

Savita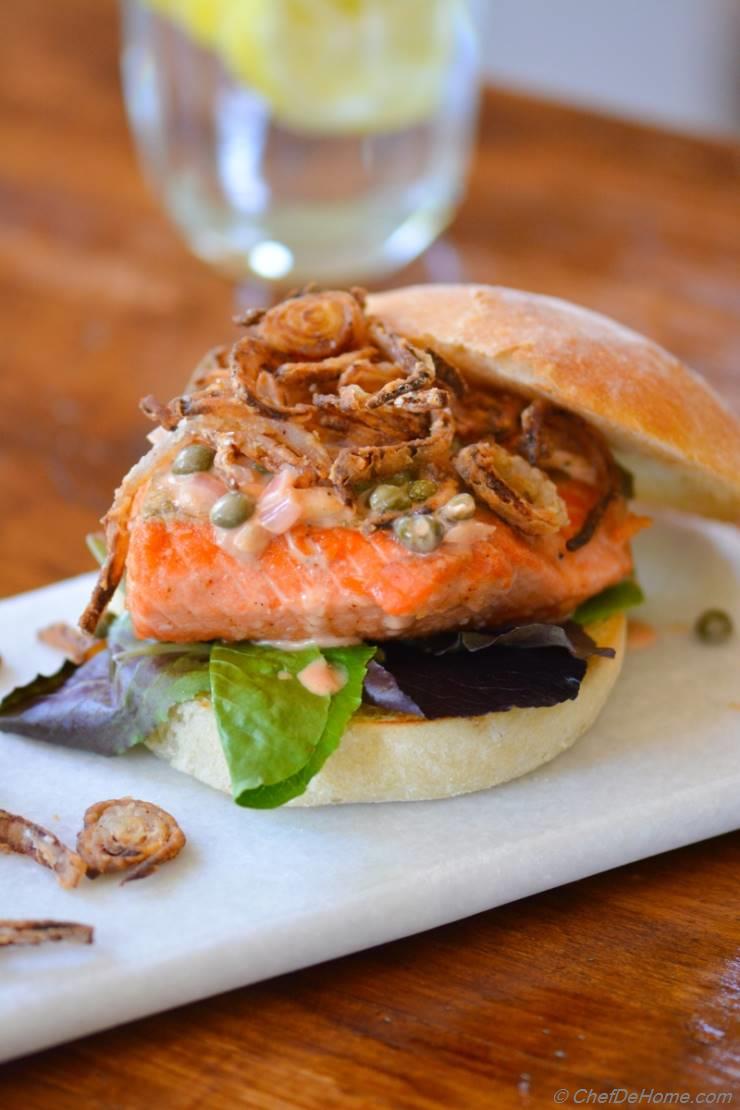 Salmon Burgers with Lemon-Caper Sauce is kind of food that inspires me to cook more healthy and more homemade. I am sure you wondering, why so much stress on homemade? It is a homemade recipe, obviously!!
Answer - because, not only salmon, caper sauce, fried shallots, even the Ciabatta bread rolls are homemade, fresh out of the oven!
Everything made at home! Can you believe that?!?!
No-no, don't get me wrong! I am not raising Salmon fish at home, by any means :) Salmon is wild-caught, fresh catch of local fishermen. I just purchased and pan-seared it at home :)
However, I don't have a big outdoor space, or I would have grown romaine greens at home too!!
Seriously!! I thought many times to grow lettuce and leafy greens at home. But I don't get time and space to do much gardening. So for now, this work I leave to my favorite fresh-food-inspired stores.
On a side note, I do grow few of my favorite herbs in my patio. Especially the ones that need less effort, less space, and have some health benefits. Like wheat-grass, rosemary, mint, sage, Aloe-Vera and my new favorite garbanzo beans. I am working on a post to share some easy tips for "staring a small herb garden at home", keep an eye on newsletter for updates.
AND if you wanna learn to make Ciabatta at home, here is my, very famous, Perfect Ciabatta Rolls Recipe.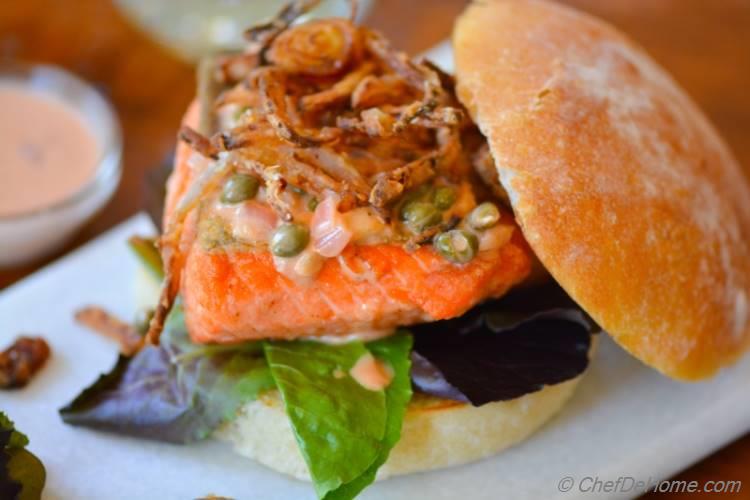 When it comes to cooking fish for lunch/dinner, only one issue holds me back. I don't like frozen, thawed, watery fish at all and  it needs a trip to store to get fresh fish. As much as I want to cook more fish for Vishal, it's availability is that much restricted. So, we mostly eat seafood over weekend when we can do fresh groceries. Or when Vishal has time to bring fresh fish on his way back from office.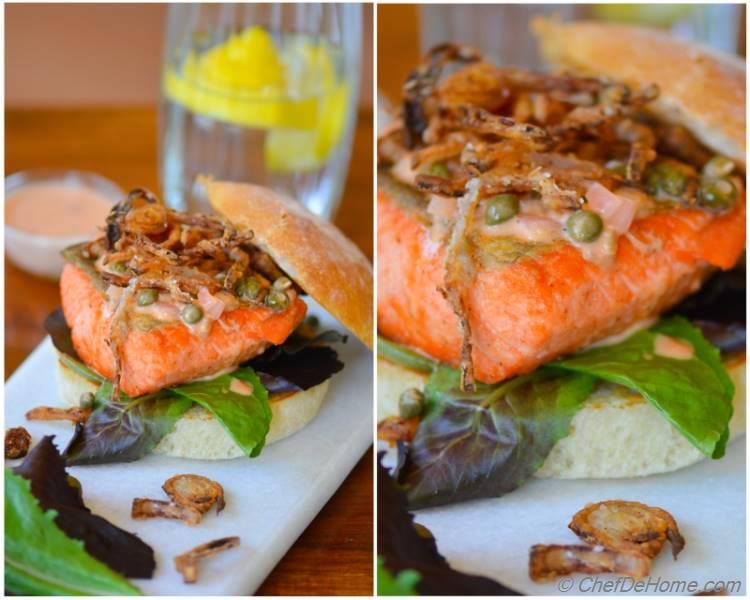 Either ways, fresh fish makes a LOT of difference,. It tastes great, never falls apart, cooks well and gets crispy instead of being poached, soggy, and watery. For me, to please tough critic and hard-core meat-eaters like Vishal, fish has to be fresh and prepared well.
Even though Salmon Burgers will come together under 20 minutes and are perfect for weekday dinner, I strongly recommend that EXTRA trip to fish market/store for buying fresh. Even if you curse me for sending you shopping specially for fish, I take it, because, I know, later you will love me and thank me for ride of this fresh-salmon-flavor-town!!
Lightly pan-seared, fresh piece of Salmon with tangy lemon-caper butter sauce, crunchy onions surrounded in two pieces of fresh ciabatta roll, oh-hoo-ooo!!
You will not want to miss eating it!! I guarantee!!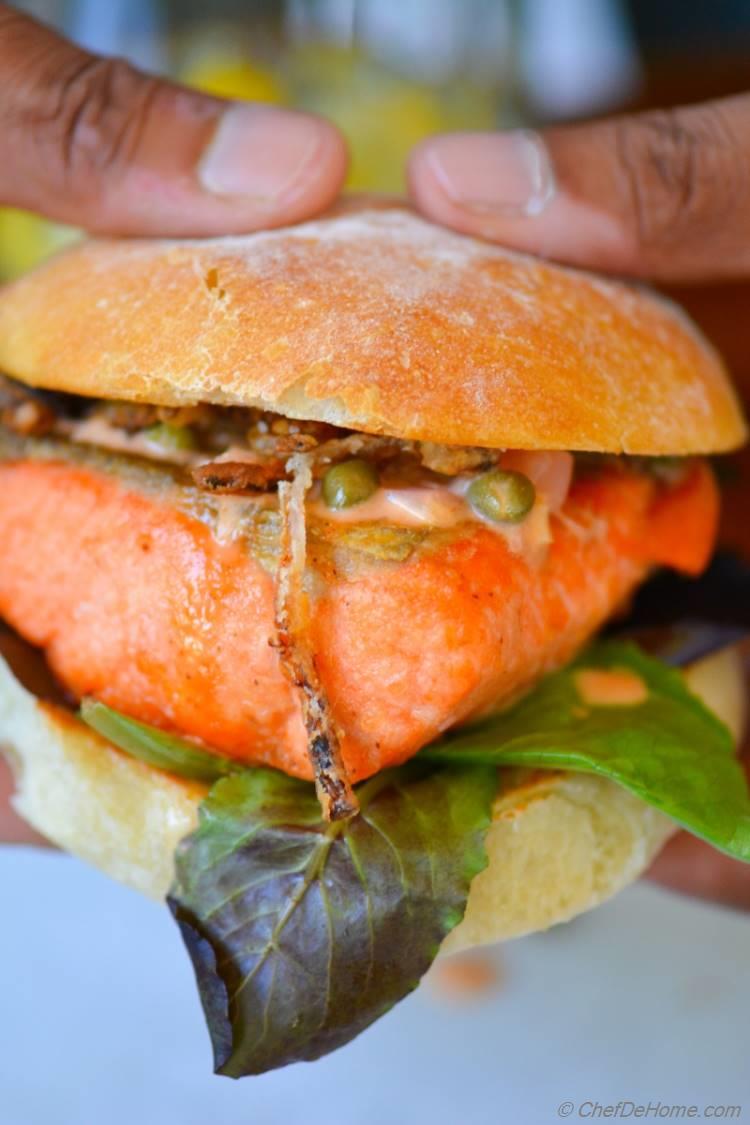 Vishal was few inches from devouring this yumm salmon burger when I took this shot. Even though he is hard-core meat eater, and can cook all day to eat some lamb in lunch/dinner, this gorgeous and yumm looking salmon burger was making him salivate.
I knew it!! So made him wait a bit ;)
Can you imagine that? Being so close to so fresh and flavorful lunch and asked to hold few more seconds! loved every moment of it...
I took the shot and he finally had the first bite, then...... hmmm, yummm, ummmm
Mission accomplished! A hard-core lamb eater enjoying a hearty yet lean fish burger! sounds super-delicious to me!!
I am sure, you will enjoy it too... Also, it may help you turn your meat-eaters to lean protein eaters ;) Try and don't forget to tell me.
Happy Cooking!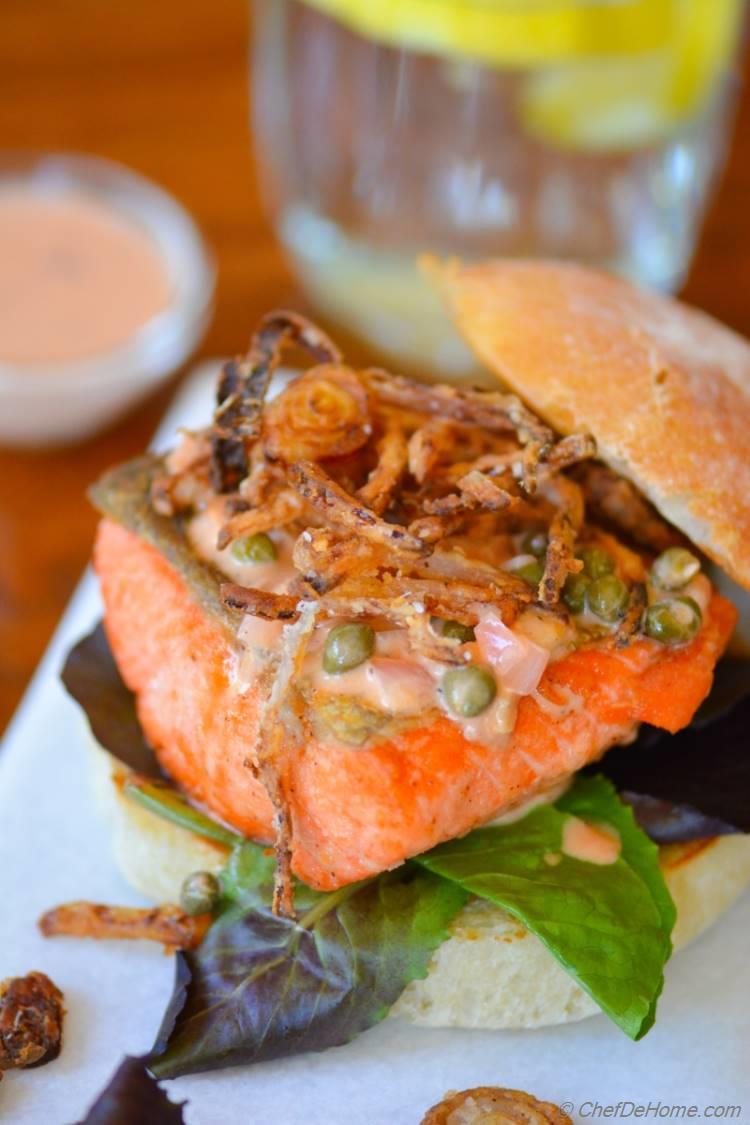 Here are other two of my favorite ways to cook Salmon:
Salmon Burgers with Lemon-Caper Wine Sauce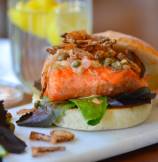 Total Time:
Prep Time:
Cook Time:
Cuisine:
American
(

Main Course

)
Difficulty:
Easy
Yields:
2 Servings
- Serves:
2
Ingredients
Lemon-Caper Wine Sauce
Burger Toppings
Pan-Seared Salmon
Crispy Fried Shallots
Smart Swap: Skip Ciabatta, serve salmon fillets on bed of baby romaine and enjoy refreshing fish salad bowl.
Directions
1.

Lemon-Caper Cream Sauce - In a sauce pan, add diced shallot onion, garlic and wine. Simmer for 2 minutes. Then add tomato paste, drained capers, and heavy cream, stir well to combine, continue to simmer for 1 more minute. Add 1 tbsp butter, let it just melt in (10-15 secs) and then remove from heat. Season with salt and black pepper. Mix well and set aside.

2.

Fried Shallot Onion Rings - Heat oil to 375 F. In a small bowl, add all purpose flour and season it with salt and black pepper. Slice shallots in to thin rings and drop all to seasoned all-purpose flour. When oil is hot, dredge and deep fry onions in hot oil for 3 minutes or until brown and crispy. Remove fries on a plate lined with paper towel. Sprinkle a pinch of salt and pepper on the fries and set aside. Don't throw the seasoned remaining all-purpose flour.

Additional Notes:

for crispy fries, fry onion in 2-3 small batches and do not overcrowd the oil.

3.

Pan-Fried Salmon - Heat 2 tbsp oil in a pan. In the seasoned all-purpose flour from onion, add salmon fillets and flip gently to have a thin coating of flour on all sides. Place flour coated salmon in pan, skin side down. Cook for 4 minutes or until skin get crispy, turn and cook other side for 2 minutes. Remove from heat and place on a wire rack. Season with pinch of salt and black pepper.

Additional Notes:

Cooking time varies depending upon the thickness of fish. If fish fillets are very thin, it will take less time to cook or fish will be mushy and fall-apart. so keep an eye.

4.

Assemble - Slice Ciabatta rolls in half. If you prefer, lightly toast the Ciabatta rolls with oil/butter. Top lower half of roll with baby romaines, top it with salmon, caper sauce and fried onions, Serve immediately and enjoy!
DID YOU MAKE THIS RECIPE?
Tag
@SAVITACHEFDEHOME
on Instagram and hashtag it
#SAVITACHEFDEHOME
© Chef De Home. Post content including video and photos are copyright protected.
We Think You'll Love