Indian Paneer Butter Masala with Pickled Pearl Onions
Gluten-Free Yet Very Flavorful Curry and Ready in a Breeze
Posted On:

Jul, 31
| Author:

Savita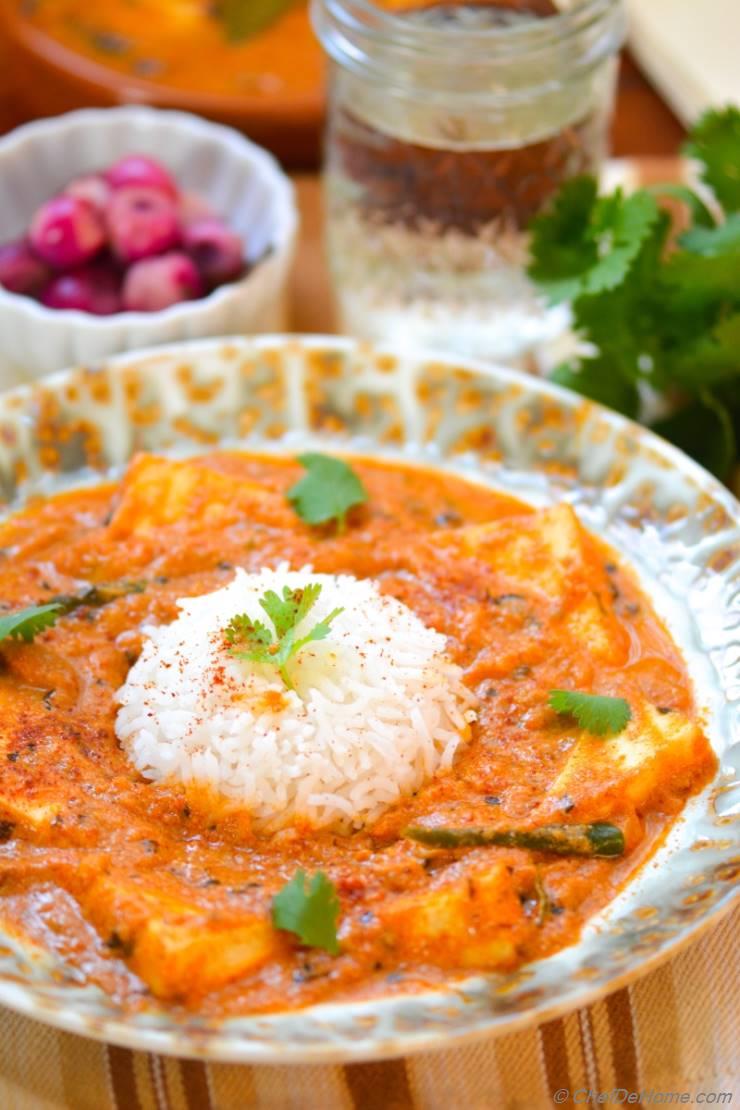 Sharing with you, Indian Paneer Butter Masala with side of quick pickled pearl onions, one of favorite Indian Curry in every North Indian home. Be it my parents, my in-laws, Vishal's friends or my friends, everyone has tasted Butter Masala and every one wishes to make perfect Butter Masala at home :)
Popularity of Butter Masala
Even though it is a popular Indian Curry, it is not very popular as day-to-day curry at home. Butter Masala is usually ordered and enjoyed from Indian Restaurants Or made at home at special occasions. Butter and Paneer (Indian Pure Milk Cheese) are both rich ingredients and so is the Butter Masala Sauce. When you making and enjoying Paneer Butter Masala, seriously you should not count calories!! Once you get pass the "Calories Ghost", it is a divine, flavorful and aromatic party in mouth. And trust me, mostly I have seen people stop speaking as they eat and enjoy every bite of luscious and creamy Butter Masala. 
How can they speak??
When mouth is full of scrumptious, creamy and spicy curry, who wants to discuss the day on dinner table?!?!
All you hear is... ummm...yummm... and give me some more curry... and next day! are there any leftovers? lets eat fried butter masala rice! And (you guessed it) sorry, there are NO leftovers...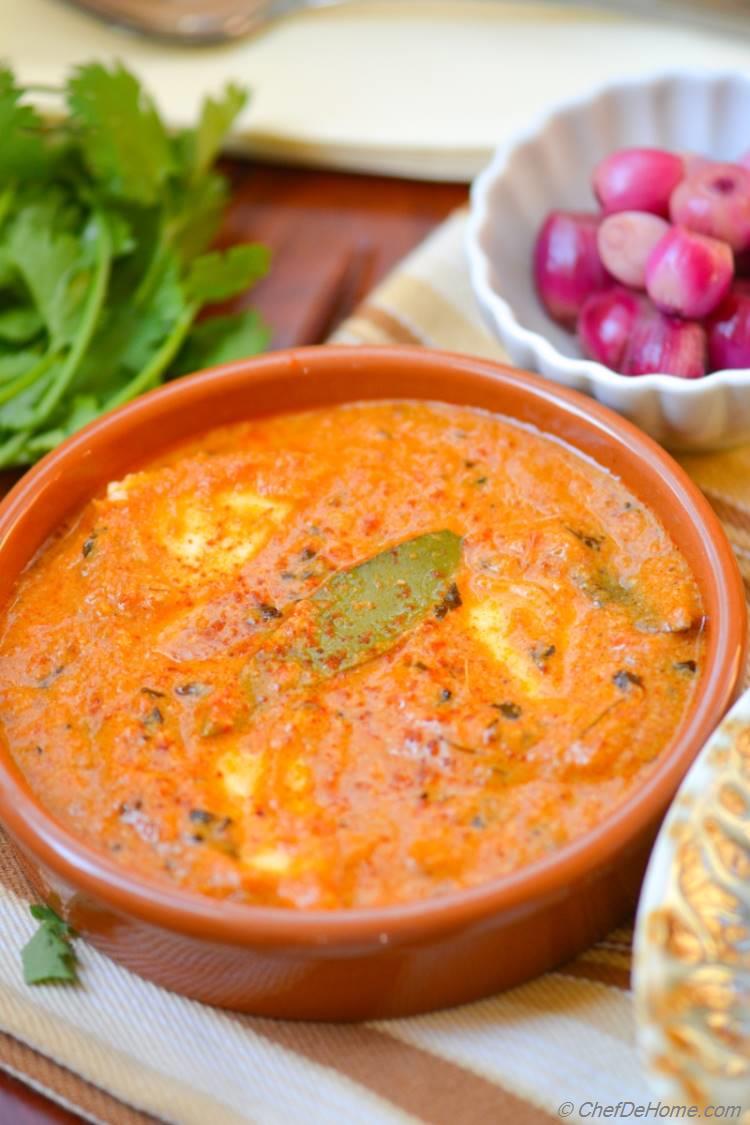 There are many variations of Butter Masala around the world wherever Indian food and curries are loved and enjoyed. Essentially, three important ingredients make or break Butter Masala Sauce i.e.  Butter (obviously!), Cream, and Masala (Tomatoes, ginger, garlic, spice blend - omnipresent in Indian Cuisine). Rest is protein, it keeps changing per need - sometimes Paneer (for vegetarians), Eggs (for egge-tarians) and Chicken/Lamb for Carnivores :)
This week, I made Paneer Butter Masala on a special request from one of my very close friend. Her family is pure vegetarian and you know it!! they loveeee Paneer Butter Masala. She not just asked me a recipe, she gave me challenge (sort of). She knows how to make Butter Masala Sauce (pretty well) but she wanna learn to make sauce without using Heavy Cream. Heavy cream is not always in refrigerator and what if kids demand Paneer Butter Masala and even husband demands that it should be creamy and delicious like always and misses does no have heavy cream to make it creamy. hmmm... what to do??
Without Heavy Cream?? Really??
Yes, indeed! I decided to experiment a little and came up with Butter Masala recipe without using Heavy Cream. Answer is Cashew Cream! Cashew Cream/paste is widely used to make Indian Curries creamy and it is a vegan milk alternative used by many these days. I went a little extra mile with Cashews. Hey, but I not used a lot. Just 1/4 cup, or say 10 pieces of cashew. I soaked'em in 1/2 cup water for 15-20 minutes while I was working of masala. Then I used hand blender to make white & milky cashew milk, mixed it with whole milk and voila!! you don't need cream at all. Butter Masala had perfect creamy texture and great restaurant quality color.
Vishal loved it and so did I. And I am sure my friend's family will love it too. Can't wait to share this post with her.
You still can add heavy cream if you want to at the end but this butter masala is already so creamy, no one will be able to spot missing heavy cream. You have to try this one to believe me.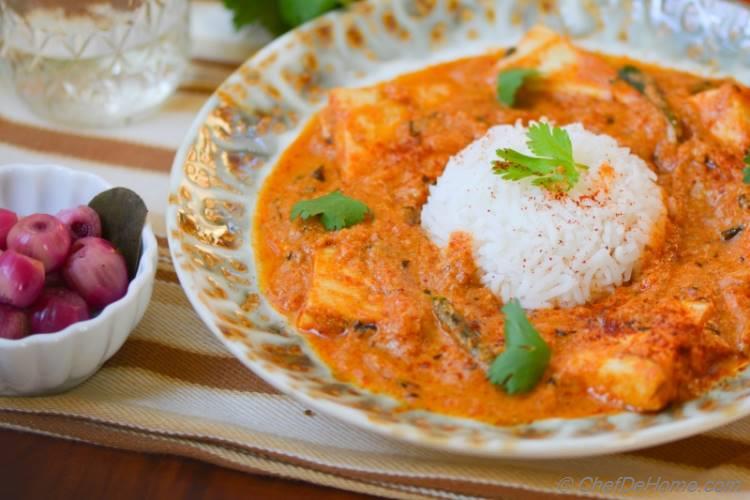 Paneer Butter Masala is gluten-free (read label before buying paneer or make at home) but is not a vegan recipe since Paneer is made with milk and I have also added extra milk and butter in it.
What if I want to eat Vegan?
I was hoping you will ask this. You can make it vegan by changing three things:
1) Use Tofu instead of Paneer.
2) Skip milk from ingredient list or add soy milk/coconut milk instead.
3) Use Cocoa Butter or Vegan butter instead of regular butter.
What if Butter Masala Curry Gravy is dry?
Often, I see the butter masala gravy thickens up as it gets cold sitting on kitchen counter/dinner table. First, reheating the gravy will bring consistency back. If you are not happy with that, add 1/2 cup water + 2/3 tbsp milk and bring to boil, then simmer for 1 minute. Remove from heat, stir well, adjust seasonings and serve.
 That's all for today. I hope my Creamy Paneer Butter Masala recipe made you hungry to try some over weekend. This recipe is dedicated to my dear friend. Remembering good times today and enjoying Paneer Butter Masala! 
Have a great weekend!! Cheers!!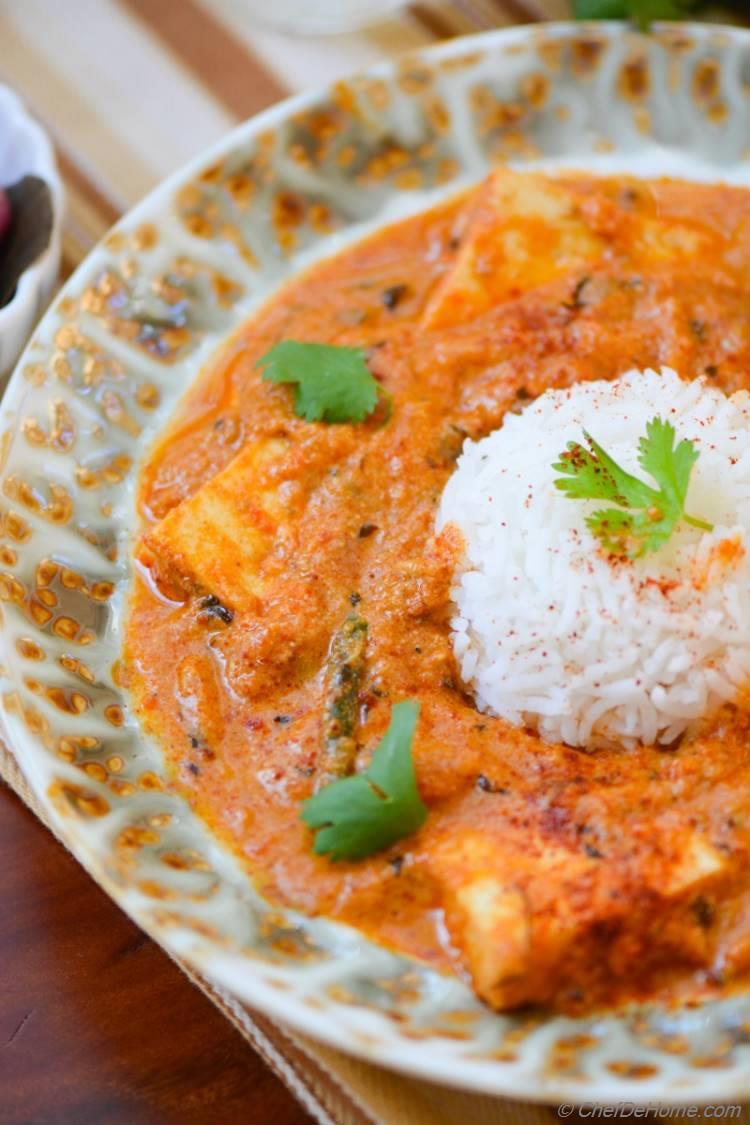 Oh!!! hey there!! me again!! In creaminess of Butter Masala, I totally forgot to mention about quick pearl onion pickle I made to accompany the meal.
Have you ever wondered, why Pearl Onion Pickle in Indian Restaurant is never too tart and always taste delicious??
Even when sitting in vinegar for 2 days??
Well, try this easy recipe and you will know how!!
Pickling liquid has been made with part vinegar and part sugar with some easily available spices.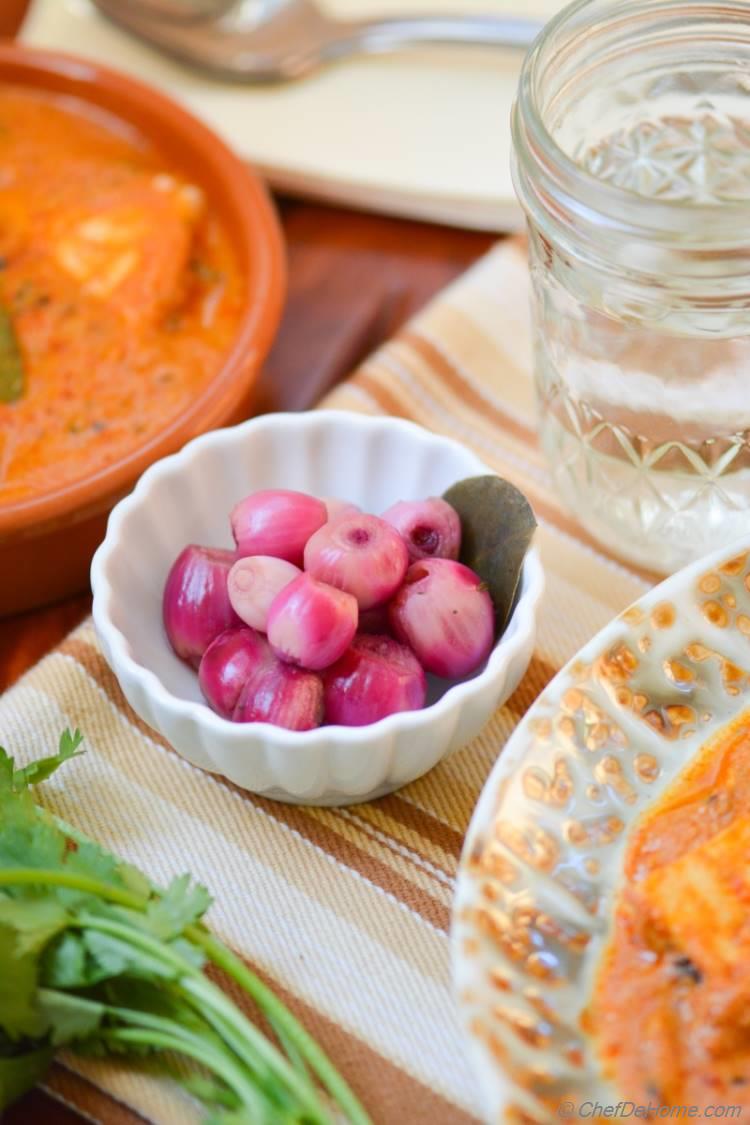 Onions pickled this way stay good in refrigerator for a week or more without getting too sour or vinegary. And yes they stay crispy even after a year if you like canning.
I included the instructions to can in this Blackberry and Apple Conserve last year. Feel free to check it out and enjoy!! 
Enjoy these sides, breads/rice, whole grain or gluten free per your liking!
Indian Paneer Butter Masala with Pickled Pearl Onions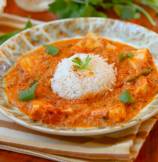 Total Time:
Prep Time:
Cook Time:
Cuisine:
Indian
(

Curry, Main Course

)
Difficulty:
Easy
Yields:
4 Cups
- Serves:
4
Ingredients
Pickled Pearl Onions
Paneer Butter Masala
Smart Swap: Use no butter, only oil will still make Butter Masala taste awesome.
Directions
1.

Pickled Pearl Onion - Bring all ingredients except peeled pearl onions to a rolling boil, then simmer for 5 minutes.

2.

Place onion in a jar, top with hot pickling liquid. You can either can onions for later use or keep refrigerated to consume within 1-2 weeks.

3.

Butter Masala - In wide pan, melt oil and butter. Also, soak cashews in 1/2 cup water while starting with butter masala curry.

4.

While butter is melting, grind ginger and garlic to a paste.

5.

Add garlic-ginger paste to heating oil with bay leaf, and saute stirring continuously.

6.

Cook for 3 minutes on medium high heat, until garlic is slightly pink.

7.

Add pureed tomato and spices (Red pepper, Garam Masala and Coriander Powder) with 1/4 tsp of salt.

8.

Simmer of medium high heat (use a spatter sheet to avoid spatters) for 13-15 minutes.

9.

Simmer until oil stars to separate from masala and most liquid has evaporated. At this stage add fenugreek leaves and continue simmer for 2 more minute. While fenugreek and masala are simmering, Grind cashews to make cashew milk kinda paste.

10.

Mix milk and 1/2 cup more water into cashews and add all to the tomato mixture. Stir to combine.

11.

Cook mixture for another 2-3 minutes.

12.

Now add paneer cubes and continue cooking for another 2 minutes or until gravy has desired consistency. Taste and adjust salt. It is better to keep this gravy little loose (not dry) as it tends to absorb water as it sits.

13.

Paneer Butter Masala is ready. Enjoy it with Indian Roti or Naan or Steamed Rice with pearled onion quick pickle on the side.
Savita's Notes:
It is better to keep this gravy little loose (not dry) as it tends to absorb water as it sits. If sitting for long, add 1/4 to 1/2 cup water and reheat for 3 minutes. Taste and adjust salt and then serve!
You can add 1/4 cup of Heavy Cream and 1/2 tbsp butter in hot finished gravy just before serving for extra creamy texture and flavor.
DID YOU MAKE THIS RECIPE?
Tag
@SAVITACHEFDEHOME
on Instagram and hashtag it
#SAVITACHEFDEHOME
© Chef De Home. Post content including video and photos are copyright protected.
We Think You'll Love