Pickled Red Onion
Learn to make delicious, sweet and sour, Pickled Red Onions at home with this easy recipe. Need only 5 pantry-staple ingredients and just 10 minutes! Ready to eat in few minutes or reserve for later.
Posted On:

Jun, 8
| Author:

Savita
The sweet and tangy flavor is addictive!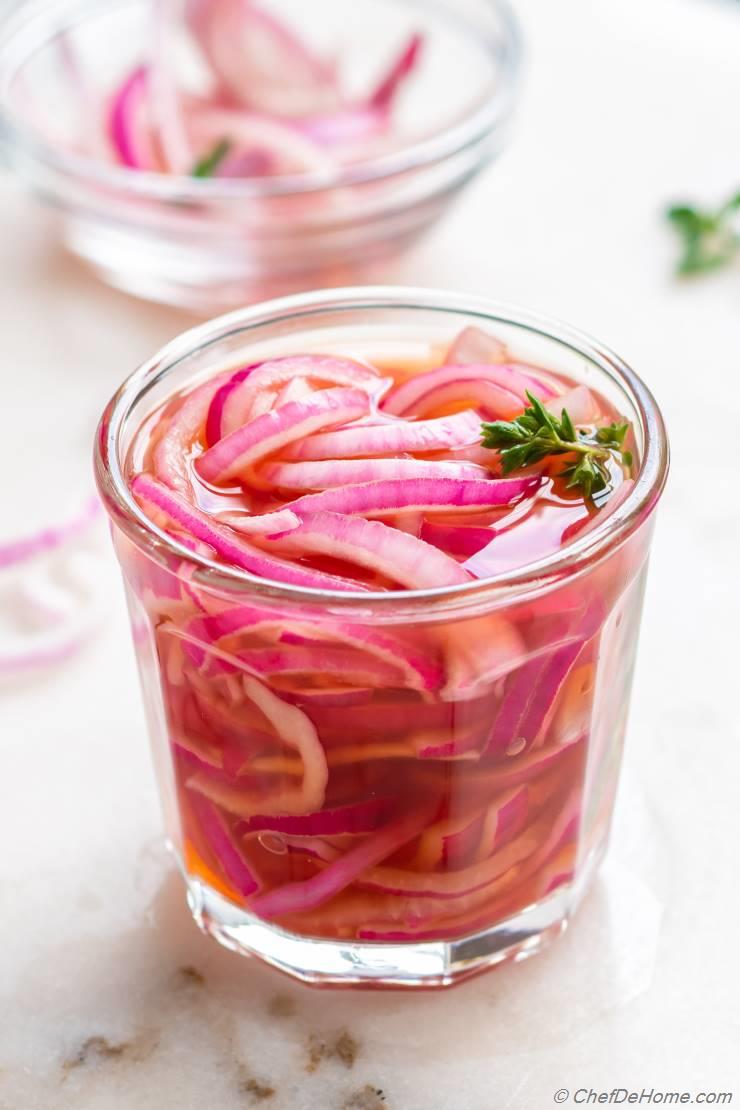 A simple, delicious, and easy Homemade Pickled Red Onion recipe. It needs only 5 ingredients to make pickled red onions. Pickled red onions are not sharp and have perfect onion bite yet sweet and tangy flavor. Make once, enjoy many ways! Add to salads, tacos, falafel wraps. Gluten free, vegan, dairy free. 

In-fact, pickled onions are one of my favorites (quick) condiment to serve at home. Even on blog, there are various recipes such as Greek Pasta Salad, Cucumber Avocado Salad, highlighting quick version of pickled red onions.
I'm also including quick Pickled Red Onions recipe that I often make at moment's notice. Do not forget to check out the notes.
Pickled Red Onions
Red onions are sharp and pungent but have amazing onion flavor. I use red onions often in curries, salads, and pastas. 
The sharpness of Red Onions can be reduced by sweating the onions i.e., make onion loose water. There are various culinary ways to achieve this. Most common being: pickling and sautéing onions with salt.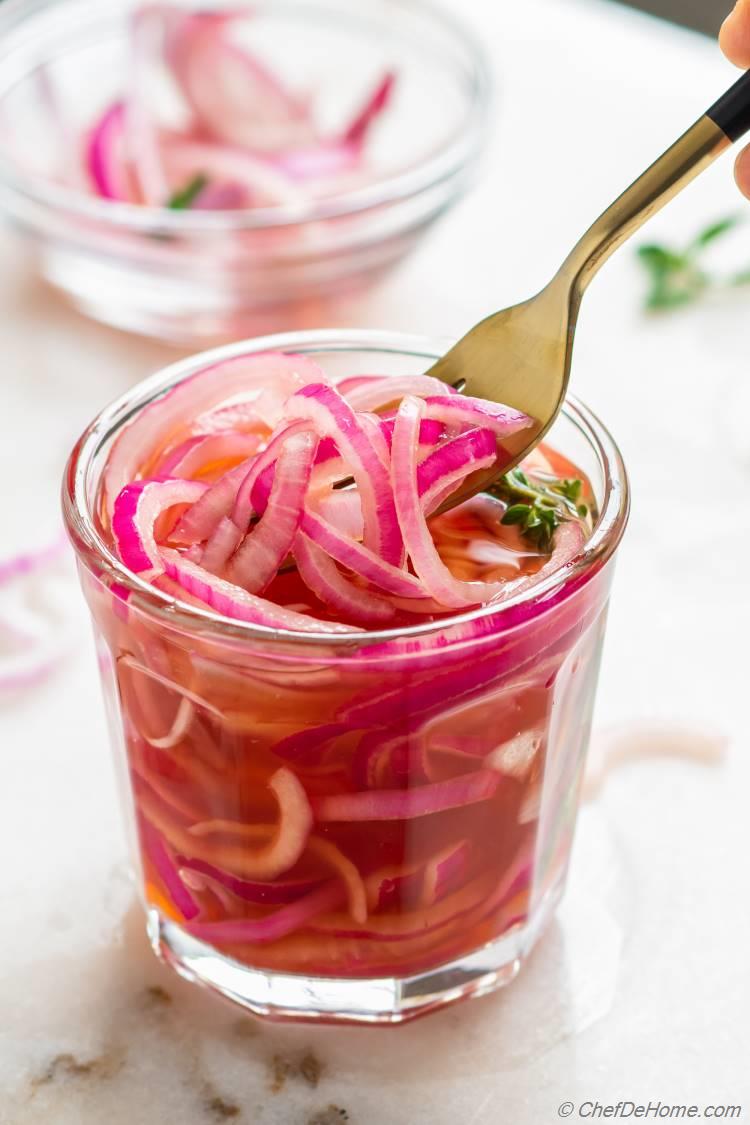 Cooking with salt or acidic pickling liquid makes onion sweat pungent water and as a result red onions become sweet and mellow.
So next time you find red onion sharp, simply add to a skillet with few drops or oil and pinch of salt. Sauté on low heat until onions are translucent yet crunchy (don't let onions burn). Use as desired. A pinch of paprika makes these my favorite topping for homemade burgers.
Let's now learn how to make pickled red onions!
What Do You need to Pickle Red Onions?
Pickling Red Onions is one of the best ways to mellow the sharpness red onions. Plus, the tangy pickled onion makes a great condiment for salads, tacos, bowls and wraps. 
To make pickled Red Onions you need:
Fresh Red Onion
Red Wine Vinegar
Thyme or Oregano
Sugar
Salt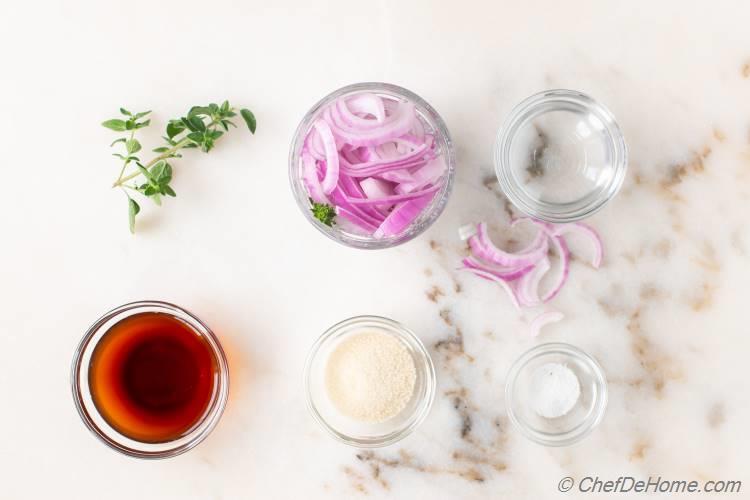 For pickling, always slice red onions into thin strips. Picture below.
You can either slice onion into onion rings, or lengthwise (on the left) or into the half-moons (on the right).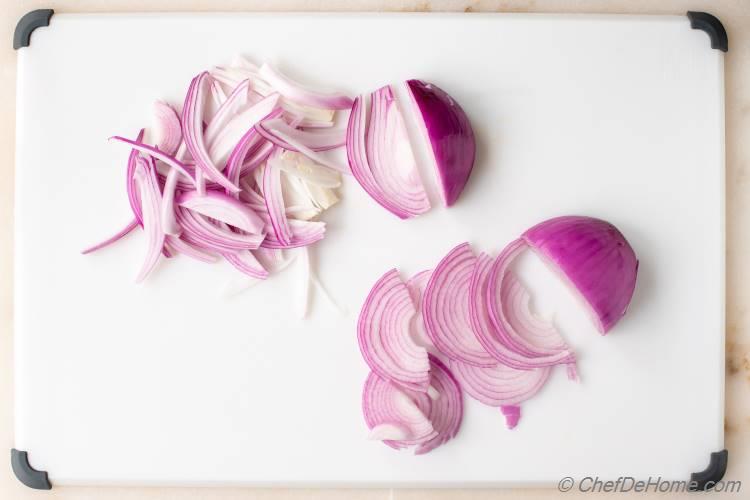 Here is how I make the pickle:
Slice onions to rings or half-moons.
Boil pickling liquid (brine) until sugar dissolves and pour over the sliced red onions.
Refrigerate until ready to use. Use when liquid gets color of onions and onions are crunchy yet sweet and tangy in flavor.
Quick Pickled Onions
To make quick pickled onions, thin slice a small red onion. Add to a bowl. Drizzle juice of half citrus fruit such as lemon/lime juice with a tbsp of red wine or apple cider vinegar. Sprinkle generous pinch of sugar and pinch of salt. Set aside until ready to use. Pickle is ready when red onions lose some color and liquid becomes purplish. (15-20 minutes) Best when used right away! 
TIP: Once pickle is consumed, don't discard the pickle brine. Use brine to make a quick Salad Dressing. Whisk in equal part olive oil for flavorful and quick salad dressing!
Canning Pickled Onions
Thin sliced Red Onions pickles (today's recipe) is best when prepared same day or one day ahead of serving. Same day or a day old pickles will have perfect bit and sweet-sour flavor. Any longer will make onions more softer and sourer.
For preserving for later use, use whole peeled shallots or peeled pearl red onions.
Follow the instructions in Recipe Card to Pickle. 
For canning, follow the instruction on Canning Jar Manual.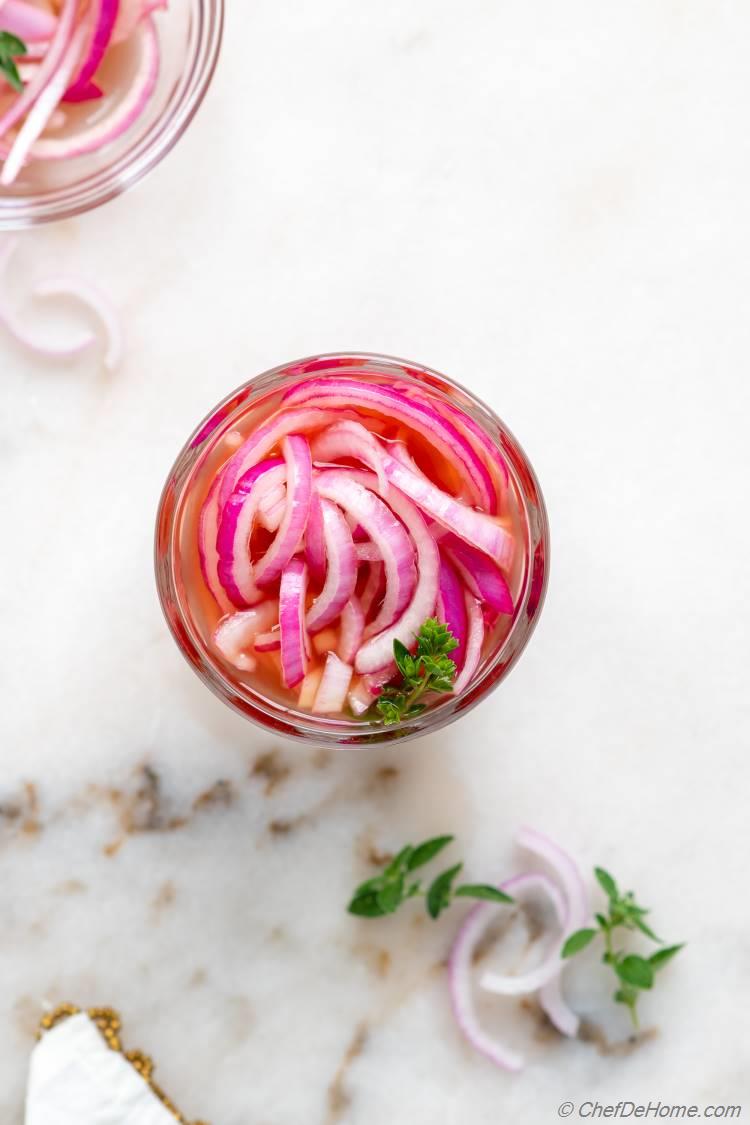 Variations and Substitutions:
Here are my favorite variations and substitutes:
Use same recipe to pickle seasonal vegetables such as carrots, cauliflower, or cabbage.
For no-sugar pickle, use sugar-free sweetener.
You can also use different kind of vinegar such apple cider vinegar or sherry vinegar will also make delicious pickled red onion.
Pickle other variety of onions such a whole peeled shallot, sliced white onion, or pearl white or red onions. Pickled whole shallots and whole pearl onions will keep longer when canned.
If you don't have fresh oregano, try thyme or basil. 
For a spicy pickle, add 1-2 Thai chilies or for mild flavor add few black pepper corns. 
Cooking and Serving Tips:
Use a non-reactive pan to heat the pickling liquid. Don't boil for too long. Only heat until sugar has dissolved, and liquid has reached boiling point.
For mild vinegar flavor, add additional 1/4 cup of water.
Pickled Red Onions are excellent topping for grilled meats, burgers, and pita wraps.
Friends, if you happen to not like Red Onion, this pickled onion recipe will make you change your mind. These sweet, sour,  and crunchy pickled onions will add delicious flavor to any summer meal. I love pickled onions on my salads, burgers, tacos, and even pizza. Make a batch today! I bet you will find all ingredient in your pantry. Happy pickling!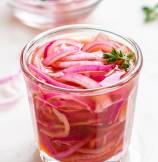 Total Time:
Prep Time:
Cook Time:
Cuisine:
Mediterranean
(

Condiment, Ingredient, Pickle

)
Difficulty:
Easy
Yields:
2-3 Cup Pickle
- Serves:
8
Directions
1.

Slice Onions

:

Peel off red onions. Slice into thin rounds or half-moon slices. Transfer to a medium bowl. Set aside.

2.

Make Pickling Liquid

:

In a non-reactive saucepan, add rest of the ingredients, bring to boil stirring frequently until sugar dissolves. Take off heat.

3.

Pickle Onions

:

Pour the hot pickling liquid over the sliced red onions. Let rest for 15-30 minutes before using. For later use, refrigerate in a container with lid.
Savita's Notes:
Pickled red onions stay fresh for a day. Cover and refrigerated when making ahead. Same day or 1 day old pickles will have perfect bit and sweet-sour flavor. Any longer will make onions more softer and sour.
Use same recipe to pickle other variety of onions such a whole peeled shallots, sliced white onion, or pearl white or red onions.
Pickled whole shallots and whole pearl onions will stay good for 1-2 weeks. Cover and keep refrigerated when making ahead.
DID YOU MAKE THIS RECIPE?
Tag
@SAVITACHEFDEHOME
on Instagram and hashtag it
#SAVITACHEFDEHOME
© Chef De Home. Post content including video and photos are copyright protected.
We Think You'll Love