Andhra-Style Spicy Egg Curry
a tamarind based flavorful curry from South India.
Posted On:

Oct, 14
| Author:

Savita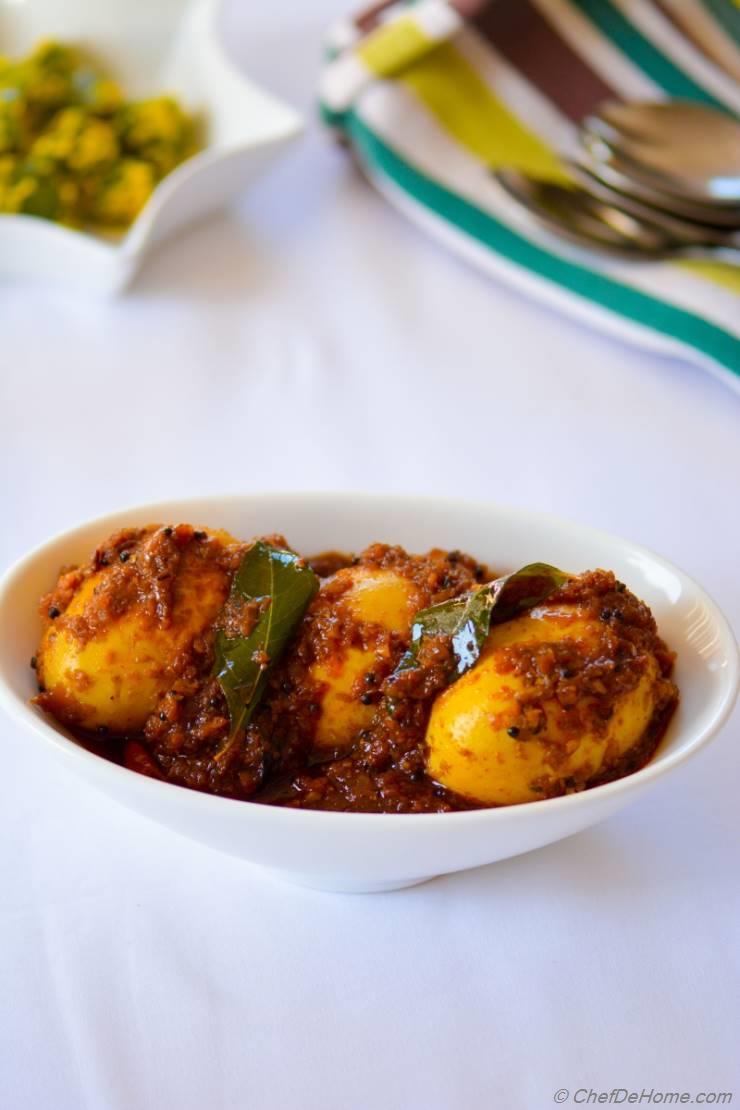 Sharing with you tamarind flavored, spicy, warm and insanely addictive Spicy Andhra-style Egg Curry. This egg curry is one of famous ways to eat eggs in southern part of India. 
Since eggs are favorite of many vegetarian (egg-tarians) too, egg curry is most loved main course curry in many homes all-over world. Especially in India/Asia, egg curries have their special place in every-day menu.
Most egg curries are ready under 25 minutes. So you can see these are favorite of everyone on busy weekdays! This spicy and flavor-full egg curry is no different. You can serve dinner under 25 minutes with rice steamed/boiled while cooking curry. 
Other than taste and lucrative quick dinner promise, during fall-winter seasons, egg curries are one my favorite way to add some natural warmth of spice and eggs in our dinner.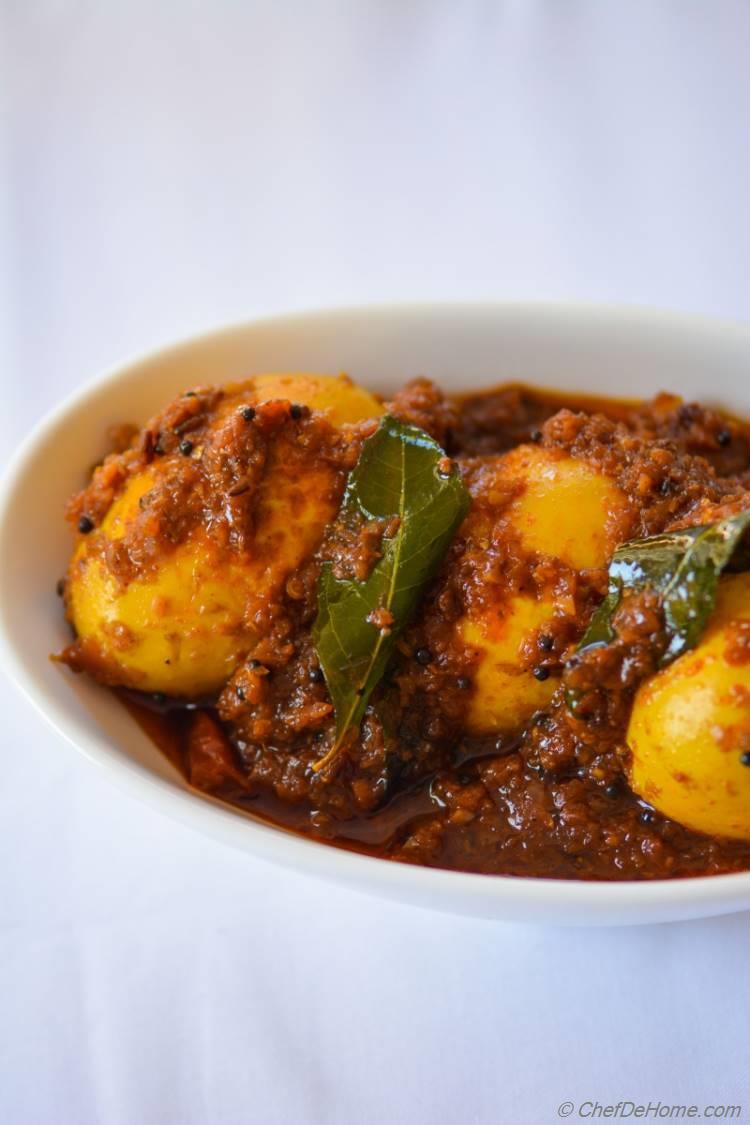 Hard Boiled Eggs
Boiling eggs is first step towards making a good egg curry. I want to take this opportunity to share with you few of my notes on boiling and peeling hard boiled eggs. 
When I started cooking, boiling eggs, eggs used to remain runny sometimes and I had hard times peeling eggs to smooth skin like I used to see in photos online.
Here are few things, I do, to make sure I get perfect hard boiled and peeled eggs these days:

1. For Hard Boiled Eggs - Fill a pan with normal room temperature water and eggs straight from fridge, no need to bring to room temp or anything. Just make sure eggs are covered in water. Boil on high heat for 7-8 minutes, then remove pan from heat and leave aside to cool in same water for 5 minutes. 
2. Peeling Boiled Eggs - After 5 minutes, discard hot water, transfer eggs to a paper or kitchen towel and let'em dry and cool a bit, say another 5 minutes while you work on preparing ingredients for egg curry. Then gently tap wider end of egg on hard surface and peel egg with dry hands. neither egg or nor your hand should be wet. This will ensure less sticky and messy egg shells around you and dry skin will peel nicely too. 
Always use fresh eggs, if you find egg-white coming off with shell while peeling, it means eggs are very old or under cooked. A fresh egg will always peel to a smooth outer skin.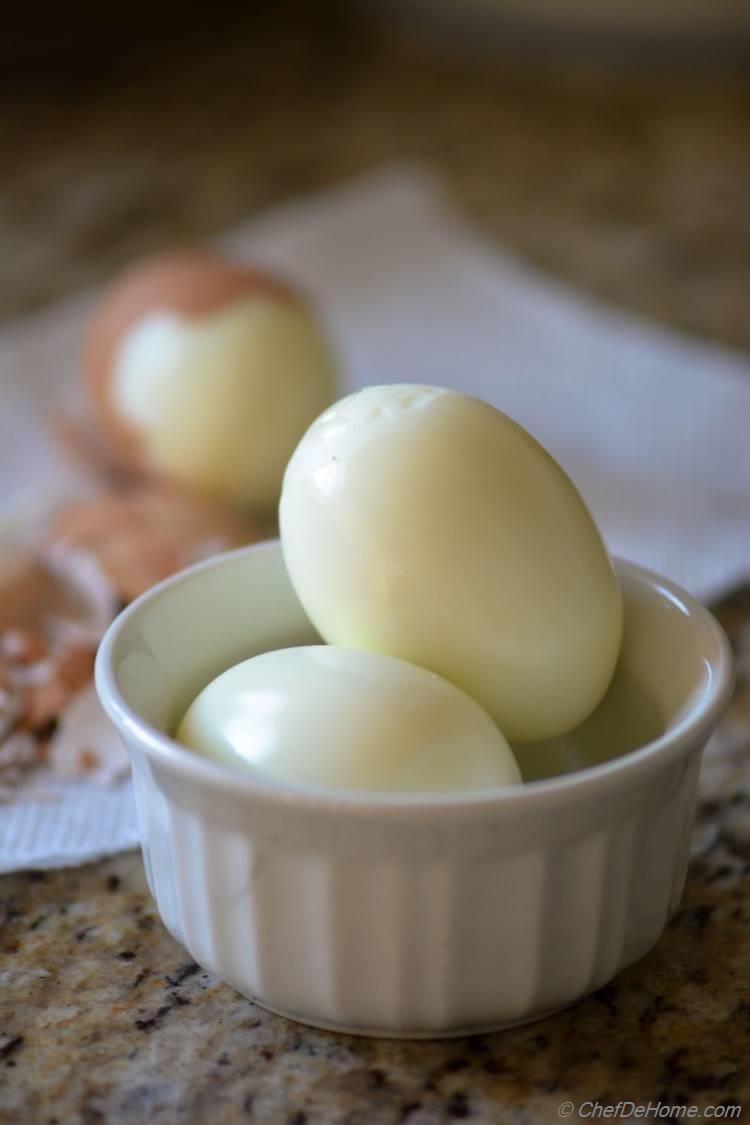 Growing up, I ate lots of egg curry. My mom's egg curry recipe has just hard boiled eggs. After our marriage, Vishal, once asked me to fry eggs before adding to curry. I really liked that idea. Frying eggs gives a crispy layer of texture to out skin of boiled egg, and also adds a gorgeous turmeric hue. irresistible looks and taste....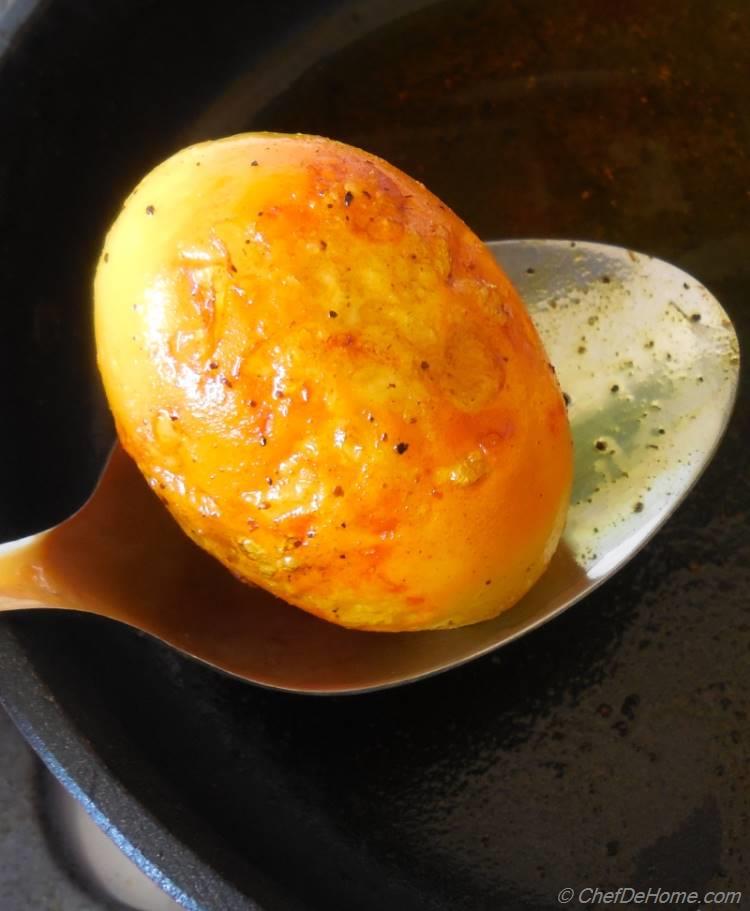 I hope you will enjoy egg-curry in approaching cold season as much as we do in our family. I am glad to share my another favorite egg curry recipe with you.

Here are a few other egg curry recipes, I shared earlier:

Egg Curry in Tomato and Yogurt Gravy 
Dry Masala Egg Curry 

Egg curries are never ending dinner options in my family. If you want to receive notification for any future egg curry I post, then please subscribe to ChefDeHome Weekly Recipe Updates.
Enjoy and Happy Cooking!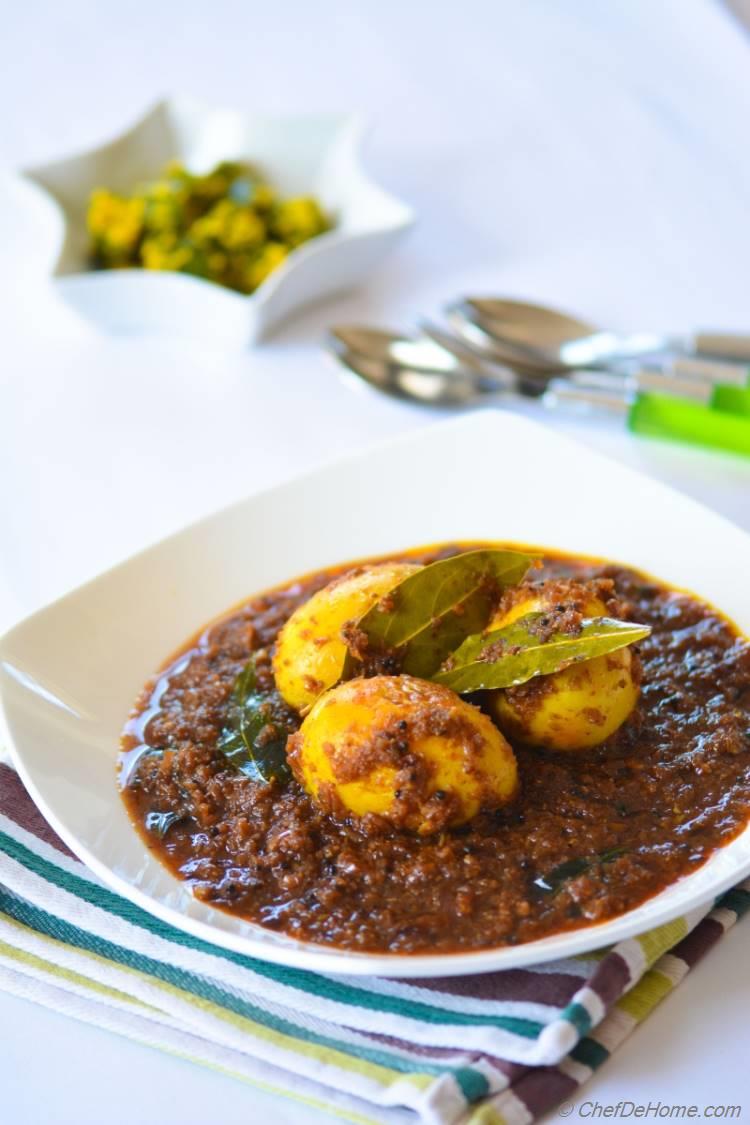 Some of my favorite accompaniments for this curry -
Andhra-Style Spicy Egg Curry
reviews

)
(2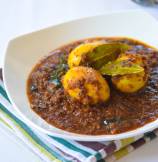 Total Time:
Prep Time:
Cook Time:
Cuisine:
Indian
(

Curry, Main Course

)
Difficulty:
Easy
Yields:
2 Servings
- Serves:
2
Smart Swap: Fry paneer or tofu like we fried eggs to make spicy vegetarian curry.
Directions
1.

Rough chop onion, garlic and ginger and process in food processor until fine chopped.

Additional Notes:

Chop very fine or you can also grate onion if you prefer.

2.

If using seeded tamarind, then heat 1/4 cup water, add tamarind and leave aside. If using paste, then skip this step.

3.

Heat 1 tbsp oil in a pan, add peeled and boiled eggs and a 1/8 spoon (generous pinch) of turmeric and paprika. Saute for 1 minute until skin has few blisters and are golden yellow in color. Remove from oil and leave aside in a bowl.

4.

In the same pan, add remaining 2 tbsp oil, add mustard seeds and let'em turn black (1 minute). Now, add grated onion-garlic mix, curry leaves, bay leaves, and broken whole pepper. Mix to combine.

Additional Notes:

My non-stick pan is very small, so I shifted to a wider steel pan for step too, you don't have too.

5.

Saute for 6-7 minutes until onion are soft and slightly brown.

6.

Now, add tomato paste, cumin, coriander, 1/4 tsp salt, remaining red pepper and turmeric powder. Mix well and cook for 1 minute.

Additional Notes:

If using fresh grated tomatoes, then cook until oil separates, about 3-4 minutes.

7.

Add 1/2 cup water and tamarind paste. Mix well. Simmer for 2-3 minutes.

Additional Notes:

Andhra egg curry masala/gravy is on little dry side. If you want more gravy, add 1 cup water instead of 1/2 cup and simmer 4-5 minutes before adding eggs.

8.

Now, add eggs and heat until eggs are heated through (about 1 minute). taste and adjust salt. I add sugar at this point. Remove from heat, discard bay leaf and whole peppers (if you don't like sharp spicy bite). Serve egg curry hot with steamed rice or naan. Enjoy!

Additional Notes:

For more flavor, boil 1 egg extra, break that egg into bite size pieces and mix in the gravy, leave remaining eggs whole. This is my favorite way to enhance the flavor of egg curry having whole eggs.
Savita's Notes:
Addition of sugar is totally optional. I add sugar at-last after tasting the curry. This is my personal liking. 1 teaspoon sugar does not make curry sweet but adds another dimension to tamarind flavor.
Variations
If you can't find curry leaves, just use bay leaf, curry will still taste pretty good.
You can slice the eggs in half while warming the egg with curry to add some creamy egg-yolk flavor to curry Or you can boil an extra egg and crush it in curry to enhance it's flavor.
I have added just three eggs in curry. If eating with roti, this amount of curry can have 2-3 more eggs.
You can also make this egg curry with leftover devil's eggs or to save time, boil and peel eggs in morning and make curry at night.
DID YOU MAKE THIS RECIPE?
Tag
@SAVITACHEFDEHOME
on Instagram and hashtag it
#SAVITACHEFDEHOME
© Chef De Home. Post content including video and photos are copyright protected.
We Think You'll Love