Sunwarrior Protein Review | Chocolate Almond Chia Breakfast Pudding
Protein-packed, vegan and gluten free breakfast with almonds, chocolate, strawberries, and banana!!!
Posted On:

Feb, 5
| Author:

Savita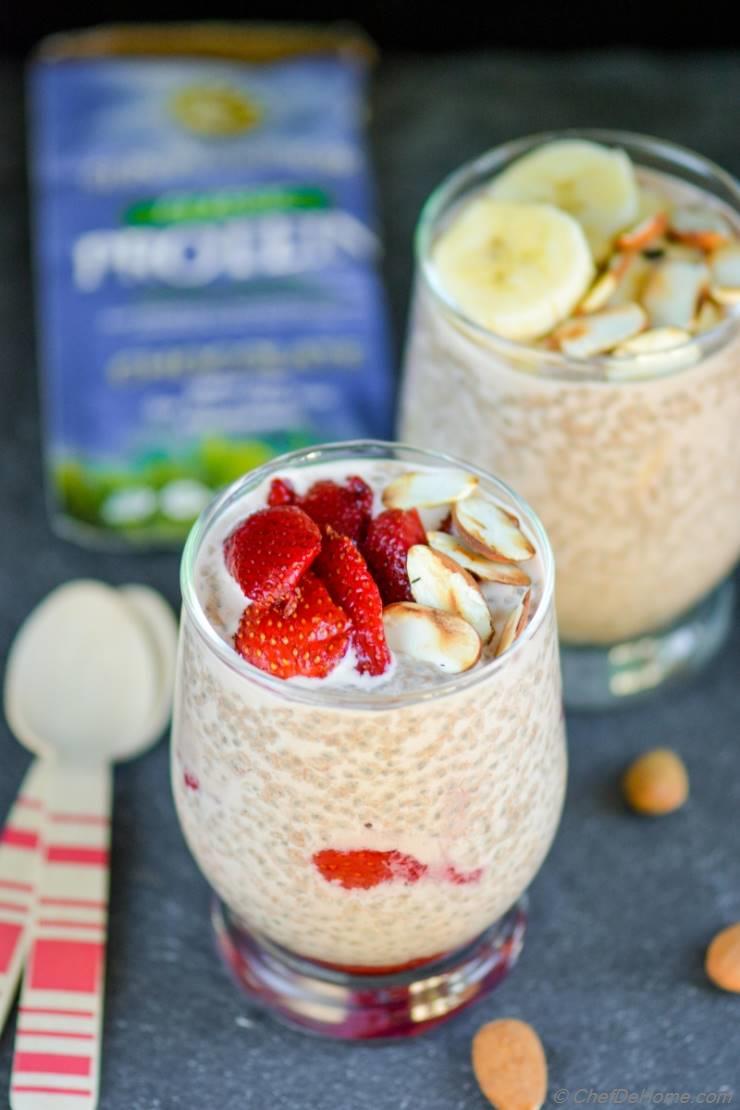 Growing up, I have vivid memories.... when I used to hide the protein supplements of my younger brother, thinking, ah... you don't need one! Why don't you eat better diet?! Even I used to have  argument with Vishal for similar reason, telling him, all you need is good diet! 
But the big question is.... does today's diet provide all necessary nutrients?? Answer is NO! And this I have learned after my nutritionist told me to regulate my protein in-take. Whenever I'm on vegan/vegetarian diet, lentils or soy protein does not supply sufficient amount of proteins that body need. In my home, there are many days in week, when we don't eat or cook non-vegetarian, I mean no eggs, no chicken, no fish! So on those days (specially) and in general, I needed something which is vegan and preferably organic way, to fulfill my daily nutrients and protein supply!! This is when I started adding Sunwarrior protein blends in my everyday shakes and smoothies.
Protein powder always taste too much chalky and gritty to me. So, I not wanted to invest in a big jar of protein powder, unless I'm convinced with the taste. One of our local organic smoothie shop sells any shake with a scoop of sunwarrior, and this is how I was introduced to it. We were visiting the store and I had this protein-intake thing-y in my mind. When we stopped to get smoothie, Vishal suggested me to try protein supplement...... that day, I followed his, protein supplement are good, advice (for the first time!)
I tasted and actually liked it!!! My first reaction was... thank God, it does not taste like Chalk! And then, after some research, we bought a jar home that day! (smart phones have made research, a piece-of-cake!)
Coincidentally, Sunwarrior sent me a sample kit of Sunwarrior Products last week! It was pretty exciting since I was already using their product!
What totally surprised me is, the variety of products sunwarrior has to offer! Other than their raw, vegan, gluten free, soy free classic vanilla and chocolate proteins, which I was after, they have so many other products.
To name a few,
Immune Shield, a natural Fulvic Complex to support better immune health. 
Organic Activated Sprouted Barley Powder, a slow burning carb powder to get a dose of whole day steady sustained energy. Just 30 calories per serving, this supplement has very low glycemic index and ton of active enzymes.
Raw Organic Super greens Juice Powder (ORMUS). a soy free and gluten free blend of powerful super greens to recharge your body every day!
Sun warrior Classic Protein, Vanilla, Natural, and Chocolate flavored, are soy free, vegan, gluten free, and are made with raw whole grain brown rice. Perfect for a person (like me) who is not getting daily required dose of proteins due to vegan or vegetarian diet or someone who don't eat eggs daily! eggs daily!! With so much pressure of cholesterol and bad fats, and my meat-free days... I don't think daily-eggs going to happen.
You can make shakes too! Sunwarrior product dissolves very well with almond milk, juices, or regular milk (if you prefer).
This pudding is yet another way of eating daily supply of protein, just a little jazzed-up - wholesome morning breakfast!
Protein is essential for repairing tissues, burning fat, and strong bones. So start regulating your daily supply of protein!
Why should you use Sunwarrior Protein Supplement?
1. Sunwarrior protein blends are green product, 100% plant based. Suitable for any diet and life-style! 
2. No artificial colors or preservatives used,  sunwarrior products are raw, chemical-free, and GMOs free.
3. Sunwarrior uses an old-world, low temperature, enzymatic process that includes the whole grain of brown rice, including the germ, endosperm, and bran. This unique process captures a protein that's silky smooth and mixes well.
4. Most importantly, Sunwarrior protein powders and blends are easy to digest, keep you full longer, tastes great with no chalky after-taste!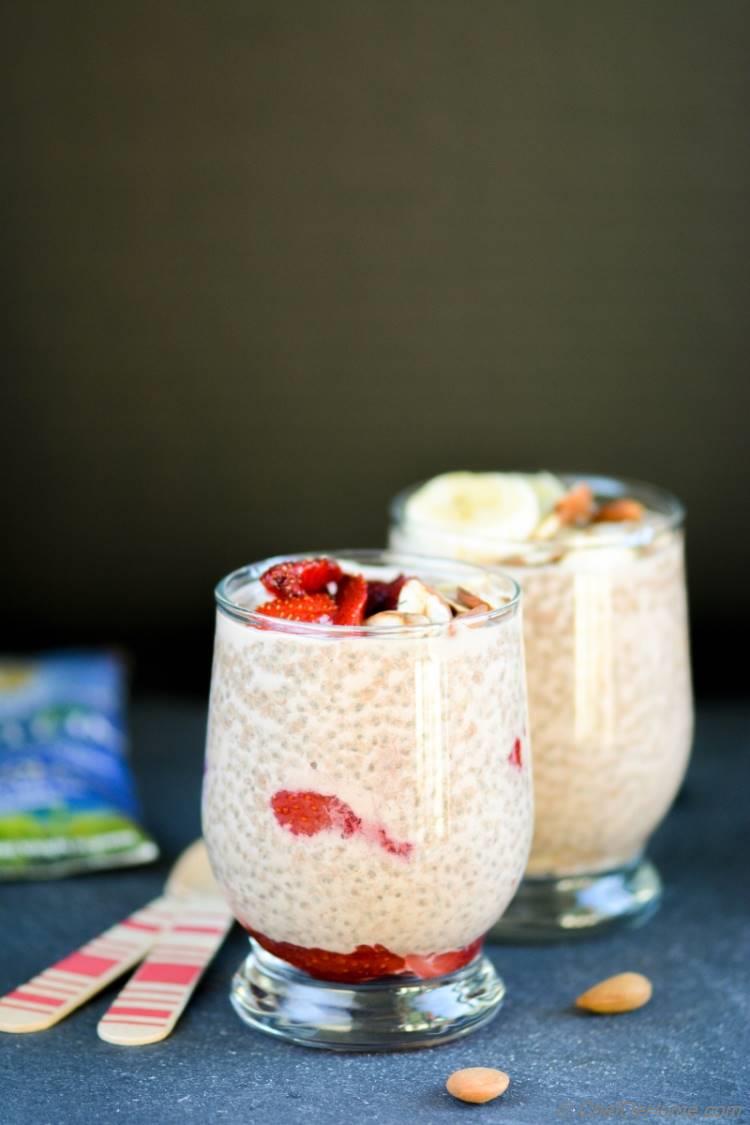 PS: Just so you know, why I made strawberries and banana puddings?! Roasted strawberries are for Vishal, for a little sweet and salty surprise with creamy chia pudding, packed with protein power!
Your kids will like it too ;) You know what I mean!! ;)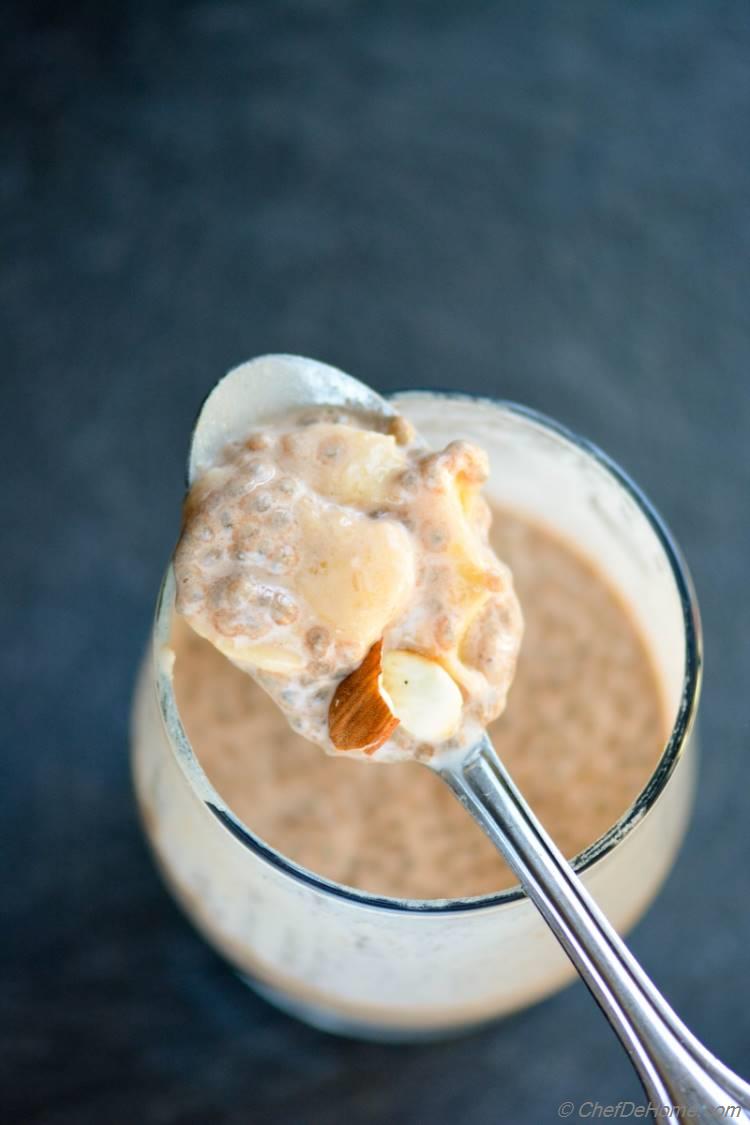 And banana version is for me! :) 
This is how we super charged our Sunday! 
Over to the recipe!
Cheers!
Savita
You can make all these smoothies with Sunwarrior Proteins and Protein Blend:
Sunwarrior Protein Review | Chocolate Almond Chia Breakfast Pudding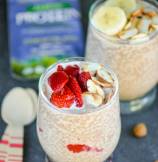 Total Time:
Prep Time:
Cook Time:
Cuisine:
European
(

Breakfast

)
Difficulty:
Easy
Yields:
2 Cups
- Serves:
2
(

Cook time needed only if using roasted strawberries.

)
Ingredients
Sunwarrior Chia Pudding
Roasted Strawberries and Banana Toppings
Directions
1.

Preheat oven at 400 degrees Fahrenheit.

2.

In a wide bowl, combine almond milk with chia seeds, sunwarrior chocolate protein powder, and cocoa powder. Use a whisk to mix everything in milk evenly. Set aside.

3.

To roast strawberries, slice strawberries in half, big ones in quarters, sprinkle salt and spread in a sheet pan. Roast for 20 minutes or until strawberries are slightly caramelized.

4.

When strawberries are roasted and just out of oven, drizzle 1 tablespoon honey over strawberries, Don't mix. Leave on side to cool down a bit. Slice one banana into thin rounds.

5.

To assemble, in one mason jar, layer strawberries and 1/2 of chocolate chia pudding in 5 layers, starting and finishing with strawberries, divide evenly in each layer. Repeat the same with banana and remaining half of chia pudding in second jar! Top last layer with toasted almonds. Serve immediately or chill for 30 minutes !
Savita's Notes:
If not serving Chia Pudding immediately, refrigerate until ready to use.
DID YOU MAKE THIS RECIPE?
Tag
@SAVITACHEFDEHOME
on Instagram and hashtag it
#SAVITACHEFDEHOME
© Chef De Home. Post content including video and photos are copyright protected.
We Think You'll Love