Cinderella's Oats and Quinoa Porridge with Ginger Tea | Disney Theme Breakfast
Posted On:

Mar, 11
| Author:

Savita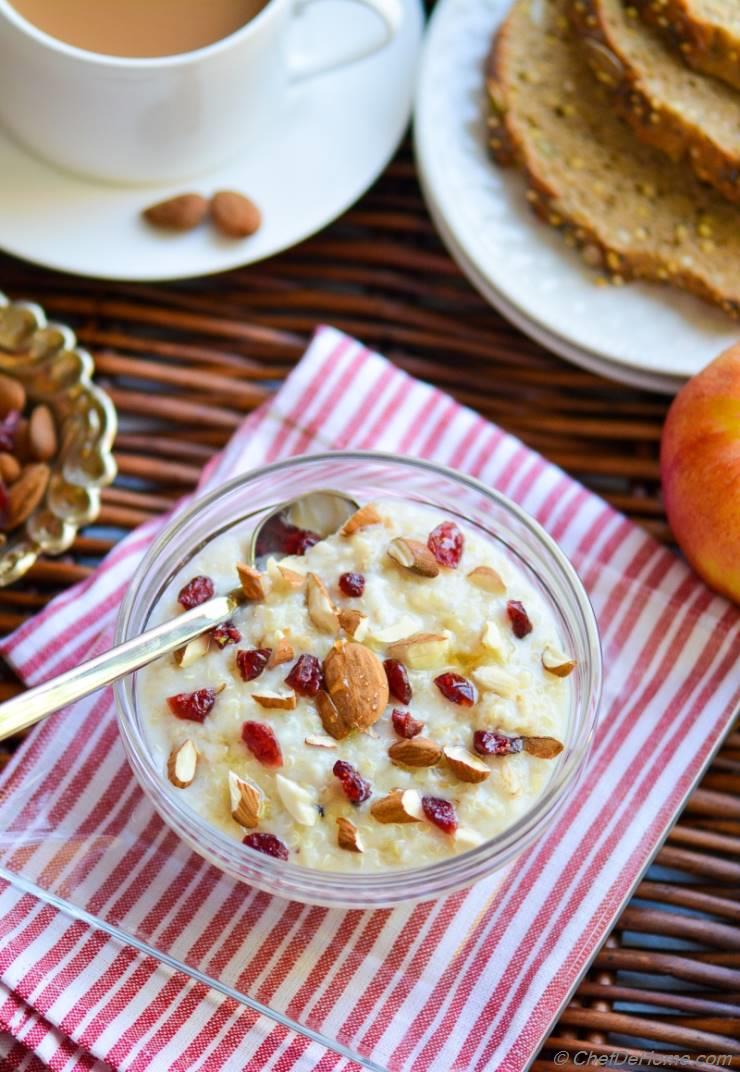 There are two reasons for today's post - First, my love for healthy breakfast and second, release of movie - Cinderella!! 
As they say, we should eat breakfast like kings!  A good, filling, and healthy whole grain breakfast can really help you energize your whole day! No kidding, breakfast is THE most important meal of the day. To help you with this goal, today, I'm sharing, a healthy whole grain breakfast of warm Oats and Quinoa Porridge with Spiced Ginger Tea! And guess what? You can make it vegan too!! (check out the recipe notes!)
And now let's talk about Cinderella!!! I know! too little about breakfast? that's what you thinking? trust me friends...keep reading...... there is plenty more... Don't go anywhere! 
I think, story books and animated Disney movies are every kid's fantasy land. Growing up, Cinderella and her prince charming's story was most adorable to me. Specially the part when she went to meet her prince charming with help of her Godmother Fairy, and while rushing back home... she left behind her shoe in the palace.... and then prince found her with the help of that shoe....... then they lived happily ever after!!! How touchy, perfect,  romantic, and charming!!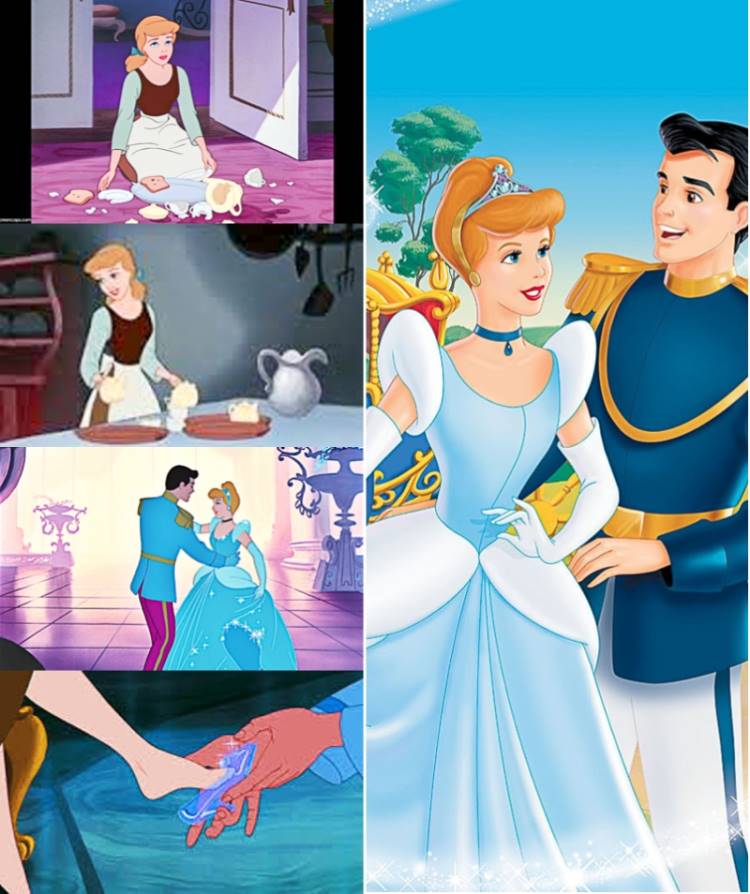 I don't know how many times have I seen the Disney's Animated Movie Cinderella. When I was in college, I stayed in my aunt's house for few months. My 5 year old niece loved Cinderella and often asked her father to play that movie.... I already loved the movie! So, I sat by her side, watched it over and over again..... One day she got part in a Stage Play and it was no other than Cinderella!! In-fact, she volunteered and told her teacher that she only want to be Cinderella (not her step sisters :) ) and even told her whom she want as Prince. Can you believe that?! These kids are so sharp and frank than what we used to be! Oh... I remember we spent at-least 2 weekends and many afternoons looking perfect shoe for our little Cinderella! She only wanted ones which are made of clear glass (in other words transparent plastic.. lol!!) and also had sparkles on them!
well... well..... that is called Cinderella Fever my friends!!
I was very excited when I saw trailer of new movie Cinderella, airing country wide, this Friday! I asked Vishal if he knew Cinderella story? and you know what? He don't! :(  all guys are like this...pretty practical!! They don't live in fantasy land that we girls do :) But... I still told him story (though he just kept smiling all the time....), I still kept going on and told him, We are watching this movie! For the record, whenever I take him to an animated movie, half the time he is snoring... oh yeah! he is! (don't tell anyone...)
How about you? Are you Cinderella fan? 
If you are then I'm sure you despise her step mother and step sisters! They made her work so hard! How she needs to keep working and cooking all day..... She cooked all three meals, especially Porridge and Tea for breakfast! As a kid, I never cared what exactly was she cooking.... but as a foodie blogger, her cooking caught my eyes first of all!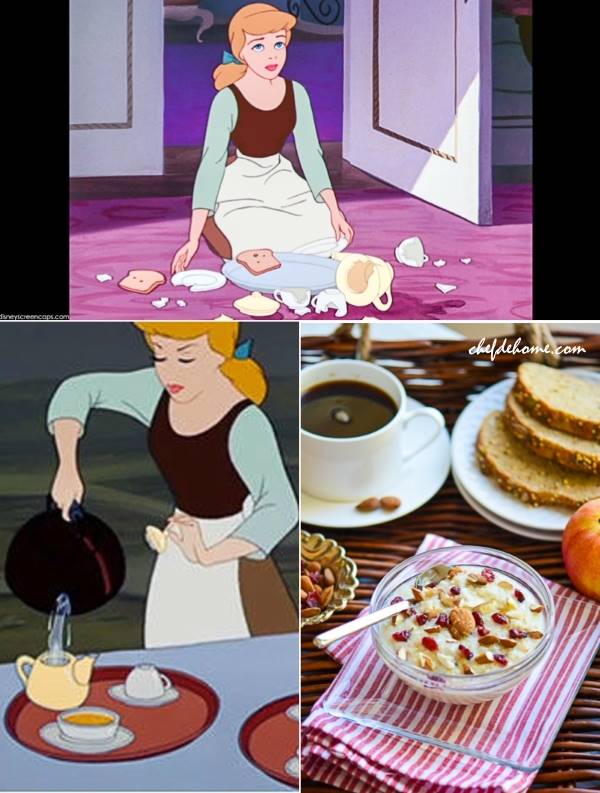 Since I have my prince charming now :) I'm always in my NEW fantasy land .... you guessed it! cooking!!! making food fit to serve my prince :) hahaha
Speaking of which, I'm always scared to try new things (I mean healthy experiments) for weekday breakfast on Vishal. If he won't like it, he have to leave empty-stomach for office which isn't good. I decided to make Cinderella's Porridge and Tea last week. Also, made a few toasts, just in-case, Vishal don't like it! I knew, I'm going to add my healthy twist to regular porridge for sure! Even though cracked wheat porridge is pretty healthy and wholesome food itself. I added the twist of Oats and Quinoa Porridge and a ginger spiced tea.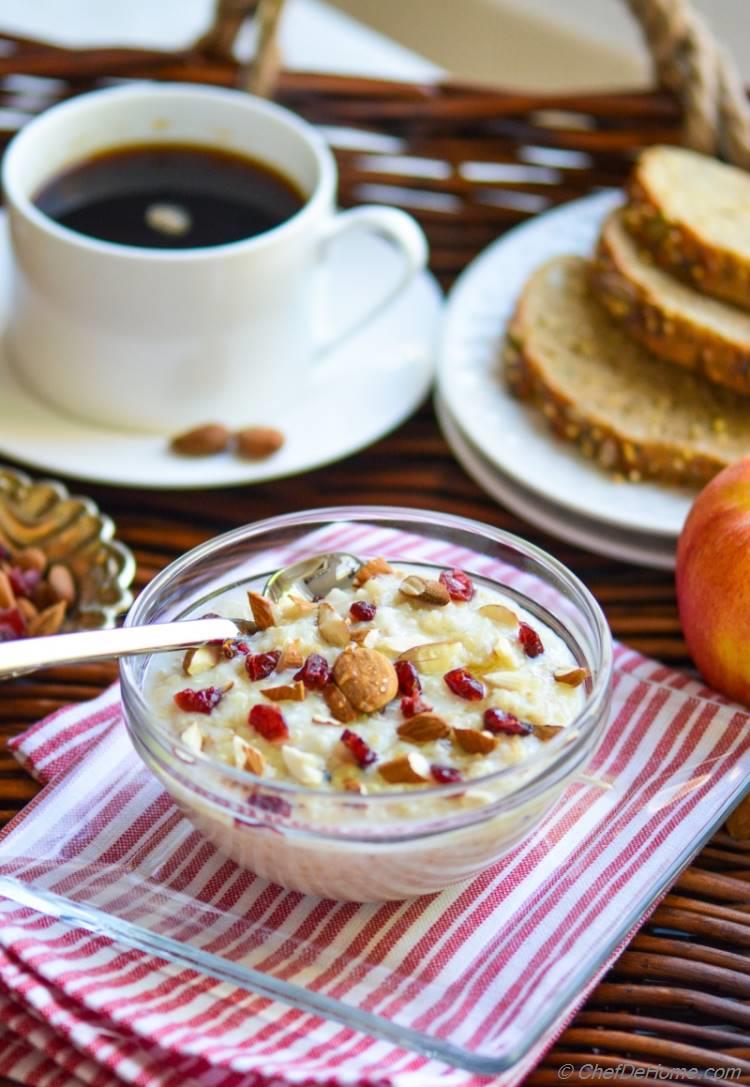 Turns out, he not just liked porridge, he loved it!! In-fact it has made place in our regular weekday breakfast menu now! Since it takes just 20 minutes to make oats and quinoa porridge, I leave it on stove, slow cooking, while I work on my morning routine. By the time, tea is ready, porridge is ready too! Plus no sugar, very less milk (I mean it, this porridge has not been cooked with just milk, check the recipe!), and whole grain oats and quinoa.... perfect creamy yet not mushy texture....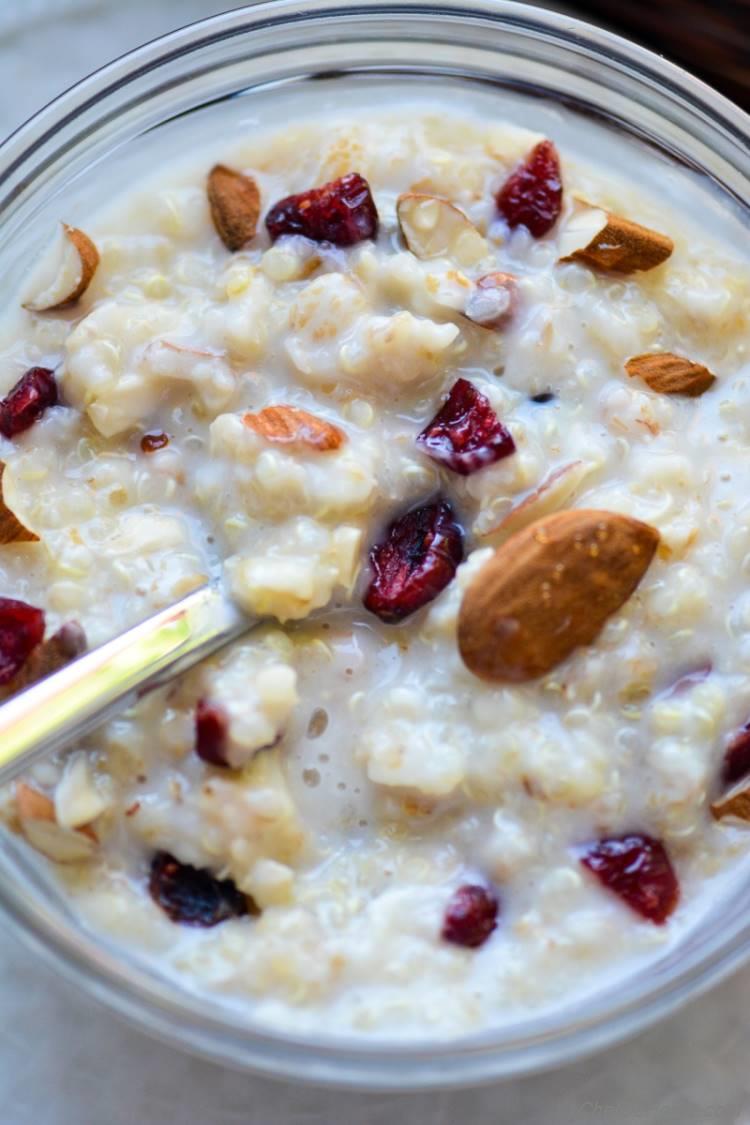 Why Ginger Tea?
Morning Tea is a tradition in my home, and ginger every once in a while, specially when it's cold outside, is perfect to warm up Chai Tea! I have shared Ginger Chai Tea with you before, but including the recipe again for your convenience and to complete the porridge and tea theme!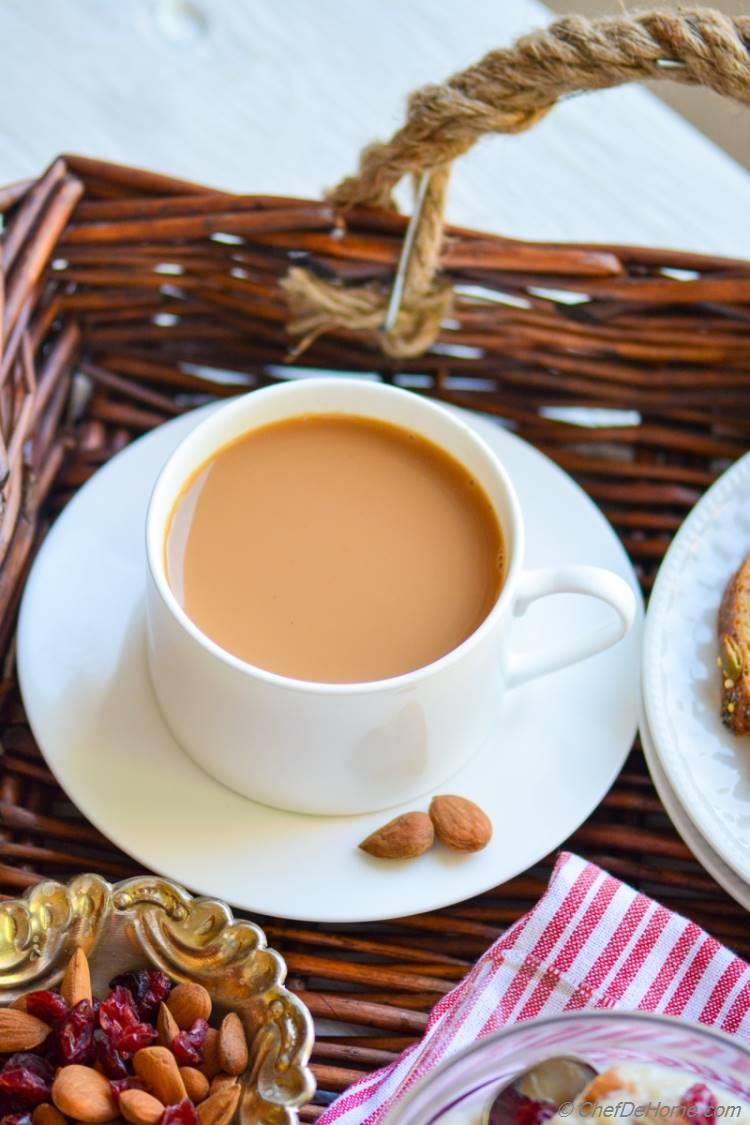 You can serve it with almond creamer (for vegan tea) or with whole milk or without milk - black ginger chai tea!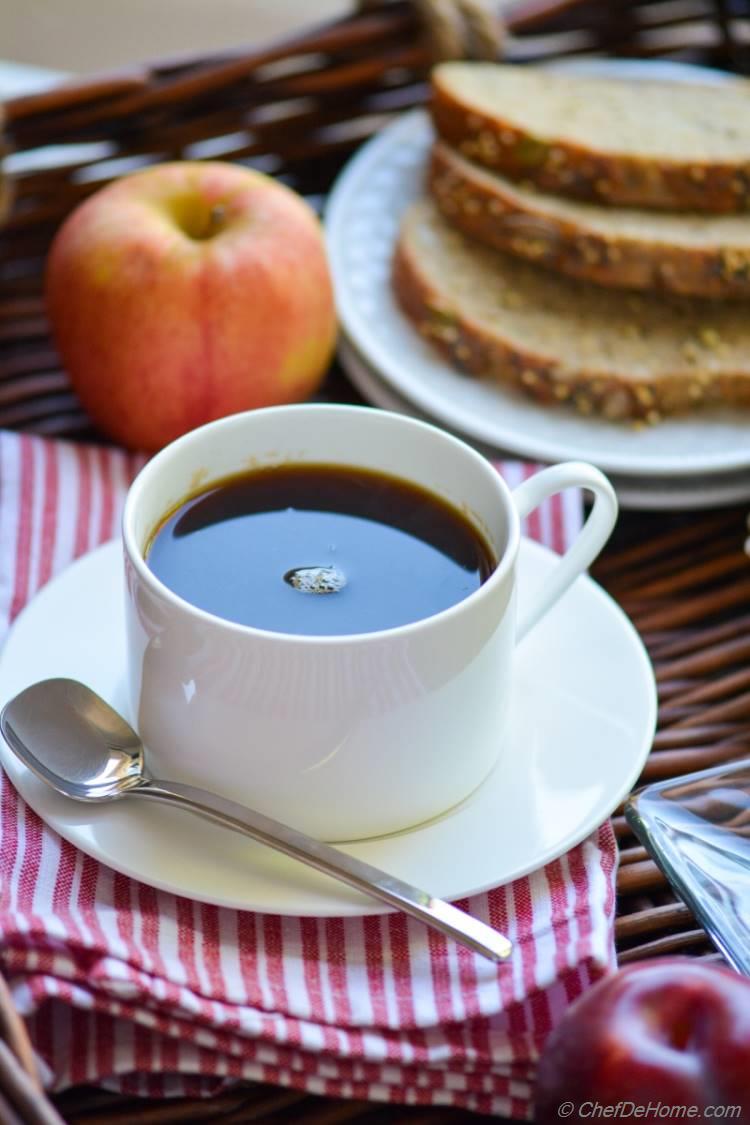 In nutshell, for love of Cinderella, her courage, and her heart warming story, I have made this princes like healthy, yet elegant Oats and Quinoa porridge with ginger tea! Thank you Disney movies for bringing Cinderella and many adorable and inspirational characters to every kid's childhood! We owe you big time for lots of fun and entertainment!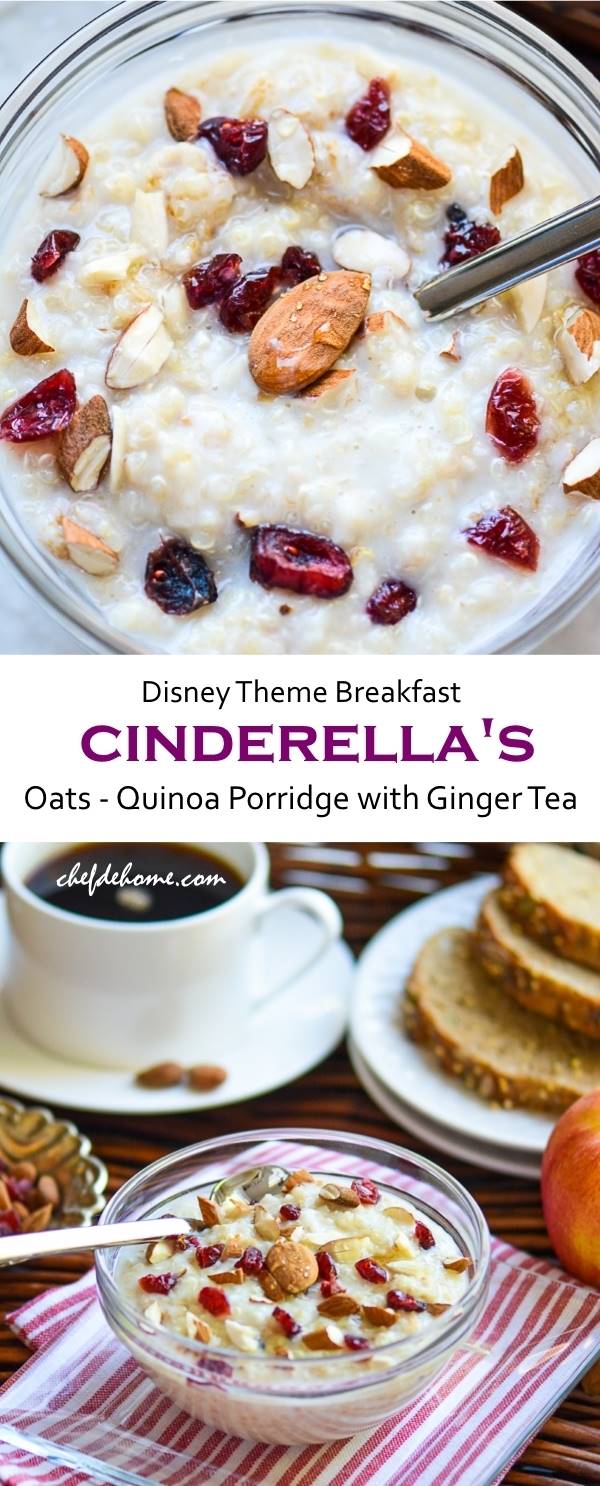 Ask the child in me, for the record, this healthy and elegant breakfast is NOT fit for Cinderella's step mother and step sisters. It is meant for only Princess and Prince! ;)
Now, I'm excited to ask! Are you guys watching Cinderella this Friday?? Which part from her wonderful fantasy story do you love most? 
A few more oats or porridge breakfast with tea recipe from my repertoire!
Cinderella's Oats and Quinoa Porridge with Ginger Tea | Disney Theme Breakfast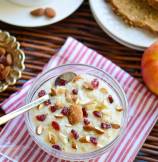 Total Time:
Prep Time:
Cook Time:
Cuisine:
European
(

Breakfast

)
Difficulty:
Easy
Yields:
2 Cups
- Serves:
2
(

Servings vary based on serving size!

)
Ingredients
Oats ad Quinoa Porridge
Toppings
Ginger Tea
Smart Swap: Can't find quinoa? Use millet or cracked wheat (wheat needs little longer to cook!)
Directions
1.

Rinse quinoa. Combine quinoa, oats in a sauce pan with 1 cup of water. Bring to boil then simmer on low for 14-15 minutes or until quinoa has cooked through. Oats will almost melt by this time and will give a creamy texture to quinoa. Now add milk and continue cooking for 3-4 minutes or until milk has been absorbed leaving behind thick and creamy porridge. Transfer to serving bowls, add chopped almonds, cranberries, and drizzle honey (if you prefer).

2.

Kadak (Strong) Ginger Tea - While oats are cooking, in a sauce pan, bring water to a rolling boil. Add tea, and grated ginger. Boil for 6-7 minutes until tea gives nice dark black color to the water and also water has reduced from original 2 cups to about 1 & 1/4 cups. Now add milk, sugar (if using) and continue simmering for 1 more minute. Remove from heat, strain with a tea strainer into serving cups.

3.

Serve and enjoy!
Savita's Notes:
Vegan For vegan porridge, use almond milk instead of whole milk wherever suggested.
DID YOU MAKE THIS RECIPE?
Tag
@SAVITACHEFDEHOME
on Instagram and hashtag it
#SAVITACHEFDEHOME
© Chef De Home. Post content including video and photos are copyright protected.
We Think You'll Love