This recipe is Copyright of ChefDeHome.com

A real treat for Guacamole and Sriracha Lovers!
Here we are again, for my love of Mexican Cuisine, avocados, and our very own "Holly Guacamole"! 
Today, one more delicious ingredient has joined my fiesta Mexican party and i.e. SRIRACHA! One of "the best" Asian condiment on earth that can add flavor to anything from Mexican Quesadilla, Potato Fries to Grilled Burgers! And I'm not paid to say this, I just happen to love sriracha.
Mexican food is already pretty zesty and flavorful with a wide variety of chiles used in this cuisine..... then, why Sriracha!? Well, I would say.... in my home... sriracha makes it's way to anything and everything I love. That's why! :) and there is always room for "one more guacamole"..... so, why not Sriracha Guacamole?!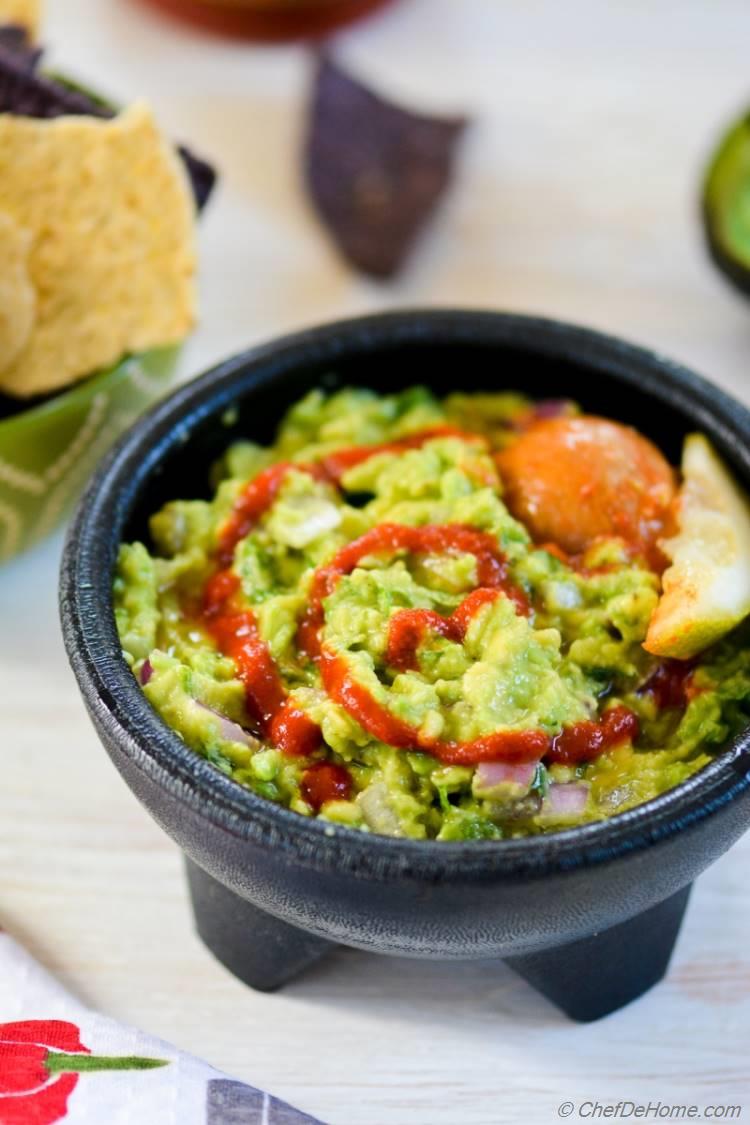 I have to say, I'm not disappointed with this delicious fusion at all! You know my love for Garlic Guacamole and sriracha was garlic-and-chiles-in-one. Every bite just made me go for yet another chip....
Caution! If you trying this recipe, I warn you, make a big bowl, because this guacamole has qualities to vanish from Dip Bowl!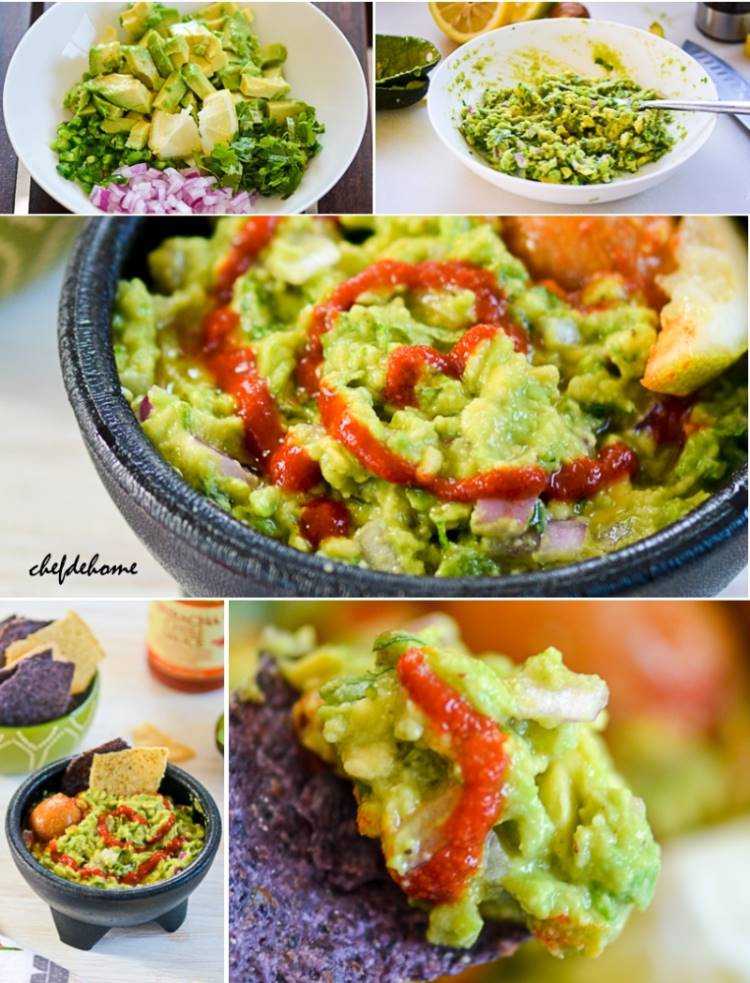 Just take care of one thing, never mix/mash sriracha with avocado. Just swirl or drizzle on top.
Why? Two reasons:
1) Mixing Sriracha into guac will turn green color of guac into dull and not appetizing pale green which is big no-no. Trust me, I have done that once. Even though it tasted fine, yet due to dull color I kept the bowl hidden from Vishal as he often laughs at my kitchen experiments gone wrong. ;)  
2) I figured, sriracha taste was more pronounced and complimenting the tangy-creamy guacamole,  when I just drizzled it on top. A good way to get delicious taste of sriracha in every bite! 
So, unless you want to hide sriracha, don't mash two together. Plus it looks beautiful drizzled on top! Doesn't it?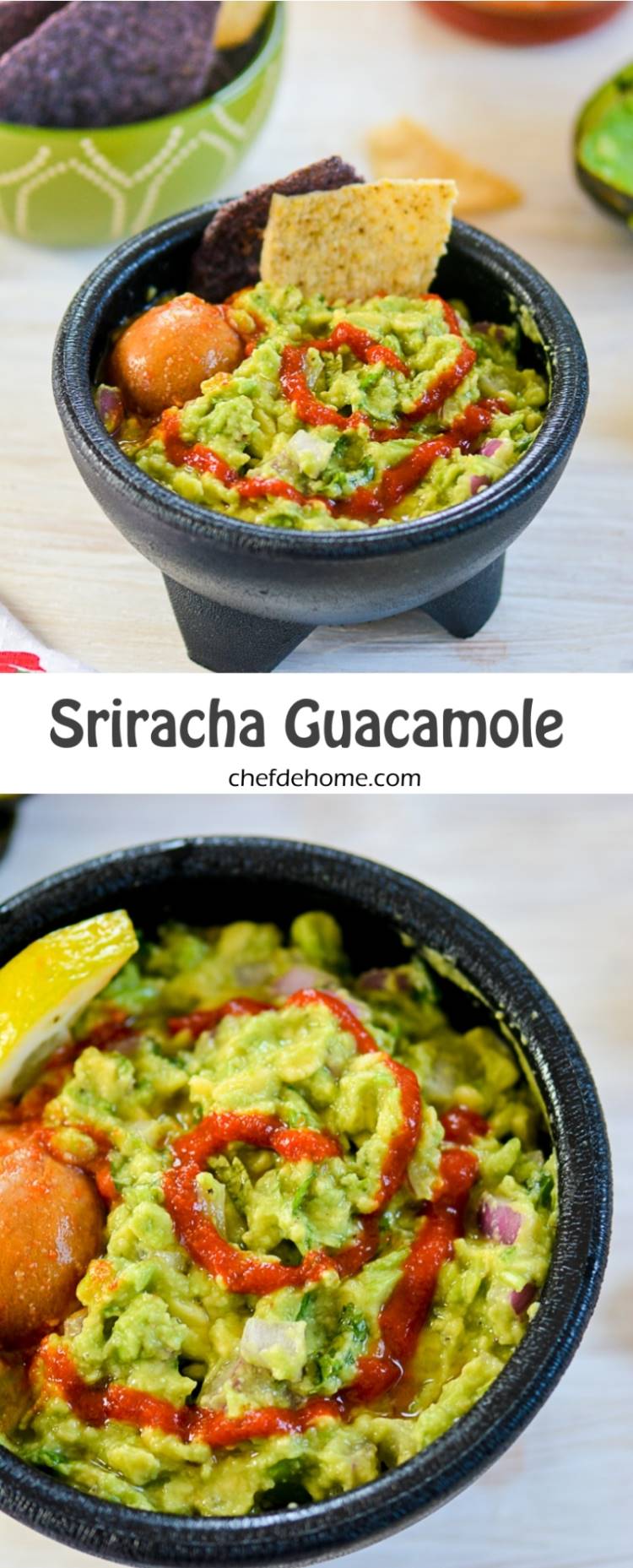 Just in-time for Cinco De Mayo, I have given you one more reason to serve guacamole to your guests with delicious addition of sriracha! I'm sure your guest gonna love the taste! So bookmark this recipe today! Serve it with big bowl of tortillas chips and enjoy!
 Please note, this guacamole is gluten free, nut free, dairy free. (Without sriracha it is also vegan)
Have a great day!
Few of my favorite Sriracha Recipes:
Sriracha Guacamole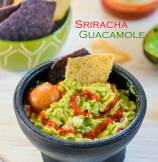 Total Time
Prep Time
Cook Time
Cuisine
Mexican
Category
Appetizer, Dip
Difficulty
Easy
Yields
2 Cups
(Serves:

4

)
Notes
No. of servings depends on serving size!
Smart Swap Did you know, guacamole can also be used for as healthy spread on sandwiches?
Ingredients
Sriracha Guacamole

1-2 tsp Sriracha

(hot sauce, adjust per taste)

3 Avocado

(ripe, seed and skin discarded)

1/2 Red Onion

(small diced)

Salt and Black Pepper

(as per taste)

4 tbsp Cilantro

(fresh leaves, chopped)

1 Lemon

(about 2 tbsp juice)

1/2 Jalapeno

(seeds discarded, small minced)

Dippers (for serving)

Tortilla Chips
Directions
1.

In a large bowl, fine chopped red onion, minced jalapeno, cilantro, diced avocado, and lemon juice.

2.

Using back of a large fork mash the avocado to a coarse consistency. I like to keep it little chunky! Or you can add all these ingredients in a food processor and pulse until avocados are mashed to your liking. Season with salt, black pepper, taste and adjust lemon juice if needed.

3.

While adding guacamole into the serving bowl, drizzle sriracha sauce in layers. Or add a good swirl of sriracha on the top. Garnish with some lemon wedges ad cilantro. Serve with a bowl of tortilla chips! Enjoy!
Savita's Notes:
Never mix sriracha in guacamole as that create a dull a green color which does not look appealing to eye. Adding a swirl of sriracha will make it look mouth watering. Also sriracha taste stands out and compliment the guacamole.
© Chef De Home. All contents and images are copyright protected. DO NOT copy or re-use content/images/videos. For all content/post mentions with link back, contact ChefDeHome for permission.

Craving for more?
Join us: Weekly Newsletter, Facebook, Google, Twitter, Pinterest
Shop products we use: CDH Amazon Shop (affiliate links)
What would you like me to cook next?: Request a Recipe