Eggplant Rollatini
An Eggplant recipe, easy to prepare and best summer dinner ever! You will love the flavors!
Posted On:

Jul, 23
| Author:

Savita
Eggplant Rollatini is low-carb alternative to lasagna roll-ups and tastes like cheesy Eggplant Parmesan with hidden serving of zucchini. OMG, quite a mouthful! Just try it! :)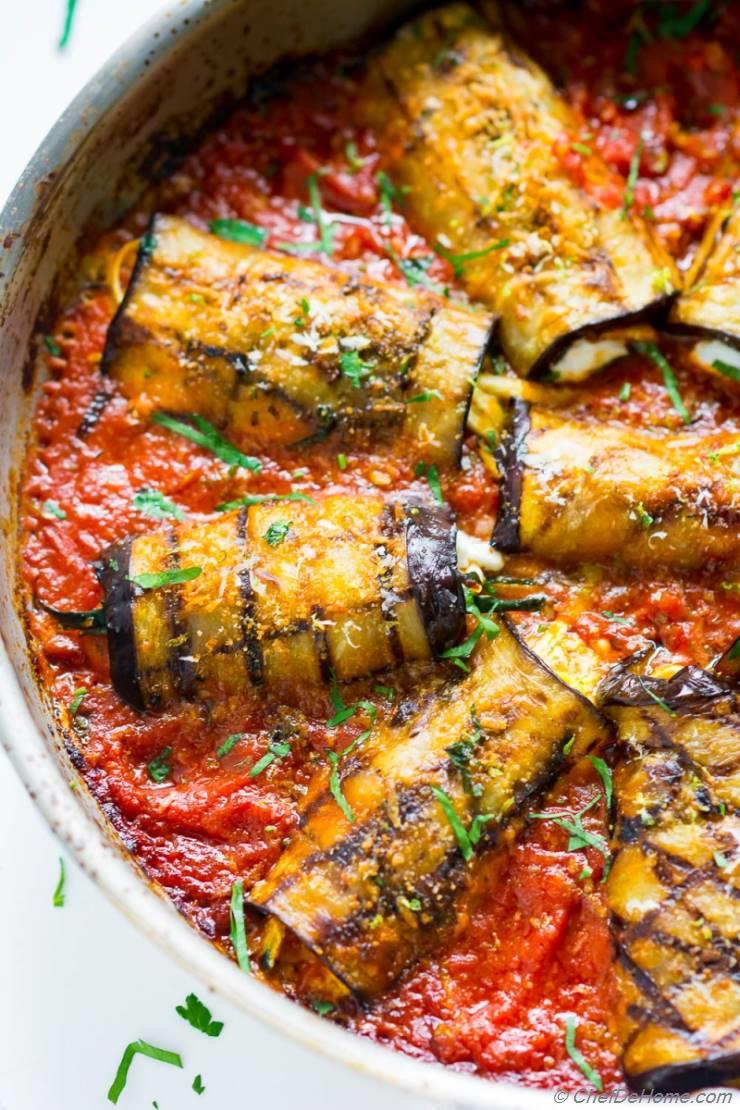 Eggplant Rollatini, it's Sunday! 
Eggplant Rollatini is one of my favorite summer dinner. When summer starts giving away loads of plum eggplants... I start craving for this lightened-up eggplant casserole.. more than ever.
Traditional Eggplant Rollatini or rolatini (if you prefer to call it so) is prepared by shallow frying thin sliced breaded eggplant (like Eggplant Parmesan),  then stuffed with ricotta cheese and rolled. Resulting eggplant rolls are then baked over bead of flavorful tomato sauce (like lasagna). Sometimes also topped with mozzarella cheese.
Eggplant Rollatini makes a great low-carb alternative to lasagna. I also like to keep preparation lite by grilling or roasting eggplant instead of breading and frying. The recipe is completely vegetarian, and every bite just melts in mouth. So delicious and lite that it is perfect for meatless Monday dinner. (hint hint)
So, what are we waiting for?! Let's make some Eggplant Rollatini!! Shall we?!
Oh, forgot to share. You can prepare eggplant rollatini completely in oven or all the way on grill too. I have shared instructions for both.
I bet you know by now that someone looves Eggplant. :) Ratatouille or Skinny Eggplant Parmesan, Or Roasted Eggplant Pasta are some of my other favorite homemade eggplant dinners.
If you don't like eggplant (just in case), I must tell you that Vishal (my dear husband) does not like eggplant either. Yet, he ate a plate-full of Eggplant Rollatini. With impressive and delicious layers of grilled eggplant, goat cheese, herbs, and zucchini noodles in a garlicky tomato sauce... This humble casserole tastes like a 5-star restaurant meal.. only less expensive, healthier, and way more delicious.
Grilled or Roasted Eggplant (instead of fried):
Like I said, traditionally Eggplant Rollatini is breaded and shallow fried. When I have access to grill or even a cast iron grill pan.. I lightly oil and season the eggplant slices and grill until nice grill marks appear and eggplant is soft but not mushy. This keeps dish lite, low in carb and oil, and of course easy to cook. For these pictures I used cast iron griddle. When not in mood to grill, I just saute these in pan with lite drizzle of oil. Cooking eggplant makes it soft and easy to roll just like lasagna sheets.
Note: You can also roast eggplant in oven. Pre-heat oven at 350 degrees Fahrenheit. Arrange eggplant slices on parchment lined sheet tray, drizzle with oil and sprinkle some salt. Cook for 10-12 minutes or until eggplant slices are soft.
Filling - Herbaceous, Veggie-licious, and Delicious:
Filling of Eggplant Rollatini recipe is my favorite part. Traditionally these rolls are famous as eggplant ricotta rolls but I like the flavor of goat cheese better. By all means if you want to use ricotta, go for it. I'm fan of tang of goat cheese with buttery eggplant. Herb goat cheese gives this Italian dish a little Mediterranean flair.  
To make eggplant rolletini filling still low-carb, I also layer some zucchini noodles with goat cheese. When dish goes in oven, zucchini noodles cook al-dente with heat of tomato sauce and eggplant. No one will judge the sneaked-in serving of veggie inside a cheese-filled roll. It makes it filling, a complete meal in itself.
Traditionally, beaten egg is mixed in cheese. I find it absolutely unnecessary.  If eggplant is cooked and pliable , it holds on to cheese filling very nicely. There is no need to add egg. 
If you stick to the recipe, it can easily fit in your skinny eggplant rollatini recipe book.
Okay, let me sum-up, what makes this recipe - skinny, healthier, and perfect for summer?:
1) Low-carb (almost carb free) alternate to wheat lasagna roll ups. 
2) Filled with tangy goat cheese and zucchini to make a complete filling vegetarian meal.
3) Grilled eggplant instead of fried - save calories, keep it low-carb, low-oil, yet delicious with charred smokey grill flavor.
4) Last but no way the least - the best way to use last load of summer eggplant and zucchini.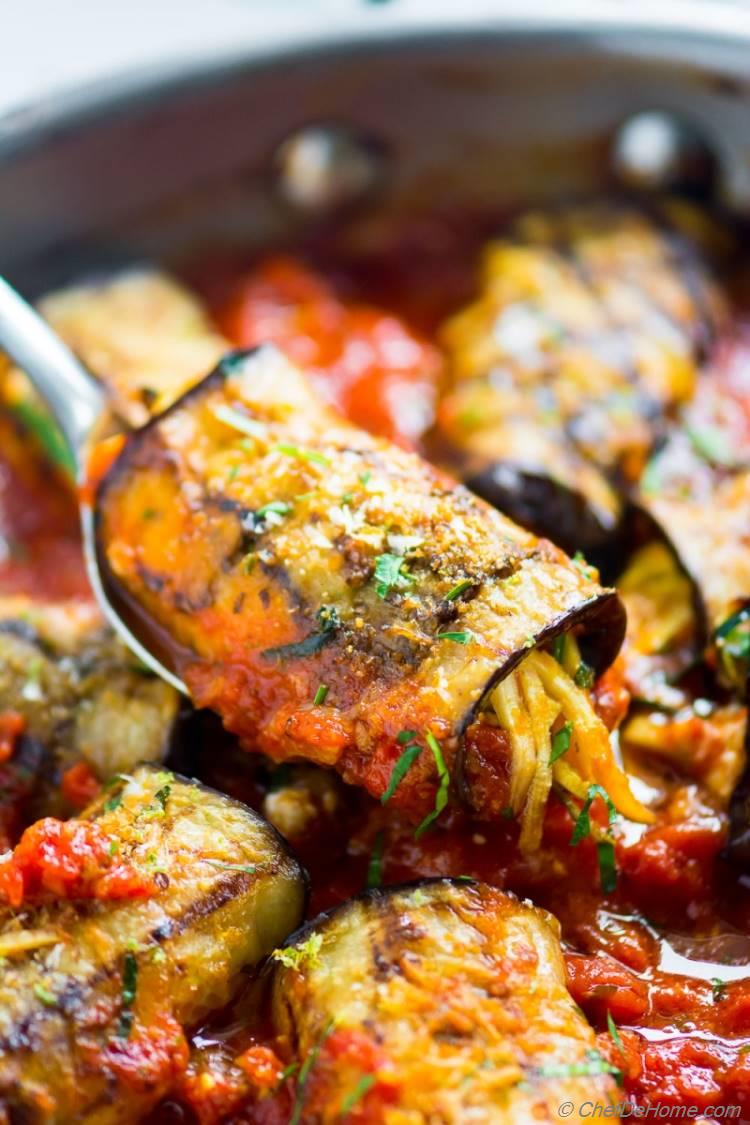 To make Eggplant Rollatini, I start by slicing eggplant into thin slices. I grill eggplant with some oil and salt until it gets nice grill marks and is pliable. While eggplant gets ready, I mix the filling of goat cheese and herbs. Also, coarse grate or spiralize zucchini.

I add the tomato sauce ingredients in sauce pan, stuff each eggplant with goat cheese mixture, roll and top on sauce with seam side down. I bake it for 15 minutes, then dust resulting eggplant rolls with mixture of Parmesan and herbs. 5 minutes uncovered in oven until top is crisp brown.
That's it! Eggplant Rollatini is ready to serve!
Gluten Free?
You can easily make this recipe gluten free by skipping the breadcrumbs from Parmesan topping. Honestly, even in these pictures I topped half of eggplant rolls with parmesan-breadcrumbs and half with just parmesan. Both tasted equally amazing. 

Serving Suggestions:
If you ask me, I eat 2-3 pieces of eggplant rollatini and I'm full. 1-2 slices of grilled bread on side are great to scoop flavorful tomato sauce. So, here are my 3 favorite serving suggestions:
1) Serve as Main Course with side of bread or salad.
2) Serve on side of a meat main course such as grilled chicken.
3) Serve as an appetizer.
Honestly, no matter how you serve it.. I can tell you that this easy eggplant rollatini recipe will be your next favorite Italian vegetarian family meal. Bring home some eggplant or pick some from garden, let's serve Eggplant Rollatini for meatless Monday!
Enjoy! -Savita
Homemade Breads to scoop the sauce: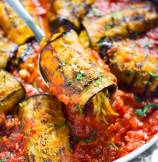 Total Time:
Prep Time:
Cook Time:
Cuisine:
Italian
(

Main Course

)
Difficulty:
Easy
Yields:
4 Servings
- Serves:
4
(

No. of servings depends on serving size.

)
Ingredients
Eggplant Rollatini
Rollatini Filling
Directions
1.

Preheat oven at 350 degree Fahrenheit. Slice both eggplant to yield thin 10-12 slices. Also coarse grate or spiralize zucchini. Set aside. In a bowl, mix together cheese filling - goat cheese ( or ricotta if using), chili flakes, 2 tablespoon fresh parsley, 1/2 teaspoon minced garlic, black pepper, and generous pinch of salt. Set aside.

2.

Pre-heat grill or large saute pan. Grill eggplant with drizzle of oil and sprinkle of salt until it has nice grill marks and pliable. Soft to touch, almost cooked but not mushy.

Additional Notes:

If eggplant does not look fully cooked but soft, increase cook time in oven by about 5 more minutes.

3.

Heat 1 tablespoon oil in an oven-safe pan. Add garlic, oregano, tomatoes with 1/3 teaspoon of salt. Mix well, cook for 5 minutes to marry flavor, and then remove from heat. Set aside.

4.

Fill a tablespoon of filling in and handful of zucchini in a eggplant slice, on lower 1/3 portion of eggplant slice. Starting from lower side roll eggplant outwards until reach the end. Place on top of sauce, seem-side down. Repeat with remaining slices.

5.

Bake in preheated oven for 10-15 minutes, then sprinkle parmesan-herb mixture (Parmesan, breadcrumbs and remaining parsley) on top and bake for additional 5 minutes or until eggplant top are brown and crusty. You will see tomato sauce bubbling on the sides. Let it cool for 5-10 minutes, sprinkle fresh chopped basil before serving! Enjoy Eggplant Rollatini!
Savita's Notes:
Parmesan herb topping is optional.
Leftovers stay good in refrigerator up-to one week.
To grill all way through , for step:5, cover pan and place on low-heat side of grill, keep grill closed and let cook for 10 minutes, then add cheese and cook until cheese has melted. Serve and enjoy!
DID YOU MAKE THIS RECIPE?
Tag
@SAVITACHEFDEHOME
on Instagram and hashtag it
#SAVITACHEFDEHOME
© Chef De Home. Post content including video and photos are copyright protected.
We Think You'll Love