Ratatouille Stuffed Zucchini Boats
Your favorite Ratatouille stuffed in Zucchini Boats for a delicious and easy weeknight dinner.
Posted On:

Jul, 6
| Author:

Savita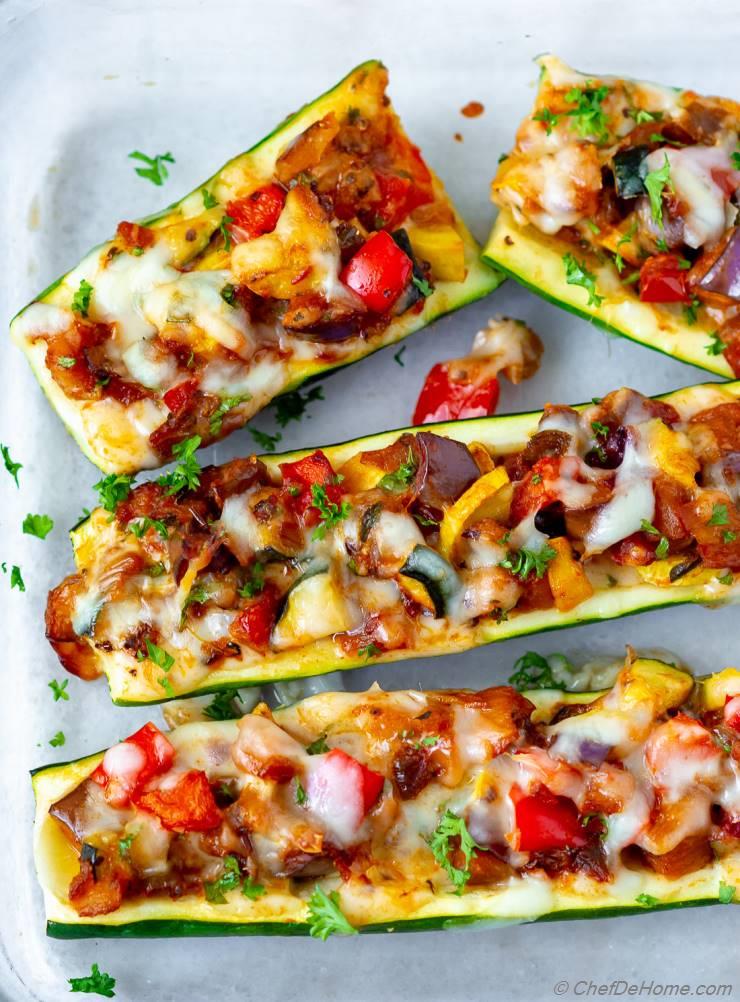 Ratatouille-style seasoned eggplant, summer squash, zucchini and red bell pepper cooked with fresh herbs, tomatoes, and spices stuffed in flavorful zucchini boats for an amazing summer weeknight dinner. Gluten-free. Low-carb. If you too are a fan of Ratatouille like I'm, you will be making these Stuffed Zucchini Boats all summer long! It is an easy version of my layered Ratatouille recipe which makes a flavorful vegetarian dinner (or dinner side) without much effort.
Summer is The season to enjoy fresh summer squash, eggplant, zucchini, tomatoes and fresh herbs. When I think of these vegetables, the first thing I plan to cook is Ratatouille! Ratatouille is just perfect to bring all of my favorite summer veggies together. Plus flavors are so good, no one minds a vegetarian dinner. (even picky eaters enjoy it).
If a picky eater in your home does not like zucchini/eggplant, Stuffed Ratatouille Zucchini Boats is the way to go.
Let's dig in!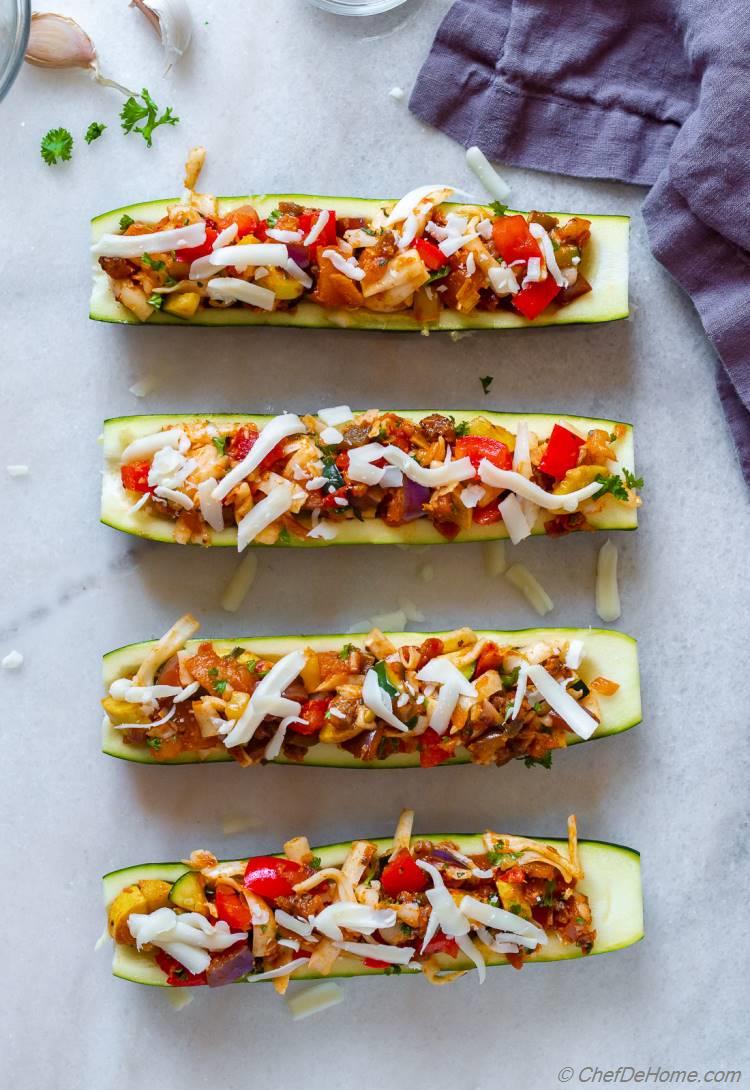 Zucchini is the heart and base of any stuffed zucchini recipe. Just like my all vegetarian recipes (for picky eaters) I make sure boats are prepared well and have a ton of flavor. [That is the only way my family would eat vegetarian.]
Prepare Zucchini for Zucchini Boats.  
Here is what I do to prepare Zucchini for Zucchini Boats:
Split the Zucchini: In Zucchini Boats, zucchini is the base of the dish. I like to buy/pick big zucchinis. I split these in half (lengthwise) and scoop out the flesh to hallow it out as-much-as possible. This way, it holds the stuffing better. For even length, don't shy from trimming the un-even zucchini to the same size, or size that fit the casserole you using for baking. I always dice and use trimmed ends in the stuffing. 
Flavor the Zucchini: I always make sure to flavor the base (zucchini halves) so that it does not taste bland. Here are a few tricks Before stuffing veggies:
a. Season with a generous pinch of salt and black pepper.
b. Drizzle some hot sauce.
c. Brush with mixture of oil, minced garlic, and salt.
Check Cooking/Baking Time for Zucchini: For medium-large zucchini (hollowed), it takes 20-22 minutes to bake it perfectly as Zucchini Boats. In this time, zucchini is crisp-tender (it still has some bite). Stuffing is warm, and cheese melts snuggling the ratatouille veggies perfectly. 
Note: If zucchini half does not sit straight on its own, cut small lengthwise skin from bottom to flatten the bottom. 
Follow the above three simple steps, and your Zucchini Boats will always come out perfect and tasty.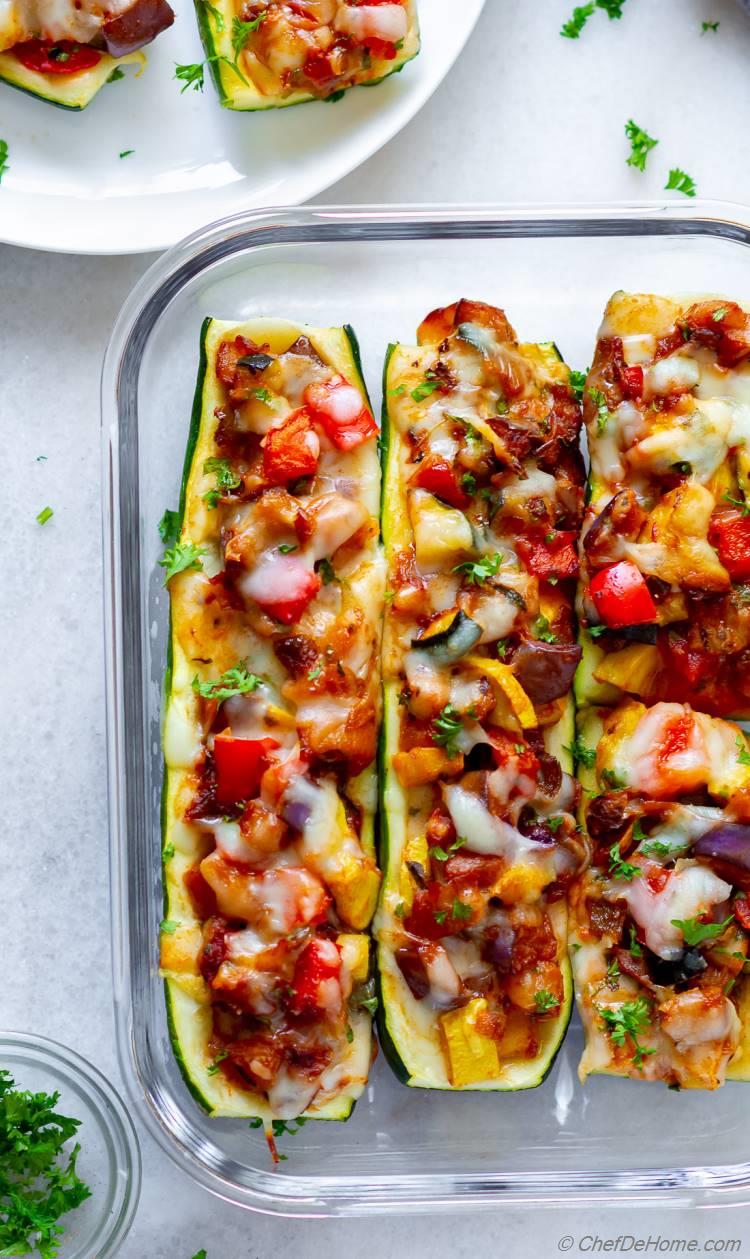 Note: If you like well-cooked zucchini boats, keep baking after 22 minutes for about 5-6 minutes. For best result, check every 3 minutes for done-ness you prefer.
The fourth Step to delicious Zucchini Boats is stuffing. Stuffing makes a stuffed zucchini boat, "the stuffed zucchini"! Good thing is, making Ratatouille for stuffing in Zucchini Boats is super easy! Resulting Ratatouille is delicious, so good that I even eat some with a spoon.
Ratatouille for Zucchini Boats:
After preparing Zucchini for zucchini boats, leave these aside. Dice the remaining vegetables for Ratatouille - yellow squash, trimmed end of the prepared zucchini, and red bell pepper. I used Asian eggplant for this recipe which has softer skin. So I did not peel off the skin. If using regular eggplant or if eggplant skin is very thick, I suggest peeling it off before cooking.
I cook these veggies in a regular tomato-basil marinara sauce that I often use for pasta. One little secret, don't tell anyone. Somedays, if I'm craving ratatouille and I don't have sauce, I even use store-bought medium salsa instead. It works perfectly every time. 
Once the veggies are cooked with sauce and tender, I make sure no water or liquid remains and also the yellow squash should not be mushy. 
A quick mix of shredded mozzarella cheese in slightly cooled stuffing and stuffed boats are ready to bake. 
Once the cheese melts, it binds the veggies together... making delicious Zucchini Boat Packages for dinner. Leftovers are great for lunch. (hint hint)
I recently tried a new brand of Cheese and have fallen in love. If you can get hold of Tillamook, Shredded Mozzarella Cheese Farm Style Cut. Try it! You will love it. (not an advertisement)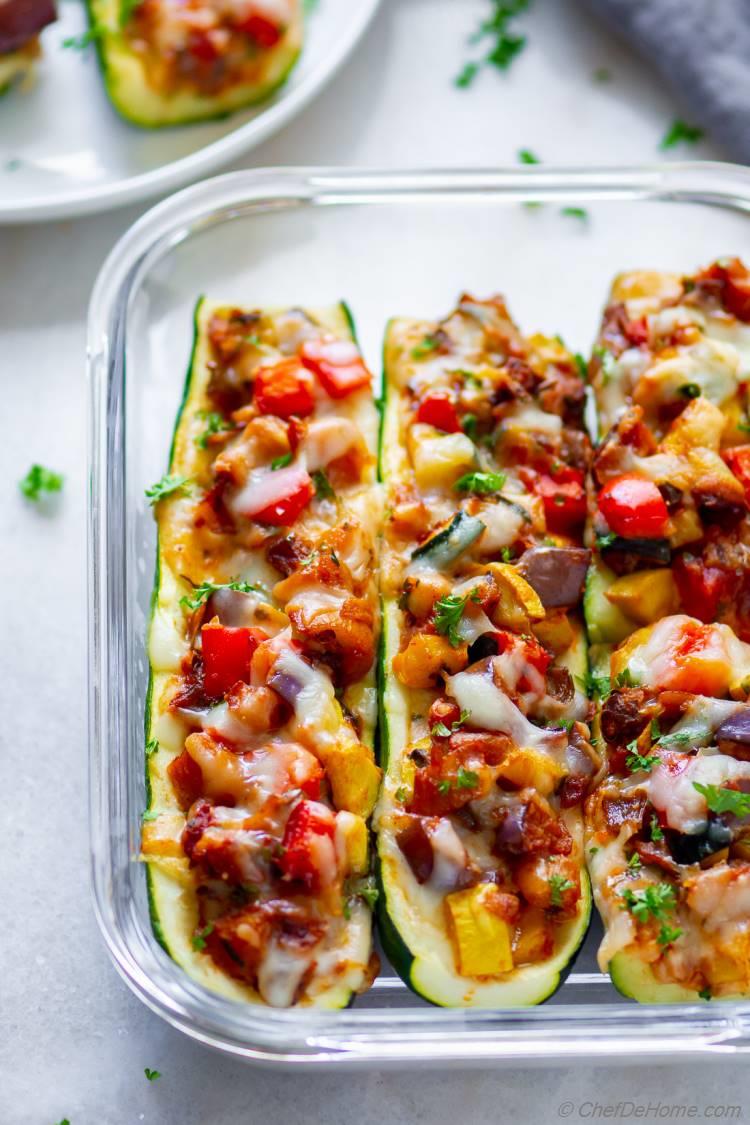 Serving Suggestions:
Honestly, I love two zucchini halves for dinner without anything else. These are filling, low-carb, and only 166 Calories (with all cheesy goodness and flavor).
You can also serve these on the side with meat main-course. Or serve over rice with a drizzle of tomato-basil sauce.

I hope you will enjoy my Ratatouille Stuffed Zucchini Boats recipe as much as we did. 
Wish you a wonderful weekend. -Savita x
Rice Recipes to serve on side:
Ratatouille Stuffed Zucchini Boats
review

)
(1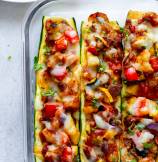 Total Time:
Prep Time:
Cook Time:
Cuisine:
French
(

Side Dish, Main Course

)
Difficulty:
Easy
Yields:
8 Zucchini Boat
- Serves:
4
Nutrition:
166 calories per serving
(

Serving Size: 2 Boats

)
Directions
1.

Preheat oven at 375 degree Fahrenheit.

2.

Trim ends of zucchini making zucchini even (same length). (Don't discard ends except for hard stems. Dice and reserve for stuffing.) Split zucchini in half, lengthwise. Scoop out flesh and dice as well. Set aside.

3.

Heat olive oil in a pan. Add minced garlic, and red onion. Saute until onions are soft. Add diced ***eggplant with pinch of salt, and saute for 2 minutes. Add tomato sauce, chili flakes, and thyme with a generous pinch of salt. Mix well, cover and let cook for 2-3 more minutes or until eggplant is soft to your liking.

Additional Notes:

If the content of the pan stick at the bottom, add 1-2 tbsp of water to help. Don't add too much water. The sauce should not have liquid after Step-4.

4.

Add diced yellow squash, red bell pepper, chopped zucchini (half of the scoped flesh, and chopped trimmed ends). Cook another 2 minutes or until mixture is dry and squash is crisp-tender. (Don't let squash cook mushy.)

5.

Spray cooking spray on a baking sheet. *Season zucchini halves with pinch of salt and black pepper. Mix eggplant mixture (slightly cooled) with shredded cheese and remaining fresh chopped herb (basil or parsley). Stuff mixture into split and scooped zucchini boats stuffed-side up. Place on greased sheet. Bake for **20-22 minutes. Serve hot and enjoy!
Savita's Notes:
*Always Flavorful Zucchini: Always season zucchini with the pinch of salt before stuffing. For more flavor, brush with few drops of hot sauce or with oil mixed in garlic and salt.
**Bake Time: Crisp Tender Zucchini - 20-22 minutes
Well cooked - 25 minutes
***Eggplant: I used Asian eggplant for this recipe which has softer skin. So I did not peel off the skin. If using regular eggplant or if eggplant skin is very thick, I suggest peeling it off before cooking.
DID YOU MAKE THIS RECIPE?
Tag
@SAVITACHEFDEHOME
on Instagram and hashtag it
#SAVITACHEFDEHOME
© Chef De Home. Post content including video and photos are copyright protected.
We Think You'll Love