Grilled Chicken Kabobs with Romesco Sauce - Mother's Day Special
This shop has been compensated by Collective Bias, Inc. and its advertiser. All opinions are mine alone.
Posted On:

May, 3
| Author:

Savita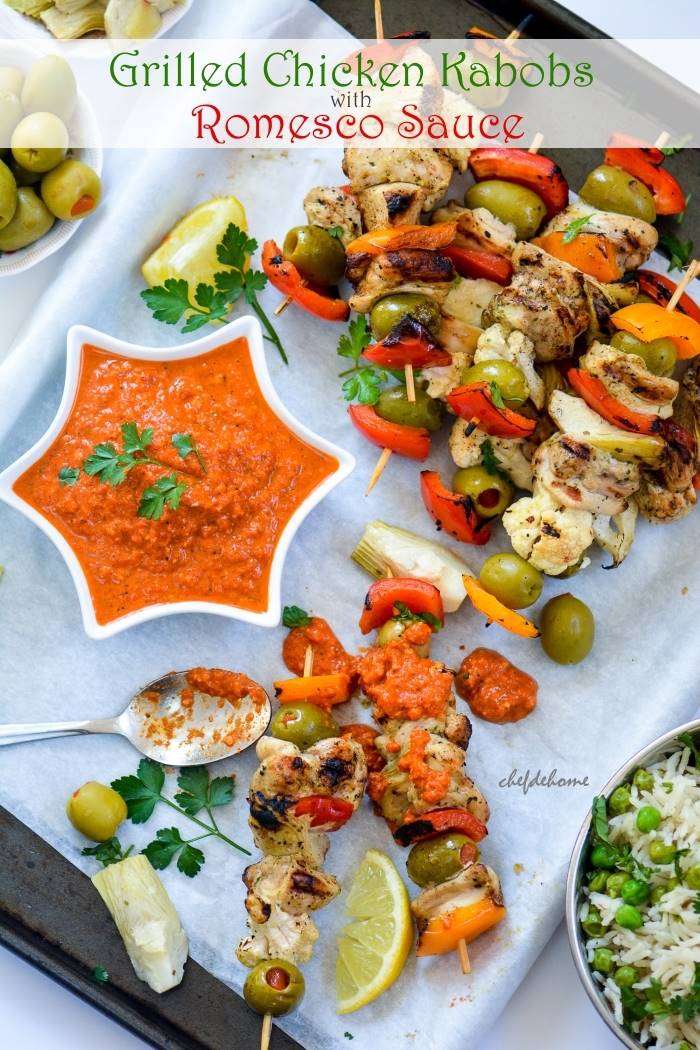 Just in-time for Mother's Day, sharing with you delicious Grilled Chicken Kabobs with nutty and garlicky Romesco Sauce and hearty green pea pilaf. This meal is not just a recipe, this is picture of how I have grown-up, eating delicious and elaborate meals, in my mother's kitchen!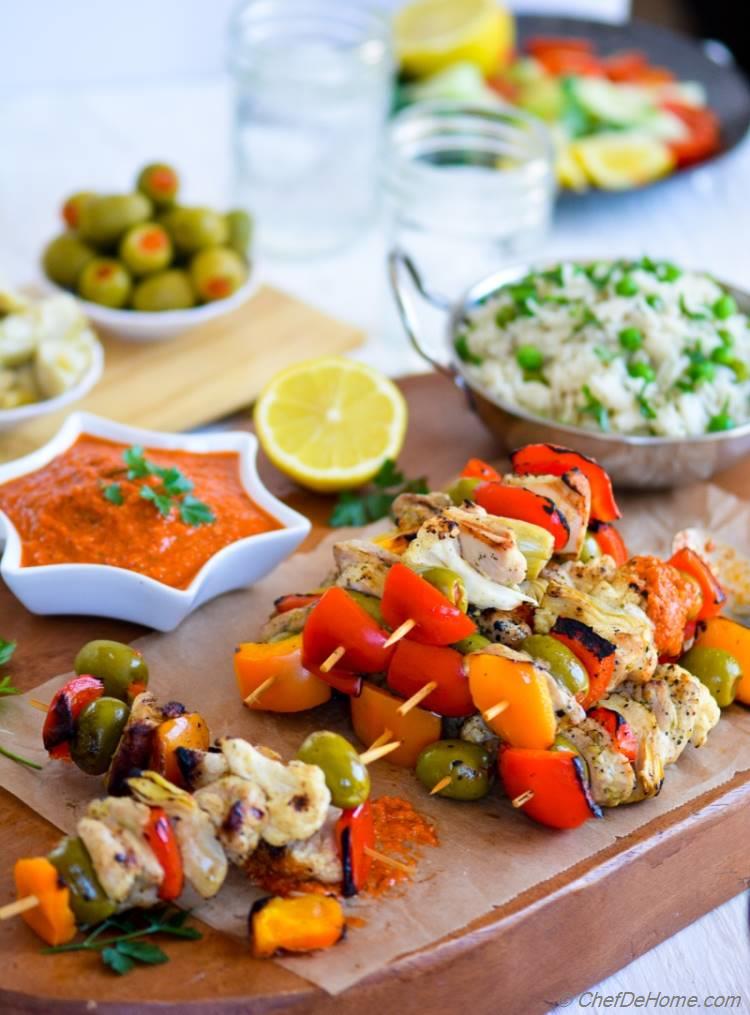 It will be a lie if I say I have been cooking all my life. :) You know that! Don't you?! ;) Well.. well.... you know, I'm proud of my mom that she never..... I mean NEVER forced me to cook in my younger age. I had all the time to study and work on my engineering career. My cooking is reflection of how I grew up eating rather than how I've been cooking! Even today, when my kitchen smells like my mom's, I know everything will taste perfect. In-fact, sometimes, when I'm not sure..... I either call her or if it's late-night in India, I just think.... how will she fix this meal.....and simply, mimic her style :)
Now, ask me, what is her style?! Well, she is THE most spontaneous, elaborate, and smart cook I have ever seen in my life. She makes food look so tempting that I, often, finished my plate, no mater if I were hungry or not. And she would sneak-in so much healthy-stuff in that delicious-looking-plate that almost always...... mesmerized with the "Thali" (Indian Food Item Severed in a plate), I would, first, devoured all of it, then wondered!
"I ate a plateful of delicious feast... but why am I not heavy or drowsy or lethargic?!".  
Answer....
Sunshine, you are tricked with a healthy-sneaked-in-delicious meal! It's your mother's love and magic :) xoxo
Her cooking is very famous among family and friends. Often, my father's friends used to call in advance to check ingredients for Mom's chicken recipes. They would bring ingredients by weight of Kgs! Mom would cook and pack them their favorite Chicken Biryanies or Chicken Pickles. Amazingly, I never saw her raising a brow on amount of work she did..... never complaining.... she still does not complain ever..... and.... THAT's her style!
Okay, before I get too emotional, carried away and nostalgic to visit India to meet my parents! I would like to change the course of this discussion to this scrumptious meal. :)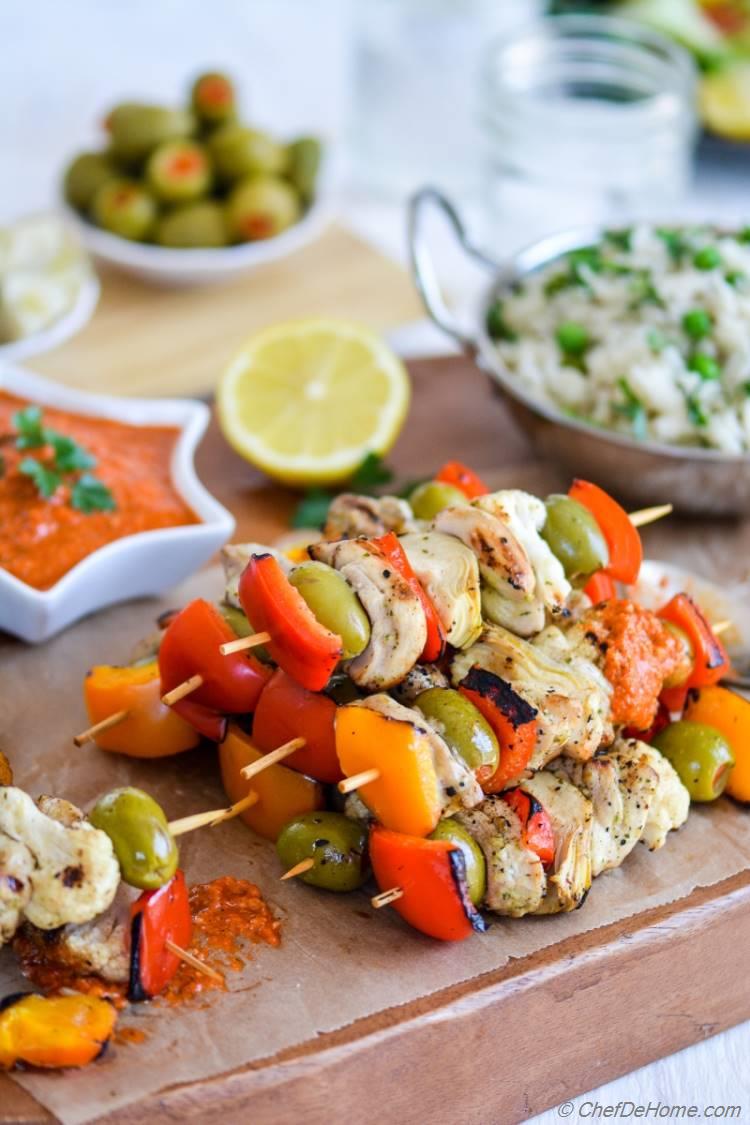 Chicken Kababs (or kabobs) are one of the staple foods in my family! In India, we used to feast on chicken kabobs cooked in tandoor (traditional clay oven). Home-version of tandoor (in any typical Indian Punjabi Home) is a small clay oven meant for easy home cooking. Cooking in tandoor gives a authentic char to chicken which tastes killer. In States, I often use a gas grill or indoor grill with final touch on direct flame for that scrumptious taste.
For Mother's Day feast shopping, I planned to cook Indian-style Chicken Kabobs. To match Mom's style, I wanted to keep my meal simple, yet beautiful, loaded with veggies, flavor and color (most important), filling, yet easy! In chicken kabobs, I added a healthy dose of veggies with cauliflower, Olives, Artichokes, and bell peppers.
For flavor and more color, I made my new favorite, Spanish Romesco Sauce: a garlicky, nutty, and silky sauce which goes great with grilled meats.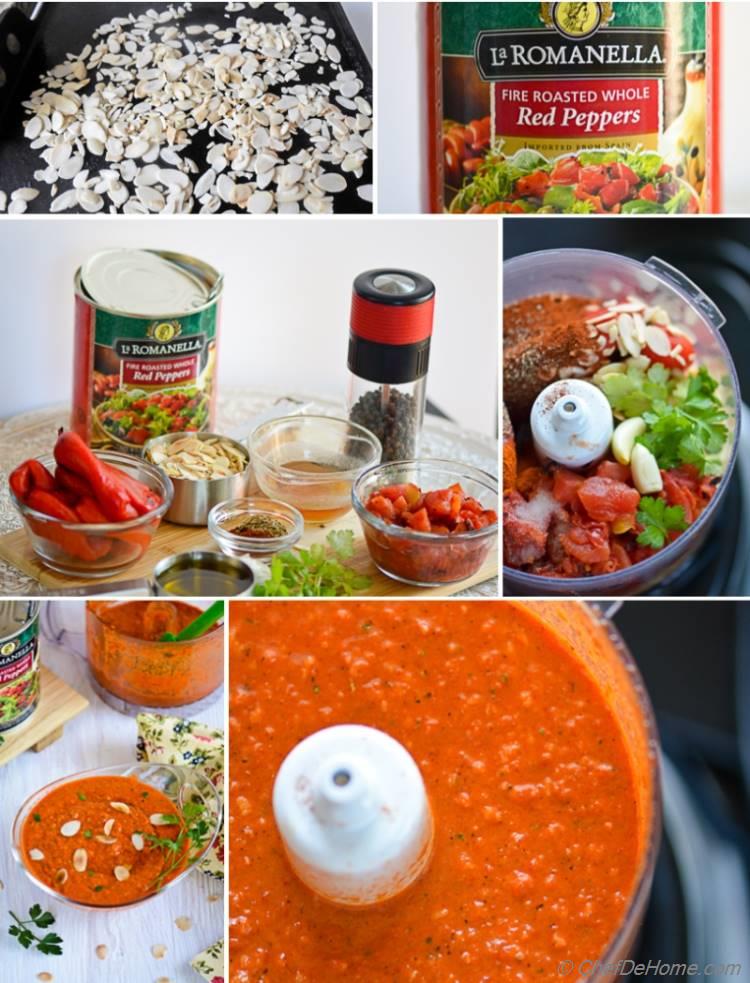 While shopping for veggies, I also planned to add, a simple, 12 minute Green Pea Pilaf, to my meal. Just some long grain rice, frozen green peas, cumin seeds, and shallot for scrumptious and hearty a side dish! Who does not love that?!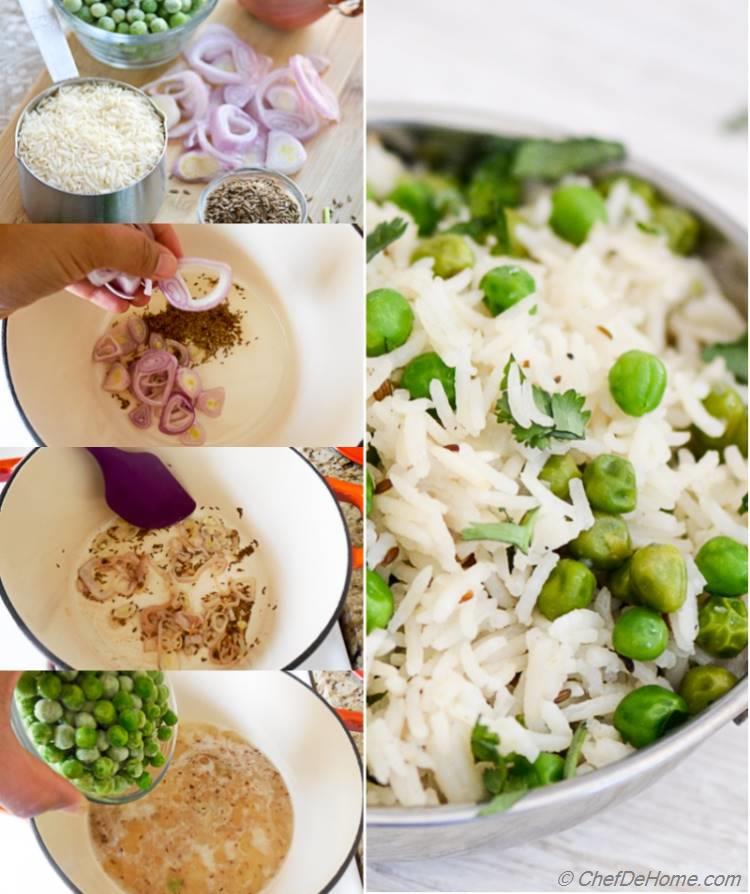 Now, how about we tally the healthy parts?! I'm telling you, you won't guess it from what you looking at; how many veggies have been sneaked into the party?! ;)
That much of flavor, colors, and still..... you will be amazed to read:
1. Even though I love cheese, but there is no cheese used in this entire meal! 
2. This meal is also gluten free! Oh yes! All of it, from rice to romesco sauce.
3. If you use a veggie protein like Tofu instead of chicken, this meal can also be vegetarian.
4. Also, there is much less oil per serving!
5. There are 9 vegetables in this chicken dinner and still no one will notice!
6. Above all, a feast for 6, it just needs 25 minutes of prep and 20 minutes of cooking time!
That's magic of Mother's Cooking my friends! 
PS: Most of the prep can be finished ahead, like:
1. Cook rice one day in advance.
2. Marinate chicken a day in advance.
3. Make Romesco Sauce in advance. It will stay good in refrigerator for 1 week.
Sounds good to me! How about you?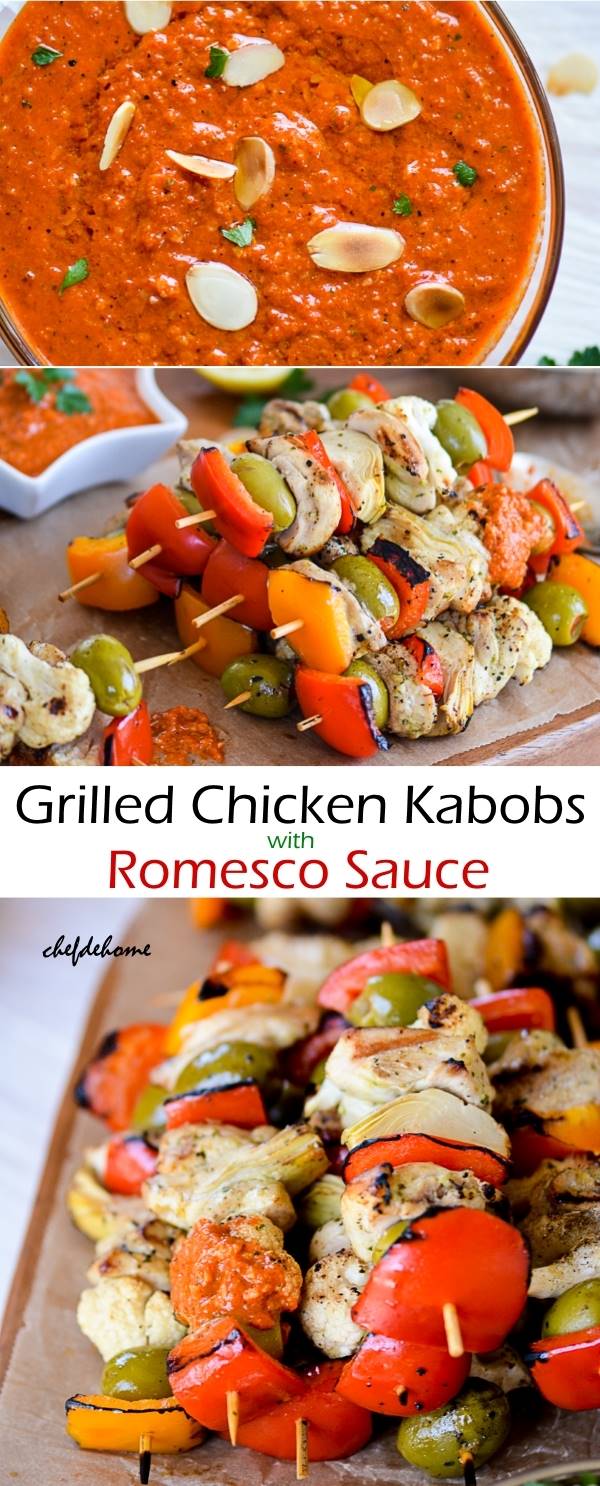 Enough of me chatting! Tell me, friends!
What are your plans for Mother's Day?
Give a sweet touch to a delicious Mother's Day Feast:
Grilled Chicken Kabobs with Romesco Sauce - Mother's Day Special
review

)
(1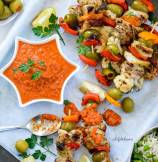 Total Time:
Prep Time:
Cook Time:
Cuisine:
Mediterranean
(

Main Course

)
Difficulty:
Easy
Yields:
6 Servings
- Serves:
6
(

No. of servings depends on serving size!

)
Ingredients
Grilled Chicken Kabobs
Romesco Sauce
Green Pea Rice Pilaf
Smart Swap: You can replace chicken with tofu for all-vegetarian dinner!
Directions
1.

Rice Pilaf - Heat oil in a heavy bottom pan. Add cumin, as cumin starts to sputter, add sliced shallot and stir-fry until shallot onion are soft and slight brown at edges (about 3 minutes). Add in washed rice, water, salt (1/2 tsp), frozen peas and stir to combine.

2.

Bring to boil, cover and cook on medium heat for 7-8 minutes or until all water has been absorbed. Fluff with fork, cover and set aside until ready to use.

3.

Marinate Chicken - Pulse, all ingredients for chicken marinade in a food processor until finely fine and smooth. Taste and adjust salt. Transfer to a wide bowl.

Additional Notes:

If using wooden skewers, soak them in water so that they don't burn while grilling.

4.

Marinate Chicken - Cube chicken into 1-2 inch pieces. Add to marinade, cover and refrigerate until ready to use.

Additional Notes:

Small cubed chicken cooks very quickly. Also, it does not need a longer marination. By the time I ready romesco sauce and rest of kabob ingredients, chicken is ready to grill.

5.

Romesco Sauce - Pulse, all ingredients for romesco sauce except oil, and salt, in a food processor until finely chopped. With motor running, slowly add oil, process until smooth. Season with salt as per taste. Cover and chill until ready to serve. Recipe yields about 2 cups of sauce.

6.

Ready all kabob ingredients. Break cauliflower into small skewer size florets. Dice bell pepper into small pieces (keep size proportionate to chicken pieces).

7.

Preheat outdoor grill or a grill pan on gas stove indoor. While grill is heating up, skew chicken, bell pepper, cauliflower, artichokes, and olives in alternate fashion on each skewer. I skewed 2 chicken pieces, 3 bell pepper, 1 artichoke, 2 olives, and 1 cauliflower floret per skewer.

8.

Spray grill with oil. Cook all skewers on sizzling-hot grill for 2 minutes each side or until chicken is nicely charred and is fully cooked.

9.

Serve grilled kabobs family-style with rice pilaf and delicious romesco sauce! Enjoy a scrumptious Mother's day feast!
Savita's Notes:
Make Ahead: From cooking rice to marinating chicken, and making romesco sauce, all steps can be completed day in advance. So, you can serve this meal for lunch or dinner in just 10-15 minutes! Just skew and grill chicken kabobs before serving. Note: Romesco sauce stays good, for up-to 1 week, in refrigerator.
Rice Pilaf Alternatives: Not serving rice? You can also serve quinoa on the side. Or serve grilled bread (not gluten free) or a side salad.
DID YOU MAKE THIS RECIPE?
Tag
@SAVITACHEFDEHOME
on Instagram and hashtag it
#SAVITACHEFDEHOME
© Chef De Home. Post content including video and photos are copyright protected.
We Think You'll Love