Strawberry Basil Lemonade
This pink lemonade tastes refreshing, and is great addition to Summer Party drinks. Make concentrate ahead, refrigerate, and then just mix when needed.
Posted On:

May, 23
| Author:

Savita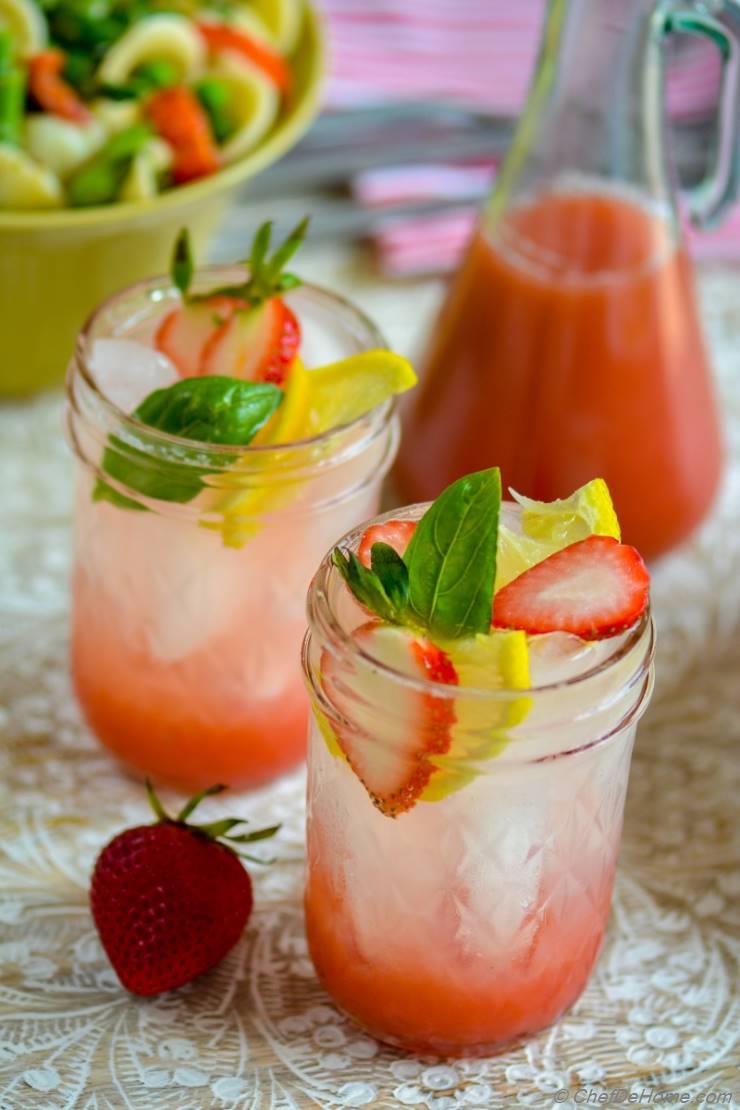 This refreshing pink lemonade will be every kid's favorite on your next Summer-time Party. I promise! A 20 minutes easy refreshment uses only 4 basic ingredients - fresh strawberries, fresh basil, sugar, and lemon!! And makes a good amount of Lemonade Concentrate which you make once and use many times!
As beautiful as it looks, it is special favorite color of kids when it comes to choosing a drink. Plus fruity fragrance of strawberries and basil even allures adults to enjoy a glass!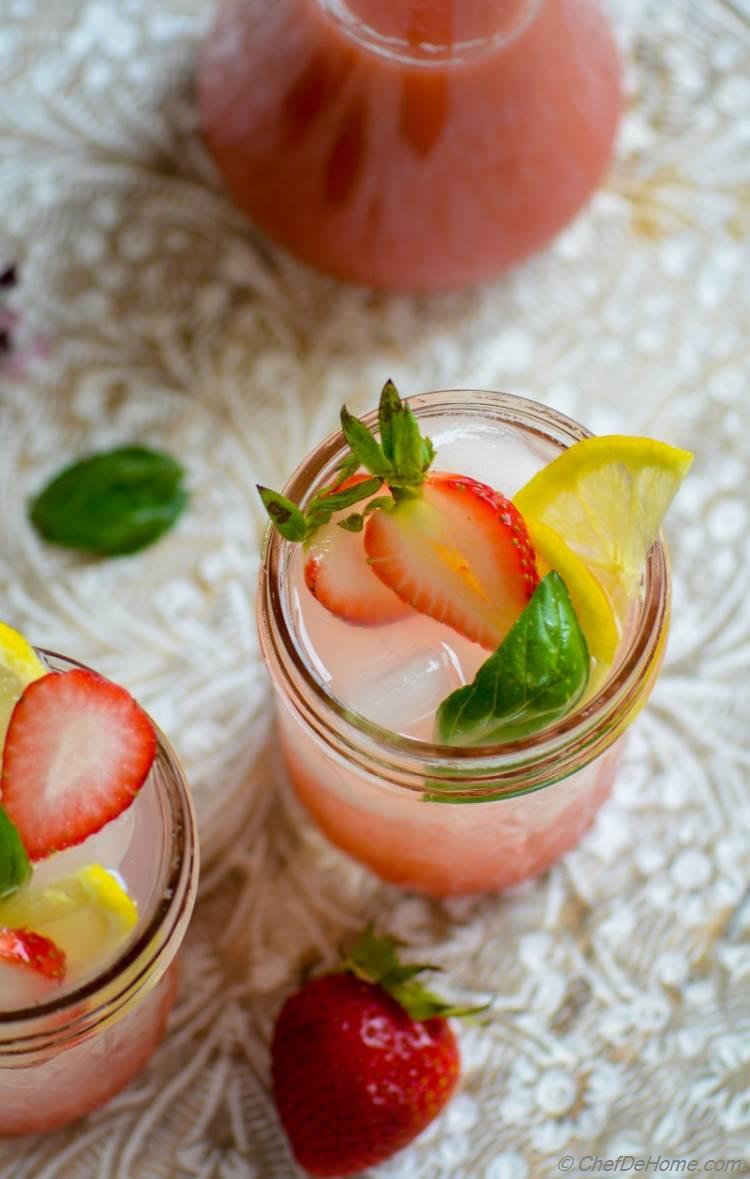 I love the refreshing taste of lemonades in summers! But, I had only tasted lemons or lime..... max orange :), lemonades all my life!! I never knew that a "pink lemonade" existed, until few years ago, some family-friends visited us with their two little daughters.
When I asked for their daughter's meal preference, my friend told me that her girls will eat anything if it accompanies Pink Lemonade. Caught by surprise, I kept thinking.... Now, how on this earth will I find pink lemonade!! ;) Texted my friend to suggest something and she told me about these Italian Sparkling Lemonades which we could easily find in Wholefoods.
However, once I got the idea, what is this Pink Lemonade........ I even made a fresh batch for them using Hibiscus Flowers. My friend was so right, her girls just kept going back for more lemonade... whole day!
No kidding, it actually looks very enticing and eye catchy! Isn't it? Well..... just to me, Vishal says, 'it's not for him'.... may be..... it's my girl(y)-instinct that fell in love with the color since I saw it !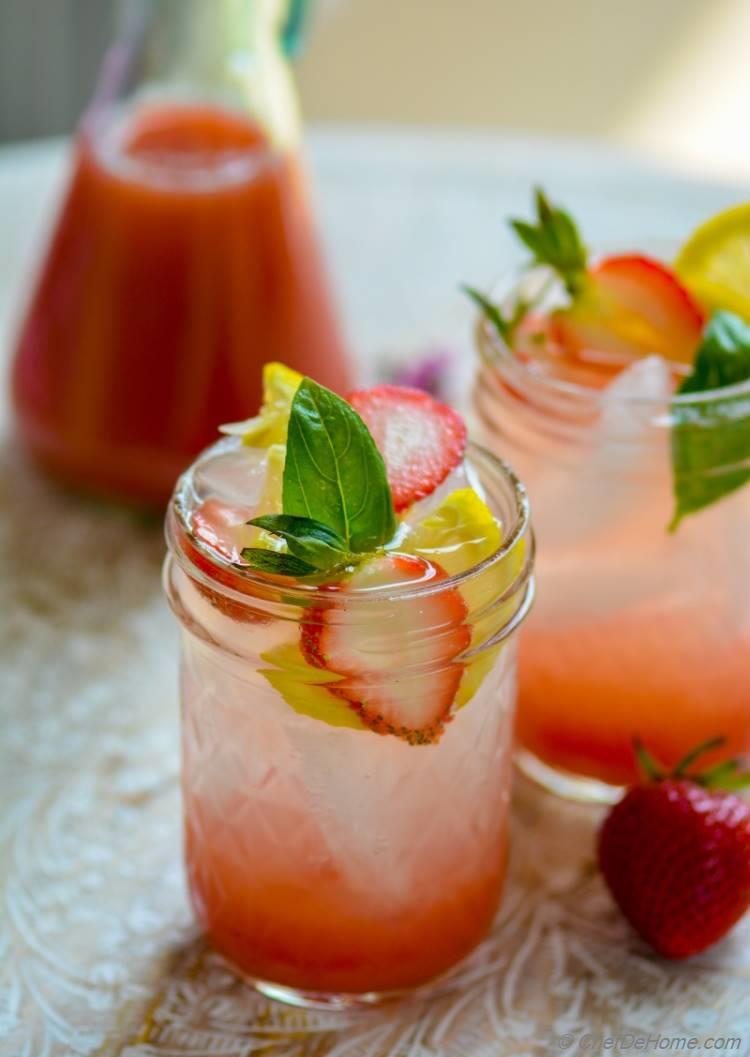 How about you? Do you love Pinky Lemonades? :-))
When serving Vishal, I jazz it up with sparkling water and never stir the concentrate. (like shown in pictures here) Plus garnish with fresh berries, lemon slice and basil to make it look like a Zippy Summer Mocktail. ;)
For me or to serve kids, I stir it in a big pitcher with water and ice. simple! simply best pink lemonade!! (this picture coming soon!) Here you have it! Yesterday, I made last batch of my Strawberry Lemonade Concentrate and clicked this picture for you! OMG!!!!! Refreshing!! Need to buy more strawberries!! :)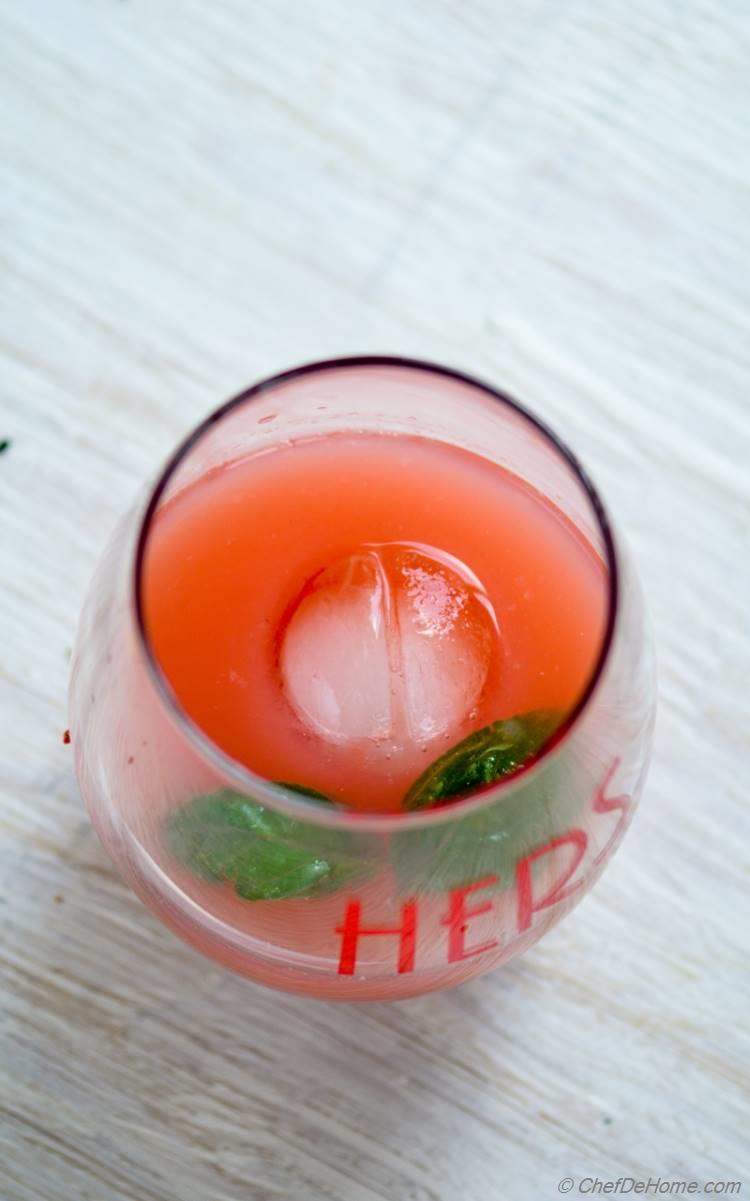 Why Strawberries?
Well..... first because I love the color. Plus, in strawberry season, fruity fragrance of strawberries is simply hard to resist! This lemonade captures the essence so well..... that not just taste, you will enjoy the aroma too! Every sip forces you to keep going back for one more...... as if your brain is telling you to sniff that "basket of fresh strawberries" in Farmer's Market..... again and again....
Why Basil?
First, I have plenty of basil in my garden (patio garden to be precise.. hehe) to use :) Second, fresh herbs not only enhance the taste but are also good for health.
This recipe will yield about 2 cups of Strawberry-Basil Lemonade Concentrate. I use about 4 tbsp concentrate for one cup of water. Feel free to adjust per taste.
You can also cook double batch of concentrate and keep it refrigerated for later use. This way, you can meet demands of chilled, refreshing, (and secretly healthy) drink anytime! It has no artificial preservatives, or anything unnatural. So, it is good for kids.
If sugar bothers you, replace it with honey or agave. I suggest, cook berries without sugar. Then add honey or agave while making lemonade. This way, you can also serve it to anyone asking for "sugar-free" drink! Isn't it cool?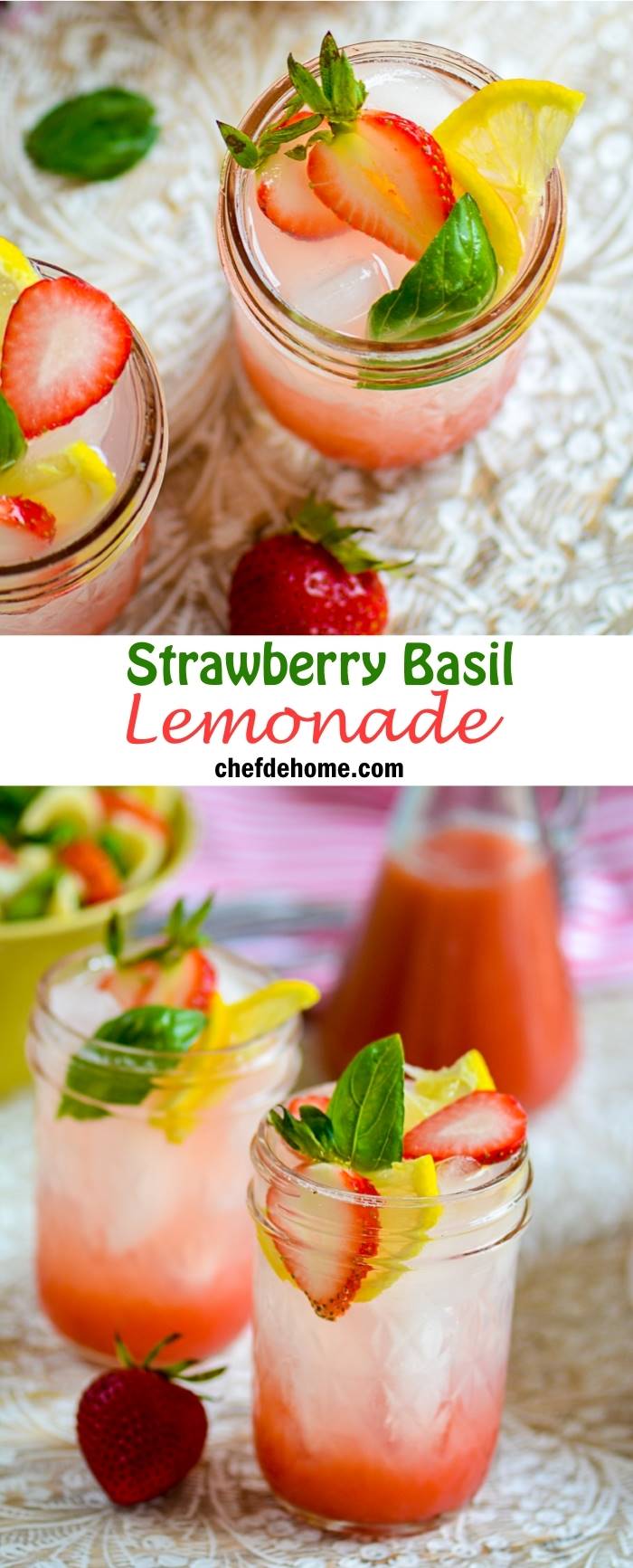 I'm sure you enjoying long weekend!
Don't wait!! Capture the fragrance of fruit strawberries into a big batch of lemonade and enjoy summer time!
Few more Refreshing Drinks for a Summer-Time Party!
Strawberry Basil Lemonade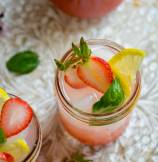 Total Time:
Prep Time:
Cook Time:
Cuisine:
American
(

Smoothie, Drink

)
Difficulty:
Easy
Yields:
2 Cups Concentrate
- Serves:
8
(

2 Cups Concentrate is good to make 1/2 Gallon Lemonade for Party

)
Ingredients
Strawberry Basil Lemonade Concentrate
Lemonade
Smart Swap: Use natural sweetener like honey or agave instead of sugar.
Directions
1.

In a food processor or using hand blender, fine puree strawberries with salt and 1 cup water.

2.

Transfer purred strawberries to a heavy bottom sauce pan with sugar. Bring to rolling boil, then cook for 6-8 minutes on low-medium heat until sugar has dissolved, and foam starts to dissipate. 5 minutes into cooking, add the chopped basil leaves, and lemon juice into the mixture and keep cooking.

Additional Notes:

Stir the liquid once or twice so that sugar does not burn.

3.

Run the cooked strawberries mix through a strainer or food mill, then discard solids. Set aside until strawberry lemonade concentrate is room temperature. Refrigerate until ready to use.

4.

To make lemonade, pour lemonade concentrate, 5-6 cups of water, sliced strawberries, fresh basil leaves into a tumbler. Stir to mix. Pour ice just before serving. If you prefer, you can also keep concentrate as-is and serve in glasses topped with sparkling water. Garnish with strawberries, lemon, and basil. (just as shown in pictures)
Savita's Notes:
Store extra lemonade concentrate in air-tight jar in refrigerator for up-to 1 week.
Perfect for serving kids a fresh fruit drink instead of soda.
DID YOU MAKE THIS RECIPE?
Tag
@SAVITACHEFDEHOME
on Instagram and hashtag it
#SAVITACHEFDEHOME
© Chef De Home. Post content including video and photos are copyright protected.
We Think You'll Love