Black Pepper and Pistachio Ice Cream Pops
Posted On:

Jun, 17
| Author:

Savita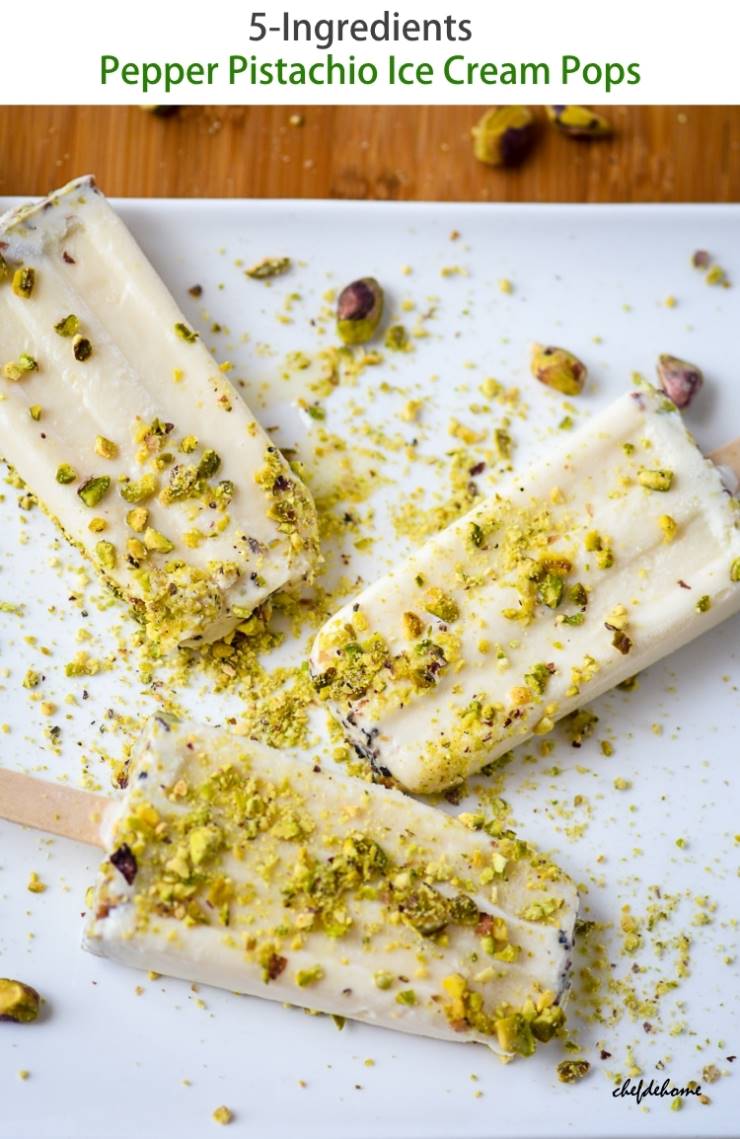 A creamy 5-ingredient Pistachio Ice Cream Pops recipe that comes with not-so-expected surprise of peppery black peppercorns bite! This delicious treat is perfect for anyone with not-so-sweet-tooth craving for a frozen treat!
These ice cream pops are sweet and creamy but a surprise bite of crushed black pepper cleanses the palate so well, you will be ready for another bite immediately!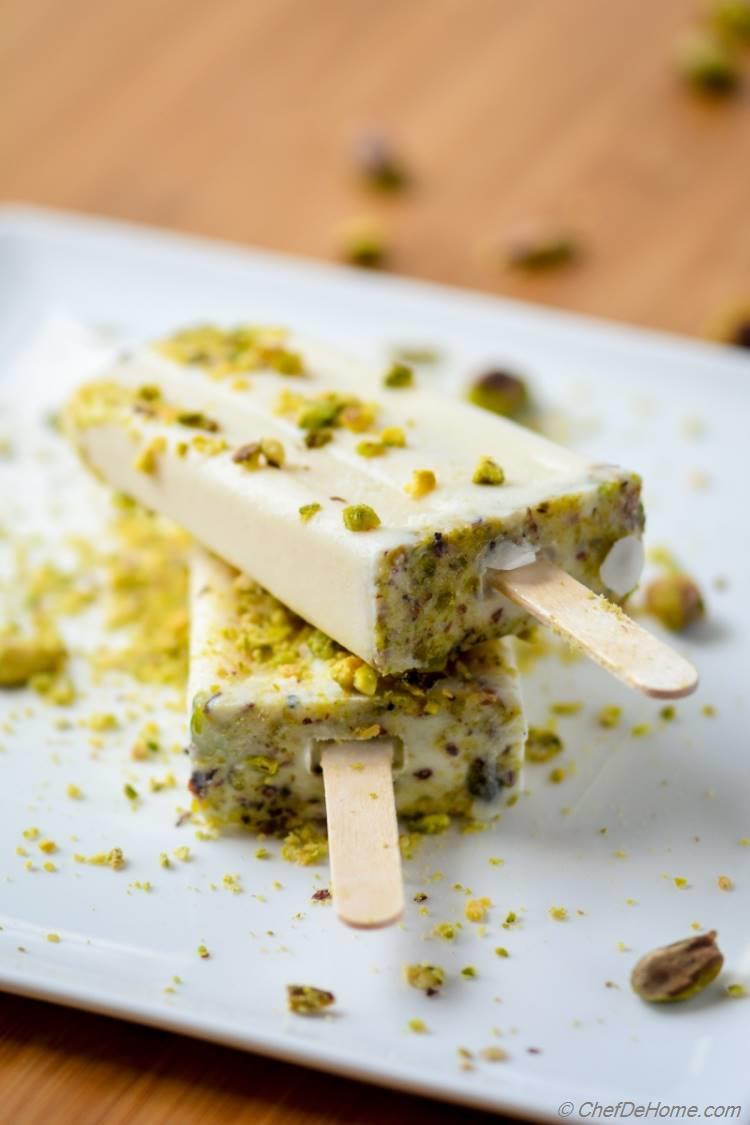 Who does not love Pistachio Ice Cream?! In India, we have many variations of Pistachio Ice Cream Pops, a.k.a Pistachio Kulfi, widely popular during summers! Everything in these Ice Cream Pops, minus black peppercorns, remind me of a special street-vendor Pistachio Kulfi.
Growing up, in summers, we used wait in afternoon for a Kulfi-Wala (Ice Cream Pop Street Vendor). He had world's best Pistachio Kulfi which was everyone's favorite: kids and elders alike! I was not a big-sweet-fan even than. Even though I always took my share of Ice Cream.... but often, after enjoying my share, I would drink a glass full of water :) (Savory to it's core!)
Recently, I read an article about, paring of peppers in sweet treats, for extra depth of flavor. Then it hit me, that would be totally my kind-a food!! I mean, I have always loved sweets with subtle savory surprise! Like bitters or pepper or sour, all these make sweet tastes even more magical! Isn't it? 
When it comes to sweets, Vishal and I are total opposite personalities. Where I love everything not-too-sweet, he is crazy for sweets. However, even he really liked that bite of black pepper in these pistachio ice cream pops. In-fact, on special request, I have made these pops twice this month :)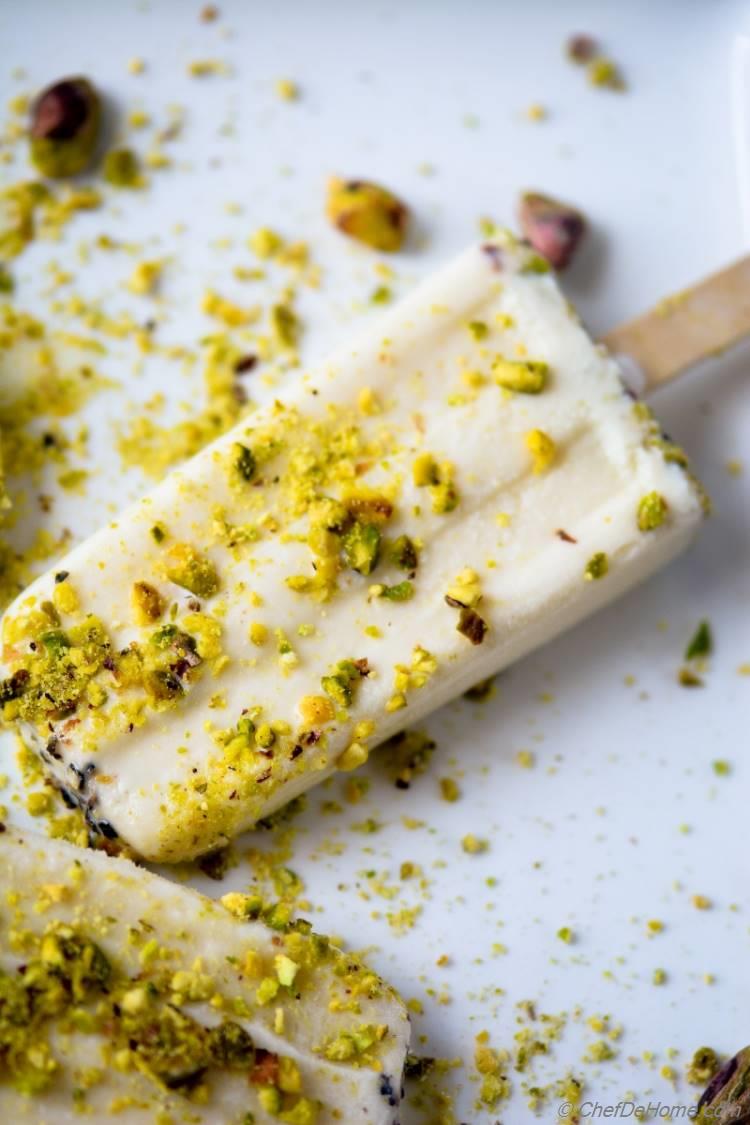 Even though pepper does not reduce the amount of sugar in these Ice Pops, it does balance out the sweet bite. Also, Ice Cream Pop Molds limit the portion-size.  So, if you are vary of eating too many calories, consider freezing your sweet treats in ice-pop molds. 
First, frozen-treats-on-stick are certainly fun to eat. Second, it limits the portion-size very well!
These Pistachio Ice Cream Pops have equal ratio of milk, cream, and sweet milk, i.e. 1:1:1. Some people will argue that less cream means less creaminess.  However, I think, these Pistachio Pops are creamy enough to make your day delicious yet not break the calorie-bank!!
Just 229 Calories per serving!!! How good does that sound!?! And look at the pictures, does it look any less creamy??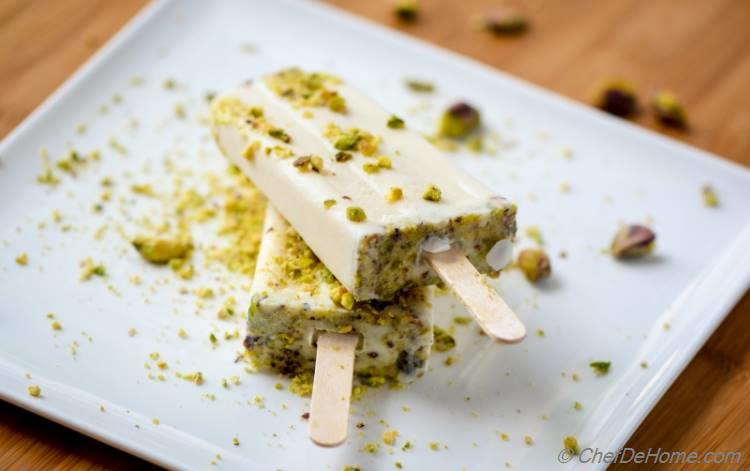 Speaking of pictures, I have to tell you that in summers, (actually all year long), sun shines so so bright in California that it was really hard for me to take these pictures. It is freaking 85 degrees in my apartment and these pops just melted in-spite of two-time short refreezing!! It's funny! You know, after I took first few shots and placed them in freezer again, melted cream hardened on the serving plate and I could never lift it again. lol!!
Lesson Learned?
1. If is hot summer day, serve Ice Cream pops immediately after removing from molds.
2. If serving guests, place Ice Cream Pops on tray filled with crushed ice to prevent sticking and also to prevent melting for sometime.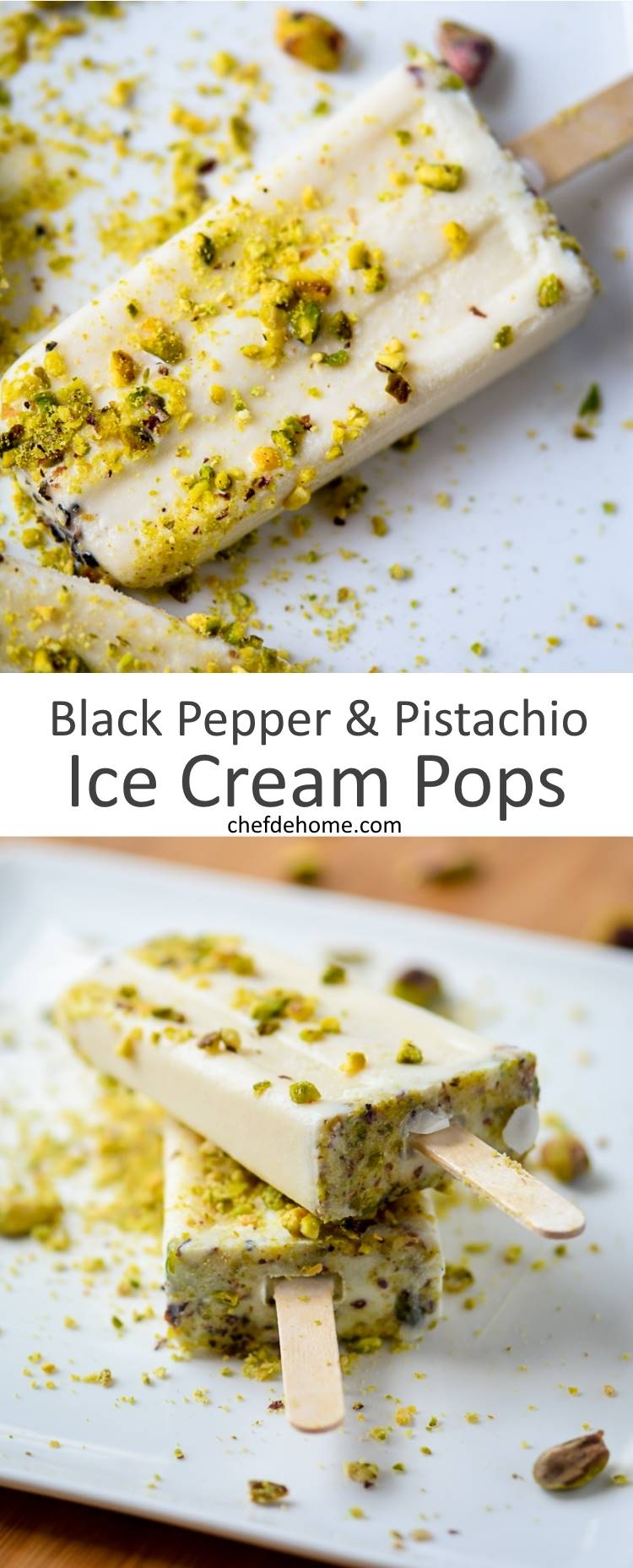 PS: I have been absent, for quite sometime, recently. I started working when I was in college.... when I stopped working after 11 years in job, I felt it will be very very hard for me to sit at home. But, once I started spending time on blog, I realized, I hardly have time to think about anything else. I'm sure my blogger friends will agree, blogging is more than a full-time job. Some of us are even active over weekends (kudos!) and I simply find it very hard to even hold computer over weekend! I think... I'm still in 5-days-work-week mode :) This week, however, I think, I'm almost on 2-days-work-week mode. I was not keeping well from few days and feels like it has been ages since I worked on blog properly.
A BIG shout out to all my dear friends who still kept my moral up with their emails, comments, and likes. Sending some sweets your way! xoxo
You all have a great day! -Savita
Some delicious 5 or less ingredients Frozen Treats for Summer Party Fun!!
Black Pepper and Pistachio Ice Cream Pops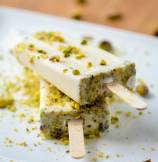 Total Time:
Prep Time:
Cook Time:
Cuisine:
Indian
(

Dessert

)
Difficulty:
Easy
Yields:
10 Large Pops
- Serves:
10
Nutrition:
229 calories per serving
(

Allow 4-5 hours of freezing time to fully freeze Ice Cream Pops.

)
Ingredients
Pistachio Ice Cream Pops
Smart Swap: You can also replace pistachio with almonds.
Directions
1.

In a heavy bottom pan, add milk, cream, and condensed milk.

2.

Add whole cardamom pods (if using), half of crushed black pepper corns, and half of crushed pistachios. Heat the mixture until just boiling point but not started to boil. (1-2 minutes) Stir well to make sure condensed milk is fully dissolved in milk. Remove from heat set aside to infuse flavor for 10-15 minutes.

3.

Once slightly cooled, fish-out cardamom pods and discard. Fill mixture in 10 ice pop molds, 8 if your molds are large. Place a wooden popsicle stick in each pop. Dust remaining black pepper and pistachio mixture on the edges and return to freezer. Freeze for 3-4 hours.

4.

To serve: Flip the ice pop molds over the run under warm tap water for about 30 seconds. Then firmly pull the Pistachio Ice Pops out of the molds. Serve immediately.
Savita's Notes:
Note:If serving kids, don't use black peppercorns.
DID YOU MAKE THIS RECIPE?
Tag
@SAVITACHEFDEHOME
on Instagram and hashtag it
#SAVITACHEFDEHOME
© Chef De Home. Post content including video and photos are copyright protected.
We Think You'll Love