Gulkand Milk Badam Kulfi
Just 7 ingredients to make these delicious - Indian Almond and Milk Ice Pops
Posted On:

Jul, 6
| Author:

Savita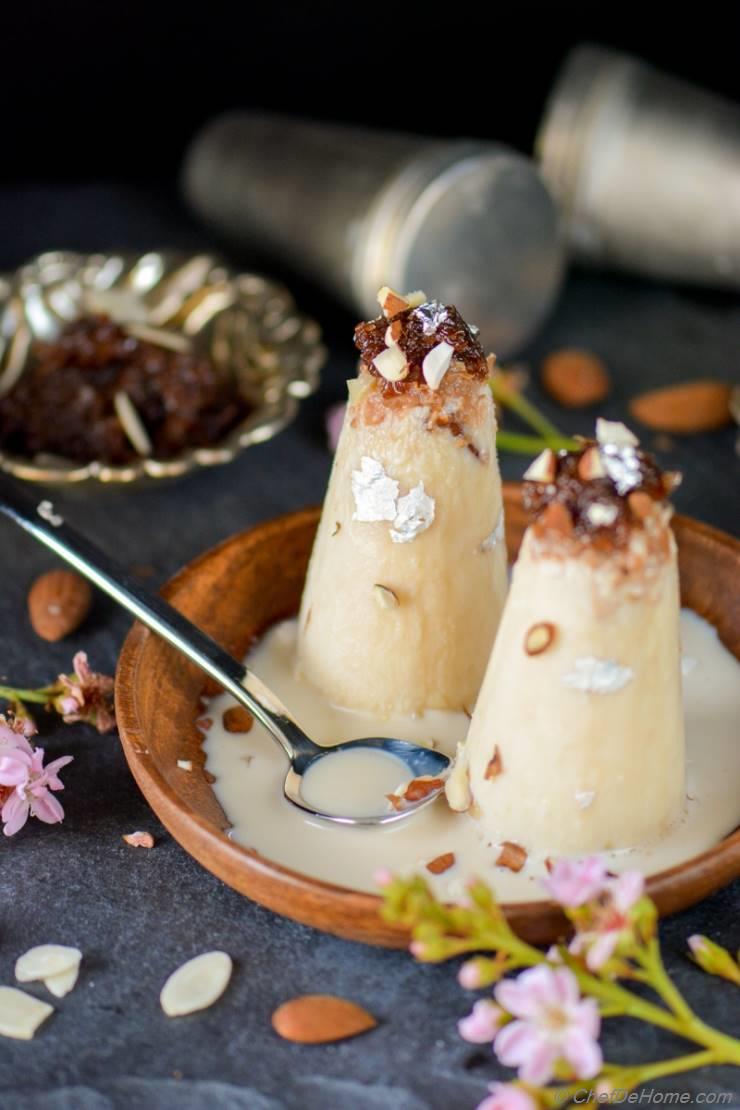 These two recipes are so in-separable for me, that I have to share either both or none. I have essentially grown-up, drinking Milk Badam (Almond-flavored Milk) and eating Badam-Kulfi (Almond-Milk Pops).
First, before we dig into this nostalgic "milk badam" I would like to clear Badam Milk is not milk extracted from almonds. It is dairy milk cooked with almonds for delicious almond flavor. This recipe is not dairy-free. 
This kulfi reminds me of home. Being living so far away and have not visited India from past 2.5 years, I often cook my childhood favorites to help cop-up with nostalgia.
If you have lived in Northern part of India, specially Punjab and surrounding areas, I'm sure you will remember those Verka Dairy Shops, selling chilled 'Milk Badam' and all those Street vendors "Kulfi Wala" selling "Milk Kulfi"!
"Khoye Malai Wali Kulfi"
OMG! Even saying this... transports me to home!!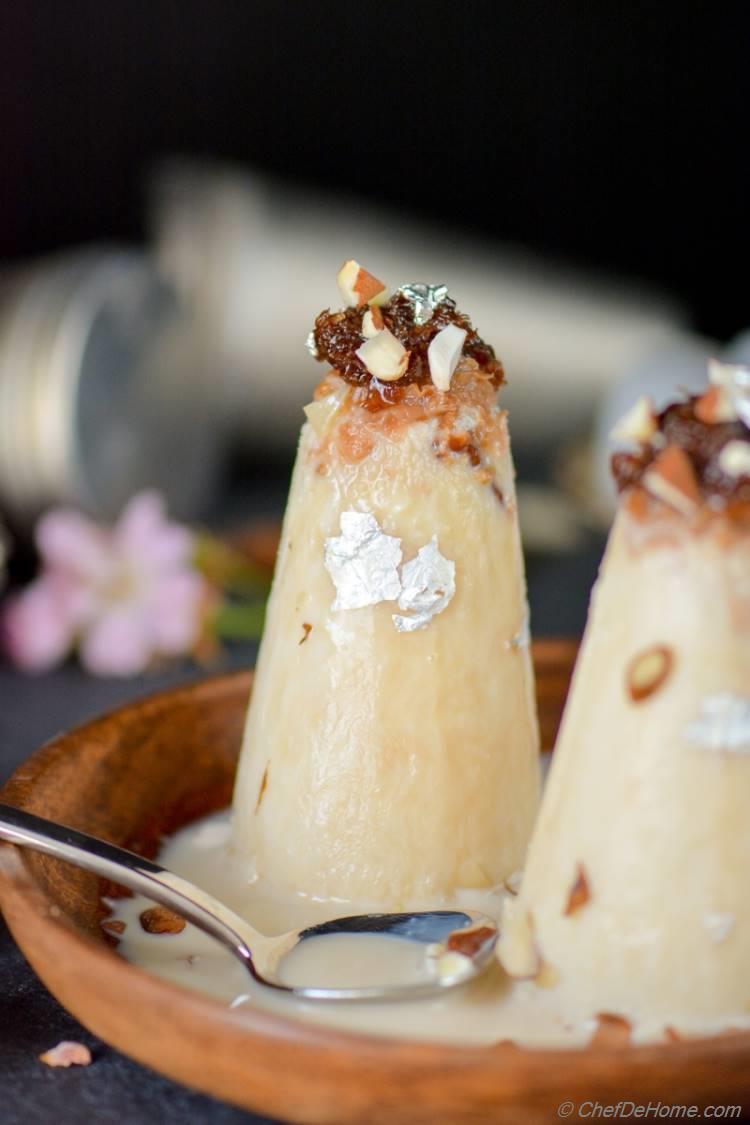 Growing up, I never liked milk. So, my parents would trick me with flavored milks. They knew,  "badam milk" I will drink without asking a question!  You know, like kids ask for a treat for every good work they do?! My treat used to be: Milk Badam Bottle and Milk Kulfi on hot summer afternoons! 
Milk Badam was my special fav! A deliciously comforting sweet milk, cooked with almonds...... for hours, low and slow...... until it has a light amber color, amazingly rich taste, and subtle nutty aroma of almonds. Serve chilled, it still has power to make my any day "Super Special"!
Once you order a bottle, you will get a chilled and frosted bottle with sweetened milk and it is hard to wait to open the bottle! As a kid, I never cared for milk, but for the surprise of at-least 2 tbsp crushed and cooked almonds.... sitting at the bottom of bottle.... waiting to be devoured!
So, when last week home-sickness hit me hard..... I went to kitchen and looked for some inspiration. What caught my eyes first was a small can of evaporated milk. Next second, I said "Milk Badam Wali Bottle"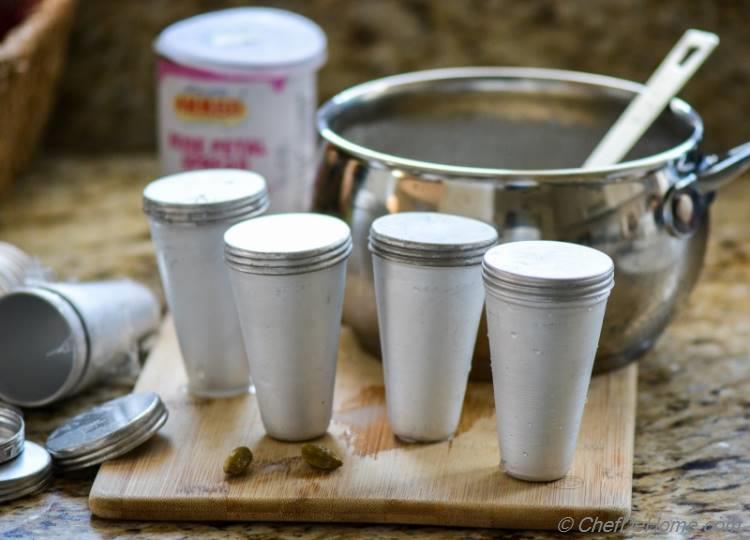 Well, If I were in India, I would have opted to cook plain whole milk, low and slow..... until it gets rich and delicious. Here, I decided to recreate the magic of Badam Milk using a little help of Evaporated Milk.
I soaked the almonds overnight and peeled-off the skin....then simmered whole milk for about 20 minutes with almonds and cardamom. By this time, milk loose 1/4 of it's volume, I added evaporated milk for that "slow cooked" flavor.
Now, ask me, where is Milk Badam?? Pictures are of Kulfi?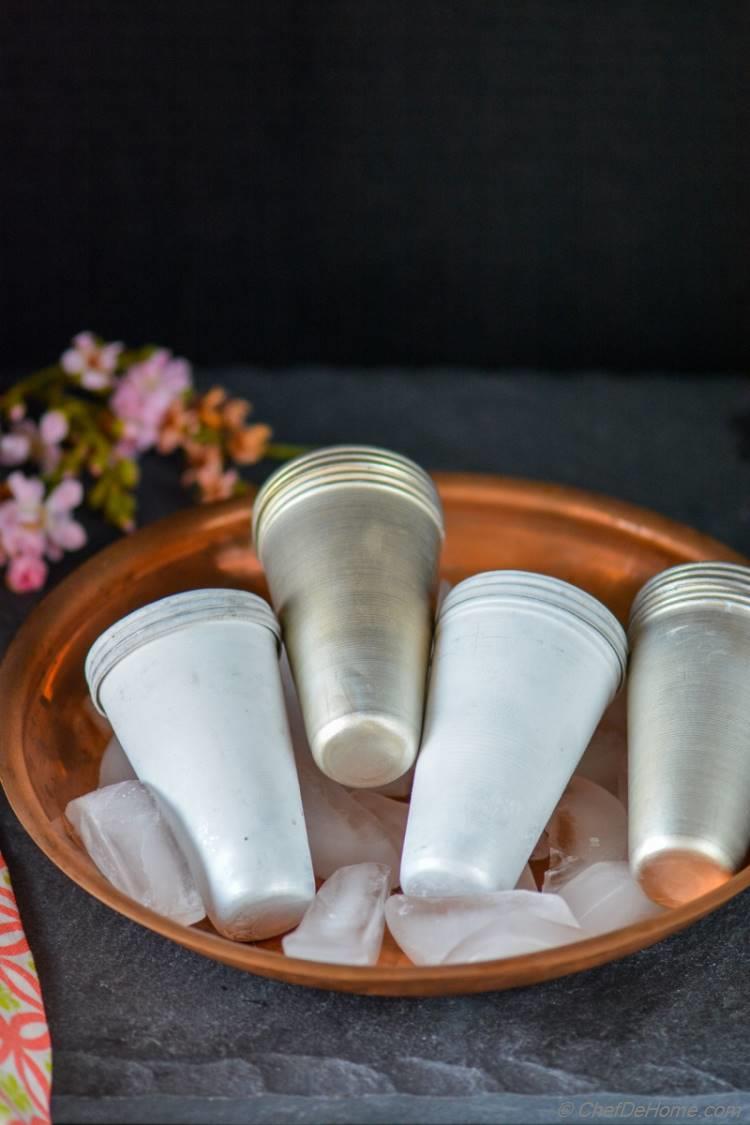 Well, I actually planned to share Milk Badam. If you will not freeze these kulfi and don't add condensed milk, it is THE best tasting Milk Badam you have ever drank in life! I bet! And for same reasons, I have listed extra ingredients for Kulfi, separately.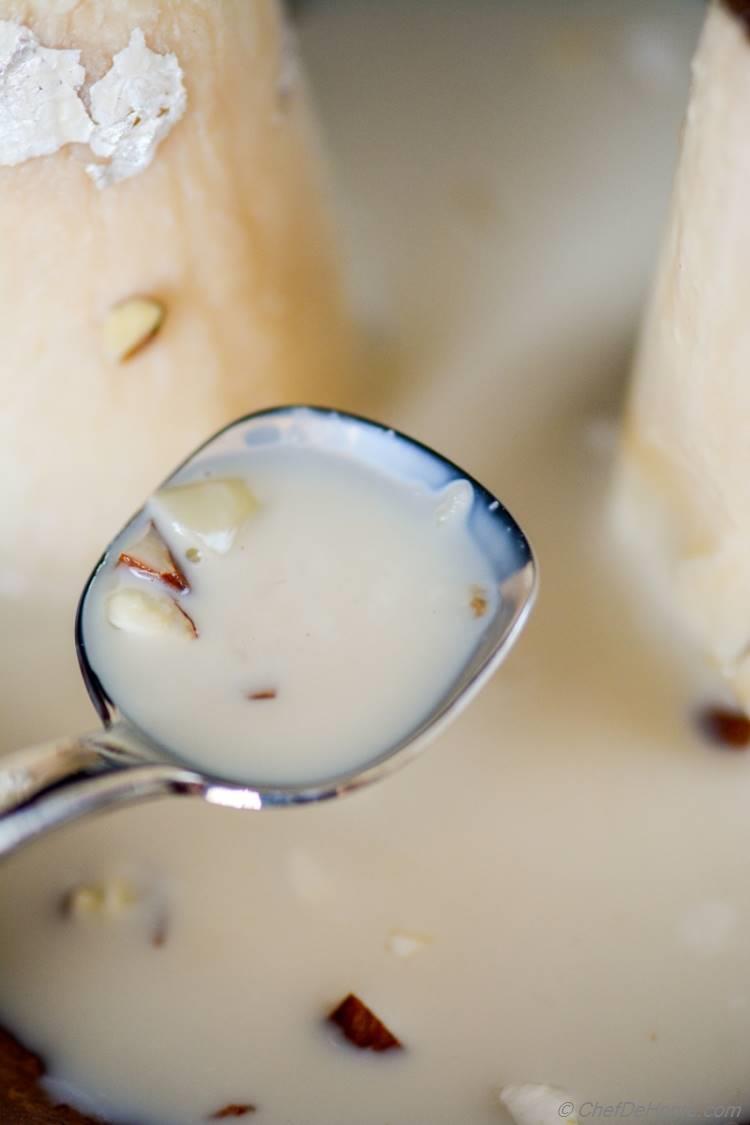 Now, about, what happened to Badam Milk?! These days, sometimes when I prepare my childhood-favorite foods, I can't resist eating.... in this case, drinking :) I already waited for few hours to chill the milk... so, even before I could think about taking pictures, I tasted the milk and just drank half of it! Since I had already frozen half of it for - "Milk Badam Kulfi", I lost my chance to click Milk Badam pictures!!
I know!! I know!! I'm sure you thinking, I'm making excuses :) But it really did happen!! I promise, whenever I make Badam Milk again, I will take pictures and share with you.
I know, it will happen soon! Hot summer season demands chilled drinks!! Isn't it?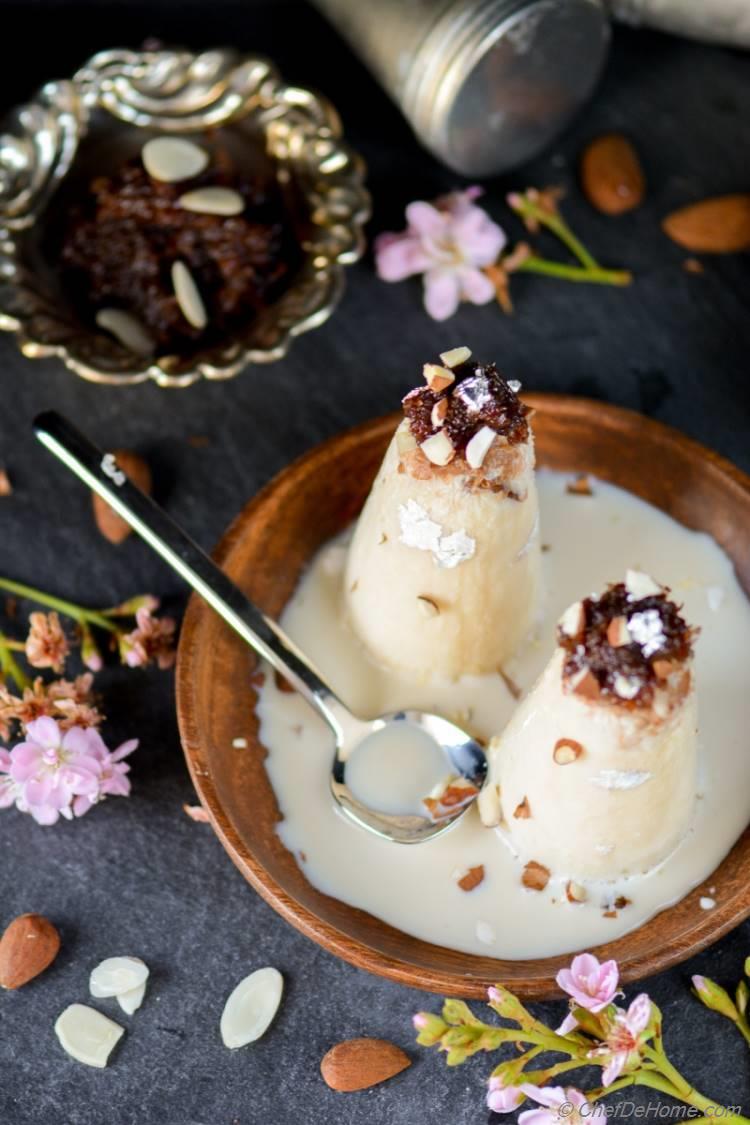 Gulkand - My Special Secret Ingredient
 I love adding my little spin to my childhood favorites. For this recipe, that delicious and aromatic spin is : Gulkand: Rose Petal Spread. Trust me, gulkand will take these kulfi from Fab to Fabulous!
PS: Traditional Milk Badam Kulfi does not have Gulkand. Even though it is optional, I HIGHLY recommend it! 
I hope you enjoying Monday! Wish you a great week ahead. - Savita
Here are few more, delicious homemade Ice Cream Treats:
Gulkand Milk Badam Kulfi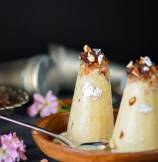 Total Time:
Prep Time:
Cook Time:
Cuisine:
Indian
(

Dessert

)
Difficulty:
Easy
Yields:
6-8 Kulfi
- Serves:
6
(

Need Extra Time: 1) Overnight Soak Almonds, 2) Kulfi Freezing Time.

)
Ingredients
Milk Badam
Milk Badam Kulfi - add to Milk Badam Ingredients
Smart Swap: You can replace sugar in Milk Badam with honey!
Directions
1.

Rinse and soak almonds overnight in clean water.

2.

Next day, peel the almonds, discard skin, and rough chop.

3.

In a heavy bottom pot, add whole milk, cardamom, chopped almonds with sugar. Bring to rolling boil, then set stove to medium-low heat (simmering) for 20-25 minutes or until milk thickens and about 1.5 cups remains.

4.

Milk Badam: Add evaporated milk and continue cook for 2 minutes. Remove from heat and let cool completely. Once cooled, fish out cardamom pods and discard. Chill this milk and serve!

5.

Milk Badam Kulfi: Add condensed milk along with evaporated milk in step 4 and mix well. Let mixture come to room temperature.

6.

Once mixture is cold to touch. Add 1/2 tsp of gulkand in each kulfi mold. Then, fill 1/3 cup of milk in each kulfi mold (or pour as per size of molds used.) Mold should be filled to rim. Close the lid and refrigerate for 3-4 hours or until kufi is fully frozen.

7.

To serve, run kulfi under warm water for 30 seconds. Open the lid and invert on plate. Garnish with fresh chopped almonds, silver work (optional), and serve immediately!
Savita's Notes:
If serving Milk Badam - It will have 2-3 servings. Recipe doubles easily.
If making Ice Pops - Kulfi, no. of kulfi depends on size of Kulfi Mold used. I have used 1/3 cup size mold.
DID YOU MAKE THIS RECIPE?
Tag
@SAVITACHEFDEHOME
on Instagram and hashtag it
#SAVITACHEFDEHOME
© Chef De Home. Post content including video and photos are copyright protected.
We Think You'll Love