Chipotle Sofritas and Black Beans Casserole
A hearty Mexican-style Black Beans Casserole with Chipotle Mexican Grill's copycat tofu sofritas, beans, cheese and salsa.
Posted On:

Feb, 26
| Author:

Savita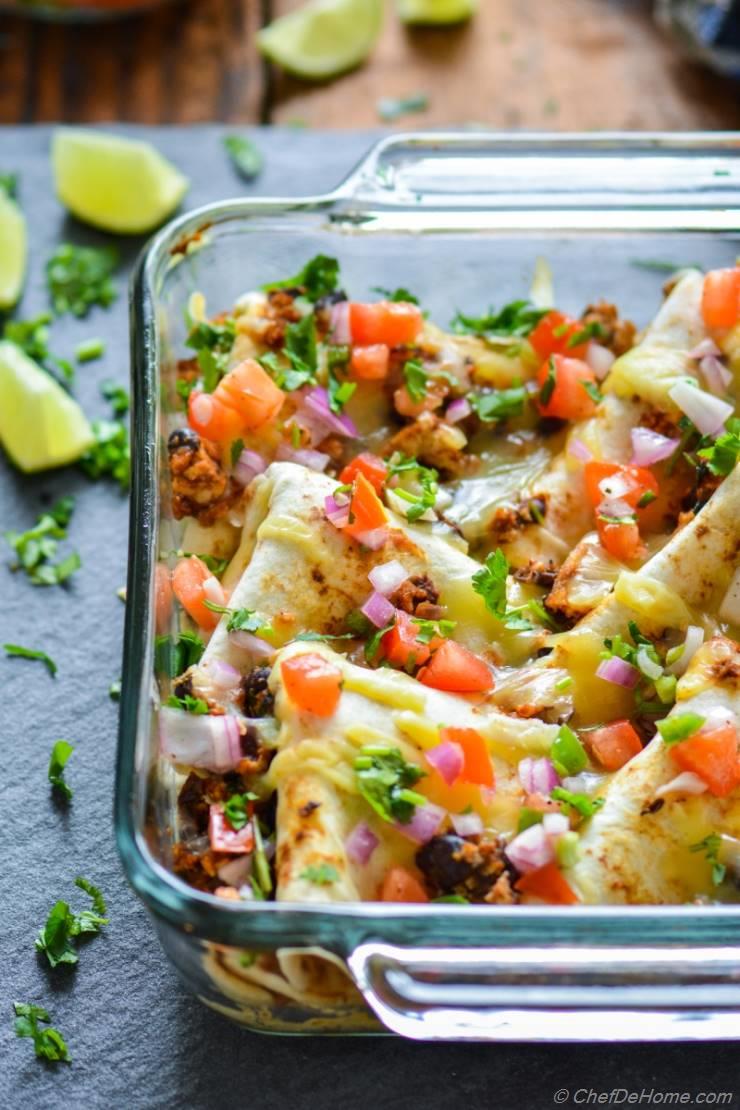 It's been long since I spread some more chipotle sofritas love. :) So, here I am sharing my favorite Chipotle Sofritas (again). Today, for breakfast of a scrumptious chipotle tofu sofritas and beans casserole.. black beans and chipotle tofu stuffed tortillas, topped with lite cheese, and tomato salsa.
Even though Chipotle does not sell Black Beans Casserole, they do sell awesome tasting black beans and our very own chipotle flavored vegan tofu sofritas, which are always delicious together.
This recipe is reminiscent of Chipotle Sofritas Bowl or Burrito we eat at Mexican Grill - smoky flavorful Tofu Sofritas topped over rice or tortillas with chipotle's signature black beans, cheese, and salsa!! yumm!!
I'm drooling even describing it here.
That's Chipotle Sofritas love my friends. Those who had it.... will know what am I taking about..
I think, we all eat with our eyes, and this sofritas's picture will sure make your mouth-water! I picked from my previous Chipotle Sofritas post to get the party started!! ;)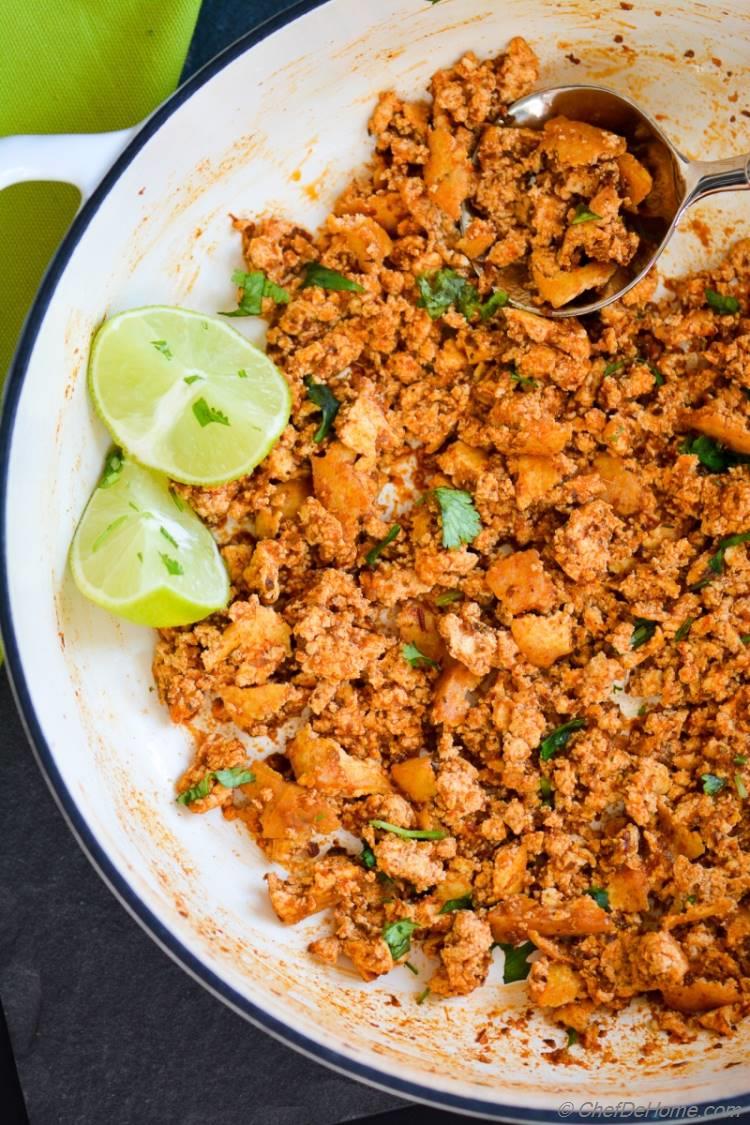 Most likely if you reading this recipe, I bet you are already hooked to Chipotle Flavors! Aren't you?
Hands down, Chipotle Mexican Grill made me fan of Mexican Cuisine. Until then I had my share of Mexican food often (San Diego Residents cliche) ... yet I enjoyed cooking Mexican more at home after my first taste of Chipotle Sofritas.
I remember spending countless hours in kitchen replicating the flavors, trying various versions of sofritas.... there were days when we both ate Chipotle Sofritas for lunch and dinner... until I got the recipe right. I have shared all of my favorite versions with you.
Recently, Chipotle Mexican Grill went through a tough time of some food cleaning issues. Even though I cook chipotle often at home... I still love the ease of a quick Mexican feast at Chipotle Grill. So I was obviously heartbroken when I could not eat in Chipotle for weeks.... Recently, when FDA cleared Chipotle of any health hazards, we went to eat my favorite Mexican Sofritas and Black Beans bowl again and loved the flavors. Enjoyed a lot. However, one thing has changed since the recent crisis in Chipotle.... they have become (portion) thrifty...
Earlier you order a Chipotle Sofritas and Beans Bowl, and attendant will not stop at one small scoop of each item. I mean, literally I had to stop her for rice since I don't like a lot of rice in my sofritas bowl.
These days.... story is totally different.... Even though flavors are good and same.... I had to request her for every fav item -
"Can you please add some more?"
"Can you please add some more?"
Really, earlier I order a Chipotle Sofritas bowl with a side of warm tortilla..... I could never finish the tortilla. Now, I was hungry even after finishing both - bowl and tortilla...... 
So looks like they are cutting cost or their franchises are under more financial pressure which making them save money scoop by scoop. Actually we expected chipotle to increase rates due to their recent issues but they did not. So probably they decided to reduce the quantity instead. My only hope is they don't compromise quality because we love you Chipotle Grill!  Please pass my message on. :)
Actually, if they change the quality, I think I will be okay because I can make their Chipotle Sofritas at home! lol!! ;)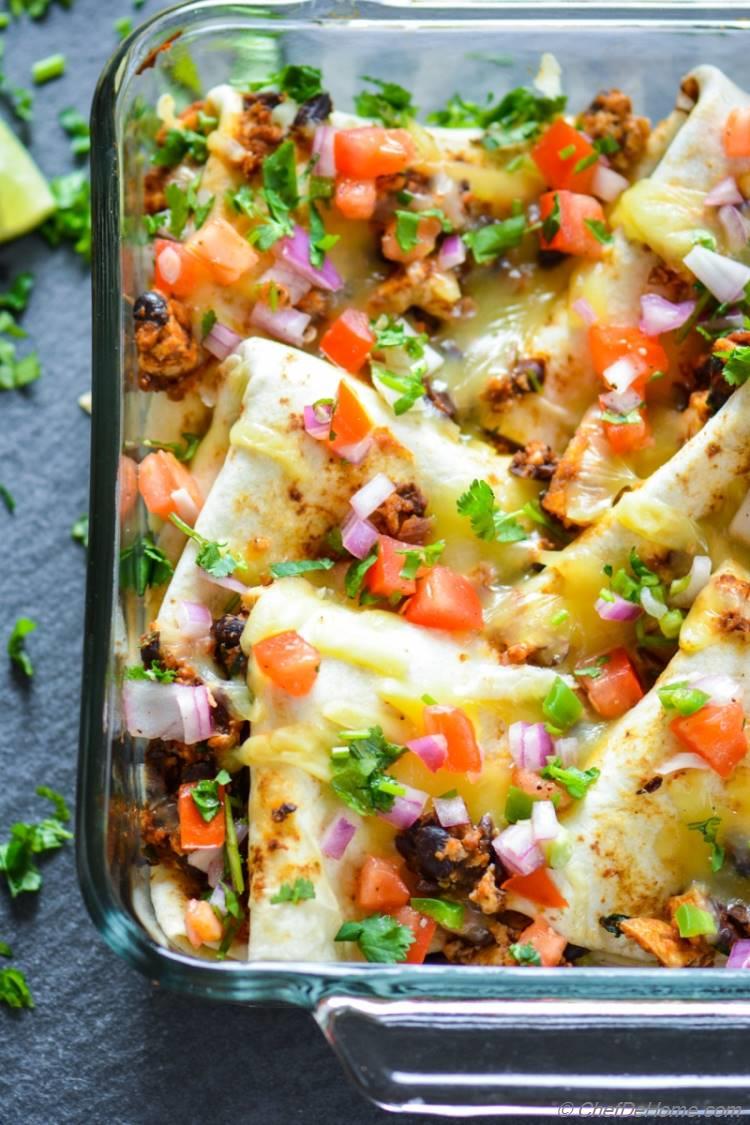 What happens  when you love a dish and crave it so much that you can eat it three times a day? I suppose you add it to everything. We enjoy Sofritas often at home in lunch and dinner. My sofrita's love forced me make some for breakfast too!
So I decided to bake chipotle sofritas with beans and tortillas to make hearty brunch casserole.
PS: Even though for breakfast.... I can enjoy this casserole for dinner any given day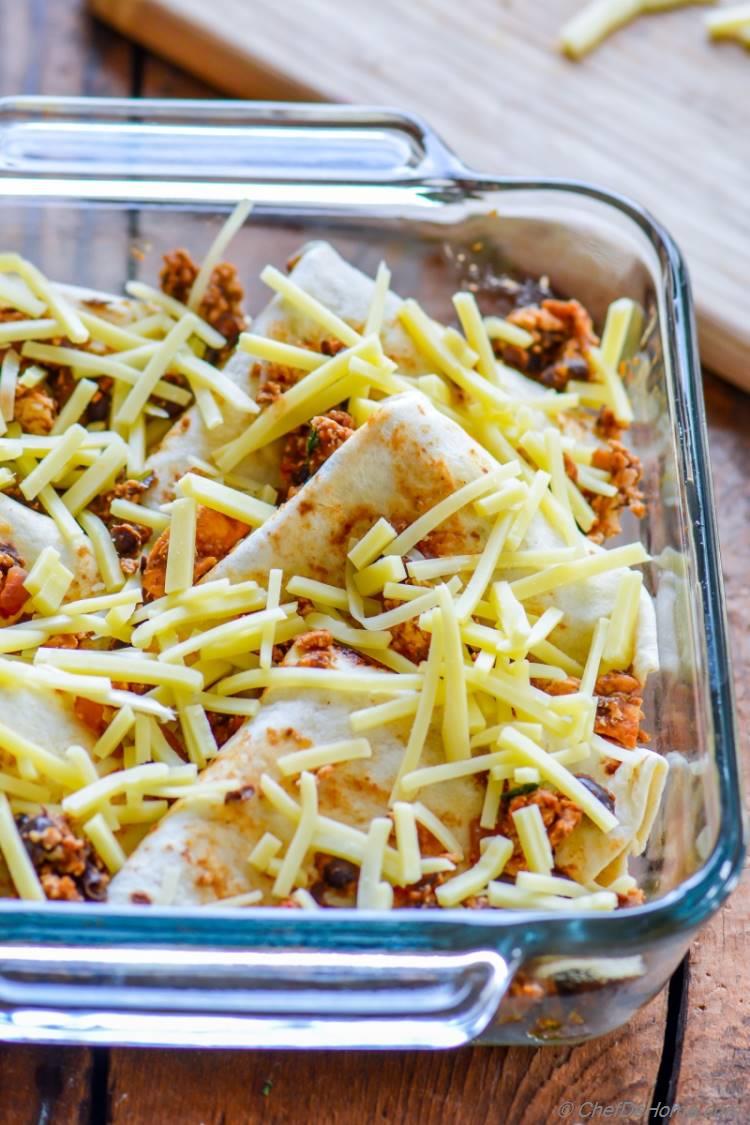 The best benefit of assembling everything into these little packages is - the portion size. Instead of assembling layers like lasagna, a single stuffed and folded tortillas make mess-free serving portions. Take one or two and save a few for dinner too!!
Initially I had plans to top the casserole with a vegan cheese sauce to keep the whole casserole vegan.... but I did not really want to mess the flavors. So today it is all the goodness of cheese with yummy flavor punch of Chipotle and creamy black beans. I would share a vegan cheese version some other day..
 
Once you ready a batch of chipotle sofriats, the sofritas bean casserole comes together very fast. Now, if you are a Chipotle's Sofritas fan you won't mind gathering a few ingredients to make Chipotle Marinade. Will you? There are not a lot of ingredients in Chipotle sofritas, mainly - chipotle in adobo sauce, poblano, firm tofu and few pantry ingredients such as tomato paste, oregano, and cumin etc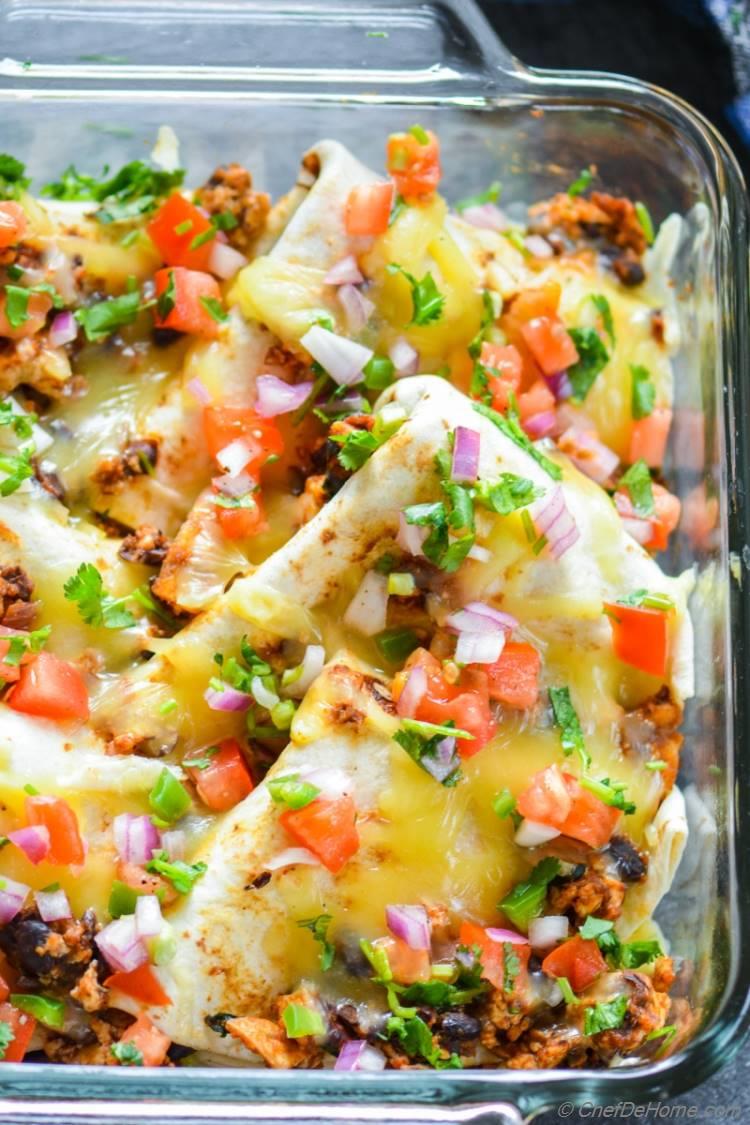 I usually prefer to make double-batch of sofritas marinade/sauce at night, then cook chipotle sofritas for dinner with rice and salsa. Marinade stays good in refrigerate for up-to 4 days and cooked sofritas for 1-2 days.
The following day or a day after, for breakfast, I preheat the oven. warm the sofritas with beans and other seasonings. Stuff each tortilla with a portion of sofritas and bean mixture, then fold in half, then in quarter and place in In a bake-proof dish in single layer. Spread remaining beans and sofritas mixture on the top and spread some cheese. Bake in preheated oven for 10 minutes or until cheese has melted... Voila!! Breakfast is served!
I love adding lots of zesty fresh topping in this baked casserole. Like fresh pico de gayo, guacamole, chipotle's salsa verde too... However, here for pictures I just added a hint of fresh salsa to click clean sofritas in view. Please don't skimp on the toppings. Add lots of fresh salsa, cilantro, guacamole (if you like) to enhance the homemade Chipole Sofritas Bean casserole brunch experience!
This casserole is not sold at Chipotle's so you can only make it at home! ;)
However, if you want a taste of this casserole without spending time to make Tofu Sofritas... (just in case) then feel free to buy sofritas from Chipotle and then make this Sofritas and Beans Casserole for breakfast the next day!

And if you have never tried chipotle flavored tofu sofritas yet, then I highly recommend trying this casserole!! I'm sure you will fall in love with flavors!
Enjoy! -Savita
A few more Chipotle Mexican Grill's inspired recipes:
Chipotle Sofritas and Black Beans Casserole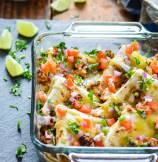 Total Time:
Prep Time:
Cook Time:
Cuisine:
Mexican
(

Main Course

)
Difficulty:
Easy
Yields:
13 by 9 Casserole
- Serves:
4
(

No. of servings depends on serving size.

)
Ingredients
Chipotle Sofritas Sauce
Tofu
Black Bean Casserole
Smart Swap: Replace tofu white meat chicken per your liking!
Directions
1.

Pre heat oven at 400 degrees Fahrenheit. Char a poblano on gas grill! Let it cool, then remove seeds and scrap-off skin. In food processor jar, add chipotle marinade ingredients with 1/2 cup of water to make a smooth puree.

2.

To prepare Tofu - Pat dry tofu with paper towel and press for 10 minutes to release any water. Heat 1 tbsp oil in a non-stick pan, add half of tofu and shallow fry until crisp from both sides. (about 3-4 min per side). Repeat with remaining tofu. Remove on oil-absorbent paper. Chop tofu into bite size pieces.

3.

In a wide pan, heat 1 tablespoon oil. Add chopped onion and saute until soft. Now, add 3/4 cup of sofritas marinade/sauce prepared in step 1 (add more later to adjust spiciness). Saute stirring frequently until oil starts to show on side. (just 2-3 minutes) Add tofu and cook for 1 minute coating in the sauce.

4.

Add black beans with 1/2 cup of water and mash beans with back of spatula as you cook them in sauce for 1 minute. Taste and adjust salt. Sofritas and beans should be little loose and not dry. If mixture appears dry, add 1/4 to 1/2 cup more water/stock and cook additional 1-2 minutes to adjust flavors. Also, taste seasoning and adjust with more salt and remaining 1/4 cup sofritas sauce.

Additional Notes:

If you like spice, feel free to use more marinade.

5.

In an oven safe 13 by 9 inch baking dish, spread 1/4 cup bean and sofritas mixture at the bottom. Set aside another 1/2 cup of beans mixture. With rest, keeping 9 portions in mind, take one tortilla at a time, add 2 tablespoon of beans and sofritas on one side of tortilla, fold in half, then spread two more tablespoon, and then fold in quarter. Place into the casserole. Repeat with rest of tortillas.

Additional Notes:

Pictures show a small dish with 6 tortillas, recipe calls for bigger dish which can hold nine folded tortillas.

6.

Mix remaining 1/4 cup stock in remaining mixture. Spread the mixture on top. Sprinkle cheese evenly on the top. Bake in preheated oven for 10 minutes or until cheese has melted.

7.

Top with fresh salsa, fresh chopped cilantro, and guacamole (if using). Serve while still hot with side of sour cream. Enjoy!
Savita's Notes:
If sauce still feels spicy to you, consider adding 1/2 tbsp more sugar or 1 tbsp more tomato paste,. Also you can use just one adobo pepper and instead add one more tbsp adobo sauce for flavor.
DID YOU MAKE THIS RECIPE?
Tag
@SAVITACHEFDEHOME
on Instagram and hashtag it
#SAVITACHEFDEHOME
© Chef De Home. Post content including video and photos are copyright protected.
We Think You'll Love