Chipotle Sofritas - Chipotle Mexican Grill's Braised Sofritas Copycat
sharing not-so-spicy version of my own recipe, on Popular Demand
Posted On:

Oct, 16
| Author:

Savita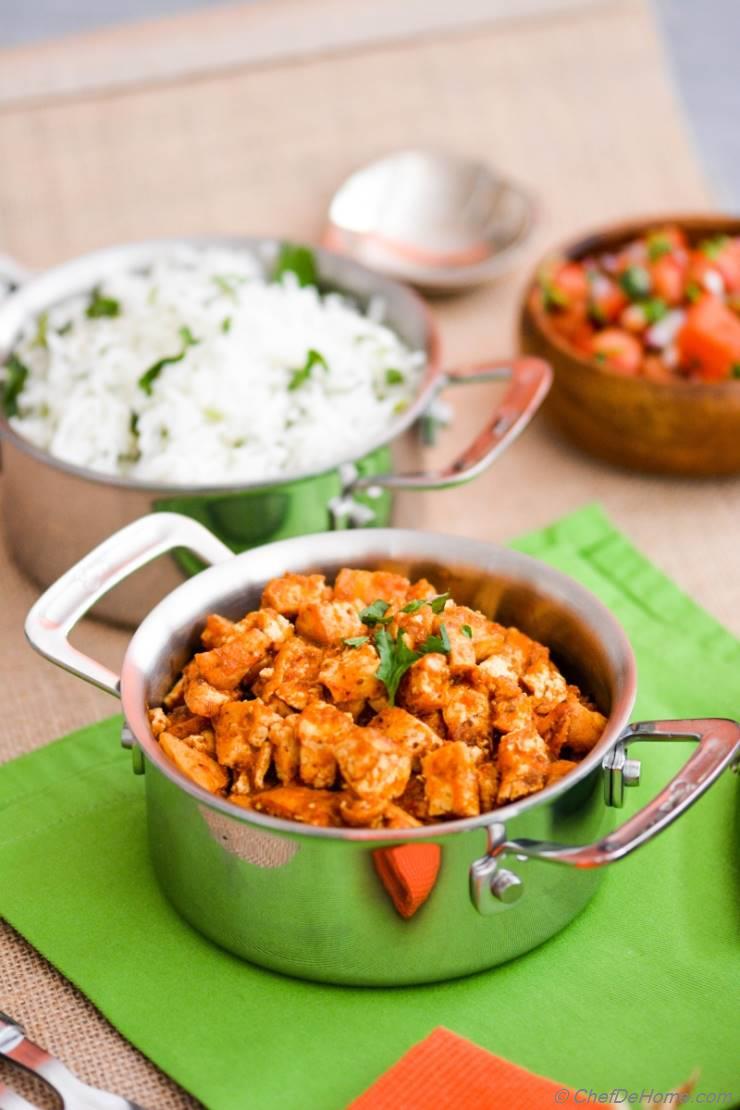 By now, you know for sure, I am a die-hard Chipotle Mexican Grill's Chipotle Sofritas fan! And If you are here, reading this post, you are no different either. :) I know, I know, chipotle grill has made this vegan tofu sofritas so darn tasty that everyone just loves it.
Recently, I watched a documentary on Chipotle Mexican Grill company. Earlier, I thought, this recipe was created by weight-watchers for Chipotle Mexican Grill. Now, I came to know, famous Mexican cuisine expert, chef Malin also has contribution in Chipotle's Sofritas recipe.
Well, I am no chef Malin, but I know you liked my earlier Chipotle Sofritas recipe. In-fact, I am pretty sure you are here following one of my previous Chipotle Recipe's link :) 
Your encouragement is what keeps me going in testing/trying great recipes that you and I can cook at home, save money, and eat healthier always! Everyone said, Chipotle Sofritas recipe that I have shared earlier was spicy. So I thought to test and try my original recipe a little more to create a LESS SPICY perfect COPY OF Chipotle's SOFRITAS this time.
Update: Today, when I made this recipe again for stuffing in Crispy Sofritas Taquitos, I decided to click a new picture of sofritas for you. Old pictures were clicked on a cloudy day, and are little dull. So here is the latest picture, bright and yumm-licious!
I think, we all eat with our eyes, and this sofritas's picture will sure make your mouth-water! I have used little less water in this sofritas to make a good filling for taquitos, but rest recipe is exact same!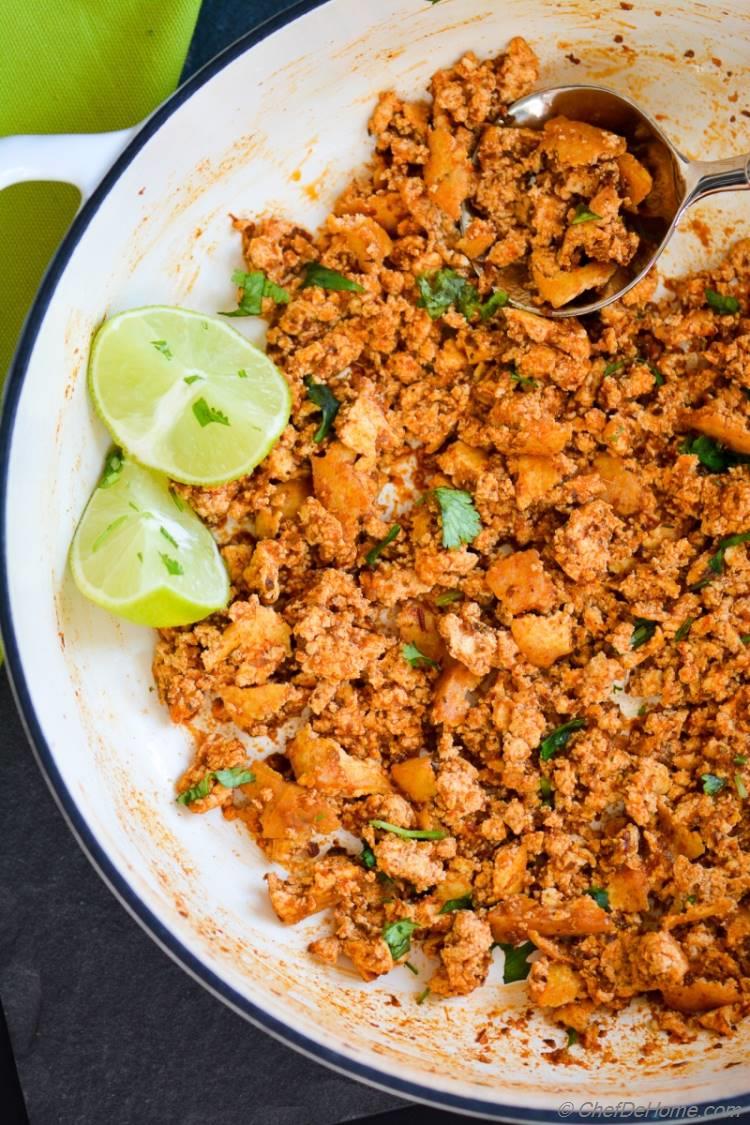 Let me sum-up this UPDATED recipe for you all. This chipotle sofritas recipe is:
1) Made with braised tofu (right technique used by Mexican Grill)
2) Is saucy like Chipotle Mexican Grill
3) Is VEGAN like Chipotle Mexican Grill
4) Is NOT spicy, exactly like Chipotle Mexican Grill
5) and YES, it is a TRUE COPYCAT Chipotle Sofritas. 
6) Above all, made with all AVAILABLE at home ingredients. Not even Tajin used this time :) Many people told me they bought a bottle of Tajin just for my previous Chipotle recipe, so I decided to give you all some relief. I replaced Tajin flavors with easy to find pantry ingredients.
In order of how we progressed in making Sofritas at home, so far...
1) Sofritas-style Shredded Tofu - First try, bare minimum, everyone loved it!
2) Chipotle Sofritas - Most popular, Marinade style Chipotle Sofritas, you all went crazy, taste was pretty good but spicy. Still most popular. I bet you are here reading this one. 
3) Braised Chipotle Sofritas - Braised (right technique used by Mexican Grill to cook sofritas). Equally admired and loved yet spicy.
4) Sofritas Verde - My love of sofritas forced me to make this not-so-mexican-grill version with all-green ingredients. this recipe has ME written all over it.

Last but not the least...
5) This Braised Chipotle Sofrita's true Copycat - Saucy, less spicy, and exact copy of Mexican Grill Chipotle Sofritas. TRUST ME! You want to try this!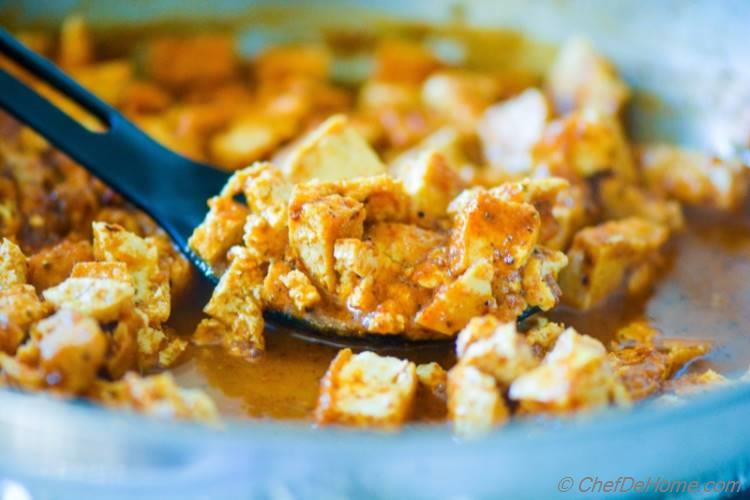 Sofrito Marinade Sauce yields 1 cup. One pound tofu needs about 1/2 cup of the sauce or a little more if you prefer spicy.  Leftover sauce will stay good in refrigerator for a week. You can quickly make Chipotle Sofritas at home, in not time, again!!!
Sign-up ChefDeHome Newsletter for any future updates on Chipotle's Sofritas or sofritas recipes. I am soon compiling a Chipotle Sofrita's Bowl recipe collection, stay tuned!!
Happy Cooking!!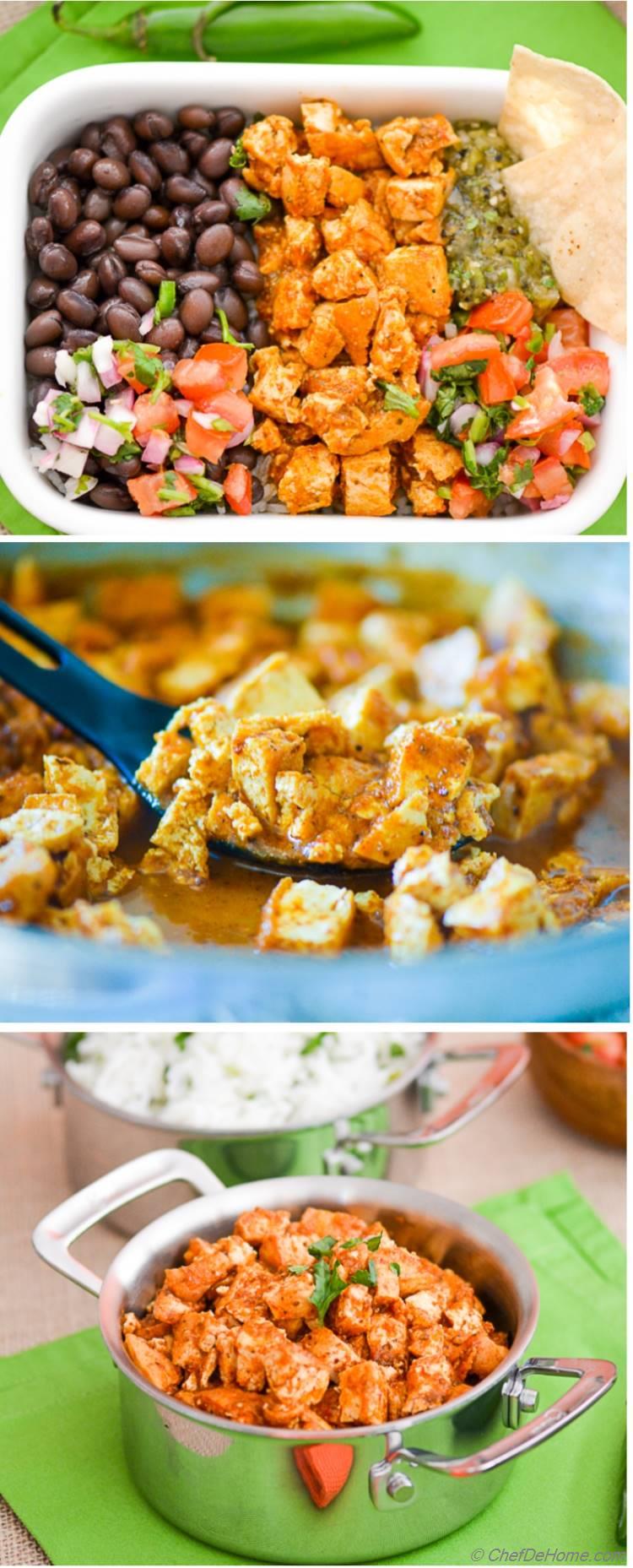 Update (April-16-2018): Now, you can make Chipotle Adobo Sauce at home with my new recipe. All you need is dried chipotle peppers and some basic pantry ingredients. Follow Chipotle Adobo Sauce recipe link.  
Chipotle Mexican Grill's Sofritas and other favorite recipes:
Chipotle Sofritas - Chipotle Mexican Grill's Braised Sofritas Copycat
reviews

)
(7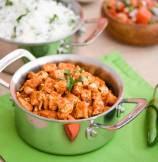 Total Time:
Prep Time:
Cook Time:
Cuisine:
Mexican
(

Main Course

)
Difficulty:
Easy
Yields:
1 Cup Sofrito
- Serves:
4
(

1 cup sofritos is good to cook 2-3 pounds of tofu

)
Ingredients
Chipotle Sofrito Sauce
Tofu
Smart Swap: Replace tofu with seasonal vegetables or white meat chicken per your liking!
Directions
1.

Start with roasting the pepper. It took me 5 minutes to beautifully char this poblano! Let cool a little, then remove seeds and scrap-off skin of poblano. Set aside.

2.

For sauce, in a blender/food processor jar, add chipotle pepper, adobo sauce, poblano pepper, garlic, cumin powder, oregano and tomato paste.

Additional Notes:

Tomato paste I used is Monte Amore Tomato Paste, You can use any good quality tomato paste or tomato puree. If using tomato puree instead of paste, then use less water in step 3.

3.

Add olive oil, salt, lemon juice, sugar, and 1/4 cup water/vegetable stock. Process to make a fine puree. Set aside.

4.

To prepare Tofu - Pat dry tofu with paper towel to soak any moisture. Heat 1 tbsp oil in a non-stick pan, add half of tofu and shallow fry until crisp from both sides. (about 3-4 minutes each side). Repeat with remaining tofu.

Additional Notes:

For best results, press tofu with paper towel under a heavy weight for 5-10 minutes to get rid of access moisture.

5.

Drain prepared tofu on paper towel to soak excess of oil while you finish frying rest.

6.

Make Sofritas - In a wide pan, add 1/2 cup of sofritas marinade/sauce prepared in step 3. Saute stirring frequently until oil starts to show on side. (just 2-3 minutes) This ensures raw garlic taste is gone and also flavor develops with cooking sauce.

7.

Add fried and chopped tofu and cook for 1 minutes coating in the sauce.

8.

Add remaining stock (if using) or water. Mix well and bring mixture to rolling boil, then reduce heat and simmer for 6-8 minutes. Break pieces of tofu with spatula once-in-a-while while sauce is cooking. Don't let water/stock completely dry-off, leave sauce little sauce-y like chipotle's.

9.

Sofritas are ready!!! Serve with rice and salsa. Enjoy! I have covered all recipes for a delicious sofritas bowl. Make at home and enjoy!
Savita's Notes:
If sauce still feels spicy to you, consider adding 1/2 tbsp more sugar or 1 tbsp more tomato paste,. Also you can use just one adobo pepper and instead add one more tbsp adobo sauce for flavor.
Less Saucy Sofritas? If you planning to fill sofritas in tacos and not eating with rice? Just add less water when cooking tofu with marinade and water. About 1/2 cup should be fine to develop flavor in tofu... then simmer away any excess water or until desired sofritas consistency achieved.
If you can't find Chipotle Peppers in Adobo Sauce? Here is the link to buy it from Amazon:
La Costena Chipotle Peppers in Adobo Sauce 7 Oz(Pack of 2)
Update (April-16-2018): Now, you can make Chipotle Adobo Sauce at home with my new recipe. All you need is dried chipotle peppers and some basic pantry ingredients. Follow Chipotle Adobo Sauce recipe link.  
DID YOU MAKE THIS RECIPE?
Tag
@SAVITACHEFDEHOME
on Instagram and hashtag it
#SAVITACHEFDEHOME
© Chef De Home. Post content including video and photos are copyright protected.
We Think You'll Love