Healthy Baked Eggplant Parmesan
Healthy skinny single-serve eggplant parmesan for meatless monday dinner! Baked not fried with few simple hacks to make'em crispy and crave-worthy good!
Posted On:

Sep, 19
| Author:

Savita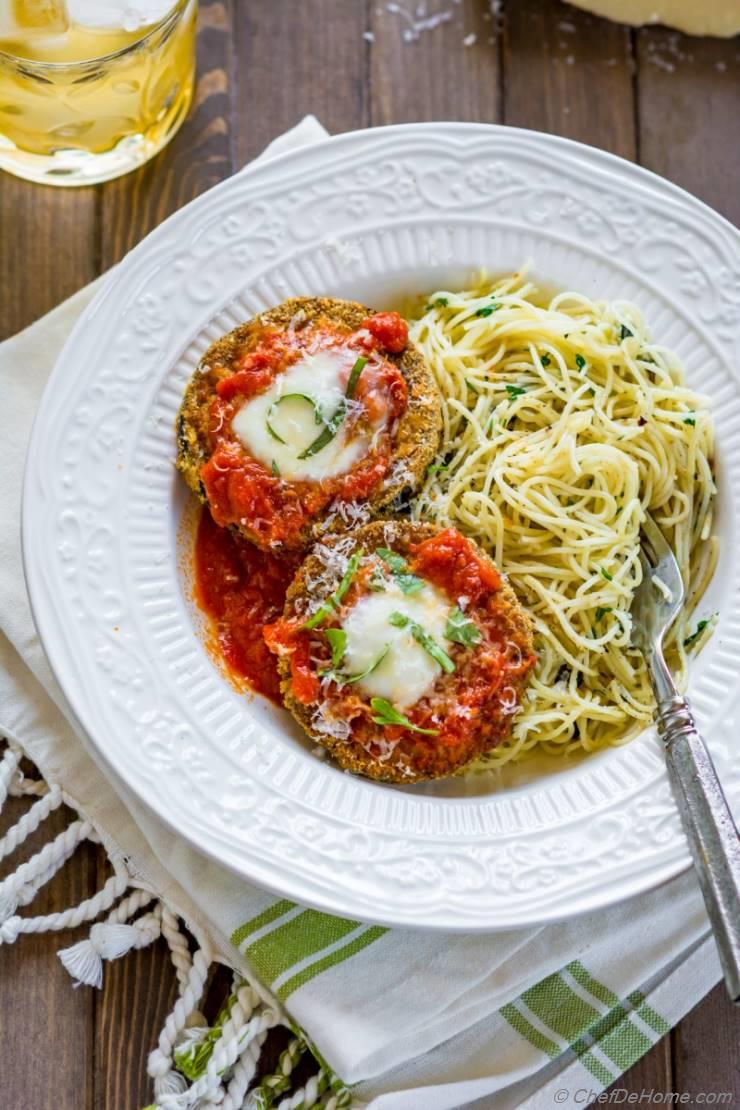 Starting week with healthier eggplant parmesan and pasta for meatless dinner! Baked to crispy perfection, and packed with punch of flavor from a delicious dredge. 
Oh, and I served it with scrumptious Garlic-Herb pasta which is my take on angel-hair pesto pasta served with eggplant parmesan in Cheesecake Factory. (recipe in notes) 
Before we jump into cooking Eggplant Parm, I would like to share how this recipe delivers at so many level. I mean, flavor, texture, that Italian comfort-food oomph plus light and healthier.  
1. First and foremost, recipe only needs just spray of oil to bake eggplant. No frying required. (I use a simple/ordinary swap to bake crispy eggplant crust without frying. Continue reading to check how.)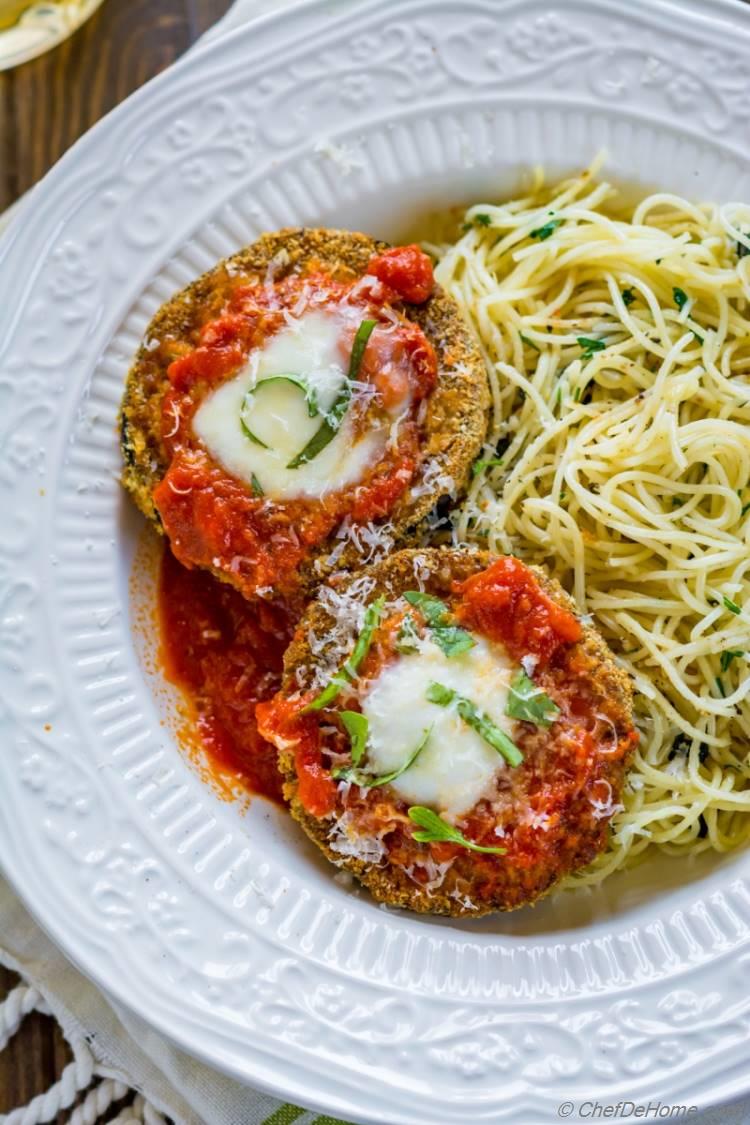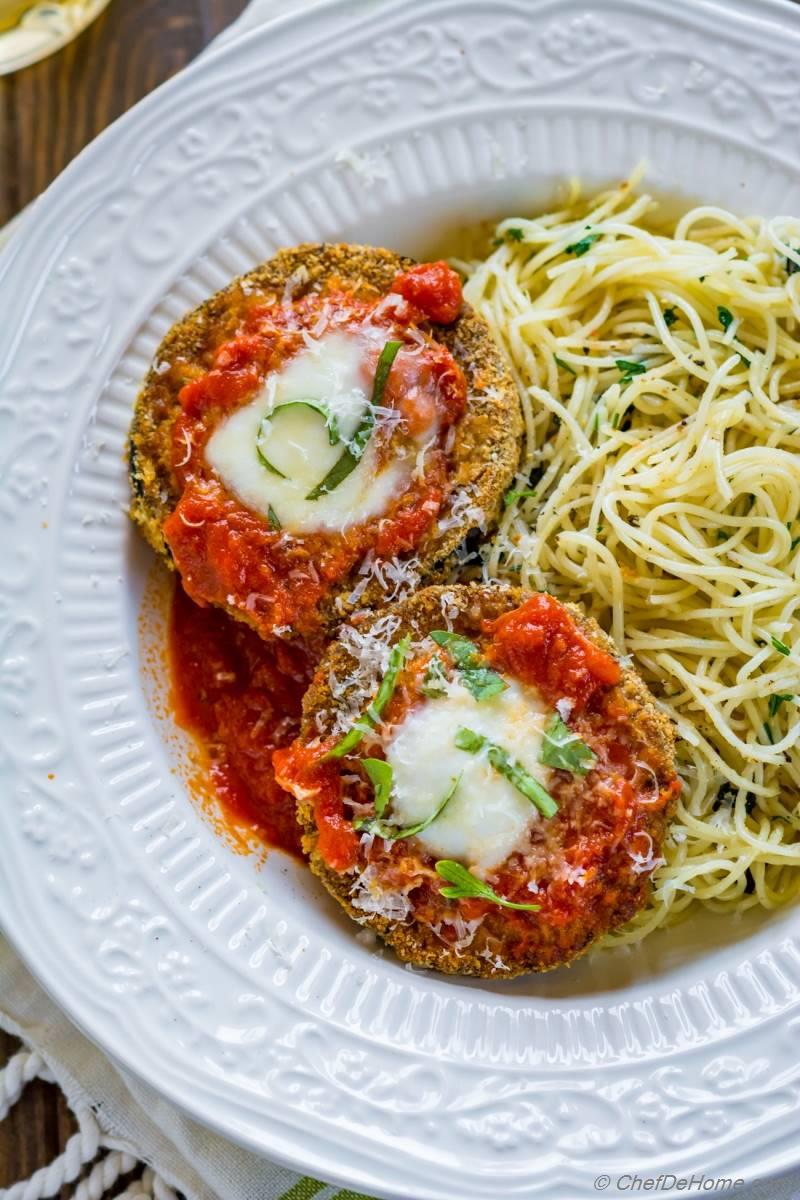 2. There is no eggplant parmesan without cheese. So, yes you will need cheese, both parmesan and mozzarella. However, singe-serve baked rounds need much less cheese, almost 1/3 of what goes into eggplant parmesan casseroles.
Now, I'm not saying for a second that I don't like eggplant parmesan casseroles. Those have their own comforting flavor. And I adore one when I'm craving cheesy-comfort. But today is low-fat Eggplant-Parm dinner day.
You get the point! right?
3. You will be surprised to hear that baking eggplant rounds instead of frying not just saves you time and greasy-mess.. It also cooks whole eggplant batch evenly. (Just makes sure to cut even thick slices.)
You know, as much as I love ordering eggplant parmesan in Italian restaurants.. I always leave a slice or part of slices.. simply because those were under-cooked. Deep frying or shallow frying eggplant in batches sometimes leaves few slices under-cooked due to variation of oil temperature. Vs when baked, all slices will get even heat... So will make perfectly cooked slices. That is my favorite part of baking instead of frying. 
4. In my humble opinion, serving single-serve style pieces of eggplant parmesan also helps manage the servings. And are easier to freeze and reheat.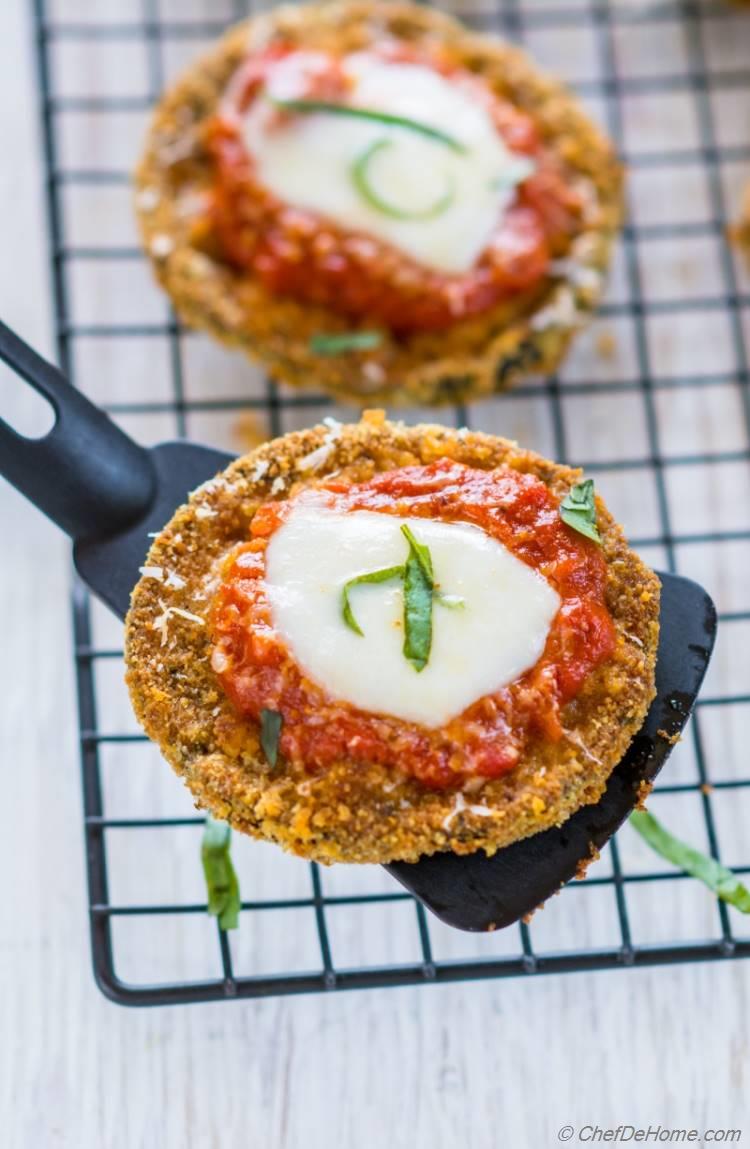 How to cook crispy eggplant with no-oil?
Glad you asked. :)
I did few simple changes to my way of cooking eggplant to get restaurant-style crispy eggplant texture without using oil. You will be surprise to hear what I did.
1. Use Italian Breadcrumbs instead of Panko:  I know! Often you will hear, most recipe calls for panko breadcrumbs to get crispy texture while baking or frying. I was so divided for this one. My mind wanted to use Italain Breadcrumbs but my instincts told me panko are best to get crispy crust.  So, I made one batch with panko and one with Italian breadcrumbs.
Since I had not plans to use lot of oil... the panko batch did not turn crispy and brown even after 25 minutes of baking which overcooked the eggplant. On the other side Italian breadcrumbs batch was ready in 15-18 minutes with perfect crispy and brown fried-like texture. Loved it! 
2. Back on sheet with aluminium foil instead of rack and parchment: For more even crispy brown spots, I recommend cooking eggplant slices on cookie-sheet lined with aluminum foil. The heat of sheet helps brown the surface more evenly than rack. 
Result is, light yet amazingly crispy eggplant.... Ready to dress in your favorite marinara, parmesan cheese and mozzarella! Yumm!!
PS: To make baking eggplant even more easy and mess free... I put eggplant slices in a box or paper bag. Then, add seasoned flour, close lid and shake it few times for even dredging. Then just coat in egg wash and cover with breadcrumbs.  Eggplant is ready for the oven! Trust me, this one little steps saves at least 10 minutes from cooking eggplant parmesan. 
To borrow a line from Ina Garten, "how easy was that?"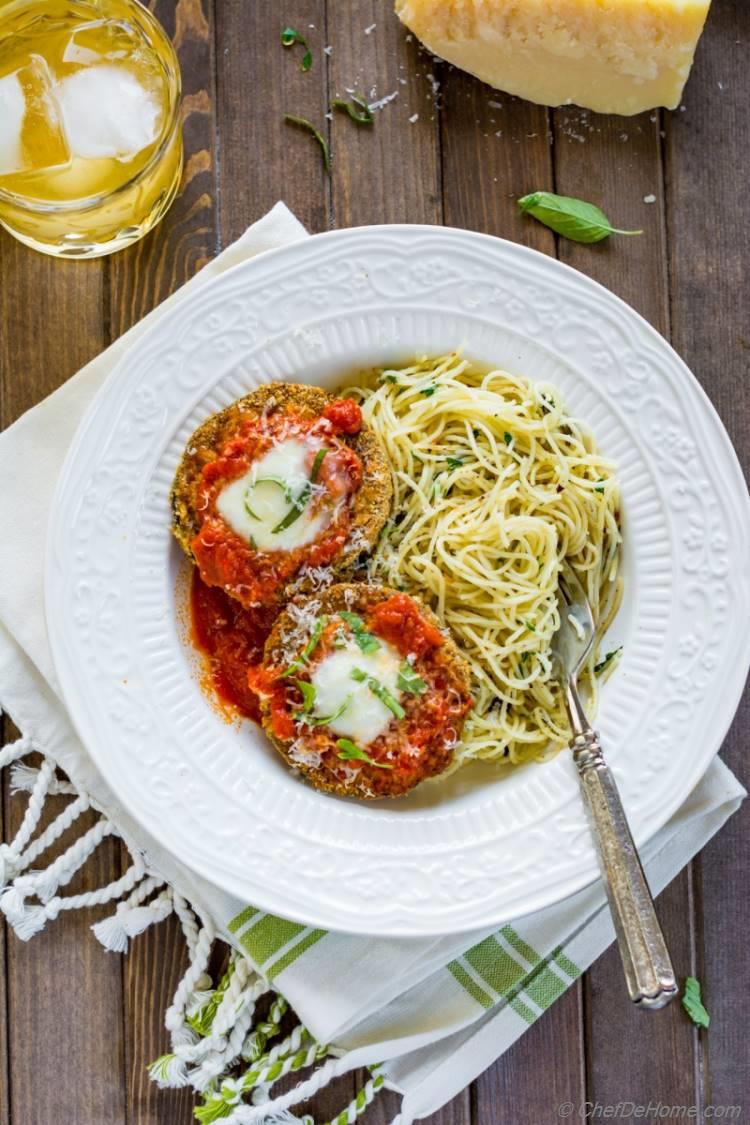 I always use homemade spicy marinara sauce for all of my Italian recipes. If you want to use store bought.. Please buy a good quality marinara because that is an important ingredient for a good tasting eggplant parmesan recipe.
For the simplicity eggplant parmesan recipe, I decided not to add the pasta recipe to the same post... but I can't resist talking about it. Pasta is Garlic-Herb Angle Hair pasta. It is my take on Cheesecake Factory's Eggplant Parmesan that comes with angel hair pesto pasta.
Oh man, I love this combination! After we eat in cheesecake factory... I will come home crave for that pasta... dream about it until I make, eat and repeat. :)  This pasta recipe is lighter and quicker take on that with fresh chopped herbs, fresh garlic and olive oil (instead of butter), with dust of parmesan of course! Oh my-my! This Garlic-Herb pasta alone will make you dream about this eggplant-parmesan dinner! I bet!
Recipe is super simple and I have included it in notes.

Freeze Instructions:
The best part about making eggplant parmesan at home is that I can freeze the extra/leftover eggplant without marinara and cheese. Then it is used endless number of ways. Actually, I always bake some extra to pull one more meal for week. 
Here is what I do: I like to spread the cold-to-touch slices on a freezer-safe sheet and freeze until eggplant is hard. Then, add to zip-able bag and freeze. To reheat, preheat oven at 425 degrees. Takeout as many slices as you want. Spread on baking sheet, bake until heated through, then follow last step to top with marinara and cheese. Bake until cheese melts. Serve and enjoy!
Glad to share a vegetarian dish for meatless Monday. I only try to follow meatless Monday.. Actually because in my home often Tuesdays are meatless. However, this month is different since we are on meatless diet whole month. So, any meat/chicken recipe you see on blog will be my last week's sweat in kitchen before meatless-month. :) 
Wish you all a happy last week of summer! I'm sure you are all ready to welcome fall. -Savita x
If vegetarian pasta dinner is on your mind:
Healthy Baked Eggplant Parmesan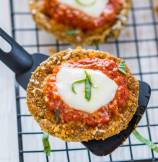 Total Time:
Prep Time:
Cook Time:
Cuisine:
Italian
(

Main Course

)
Difficulty:
Easy
Yields:
14-15 Eggplant Round
- Serves:
5
(

Add one hour (idle time) to sweat the eggplant slices before cooking.

)
Ingredients
Eggplant Parmesan
For Serving
Directions
1.

Preheat oven to 425 degrees Fahrenheit. Slice eggplant into 1/4 inch thick slices and spread on a wire rack. Season both sides with salt and leave aside for 1 hour to drain as much water as possible.

2.

While slices draining, prepare dredge station with flour, breadcrumb and egg (with 1 tbsp milk) in three separate bowls. Season egg and flour with salt and black pepper. Don't add salt to breadcrumbs since these are already seasoned.

Additional Notes:

If using plain breadcrumbs, add salt, black pepper and 1/2 tsp Italian seasoning.

3.

Once water drained from eggplant, whip extra salt from slices and pat dry.

4.

Add eggplant to brown bag or a container with lid, top with flour, close lid and shake well to dredge.

5.

Dip each slice in egg wash then press on breadcrumbs and place of prepared baking sheet. Repeat this step for add flour dredged slices. Drizzle or spray oil on eggplant slices.

6.

Bake in preheated oven for 20-22 minutes until eggplant is crispy and brown from all sides. Turn then once halfway through cooking for even browning.

7.

Top each slices with 2 tbsp of marinara, then with slice of cheese. Return back to oven and cook until cheese has melted (about 5 minutes).

8.

Sprinkle basil and remaining parmesan on top and serve immediately with your choice of pasta. For garlic-herb pasta follow the recipe from notes.
Savita's Notes:
*Garlic Herb Angel Hair Pasta: You will need, 1 lbs Pasta (angel hair pasta), 3 tbsp Olive Oil , 2 Garlic (cloves, grated) , 1/4 Cup Italian Parsley, 1/4 Cup Parsley, 1/4 cup Parmesan, fresh black pepper to taste.
Cook pasta according to package directions. Drain pasta water. Transfer drained past aback to pan, add oil fresh grated garlic, chopped herbs, and crushed black pepper. Toss to combine. Add 1/4 cup grated Parmesan and serve hot. Enjoy!
**For marinara, follow my recipe for homemade or use good quality store-bought.
DID YOU MAKE THIS RECIPE?
Tag
@SAVITACHEFDEHOME
on Instagram and hashtag it
#SAVITACHEFDEHOME
© Chef De Home. Post content including video and photos are copyright protected.
We Think You'll Love