Easy Homemade Soft Pretzels
Homemade soft pretzels with the same pretzel-shop like aroma, soft texture and flavor.. and only a few simple pantry ingredients.
Posted On:

Mar, 7
| Author:

Savita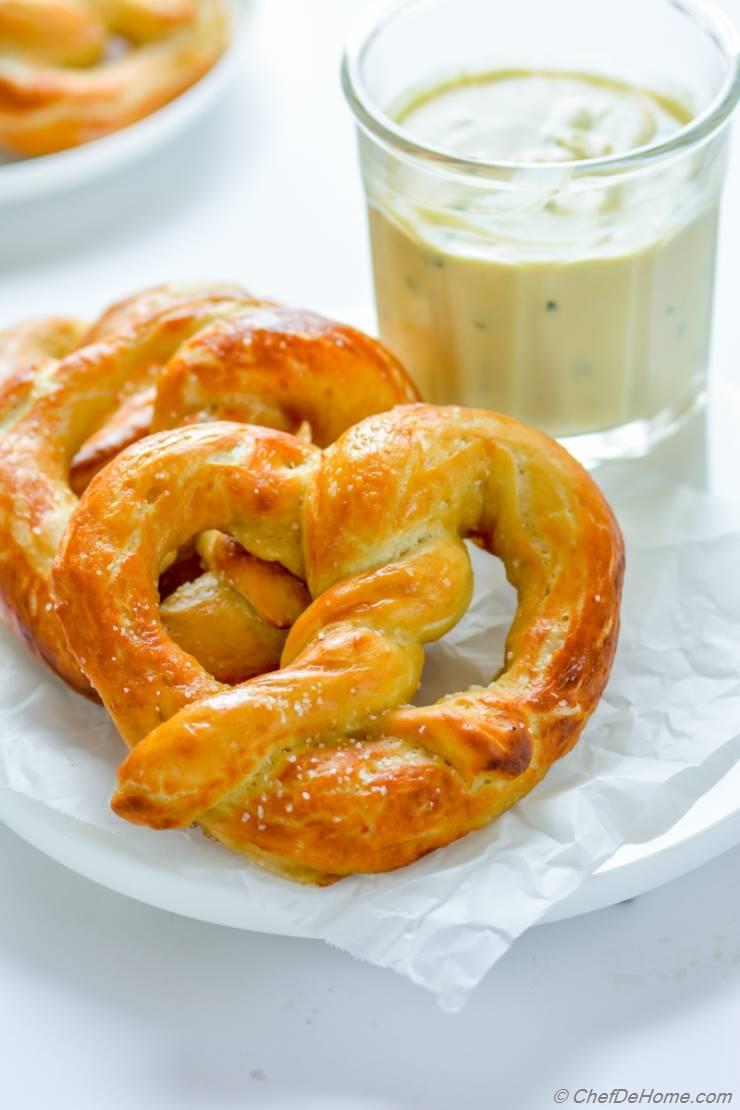 I munching on an extra soft homemade pretzel and sipping Chia tea while typing this post... and  kitchen is filled with pretzel-shop aroma... Aroma like I stepped into a fair and already knew - there is a soft pretzel shop close-by.. baking a fresh batch of pretzels! yumm!
Sharing today a soft pretzel recipe which will bring you taste of the fair at home! Extra soft texture with crusty salty crust yet negligible sugar (my fav). This pretzel recipe uses easy-to-find pantry ingredients and still yields pretzels which are much more lighter than you buy from pretzel shop. 
So, serve these for next family-get-together, or to watch Sunday games or just because you are pretzel-fans like myself. :) Whatever the reason may be, bake a double batch since these disappear faster than you expect.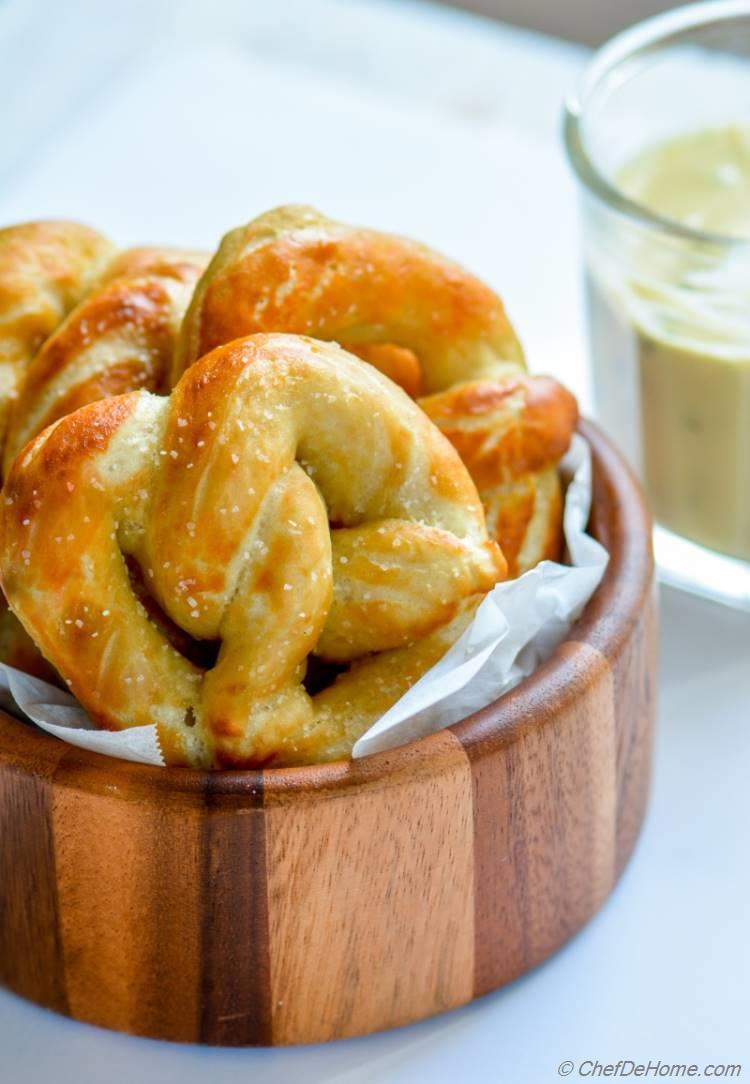 I'm a sucker for good soft pretzel! That crusty crust, soft texture, and perfect amount of salt in every bite.... A good baked soft pretzel is "the treat" for savory snack-freak like myself. For the record, I have to eat a soft pretzel whenever we are in a fair or just happen to visit mall. Since it is not possible to be in mall/fair every now and then..... I figured a best way to satisfy my pretzel-cravings,.... baking soome pretzels at home! :)
I also call my homemade pretzels - humble poor man's pretzels. I mean seriously, there are just 6 basic pantry ingredients in baking this bread snack, favorite of everyone. I'm not sure what ingredients classic German people use to bake pretzels... but this recipe is homemade and it has to be simple and delicious..... that's what makes/encourages me to bake some at home. Just mix simple ingredients, rise dough for 1-2 hour, and then bake for only 10 minutes for a yummy snack to serve for any occasion!
Be it a Irish-theme party, football game day appetizer, Friday movie night or just family-munching time on the weekend.... Honestly, I didn't even need a reason to enjoy few pretzels. ;)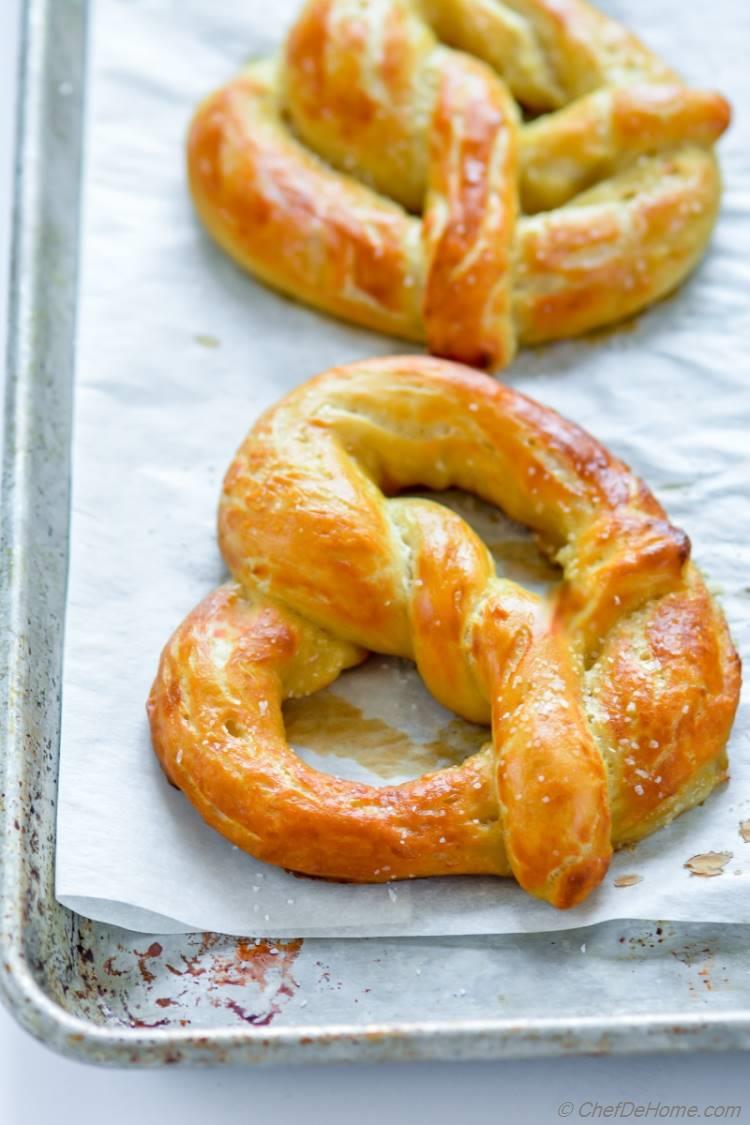 When I baked this batch last weekend.... the first positive reaction came from Vishal when he returned home after running an errand... just opened door and he was like "pretzels!!" His reaction reminds me of an old Indian advertisement where a little boy decides to leave home over a fight and then happen to hear some sweets are being prepared at home... and he is ecstatic at name of his favorite sweet called Jaleebi... screaming "Jalebee!!!" lol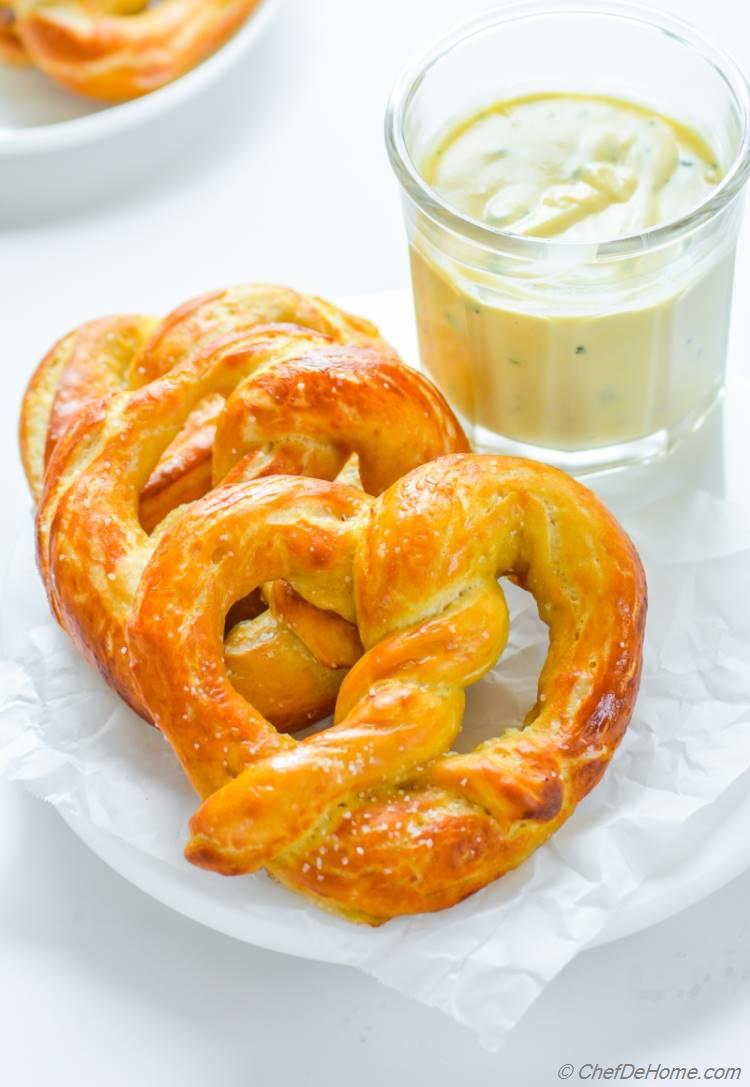 I have been making pretzels from past few years now.... Last time I had chance to click pictures, they did not look so good. Those days I had major camera-angel issues! Sometimes I wonder, how on this earth I saw a 75 degree angle picture fit to share on blog! :) I have a plenty of those... look at my old recipes.
But by the time, that pretzel picture got chance to make to blog, I seriously started thinking about my picture quality. I discarded the old batch of pretzel photos. 
No Special Ingredients like Caustic Soda (what!?!?) Needed:
It's homemade pretzel and does not need out-of-ordinary stuff to make it look pretty (at least). For this reason, I name my homemade pretzels - humble poor man's pretzels, pantry-friendly, safe for kids and safe for everyone. Just so you know, most pretzel recipes call for Caustic Soda to get deep brown crust and Pretzel salt for extra-kick briney salty bite.
I'm not at all sold for caustic soda. I don't buy anything that will not bring value to my kitchen and is not so safe. The simplest replacement of caustic soda is "plain baking soda". It does not create as super-dark brown crust like hard pretzels but it still does a pretty good job (i hope pictures speak for themselves).
For salt, I simply use flaky kosher salt. I live an apartment and don't have huge kitchen cabinet to hold on to a box of salt just for pretzels. Kosher salt works fine for me.
PS: you can also use egg wash for extra glossy crust yet I wanted to keep these pretzels egg-less.

I'm sharing a plain pretzel version here but you can also add some toppings  like Jalapeno Cheddar Cheese is my all time favorite. Oh, other one is pretzel pizza! :) (will share recipe sometime)
PS: I missed you all yesterday. Happy to be back. I hope you enjoying beginning of a new week. Wish you a great day ahead.  :)
Enjoy! -Savita
Few more crowd-pleasing baked appetizers from Chef De Home recipe archive:
Easy Homemade Soft Pretzels
reviews

)
(12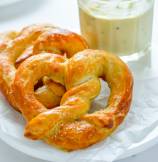 Total Time:
Prep Time:
Cook Time:
Cuisine:
European
(

Appetizer, Bread

)
Difficulty:
Easy
Yields:
8 Soft Pretzels
- Serves:
6
(

Dough Rise Time : 1 to 1.5 hours, depending upon temperature. (warmer weather dough rise quickly)

)
Ingredients
Pretzel Dough
Pretzel Bath and Baking
Smart Swap: Replace part of AP flour with wheat flour for some nutty texture and flavor.
Directions
1.

Preheat oven at 450 degrees Fahrenheit. Line two baking sheets with parchment paper and set aside.

2.

Lukewarm milk and water for dough and pour in a wide mixing bowl. Mix in sugar. Mix in yeast and let sit undisturbed for 10-15 minutes until yeast has bloomed.

3.

Add two cups of flour, salt, and melted (room temperature, not hot) butter and mix with spatula to bring dough together.

4.

With dough hook attached, knead dough for 5 minutes, adding 1 tbsp of flour of remaining dough at a time. (dough should not be very dry). Remove dough in a clean oiled bowl, cover with clean kitchen towel and set aside at warm place for 1-2 hour.

5.

Place in warm place for 1-2 hour or until dough more than double in size.

6.

Punch down the dough.

7.

Remove to a work board and divide into 8 equal portions. (oil your hands as needed so as to easily handle soft dough)

8.

While start working on dough, set oven to preheat and also heat a deep-wide pan with 4-5 cups of water until water starts boiling.Take one portion of dough at a time and make a long rope. Place rope on board in U shape, then twist the ends inward, cutting each other and place opposite bottom edges of the U. Wet your hands and attach ends onto edges to seal. (Make sure to leave some loose end hanging or pretzel loop will open during the cooking.)

9.

Add baking soda in boiling water and mix well. Add one pretzel at a time and let it dip in soda-bath for 20 secs (make sure to coat both sides in water or pretzel will not color properly.). Remove on a baking sheet lined with parchment paper. Repeat steps 8-9 with all of the remaining dough.

10.

Then, bake in preheated oven for 8-10 minutes or until tops are dark golden brown.

11.

Remove from oven and brush the melted butter on pretzels. Dust with flaky sea salt. Transfer to cooling rack to cool slightly. Serve while still warm with cheese dipping sauce. Enjoy!
Savita's Notes:
Recipe yields 8 medium-size pretzels. No. of servings depends on serving size.
DID YOU MAKE THIS RECIPE?
Tag
@SAVITACHEFDEHOME
on Instagram and hashtag it
#SAVITACHEFDEHOME
© Chef De Home. Post content including video and photos are copyright protected.
We Think You'll Love