Chicken Tequila Fettuccine
An easy recipe for Tequila marinated chicken with fettuccine pasta coated in Lime-Cream sauce and a simple step to add depth of flavor to the sauce!
Posted On:

Apr, 19
| Author:

Savita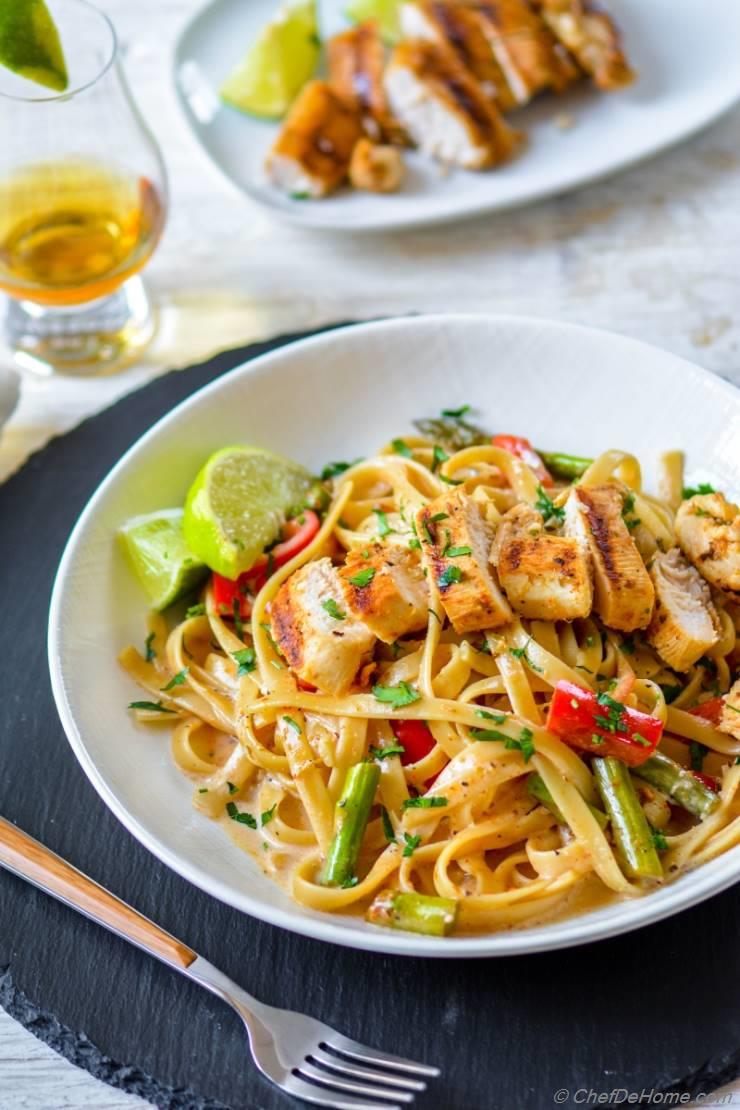 Chicken Tequila Fettuccine - Tequila-Lime marinated juicy chicken, creamy tangy lime-cream sauce coated fettuccine pasta, with crunchy peppers, shallots and asparagus. Every forkful of this Italian dinner has something to love! This, my friends, is a restaurant quality pasta dinner which you can easily cook in comfort of you own home. 
So, let's ditch the delivery!
This recipe comes together super quick and with depth of flavor since same marinade is used twice - once to marinate chicken and second to create a flavorful base for Lime Cream Fettuccine pasta sauce.
First, tequila, lime and herb marinade makes chicken juicy, tender and very flavorful. Then, good part is: marinade also picks up flavor from chicken and when cooked in pan after removing marinated chicken.... creates a bod and delicious sauce! Honestly, you will be surprised how much flavor a leftover cooked marinade will add to a simple lime cream pasta sauce!
This, my friends, is an old-school restaurant trick: nothing goes waste.... ingredients help each other get complex flavors and guests keep wondering:

What's the recipe?!! 
What does CPK add in Chicken Tequila Fettuccine?! :)  
Do you wonder the same? Well, wonder no more! I'm helping you create those  flavors at home!
Oh, before we proceed, even though this is a chicken pasta recipe. You can easily (even more quickly) make it vegetarian, I mean - meatless version.  Follow the notes at the end of the recipe.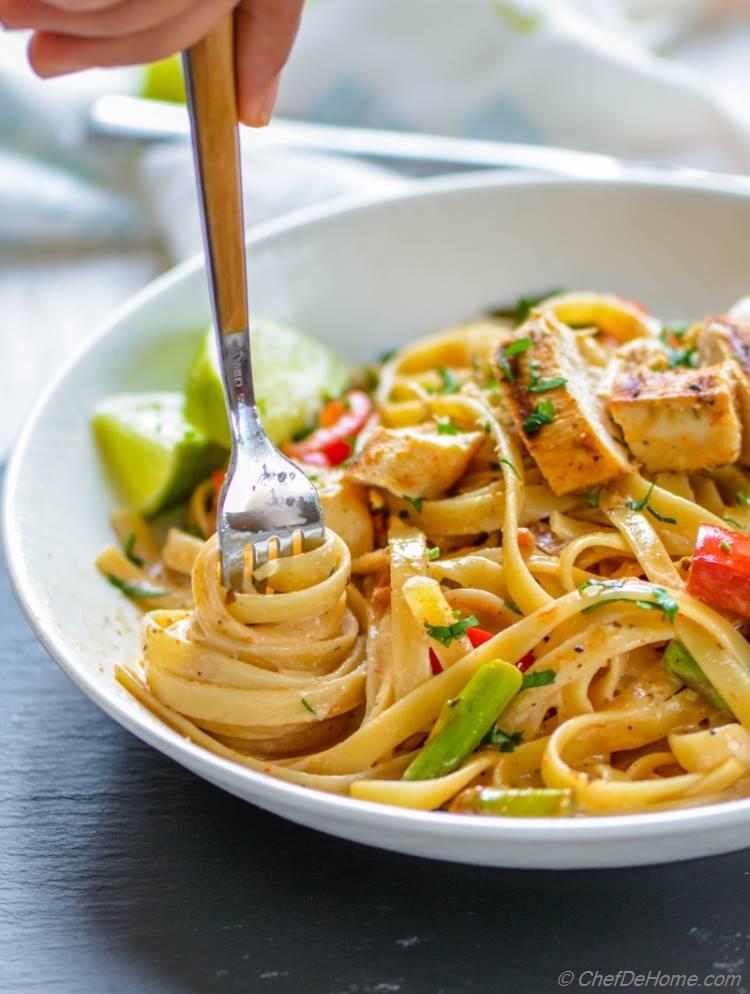 Living in San Diego-LA area, it is hard to not like Southwestern Mexican flavors. I think, it will be an overkill if I say, again, I love "Mexican food"! You know that, right? :-) 
Tequila Lime chicken is one of popular chicken main dish in many local restaurants in San Diego. But, this recipe is inspired from a national chain - California Pizza Kitchen. I think, the name sums it all. They offer lots of Italian classic recipes with Mexican-Spanish flavors. Chicken Tequila Fettuccine is one of their best seller and one of our favorite.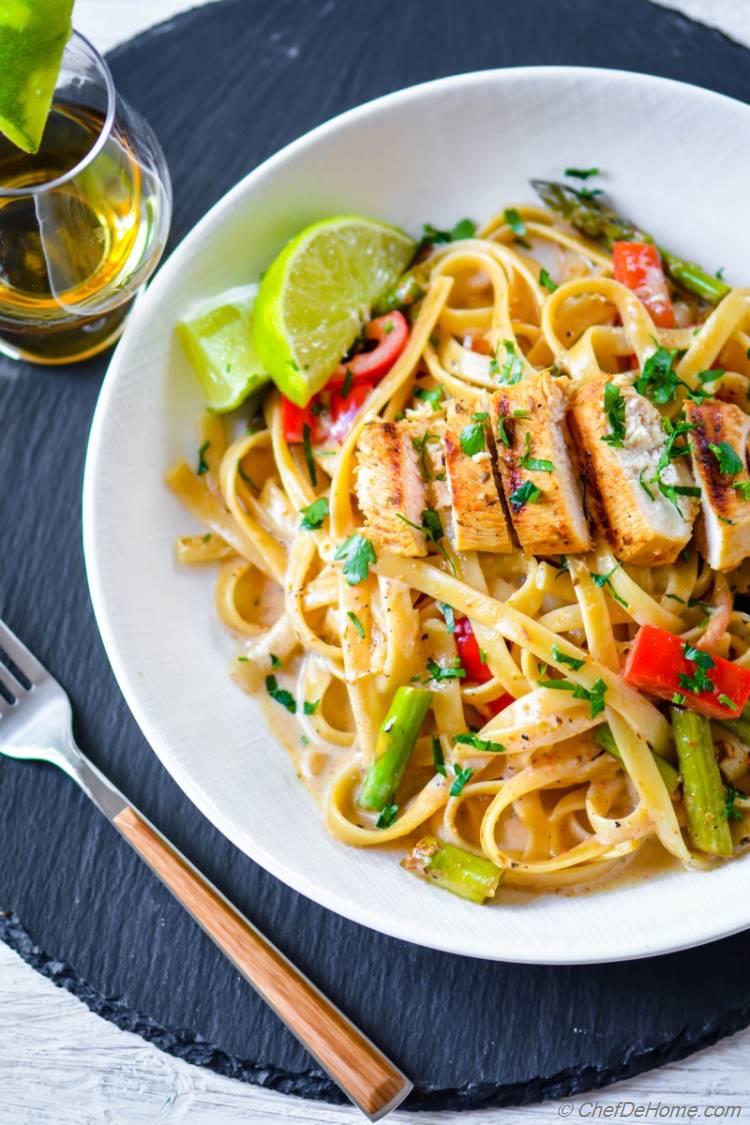 Whenever we ate Chicken Fettuccine at CPK... I came home craving for one more bowl of that zingy zippy jalapeno lime-creamy sauce! Honestly, the sauce is so good.. I can drink it with straw! 
At CPK, spinach fettuccine pasta is served in this dish which gives it green color. I could not find spinach fettuccine in store so I decided to use regular fettuccine pasta. To make up for gorgeous green color, I added a batch of fresh sauted asparagus in pasta. This is totally optional and you can skip it or add veggies of you choice. I, however, love the crunch of bell peppers and shallots in cream sauce and I highly recommend it.
Just because of green color of fettuccine, initially when I ate CPK, I thought the sauce is green in color. Then, few months ago we ordered a takeout and they gave some cream sauce on the side. I was surprised to find sauce not green. Such a poor observation or may be... dim lights in these restaurants! It's hard to even see what you eating! :) You can only enjoy the flavor. Actually, that's what matters the most!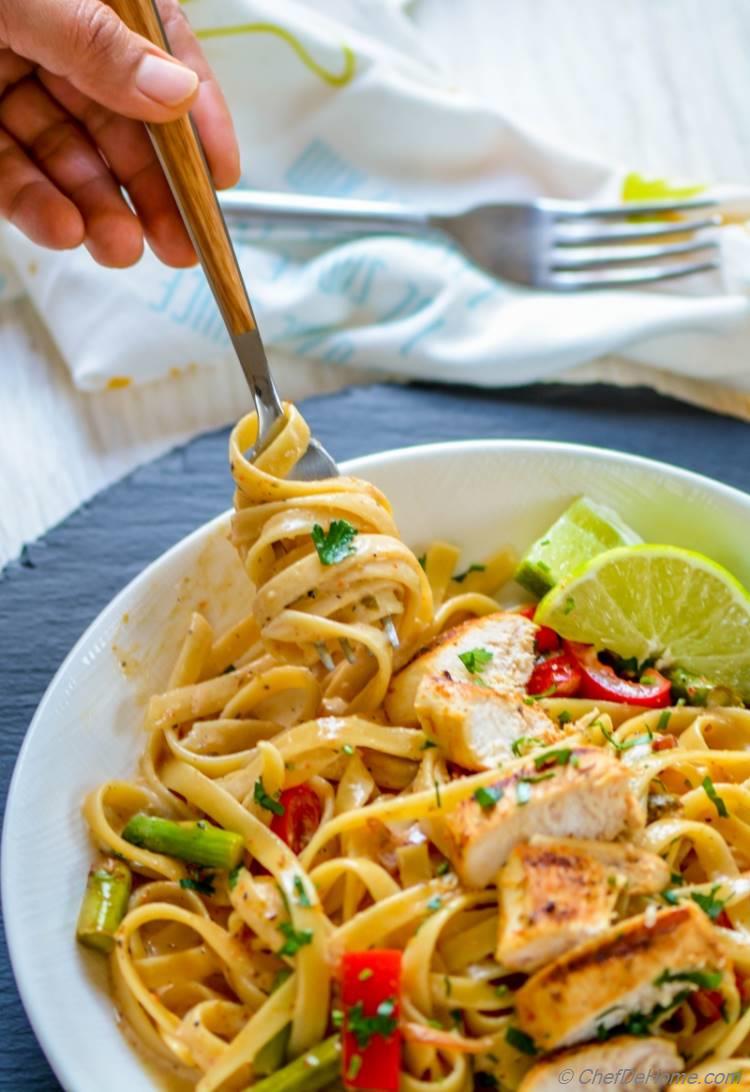 To cook Chicken Fettuccine, once the chicken has marinated, I grill it often indoor on a cast iron griddle. (just because I don't have time to work on outdoor grill in weekdays). However, Tequila marinated chicken is great to grill  outdoors, on a gas or charcoal grill.
For Chicken Tequila Fettuccine, most of the work happens in parallel. That's the ease of this recipe. While chicken is grilling, I bring a pot of water to rolling boil and drop in fettuccine pasta.
While pasta cooks, I make the creamy Lime-Cream sauce. 
To reduce the amount of work and to add tone of flavor in the sauce, I use the same marinade to create the sauce which I use for chicken. This enhances the flavor of lime-cream sauce and adds a depth of chicken flavor.... As if sauce has been cooked for long time with secret spices.... where it actually comes together in 5-7 minutes (max) and using simple ingredients! No secrets here :) At least, not any more!
Cooking the marinade in pan the most important step of this pasta dish. I have to share with you why you don't want to miss it:
1. It boils of any trace of alcohol left from Tequila and leaves a nice flavor.
2. Since first chicken is marinated in this mixture. The chicken juices gets cooked off adding an another layer of flavor in the sauce.

So, looks like our agreed "chicken" week has also become a - Spanish Fiesta flavors week as well. Monday was Chicken Fajita Omelette for breakfast and today is Chicken Tequila Fettuccine for dinner!
Speaking of which makes me realize, I missed the "chicken" lunch! Isn't it?!
If you enjoying so far, what recipe would you like to see for "chicken" week next? 
PS: Gosh, don't say dessert! lol! I honestly will not be able to make one ;)
Wish you a wonderful day! -Savita
My other restaurant-favorite Chicken and Pasta dinner recipes:
Chicken Tequila Fettuccine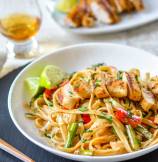 Total Time:
Prep Time:
Cook Time:
Cuisine:
Italian
(

Pasta, Main Course

)
Difficulty:
Easy
Yields:
3-4 Serving
- Serves:
4
(

Allow additional time to marinate chicken. No. of servings depends on serving size.

)
Ingredients
Tequila Lime Chicken
Jalapeno Lime Cream Sauce Fettuccine
Directions
1.

Marinade - Combine all marinade ingredients except chicken in a wide bowl and mix well.

2.

Mix marinade with 1/4 cup water, then add chicken and coat in marinade. Cover and refrigerate for 30 minutes.

3.

Meanwhile, Bring pot of water to rolling boil and cook fettuccine pasta as per package direction.

4.

Heat an iron griddle. When griddle is hot, spray with some oil, place chicken slices and cook per side for 8 minutes or until chicken is fully cooked. Remove in a plate and set aside. Reserve marinade for the sauce.

5.

While pasta is boiling, in a wide pan, add 1/2 tbsp butter, add shallot and bell pepper and cook until soft (1-2 minutes), remove in a plate. Then add reserved marinade (from step 4), and bring to boil. Cook for minimum 2 minutes on medium heat so that any remaining alcohol from tequila evaporates and raw chicken flavors in marinade are cooked off (very important) and also flavor concentrates.

6.

Add in minced jalapeno(if using), lime juice and zest, parsley, chicken stock, heavy cream, remaining butter.

7.

Add cooked fettuccine pasta with 2-3 tbsp of pasta water. Coat the pasta in the sauce.

8.

Add cooked bell peppers and onions. Slice cooked chicken into small or big pieces. Transfer pasta to serving plates, top chicken, serve with more lime wedges and enjoy!
Savita's Notes:
It is important to cook marinade for 2 minutes so that raw chicken flavor of marinade is cooked off. Or you can also double the marinade recipe in step 1 and use one batch for pasta sauce and discard the one after chicken marination.
Vegetarian, Meatless Lime Cream Sauce Pasta : This will reduce first three steps from your cooking. Make the marinade as suggested in Step-1. You can skip tequila.
Then follow step 5-8 and replace chicken stock in ingredients with veggie stock.
Just two of these simple changes and enjoy meatless Fettuccine with Lime-Cream sauce! slurp slurp
DID YOU MAKE THIS RECIPE?
Tag
@SAVITACHEFDEHOME
on Instagram and hashtag it
#SAVITACHEFDEHOME
© Chef De Home. Post content including video and photos are copyright protected.
We Think You'll Love