Seasoned Puff Pastry Twists
Parsley and Pepper Medly seasoned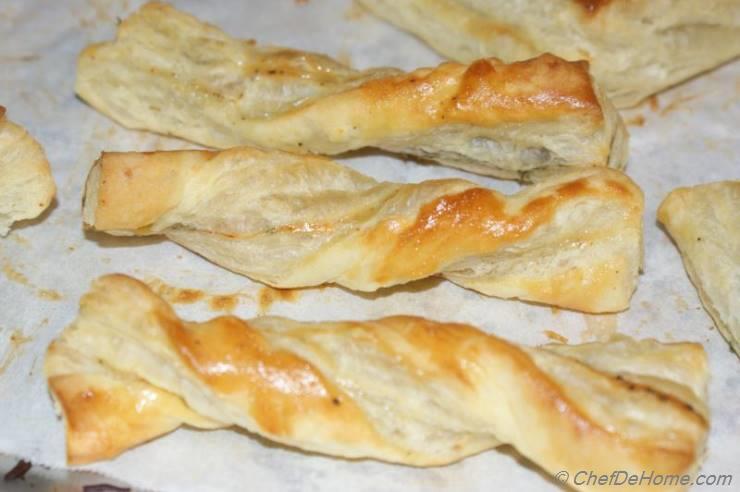 Puff Pastry is traditionally a French baking technique. Puff pastry consists of flaky layers of crispy bread. Baking creates steam pockets that separate the layers. These little finger snack are very easy to assemble and seasoned with pepper,salt and parsley for burst of flavor. Not only stick shape, you can mold puff pastry to any shape. There are endless types of seasoning which go well with these puff pastry twists. For sweet alternative, try sugar, cinnamon and pinch of red pepper (optional).
Pairing Ideas:
Seasoned Puff Pastry Twists
share on pinterest

share on twitter

give feedback or read article reviews

print recipe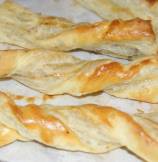 Total Time
Prep Time
Cook Time
Cuisine
French
Category
Appetizer, Snack
Serves
4
Ingredients
1 Puff Pastry

1-2 tbsp Parsley

(Dry Parsley Flakes)

1 Egg(s)

(Well Beaten)

1/2 tsp Salt

1/2 tsp Red Pepper Powder

1 tbsp Mixed Peppercorns
Directions
Hide Step Photos
1.

Cut puff pastry into 1 and 1/2 inch wide and 4-5 inch long strips.

2.

Brush egg on one side of pastry strip. Season brushed side with pinch of salt, 1-2 pinch of red pepper and crushed mixed peppercorns and 1/4 tsp pf dry parsley flakes.

3.

Take one more pastry strip and brush egg on one side. Place this pastry strip on top of seasoned pastry strip very gently pressing the two strips together. Slice strip in middle to make two 2/3 inch strips.

Additional Notes

You can refreigrate strips for 10 minutes if they appear to be very soft.

4.

Twist the pastry strips three times and place it on baking tray lined with baking sheet/silicon mat. Brush egg on the pastry twists.

5.

Bake in preheated oven at 415 F for 15 minutes or till pastry twists are crisp and flaky golden brown.
Savita's Notes:
The oven must be preheated to a high temperature, usually 400° to 450° F, when the dough is placed in the oven. If the oven is not hot, the butter will melt and the moisture will evaporate before steam make flaky layers.

© Chef De Home. All contents and images are copyright protected. DO NOT copy or re-use content/images/videos. For all content/post mentions with link back, contact ChefDeHome for permission.

Craving for more?
Join us: Weekly Newsletter, Facebook, Google, Twitter, Pinterest
Shop products we use: CDH Amazon Shop (affiliate links)
What would you like me to cook next?: Request a Recipe