Baked Italian Turkey Meatballs
An easy, flavorful, and crowd-pleasing appetizer where everyone's favorite - turkey, is the star!
Posted On:

Nov, 18
| Author:

Savita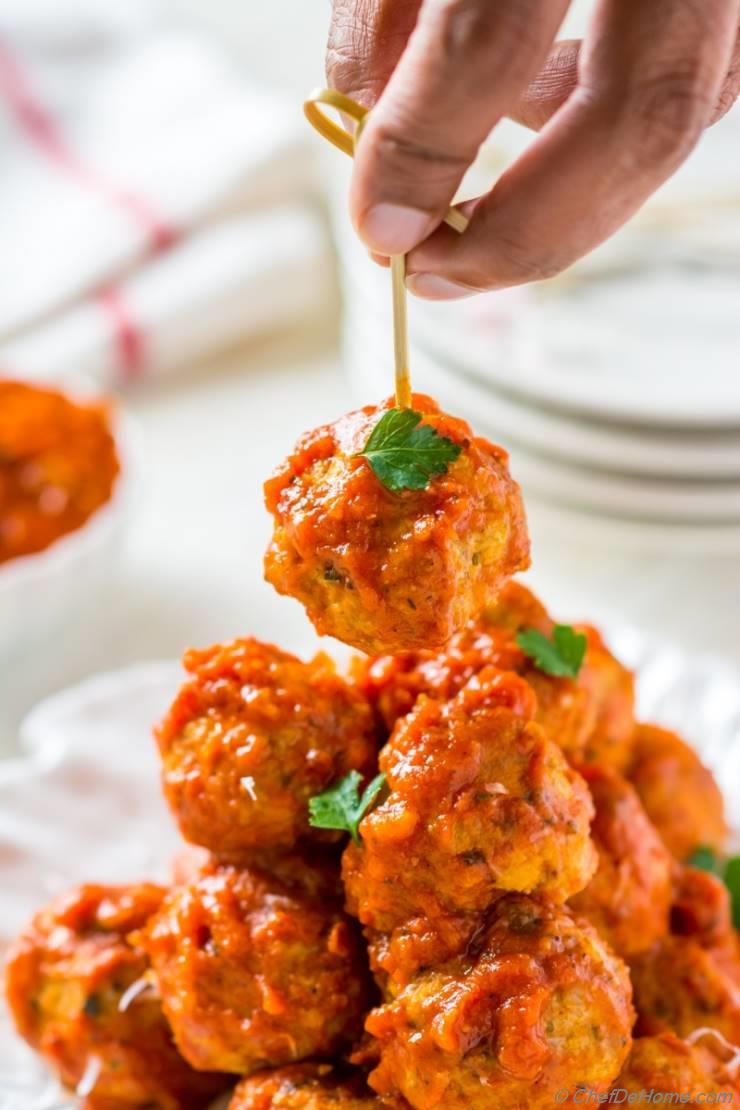 Continuing the theme of holiday entertaining with these Italian-style Turkey Meatballs. With flavor of parmesan cheese, subtle hint of chili flakes, and simmering in marinara sauce for a perfect Italian taste.. no guest will be able to resist second servings!
Yes, friends! These meatballs are real deal - moist, flavorful and above all, are baked, not fried!
Whenever possible I choose baking over frying. Honestly, there are so many merits of baking. It not only keeps food healthier and less greasy but also, a big batch is ready much faster. Plus, even cooking with crispy outside yet moist inside is pure bonus!
You know what?! When there are guests coming over.. the time baking saves can be life-saver!
I like to even freeze a batch of meatballs... This helps me getting more prepared and less messy on the holidays/parties. (check meatball freeze instructions in the notes).
Look at the this one tray of baked meatballs! All of these and one more batch were ready in one round of baking.
Super easy and fast! Isn't it?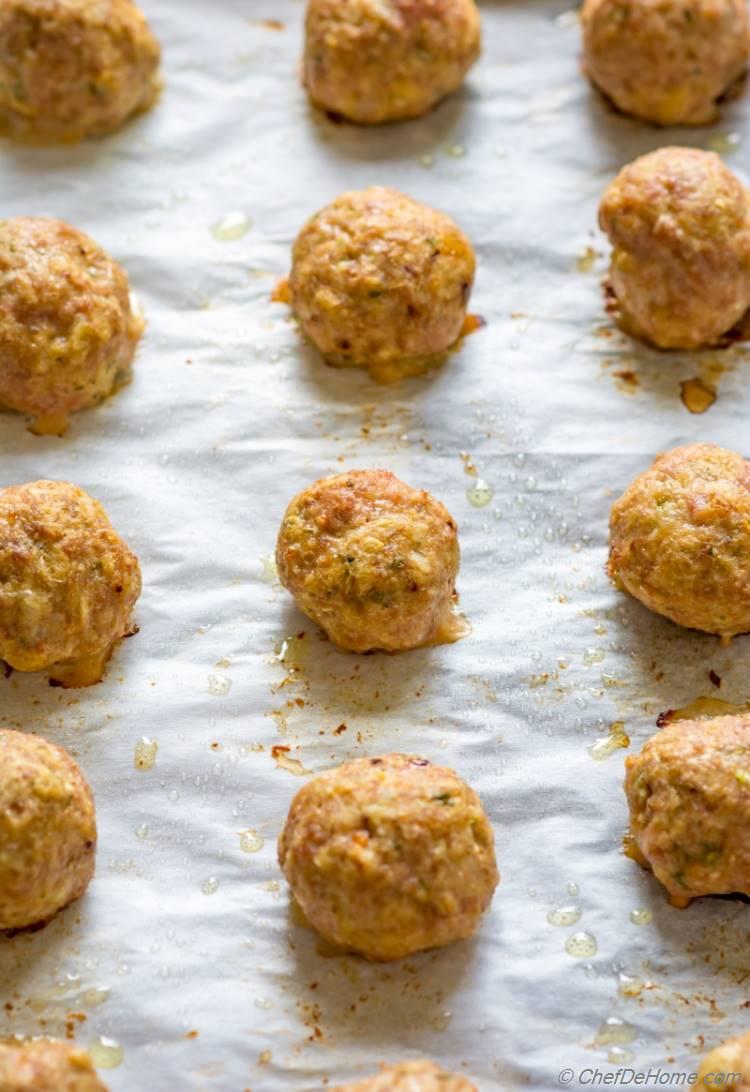 First quest when working with poultry meatballs is : how to keep them moist?
I learned a simple trick to keep ground meat moist, while working on Mediterranean Lamb Burger recipe. Here is how I keep meatballs super moist:
1) The key ingredient here is - milk. Dried (as in lamb burgers) and wet as I added to these meatballs makes a night-and-day difference in the texture of baked ground meat/poultry.
2) Avoid Over mixing: Mixing ground turkey minimal after adding seasonings is yet another way to keep baked meatballs soft.
3) Use 80-20 Ground Turkey: One more reason why ground turkey or chicken gets dry is due to lack of fat. So, I used 80-20 ground turkey for meatballs or meatloaf recipes. From 80-20, I mean 80% of ground turkey and 20% of turkey fat.
4) Use Turkey Thighs instead of Breasts: Using ground turkey thighs i.e. red meat, also yields more moist meatballs than white ground turkey.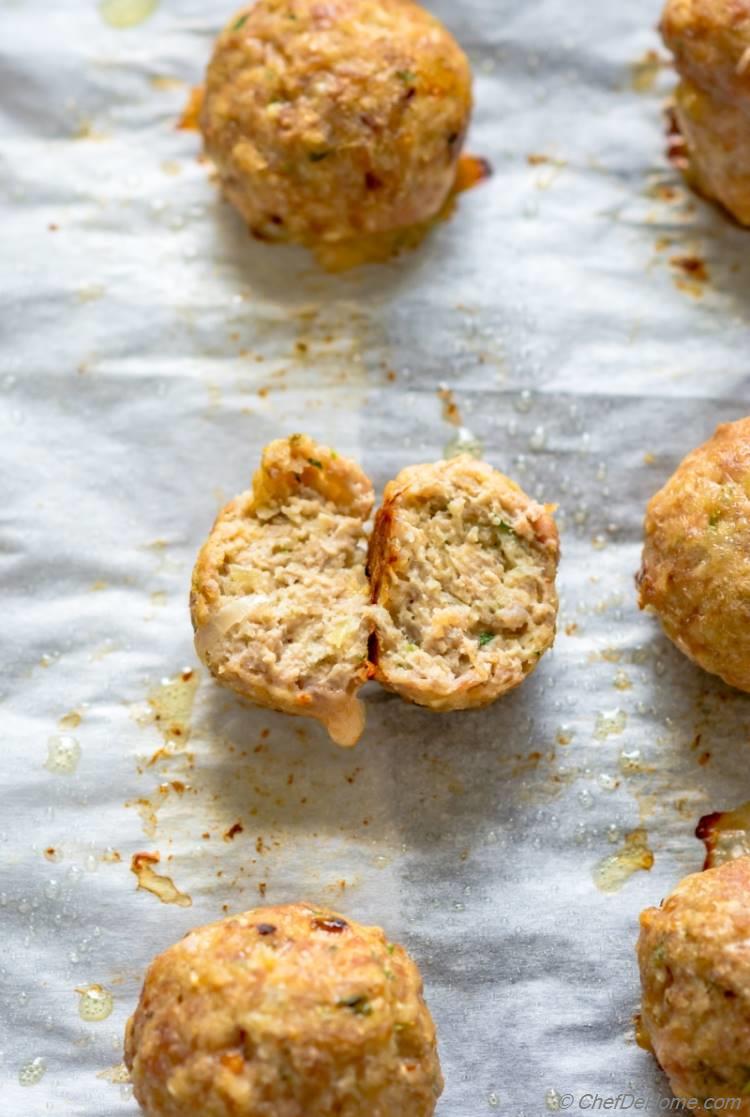 I decided to cut open on of the meatball to show the texture. Lite and Moist! This is the show you the magic of following the easy steps listed above.
Once meatballs are ready, there are infinite possibilities, how you can serve these delicious nuggets. In my home, when we think meatballs.. we think Italian... we think tomato sauce... we think spaghetti!
How about you? I bet it is "ditto" :-)
Oh yeah! This recipe is ready to be - Italian meatballs with spaghetti marinara because I have finished the baked meatballs in fortified marinara sauce...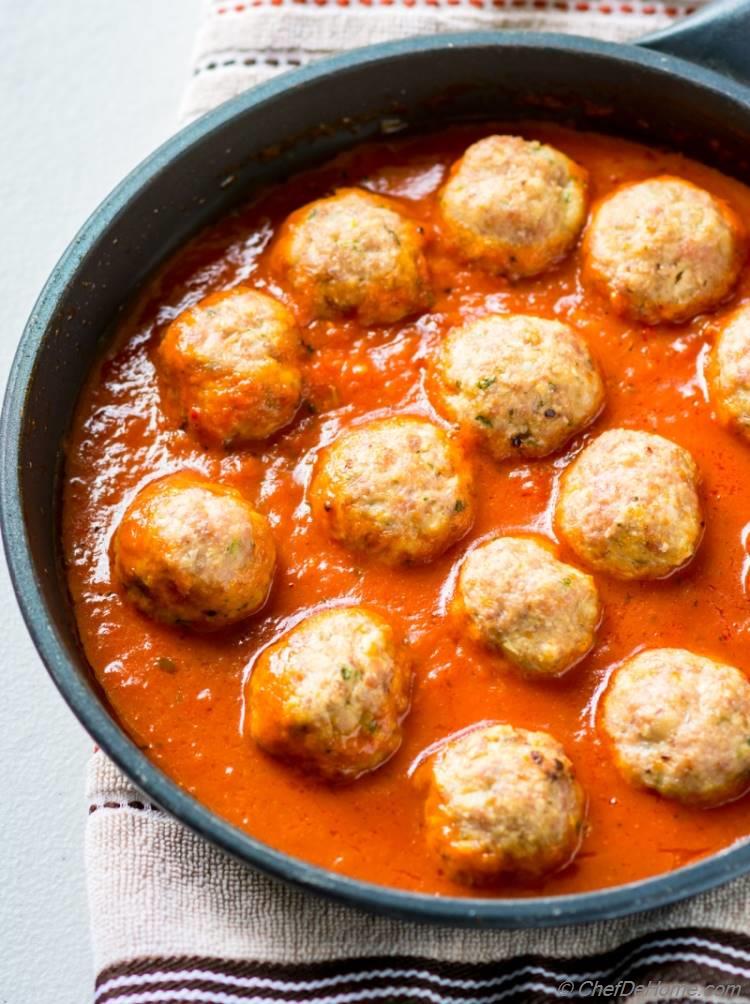 ... from fortified I mean, store bought good quality sauce made flavorful at home! Let's face it. We can't cook everything for holidays entertaining at home. So, it is always good to keep a few trusted sauces/snacks handy that won't break the bank, will save us time, and will taste like homemade. No one needs to know, you used store bought marinara!
No, I'm not advertising about marinara sauce here. Just trying to convey what I have learned from experience. When I joined Vishal after marriage... I loved making everything from scratch for entertaining/parties... and I used to be still standing in kitchen in apron when guests rang the door bell. :-)
So, these days, I take time to test some trusted sauces or snacks beforehand such as good quality marinara sauces, dipping sauce, cheese plates etc... and then I pair them with homemade foods. If I will buy whole appetizer from store, it may not taste as good. Making big batch at home saves me money too and serving it with made-flavorful sauces/dips makes my life easier. total win-win!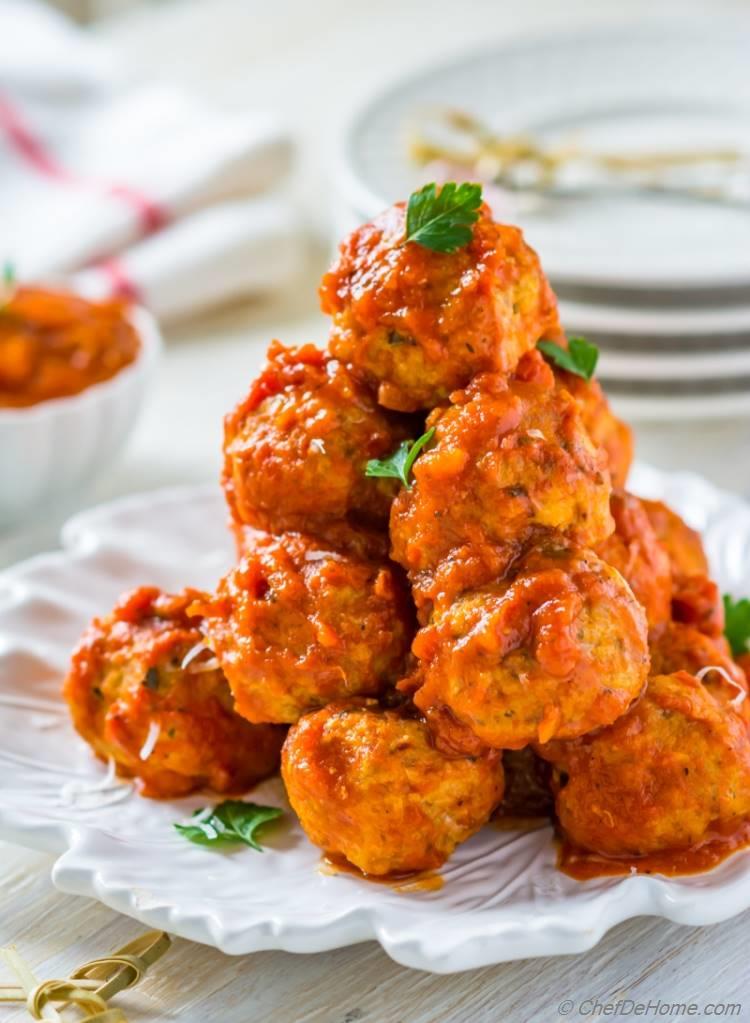 To make fortified sauce for turkey meatballs, I cook the baked meatballs in the marinara sauce with some garlic, olive oil, oregano, chicken stock, and hint of salt/black pepper. All these ingredients cook together and improve the taste and quality of sauce making it so homey and delicious! A little finish of parsley or basil seals the deal!
If you planning a healthy Thanksgiving this year!? Look no further and serve Italian style turkey meatballs with your choice of pasta or quinoa for dinner. Finish with a lite dessert such as these Lemon Sorbet Cups and enjoy! 
If you planning a Friends-giving this year?! Then I recommend making a big batch of Turkey Meatballs for potluck! Trust me, these turkey meatballs will be everyone's favorite in the crowd! I bet you will send them to ChefDeHome for recipe! :)
Enjoy! -Savita
Here are few more delicious ideas for easy party appetizers:
Baked Italian Turkey Meatballs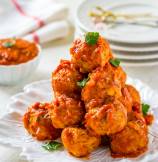 Total Time:
Prep Time:
Cook Time:
Cuisine:
Italian
(

Appetizer, Main Course

)
Difficulty:
Easy
Yields:
25-28
- Serves:
10
(

No. of servings depends on serving size.

)
Ingredients
Meatballs
Sauce
Directions
1.

Set oven to preheat at 400 degrees Fahrenheit. Line a baking sheet with parchment paper and set aside.

2.

In a wide bowl, add breadcrumbs and milk. Mix and set aside.

3.

In a food processor, add onion, garlic and parsley and pulse until fine chopped. Remove in a bowl, add one egg.

4.

Add cheese and chili flakes with salt and black pepper. Mix everything.

5.

Add ground turkey and mix to distribute the seasonings. Scoop mixture with 1 and 1/2 inch ice-cream scoop and place on baking sheet. 1 lb turkey yields 25-28 meatballs.

Additional Notes:

For nicer presentation, shape the meatballs with wet spoon after scooping.

6.

Bake meatballs in preheated oven for 20-22 minutes until center is no longer pink and meatballs are slightly brown from outside.

7.

For sauce, heat oil in a sauce pan. Add garlic and let it perfume oil for 30 secs. Don't let it burn. Now, add marinara sauce and seasonings then cook for 5 minutes. Add 1/2 cup chicken stock, mix well, add meatballs. Cook for 8-10 minutes or until meatballs are heated through with sauce.

8.

Transfer meatballs into serving platter. Scoop the sauce into a bowl. Garnish meatballs with chopped parsley and parmesan cheese. Serve hot and enjoy.
Savita's Notes:
To freeze meatballs, I roll all of them at once. I place them spaced-apart on sheet tray lined with parchment. Once all are rolled, I place one sheet tray with remaining meatballs in freezer. In 2-3 hours, meatballs become snow cubes. Then, I put them in ziploc bag and freeze for later use.
DID YOU MAKE THIS RECIPE?
Tag
@SAVITACHEFDEHOME
on Instagram and hashtag it
#SAVITACHEFDEHOME
© Chef De Home. Post content including video and photos are copyright protected.
We Think You'll Love