Firecracker Popcorn Chicken
No-mess crispy chicken with double flavor of firecracker sauce! Perfect for game day munching!
Posted On:

Jan, 13
| Author:

Savita
There are sweet and hot "firecrackers" in every bite of this Popcorn Chicken!!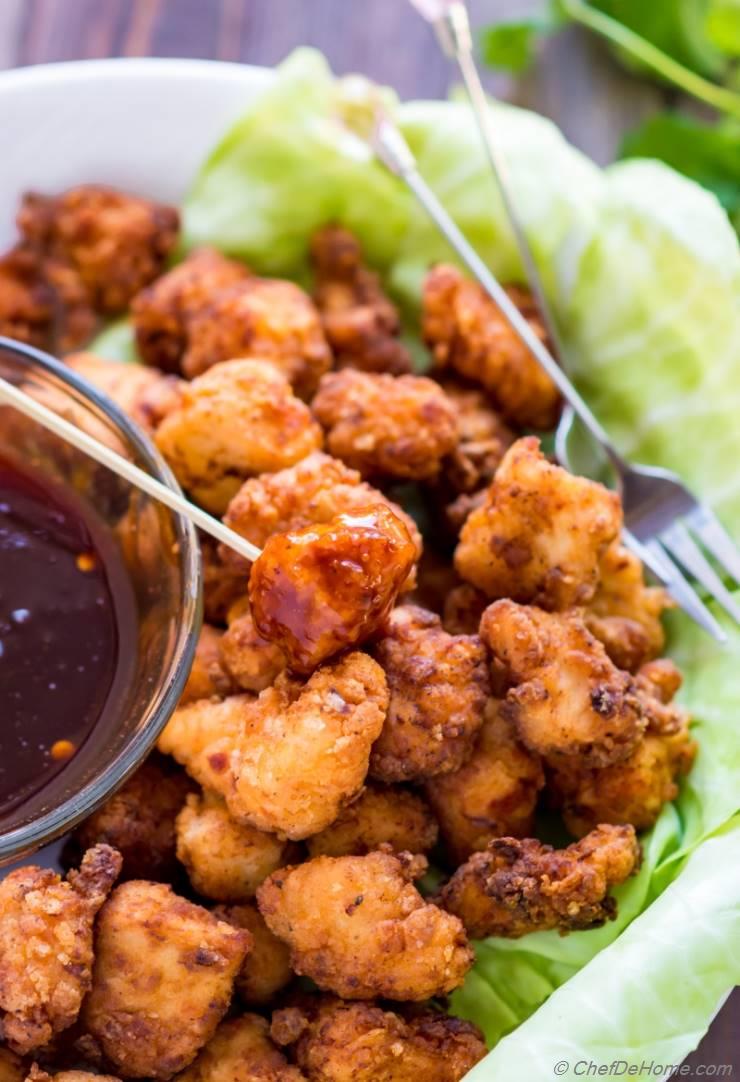 Firecracker Popcorn Chicken - Crunchy fried popcorn chicken coated in homemade and easy, hot and sweet firecracker buffalo hot sauce. Today's recipe is no ordinary Popcorn Chicken. It is Popcorn Chicken with double flavor of firecracker sauce - inside and out. Simply irresistible! 
What better than to enjoy weekend watching Sunday games while munching sweet and spicy Firecracker Popcorn Chicken!? All popcorn and game-day lovers, raise your hands! :) My hands are sure up!
I thought to give you guys something delicious to serve for Sunday Games. Actually, delicious but easy to prepare and not messy!
Yes, trust me, it is "no mess popcorn chicken". You don't have to touch the chicken from breading to fryer! After that, you can, to eat it of course! ;)
Jump to recipe and check now!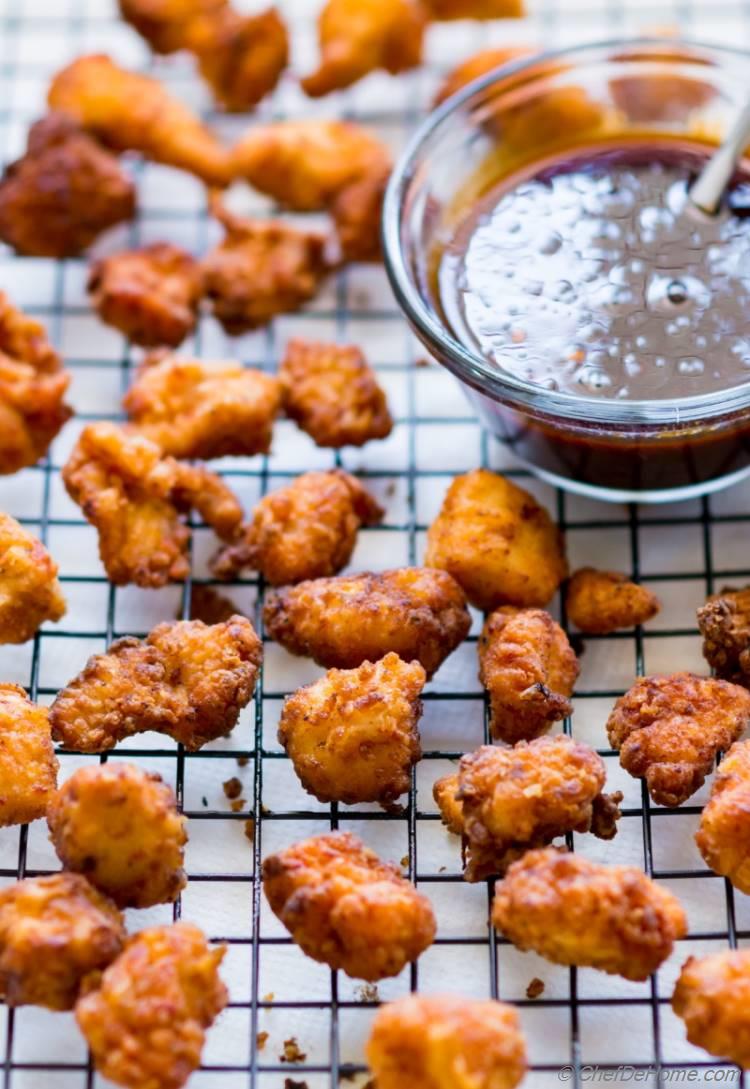 My inspirations behind this popcorn chicken recipe are - hot and sweet flavors of firecracker sauce and football games.
Usually on Sundays I finish cooking early or make some quick dinner in slow cooker.. So that we can watch TV and relax rest of the day. One thing I think ahead of time: something good to much-on while watching games. Like this popcorn chicken, so easy to put together and you can make so much from 1 pound of chicken breast.
These pictures I took with 1 chicken breast, about half pound. I sliced it in half, then diced into bite size pieces.
For a base flavor of sweet and spicy, I marinated diced chicken in some sambal chili paste, oil, sugar, and salt.
Marinade serve two purpose:
1)  Chicken gets flavor from with. Sweet from sugar, heat from sambal. Even without firecracker sauce, it tastes amazing - sweet, spicy, crunchy! (munch on!) Other hidden benefit is my no-mess fried chicken idea. 
2) Marinate sticks to chicken, so flour breading stick to chicken later. This also means, you will not need extra egg wash for frying this popcorn chicken. For me it means, one less ingredient to worry about. Also, since I was frying and not baking, leaving out egg wash made perfect sense.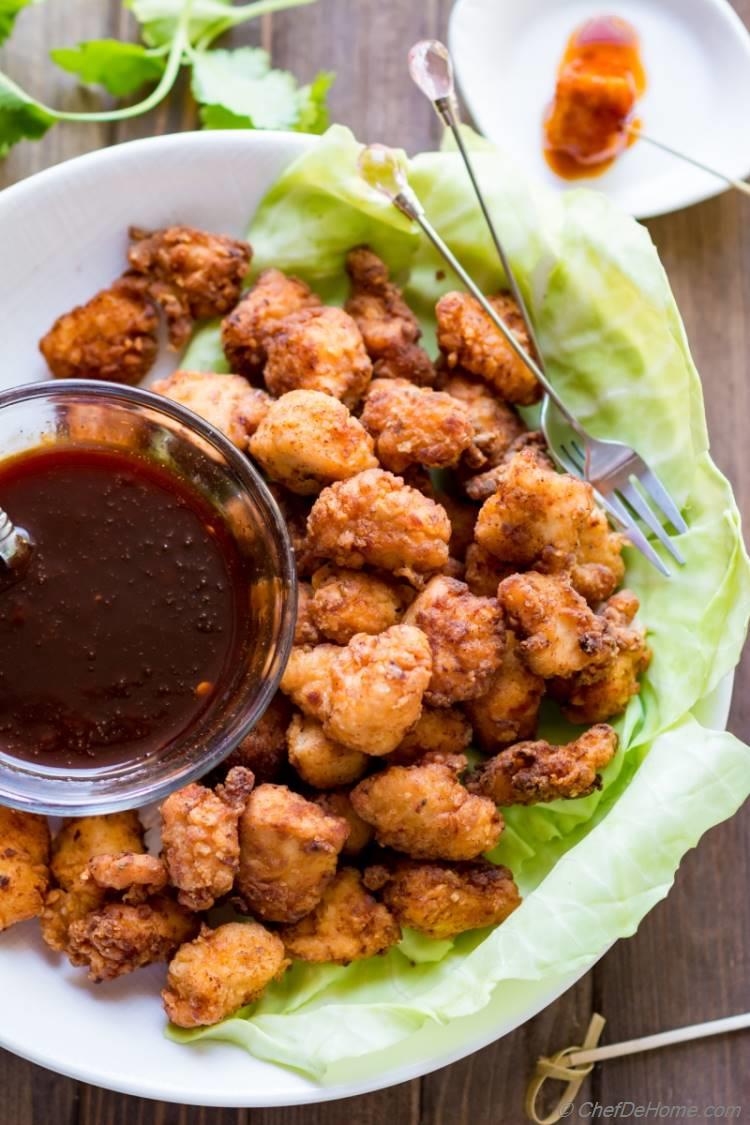 How to Make Popcorn Chicken Mess Free and Fast:
Can you believe, I fried popcorn chicken in just three steps? From dredging to fried without any line of dredge containers or no need to washing hands many times.:

Step -1: After chicken dice and hand wash.. I open a ziploc bag, add all marinade ingredient and chicken in it with help of pair of tongs. Close the bag, massage everything to evenly distribute marinade. Refrigerate until ready to use. (hands and kitchen clean)

Step -2: Instead of dredging in egg wash, then flour, then panko… I mix panko, flour, seasoning in one plastic container, add chicken and tightly close the lid. Shake well to dredge marinated chicken pieces in flour. (hands and kitchen clean)

Step-3: Heat oil in fryer. Drop dredged pieces in hot oil with pair of tongs. Remove when crispy brown with fryer mesh. ( hands and…. you got it. Right?)
Voila!! Popcorn chicken is ready to rock! And there was no mess in kitchen. Easy to clean and delicious to eat.
What do you say?
How to keep Popcorn Chicken crispy?
Oil will make it crispy but make sure:
1) To fry chicken in small batches. Never overcrowd pan with too much chicken in one batch.
2) Let oil heat properly. 375 degrees Fahrenheit on temperature gauge. For a quick test, drop one piece of chicken, if it becomes dark quickly that means oil is too hot. If does not sizzle at all, oil is too cold.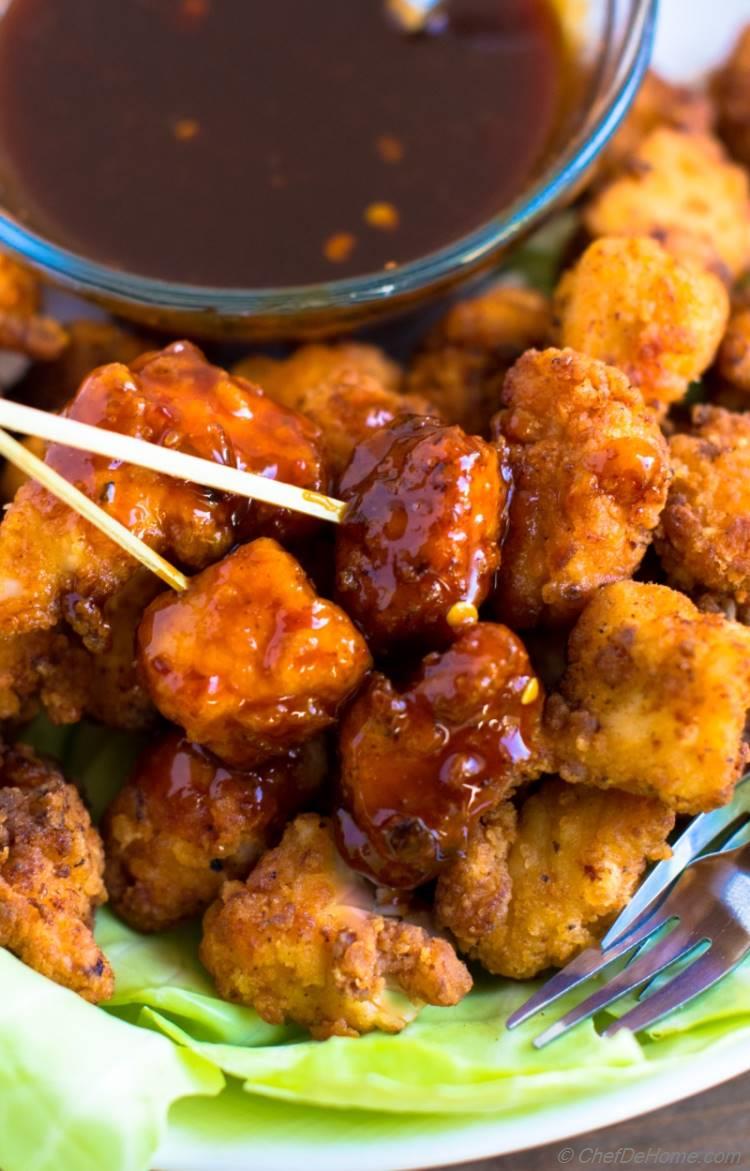 Firecracker Sauce:
Now, I can't finish this post without the star of the show. My favorite, "Firecracker Sauce" Firecracker sauce makes this popcorn chicken even more crave worthy. A simple 5 ingredient sauce with tangy buffalo sauce, brown sugar, soy, vinegar and sambal chili! So true to it's name - it is like firecrackers in every bite!
First-time, I tried firecracker sauce with popcorn shrimp in a local eatery. It was served on side with a lite drizzle on shrimp popcorn. Oh boy! We both fell in love with it. Heat, sweet, tang - it is was never-forget kinda taste.
In one line, If you seek heat-sweet Asian flavors, this sauce is for you.. ( I'm drooling even talking about it.) Do try!! I'm so pushy ;) But I mean it, do do try it.
Oh, I don't want firecracker sauce on every piece of my furniture :) So, I serve sauce on side for dipping. You are most welcome to coat the popcorn chicken in sauce just before serving.
Baked Popcorn Chicken:
I chose to fry popcorn chicken for this recipe but if you are looking to make baked popcorn chicken, I have a perfect recipe for that too! You can follow this recipe to bake some and serve with firecracker sauce or garlic parmesan sauce.
Enjoy!
PS: I had full plans to share one more soup today. You know, our Soup Theme for week? But, as I already gave you 1+7 recipes for soup in past two days with Chicken Rice Soup and 7 Day Soup Cleanse.. I felt a need for small break. Don't worry we have plenty more to come. Keep checking back! 
I like to pair these Appetizers with Popcorn Chicken:
Firecracker Popcorn Chicken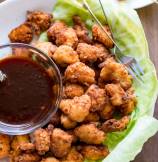 Total Time:
Prep Time:
Cook Time:
Cuisine:
Asian
(

Appetizer

)
Difficulty:
Easy
Yields:
1 lb Popcorn Chicken
- Serves:
4
Nutrition:
450 calories per serving
(

No. of servings depends on serving size.

)
Ingredients
Popcorn Chicken
Firecracker Sauce
Smart Swap: Replace chicken with shrimp for Firecracker Popcorn Shrimp!!
Directions
1.

Marinate Chicken - Place diced chicken in a plastic bag, add all marinade ingredients - sambal chili paste, 1.5 tbsp oil, sugar, and generous 2 pinches of salt. Seal the bag and rub the chicken to distribute the marinade. Refrigerate for 20-30 minutes or 1 hour.

2.

Make Firecracker Sauce - While chicken marinates, in a small microwave safe bowl, add all firecracker sauce ingredients. Mix well, then microwave for 10 seconds. Remove from microwave, stir well, then microwave again for 10 secs until sauce is shiny and sugar has dissolved. Set aside.

3.

Dredge Popcorn Chicken - Heat 2 inch of oil in fryer or deep sauce pan. While oil is heating up, in a plastic container (which has lid) add flour, breadcrumbs, 1/2 tsp salt and generous 1-2 pinch of black pepper. Mix well. Add marinated chicken, close box and shake 6-7 times to evenly dredge all chicken pieces.

4.

Cook Popcorn Chicken - Open container, fry flour-dredged chicken pieces, in 3 batches, in hot oil until golden brown and crispy (2-3 minutes each batch) Never overcrowd the frying pan with lots of chicken or it will not get crispy. Drain on a wire rack.

5.

Serve - If serving later. serve firecracker sauce on the side. If serving immediately, coat the chicken in sauce! Serve and enjoy!
DID YOU MAKE THIS RECIPE?
Tag
@SAVITACHEFDEHOME
on Instagram and hashtag it
#SAVITACHEFDEHOME
© Chef De Home. Post content including video and photos are copyright protected.
We Think You'll Love