Summer Minestrone Soup
Summer Minestrone Soup loaded with squash, and kale! Healthy and nutritious with tips to pull of broth flavorful just like Italian restaurants!
Posted On:

May, 3
| Author:

Savita
I call it, a complete weeknight dinner soup!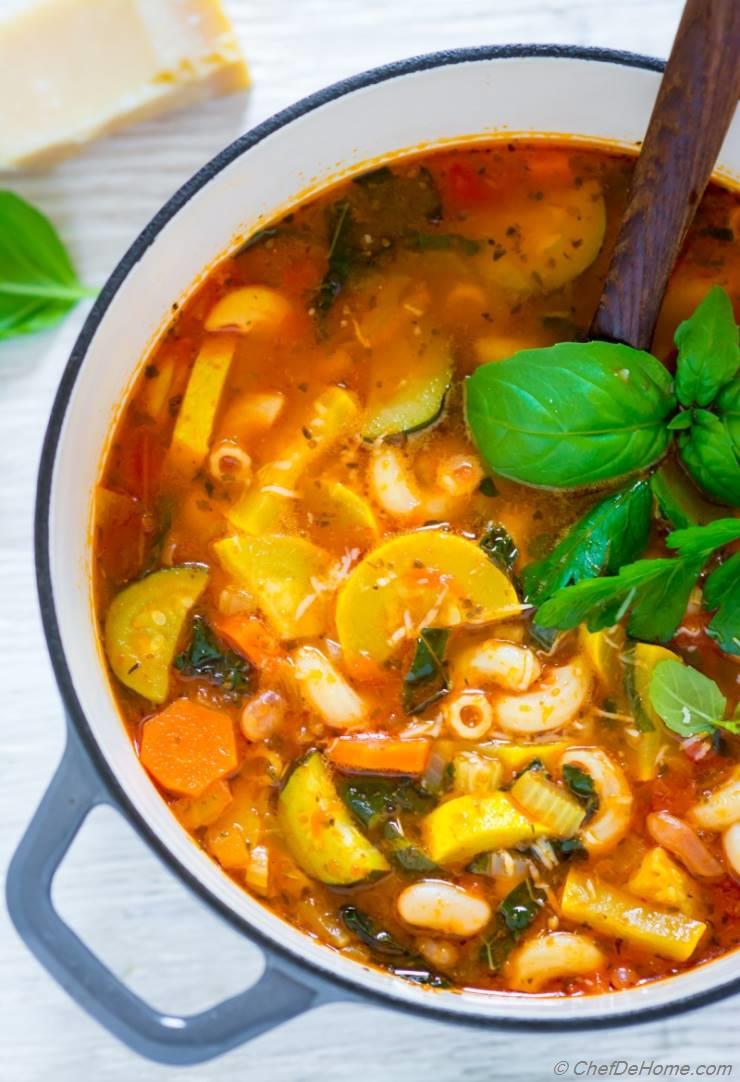 Summer Minestrone Soup is a one pot dinner soup which has everything I ask from a quick summer dinner. With just 10 minutes prep, a good serving of summer veggies - yellow squash, zucchini, carrots, kale... with cannellini beans, pasta and parmesan... this vegetarian minestrone is a sure Home Run! 
Just like you, I'm very busy on weekdays... and often keep exploring options to serve homemade dinner which is fast to put together, need less dishes, brings seasonal healthy flavors to dinner, and is delicious. (that's a must have!) 
I love a bowl of hearty, veggie-full soup for weekday dinner, no matter if it is winter or summer. Specially, vegetarian minestrone soup or a vegetarian cabbage soup, are perfect vehicle to use all those extra veggies from refrigerator. So, this is one of my go-to recipe towards end of our groceries or when I don't want to be in kitchen more than 15 minutes! ;)
Oh, also sharing few tips to make ultimate restaurant-style minestrone soup broth! Try this recipe, and then take bows for every batch of soup you make in year 2017! 
Read on to learn more.. This recipe comes with video. Learn to make Minestrone Soup in just 1 minute.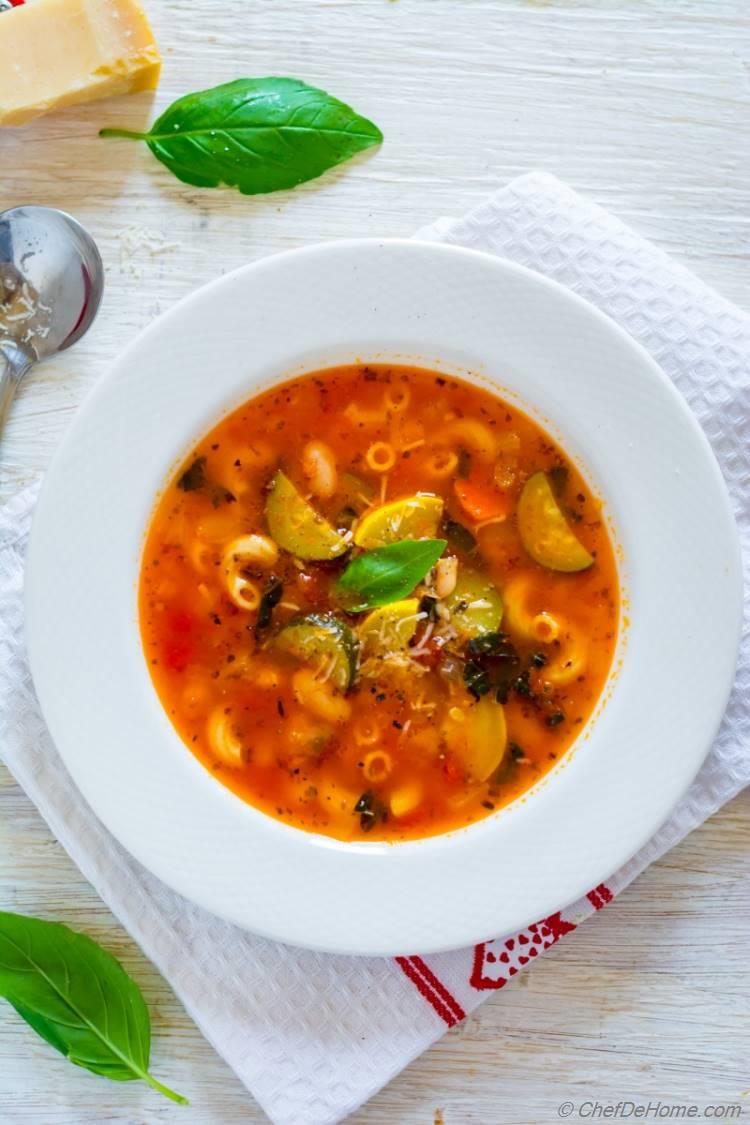 Often when we visit these Italian restaurants, seasonal minestrone is always on soup specials. Well, I think they know I will need a soup even in California's Sunny Summers. :)
Oh, do you know actually eating hot in hot weather makes you feel cooler. No kidding! It's true.
I don't think, I have ever missed chance to order a soup... After, of course, first Vishal's judge-y questions Just soup for dinner?! You came this far just for just for soup?? 
And then waitress will get all judge-y..
Waitress: So, your order?  
Me: A bowl of Minestrone Soup with side of House Salad.
Waitress: And for main course? 
Trust me, Vishal giggles in whole such conversation because he told me to order from Mains.
Me: Can't I have a main-size portion soup?
Waitress: Oh, of course. I will add a special request for you.
Me: Yes, please. Thank you.
LOL! Fun times!
On a serious note, a loaded hearty soup is a complete meal! Isn't it? Veggies, delicious broth, pasta, beans, basil, parmesan... Who needs anything else!?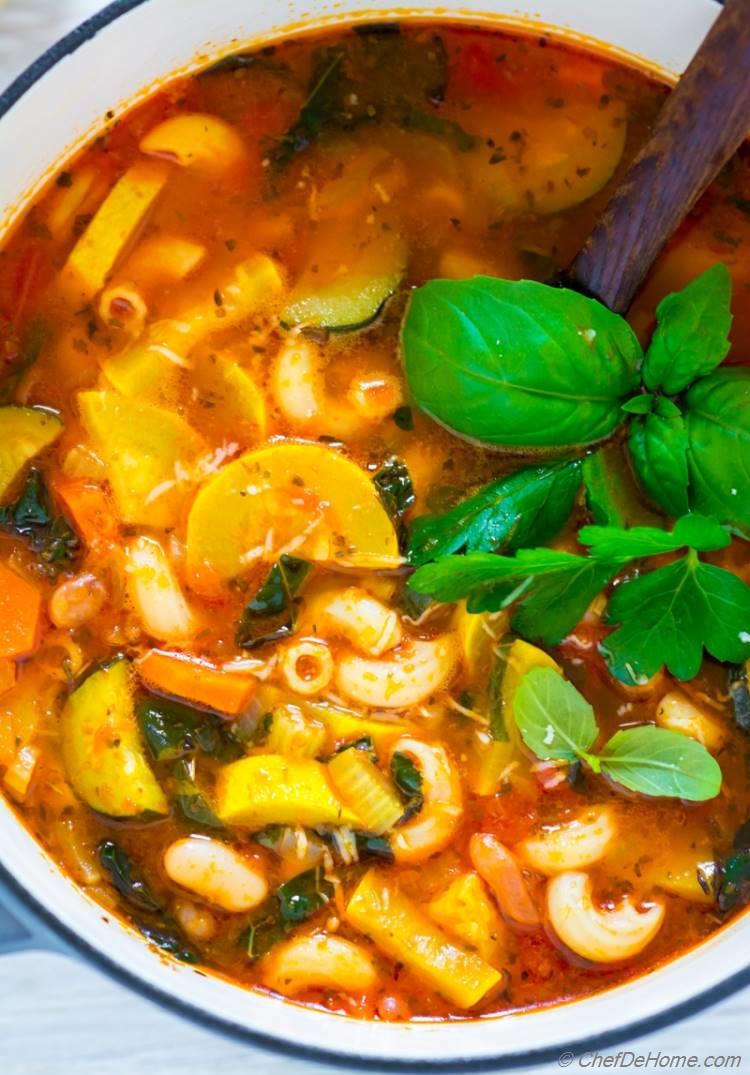 Minestrone Soup is all about it's Broth (use any veggies you like)
When trying soup in an Italian eatery, do you ever feel, "ah, what a refreshing bowl of soup? What do they add in the broth?"
If so, I'm with you. To me, the best thing about a well prepared Soup is it's *broth. That is why I tell you, add any veggies you like.. once you get the broth right... vegetables, chicken, turkey, anything added to it will be delicious. Banana, orange, mango... anything will do! (it's not me, it is foodie love for minestrone soup writing. ;) Please don't add Banana, orange, mango for sure :)
There are few things which will add ton of flavor to soup broth which will make Minestrone Soup, The Italian Soup that you always wanted to make at home! After few trail and error rounds.. I found that "ah-ha" moment with following finds:
1) Tomatoes: For minestrone broth, San Marzano tomatoes packed in tomato juice make all the difference. It seasons the broth, and brings out flavor of veggies.
NOTE: Fresh diced tomatoes will not give this color to the soup. However, it is season of fresh tomatoes. So, feel free to use fresh. I would blanch those before adding to the soup. Here is a recipe to learn: Homemade Canned Tomatoes. 
2) Stock: Such as chicken or vegetable stock. I wanted to keep soup vegetarian, so I have used homemade vegetable stock. You can also use store-bought low-sodium vegetable or chicken broth per preference.
3) Soup Base: Soup base of garlic, seasonings, carrots, celery, and onion adds unbeatable depth of flavor. My other flavor weapon, the unsung hero, is finishing the soup with 1-2 tablespoon of apple cider vinegar. It rounds up the taste of minestrone, enhance the flavor of veggies and tomato broth even more. It taste so refreshing.. just like traditional minestrone soup served in Italian restaurants.
Last but not the least. I cooked a piece of parmesan rind in the broth. OMG! My kitchen was like standing in Open Italian Kitchen! (this has been, by-far, my favorite find so far)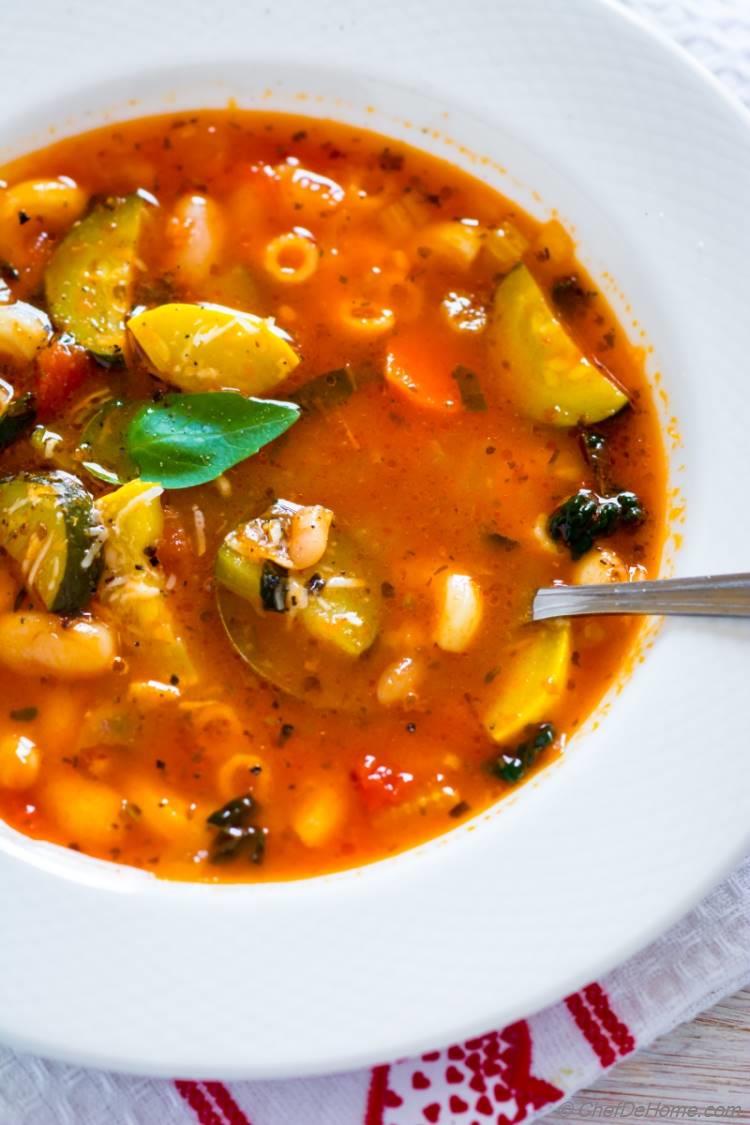 yumm! Oh Minestrone, I love you! 
Guys, this week, I'm dedicating to cooking for my mother. Since my parents live in India and I have not visited them from past 4+ years... Every year, this time makes me more-than-ever home sick. I so wish, I can cook everything that I'm sharing here, for her. Zucchini and mango are favorite of my mom. When zucchini is in season, she often make stew with lots of veggies and fresh tomato broth. This summer minestrone captures the freshness of that tomato zucchini stew in form of a soup.
Let's see, when do I get chance to prepare this for her.. If you live close to your mother? I highly recommend surprising her with a dinner or breakfast of her choice. She cooks all of her life for us.. she deserves the best this Mother's day and always!

That reminds me, remember, I shared Zucchini and Eggplant Ratatouille few weeks ago? If I had not shared that.. I would have shared it today. With layers of tomato garlic sauce and squash..., Ratatouille also carries same hearty Zucchini stew like flavors. 

Treat this minestrone recipe as base and build soup the way you like.... Play with veggies, add chicken or turkey.. make it your own. I'll look forward to hear your unique take on minestrone. 
Wish you all a wonderful day ahead! I see you soon. -Savita x
Watch Video
How To Make Summer Minestrone Soup
Summer Minestrone Soup loaded with squash, and kale! Healthy and nutritious with tips to pull of broth flavorful just like Italian restaurants. It is a a one pot dinner soup which has everything I ask from a quick dinner.
Try These Summer Inspired Soups: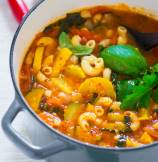 Total Time:
Prep Time:
Cook Time:
Cuisine:
Italian
(

Soup, Lunch, Side Dish

)
Difficulty:
Easy
Yields:
2 quarts soup
- Serves:
4
(

No. of servings depends on serving size.

)
Ingredients
Soup
for serving
Smart Swap: Skip pasta, use gluten free pasta, or use quinoa to make it gluten free.
Directions
1.

Saute Aromatics

:

Heat olive oil in a deep pot (with lid), add onion, garlic, and cook until onions are soft. Add seasoning, chili flakes and cook for 30 seconds.

2.

Cook Veggies

:

Add carrots and celery, season with pinch of salt, and cook for 2 minutes. Add zucchini, summer squash continue cook for 1 more minute.

3.

Simmer Soup with Beans and Pasta

:

Add rinsed beans, salt, tomatoes. Add stock, parmesan rind, and pasta with 1/2 tsp salt. Bring to boil and cook covered until pasta is tender. (10 - 12 minutes)

4.

Add Kale and Seasonings

:

Open lid, discard parmesan rind. Add in chopped kale and cook until just wilted (1-2 minute). Add vinegar and mix well. Taste and adjust salt, black pepper.

5.

Garnish Soup and Serve

:

Add chopped basil. Ladle into serving bowls, sprinkle some parmesan cheese. Serve and enjoy!
Savita's Notes:
DID YOU MAKE THIS RECIPE?
Tag
@SAVITACHEFDEHOME
on Instagram and hashtag it
#SAVITACHEFDEHOME
© Chef De Home. Post content including video and photos are copyright protected.
We Think You'll Love