Kimchi Fried Rice
Say "hello" to one-pan meatless zippy Monday dinner of Kimchi Fried Rice with mushroom, edamame and broccoli!
Posted On:

May, 22
| Author:

Savita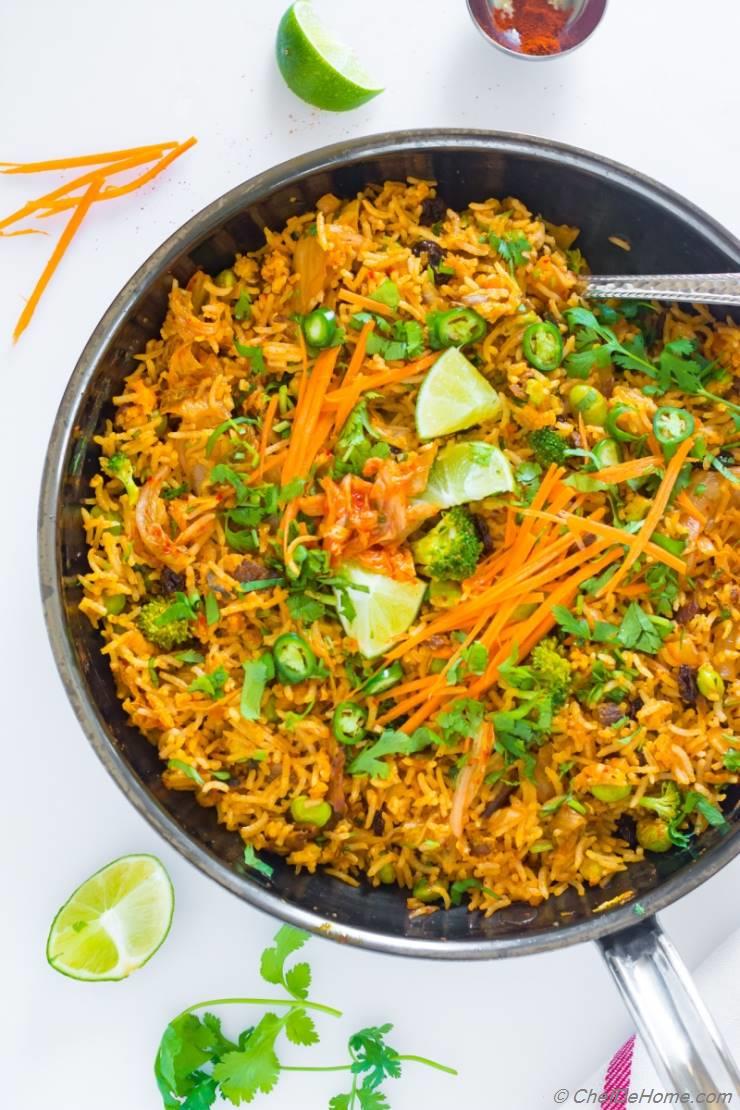 Kimchi Fried Rice, rice pan fried with Korean Kimchi, eggs and veggies, is a must try recipe for every fried rice lover. These rice are flavorful, loaded with veggies, and make a complete meatless summer meal plus has healthy serving of fermented probiotics all at once.
Oh, you know the best part? It needs less than 20 minutes to make this one-pan dinner... Far less time than ordering a takeout and waiting for delivery.
You guys! Imagine an Asian style Spicy Fried Rice dinner with eggs, veggies, tangy spicy Kimchi, garlic, chilies, and Asian seasonings. A recipe that bold and still 20 minutes! Meatless Monday dinner can't get easier than this! 
Not just stop there! Serve on side for weekend BBQ, pack it in jars to bring for picnic, or make big batch for potluck! These Kimchi Fried Rice will make you proud wherever you serve'em!
So, let's dig in!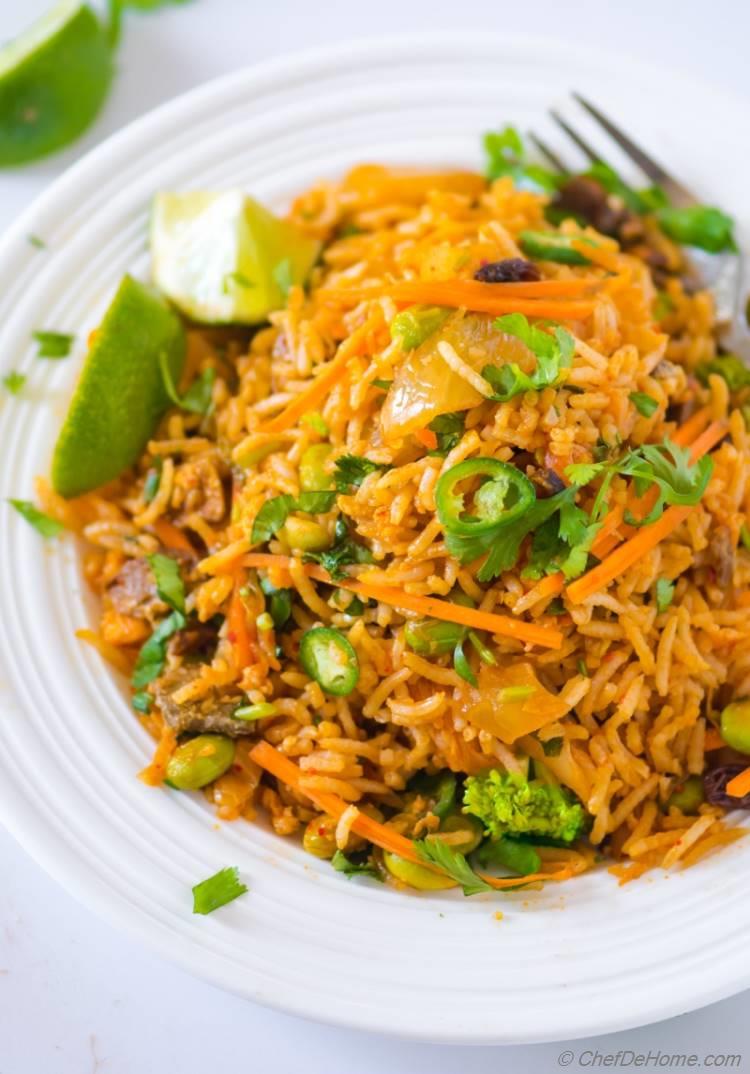 Kimchi! What is that?
I'm a big fan of Kimchi, I should say, fermented spiced veggies. So, a jar of Kimchi is always in my refrigerator. For those who are new to Kimchi - Kimchi is cabbage laced with red korean chili flakes, fermented until it cures and turn into a tangy spiced pickled cabbage. You can also find radish Kimchi in stores. I often buy medium hot kimchi because that is not so hot and not bland either.  
I have been super fan of fermented veggies since childhood. In my home, we make Kanji which is fermented red carrots. Fermented vegetables are good source of probiotics. These are beneficial for gut health just like yogurt. 
When I first tasted Kimchi, I could relate to that childhood fermented Kanji. Since then, I always keep a jar of Kimchi in refrigerator to eat whenever.  This is the reason for all Kimchi Recipes on blog. Other than fried rice, I add Kimchi to creamy soups, fold in salads, and even top it on burgers for a tangy spicy kick.
Just so you know, traditional kimchi is prepared with fish extracts. I luckily found a vegan kimchi online. It tastes equally good yet is vegan. Perfect for person like me who can't eat raw fish.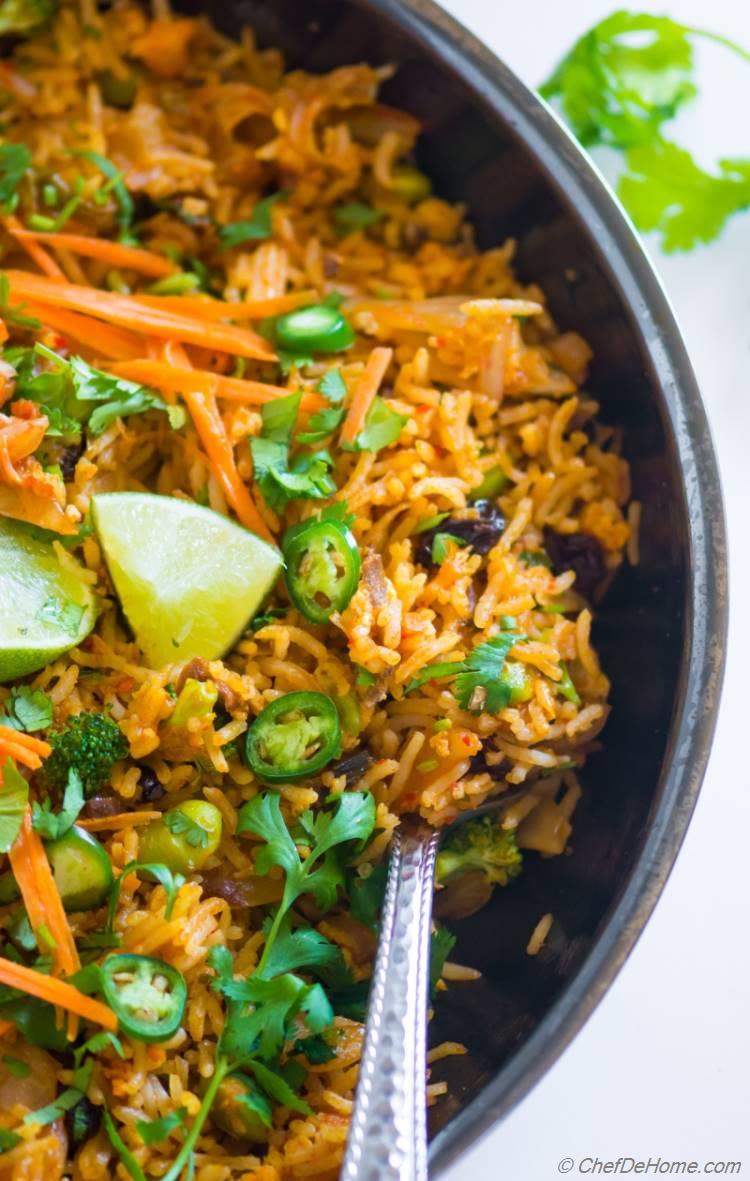 Kimchi Fried Rice? What!?
Well, few years ago, Ina Garten from food network inspired me to make kimchi fried rice. This Kimchi Fried Rice recipe is re-take on my that post of Kimchi Fried Rice with Poached Egg. As my passion and understanding for good tasty fried rice grew.. I made few changes to the old version. Today, I felt to share the version 2.
For this recipe, I use classic fried rice approach of scrambling eggs into the rice while frying rather than serving poached on top.  In simple words, you can say, my other recipe is more of upscale breakfast egg and rice.. where this is everyday dinner fried rice. Plain old rice, one pan, kimchi, veggies, and spices equals to dinner nirvana in 20 minutes! Quick, healthier, flavorful weekday dinner equals to happy Savita on weekdays! :)
In my experience, any recipe for fried rice should use day-old rice. Whenever I have plans to make kimchi fried rice for weekday.. I boil an extra batch of rice and refrigerate. Next day, rice have very less moisture which makes these ideal for fried rice. Less moisture means rice will not make steam while cooking, will not get mushy, will absorb fried rice spices evenly. #perfectfriedrice
I used medium spicy Kimchi for this recipe. To enhance the flavor of kimchi, I also added some sriracha chili sauce, and garlic.
Like I said, Kimchi Fried Rice are very easy to pull together! If you have boiled rice in-hand, consider dinner ready in 20 minutes! Seriously, yes! 20 minutes!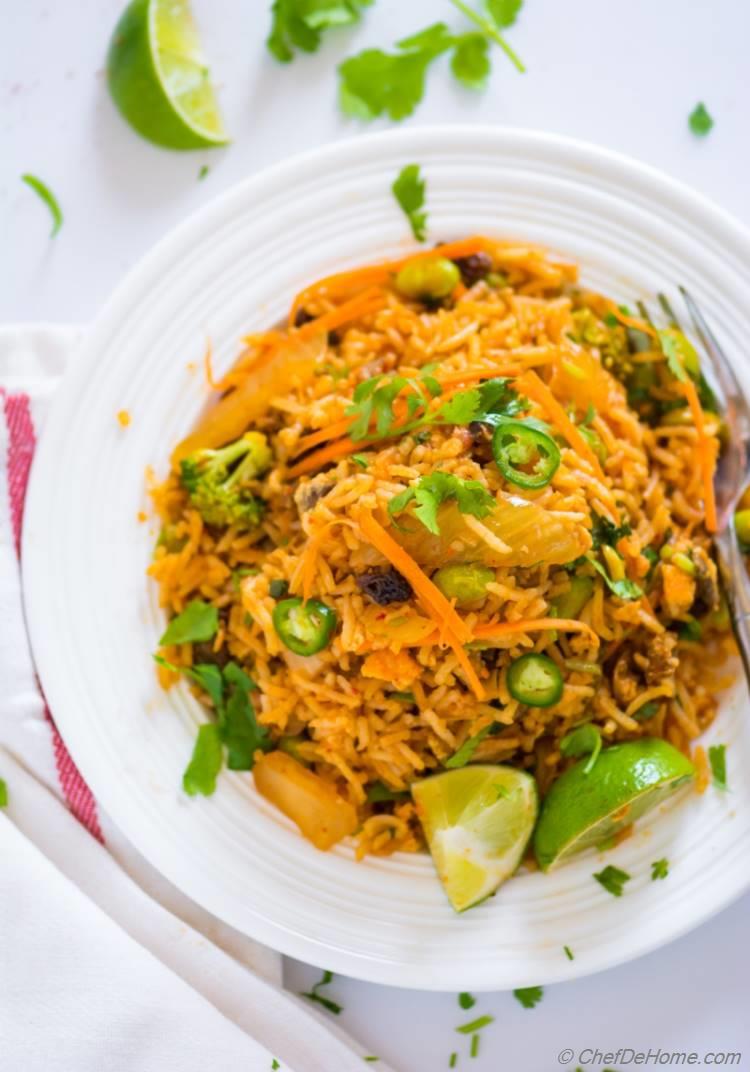 To make fried rice, I start by sauteing mushrooms until most of water from mushroom has evaporated. My favorite, in fried rice, so far are - Shiitake or Maitake. I LOVE the texture of these two. So meaty yet meatless. That being said. White button or Crimini mushrooms work equally well in fried rice. Just make sure to cook'em until these are tender to your liking.
Then, I saute some onion with garlic until onions are just soft. It is important that garlic does not burn. Next, I scramble in some eggs, saute in chopped kimchi and sriracha with veggies. Today, I used edamame and broccoli. Carrots, beans, green peas all work good in kimchi fried rice. 
Next, rice goes in with soy sauce. I fry'em until these are coated in kimchi, take that red-orange color from kimchi and warmed through.
That's it! Splash of lime juice and fresh chopped cilantro! Kimchi Fried Rice are ready to serve!
Super easy!! Right?
Note: Recipe calls for eggs, but you can skip it to keep it complete vegetarian.

Friends, Kimchi Fried Rice are great base to lead in any direction. I went veggie-full with mushroom, edamame, and broccoli. You can add chicken to make spicy chicken kimchi fried rice or even shrimp will work perfect in here. 
Update: Try a lite, low-carb version of these Kimchi Fried Rice with my Kimchi Cauliflower Fried Rice Recipe (made with cauliflower rice)
-Savita x
Pairing Ideas: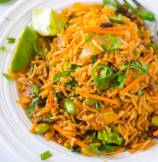 Total Time:
Prep Time:
Cook Time:
Cuisine:
Asian
(

Side Dish

)
Difficulty:
Easy
Yields:
3 Servings
- Serves:
3
(

2-3 Main servings or 4-5 side servings.

)
Ingredients
Kimchi Fried Rice
For Serving
Directions
1.

Heat 1 tbsp oil in a deep, heavy bottom saute pan or wok. Add diced mushroom with pinch of salt. Saute until tender most of water from mushroom has evaporated. Add onion, garlic and cook until onions are soft.

2.

Add slightly beaten eggs, cook until scrambled. Add in kimchi, sriracha, continue saute for 1 more minute.

3.

Add broccoli florets, frozen shelled edamame with heat on high and cook for 1 minute or until crisp tender

4.

Now add cooked rice, soy sauce, raisins, half of chopped cilantro. Stir fry with rice with kimchi-mushroom sitting at the bottom for 2 minute or until rice are warmed through and have picked up color of kimchi and soy sauce.

5.

Garnish with remaining cilantro, lime wedges, and more kimchi (optional). Serve and enjoy!
Savita's Notes:
For best results, use leftover rice.

DID YOU MAKE THIS RECIPE?

Tag

@SAVITACHEFDEHOME

on Instagram and hashtag it

#SAVITACHEFDEHOME

© Chef De Home. Post content including video and photos are copyright protected.
We Think You'll Love