Rustic Spinach, Artichokes and Basil Pesto Pizza
Today, I am sharing with you rustic style pizza with homemade basil pesto, meaty artichokes and my all-time favorite spinach. Artichokes and spinach are two ingredients which I will happily eat on any pizza any day!! I adore these two ingredients.

Homemade pizza is like a blank canvas, you can paint it with any yummy flavor combinations, fresh vegetables and what not!! When I don't have time to make pizza dough at home, I often buy pizza base form local bakery/store. This vegetarian pizza with basil pesto, artichokes and spinach comes together very fast, is economical and great for game nights. Drizzle a little olive oil on top and you will have the authentic rustic Italian pizza at home.

I have used canned artichoke for this pizza, if you like you can also use frozen artichokes. Just wash frozen artichokes under hot water for 1 minutes before using and do squeeze out any extra water.

Feel free to add more toppings to this yumm pizza. Chicken strips, red onions, roasted peppers, zucchini will also be great for a tasty variation.
Rustic Spinach, Artichokes and Basil Pesto Pizza
share on pinterest

share on twitter

give feedback or read article reviews

print recipe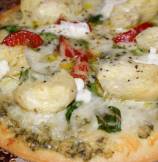 Total Time
Prep Time
Cook Time
Cuisine
Italian
Category
Side Dish, Bread
Serves
2
Ingredients
1/4 Cup Pine Nuts

1/4 Cup Spinach

(Fresh Leaves)

6-7 Artichokes

(you can buy frozen artichoke hearts in most grocery stores.)

1 Pizza Base

1 Cup Basil

1/4 Cup Parmesan Cheese

(Grated)

1/4 Cup Mozzarella Cheese

2 Pickled Sweet Peppers

1/4 Cup Goat Cheese

(Optional but recommended)

Salt and Black Pepper

1/4 Cup Olive Oil

2 Garlic
Directions
Hide Step Photos
1.

Grate the parmesan cheese if not already grated and Pulse all ingredients together except olive oil and parmesan cheese. Slowly add olive oil while pulsing the ingredients.

2.

Add parmesan cheese and pulse again.

3.

Preheat oven to 400 F. Spread basil pesto in an even layer on pizza base.

4.

Top it with shredded mozzarella cheese. Add halved artichoke hearts, few leaves of fresh spinach (or more per your liking), pickled sweet peppers, few dots of goat cheese (if using) for some extra kick.

Additional Notes

Yes, you read correct, this recipe needs mozzarella cheese below toppings.

5.

Bake in preheated oven, in middle rack for 15-20 minutes or till cheese has melted and pizza crust is crispy.
© Chef De Home. All contents and images are copyright protected. DO NOT copy or re-use content/images/videos. For all content/post mentions with link back, contact ChefDeHome for permission.

Craving for more?
Join us: Weekly Newsletter, Facebook, Google, Twitter, Pinterest
Shop products we use: CDH Amazon Shop (affiliate links)
What would you like me to cook next?: Request a Recipe