Roasted Cauliflower with Couscous Salad
Sweet and lemony Couscous Salad with sumac dressing and harissa roasted spicy cauliflower for a delicious Mediterranean inspired potluck side or a complete meal.
Posted On:

Jul, 13
| Author:

Savita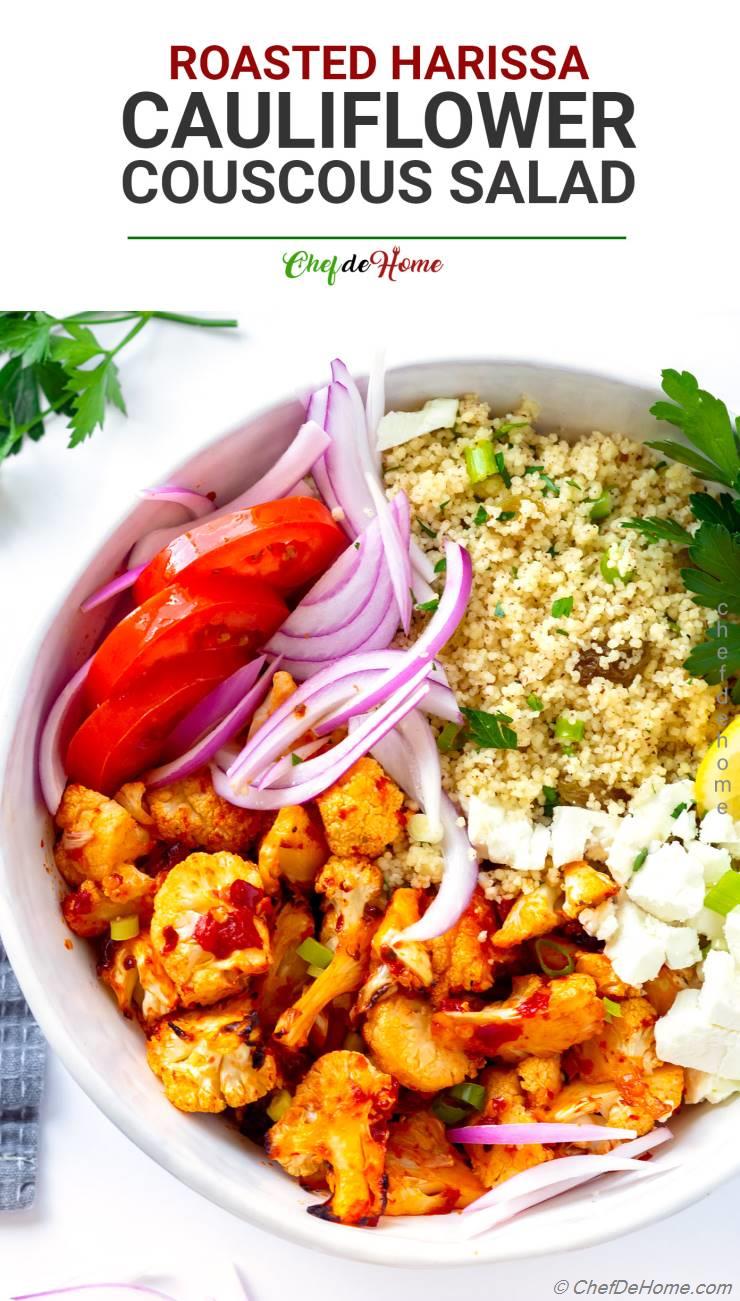 Harissa marinated oven roasted Cauliflower with sweet and lemony sumac Couscous Salad. This lite and delicious salad has all flavors you want from a delicious and healthy vegetarian Mediterranean-inspired meal - roasted spicy cauliflower (low in oil and bursting with flavor), lite lemony couscous, feta cheese, and tomato-onion salad. 
Besides flavor, I love this salad for three reasons:
1) One Salad Many Ways To Serve: This salad can play many roles: 1) potluck favorite 2) lunch on-the-go 3) vegetarian dinner 4) hearty side for meat main course.
2) Quick Turn-Around Time: That much and it takes no time to prepare it even on weeknights. By the time cauliflower and couscous cook, you can do all prep for couscous dressing. Once cauliflower and couscous are ready. Assemble salad. Top with cauliflower, tomatoes and onion, and feta cheese. That's it. Cauliflower couscous salad is ready to devour!
3) Make-Ahead: Both roasted cauliflower, and couscous salad can be made ahead up-to 4 days.
Let's get cooking! Shall we?!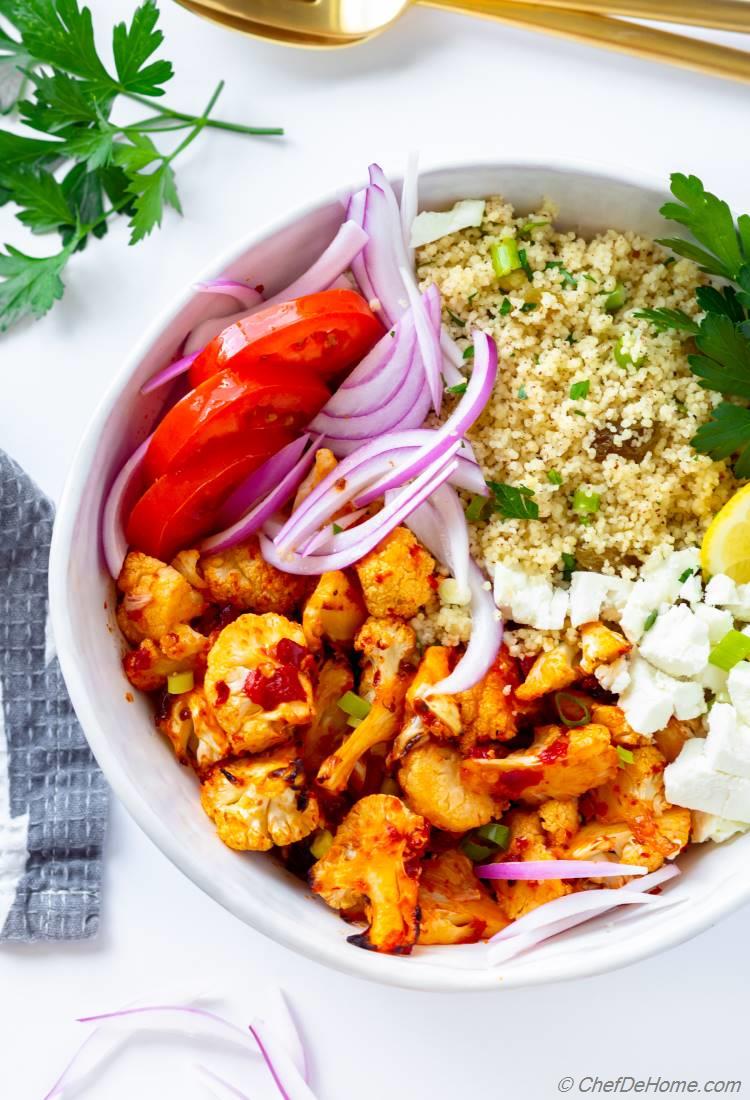 Few month's ago, I tried Lemony Couscous and Cauliflower Steak in Cheesecake Factory... I thought this recipe has to be on CDH. Today's recipe is not same but certainly my couscous and cauliflower pairing is inspired from that vegetarian main course. There were two highlights of that plate for me - roasted cauliflower and lemony couscous. OMG! I loved it.
Honestly, my love couscous with lemon, specially in salads, is not new. These previous post on CDH - Chimichuri Shrimp and Couscous Salad, Lemon Herb Couscous with Asparagus had similar inspiration.
Couscous, as you know, is small grain-shaped pasta which absorbs earthy and spiced flavors very well. And acidity of lemon cuts through richness, and brings out flavor of spices. So lemon and couscous are made for each other. Couscous is pasta-of-choice in Mediterranean cooking. Today's salad has refreshing Mediterranean cuisines spices - such as paprika, cumin, oregano with fresh herbs, lemon, and of course pine nuts.
Oh, if you are fond of Mediterranean couscous? I have very delicious spiced Moroccan couscous recipe - Couscous Tfaya. A must try!
This recipe has two main steps which can be completed together. So the couscous salad comes together very fast!  
ROAST CAULIFLOWER:
I set oven to preheat while cut the cauliflower into florets. I like to massage harissa, tomato paste, olive oil and salt on cauliflower before baking. This makes cauliflower more flavorful and bursting with flavor. In about 12-15 minutes, cauliflower is crisp tender, slightly charred at edges and delicious.
For more charred, roasted flavor, you can also broil the cauliflower for last 30 seconds. Or cook at higher heat for less time. To keep cauliflower tasting fresh, I drizzle some lemon juice when roasted cauliflower is just out of the oven. Pure yumm!
COOK COUSCOUS:
Once cauliflower is in oven roasting, I bring water to rolling boil. Before I continue.. I want to share with secret to prepare lite, and fluffy couscous every time!
It is - keep it simple! Really! That's the secret, keep it simple!
Couscous is a lite and delicate pasta which can stick together to make lumps that is big no-no.
Then, how to cook couscous the simplest way? 
Step 1: To cook couscous, simply bring same quantity of water to rolling boil as quantity of pasta. For more flavor, you can use stock instead of water. Or season water with bouillon cube, salt+lemon etc. Once water start boiling, add dry couscous pasta, mix well, remove from heat. Cover tight immediately and set aside for 8-10 minutes.
Step 2: In this time, couscous will absorb all liquid and will be perfectly al-dente. Gently fluff it with salad fork or two chop sticks. 
If you follow above two steps, couscous will always be lite and fluffy as you see in these pictures.

To prepare couscous salad, while I'm waiting for couscous to cook and cauliflower to cool. I prepare rest of the ingredients. Once everything is at room temperature, I assemble the salad.  
This salad can be served at room temperature or chilled. If serving at a party, I recommend keeping salad chilled with ice bowl at bottom. This will keep feta fresh. Or serve salad at room temp and a side bowl of feta cheese for guests to add per taste. 
You know what? I still have some salad leftover in refrigerator. I can treat myself for an early lunch today! :)
Wish you all a wonderful weekend! 
Pairing Ideas:
Roasted Cauliflower with Couscous Salad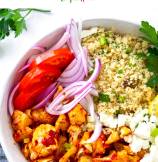 Total Time:
Prep Time:
Cook Time:
Cuisine:
Mediterranean
(

Pasta, Salad

)
Difficulty:
Easy
Yields:
Serves a Crowd
- Serves:
6
(

2-3 substantial or 6 side servings.

)
Ingredients
Roasted Cauliflower
Couscous Salad
Directions
1.

Preheat oven at 375 degrees Fahrenheit.

2.

Cook Couscous: To cook couscous, bring 1.25 cup of water to rolling boil. Season with 1/2 tsp salt. Transfer hot water to a wide bowl. Immediately add in couscous, cover and set aside for 15 minutes. Fluff couscous with fork once water is fully absorbed.

3.

Roast Cauliflower: In a bowl, add olive oil, harissa, tomato paste, 1 tbsp lemon juice, and 1/2 tsp salt. Mix with back of a fork. Add cauliflower florets. Massage to distribute paste evenly on florets. Transfer to a baking sheet. Roast in oven for 12-15 minutes until cauliflower is crisp tender. Broil for last 2-3 minutes for extra depth of roasting flavor. Keep an eye when broiling so florets do not burn.

4.

Season Couscous: In now empty bowl with cauliflower, add remaining 3 tbsp of lemon juice, 2 tbsp olive oil, honey, sumac, oregano, and 1/2 tsp of salt. Mix well to emulsify. Add to cooled and fluffed couscous. Fold in fresh chopped parsley and scallion. Taste and adjust salt.

5.

Serve: Transfer couscous to serving platter. Top with roasted cauliflower., crumbled feta cheese. Garnish with more herbs, and scallion. Refrigerate until ready to use. Top with lemon wedges, sliced tomato, red onion before serving. Enjoy!
Savita's Notes:
Optional Toppings - Toasted Pine Nuts: To toast pine nuts, heat a dry skillet. Spread nuts in single layer. Let these toast until oil starts coming out and brown spots appear. Don't let'em over brown. Keep an eye as these are ready in 1-2 minutes.
DID YOU MAKE THIS RECIPE?
Tag
@SAVITACHEFDEHOME
on Instagram and hashtag it
#SAVITACHEFDEHOME
© Chef De Home. Post content including video and photos are copyright protected.
We Think You'll Love