This recipe is Copyright of ChefDeHome.com

Roasted Cauliflower Couscous Salad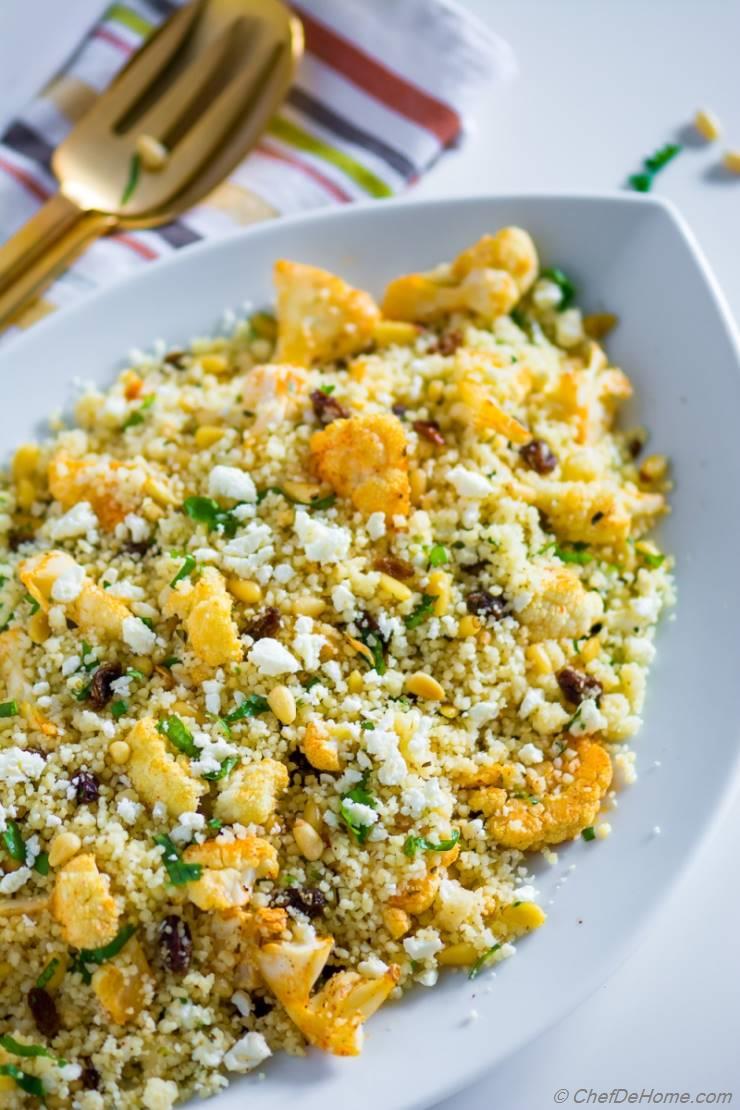 Paprika roasted Cauliflower, lemony fluffy Couscous, toasted pine nuts, earthy cumin, sweet raisins, fresh herbs and creamy feta cheese.. This couscous salad has it all! I can tell you, you will fall love with flavors.
This loaded couscous salad is a perfect crowd-pleaser! I love to pack it for potlucks, lunch, and even serve as hearty dinner side! So, today I thought to give you no-brainer Salad recipe for Labor Day!
Let's roast some cauliflower, cook perfectly lemony, lite and fluffy couscous (more on this below), and WOW everyone with a scrumptious Couscous Salad!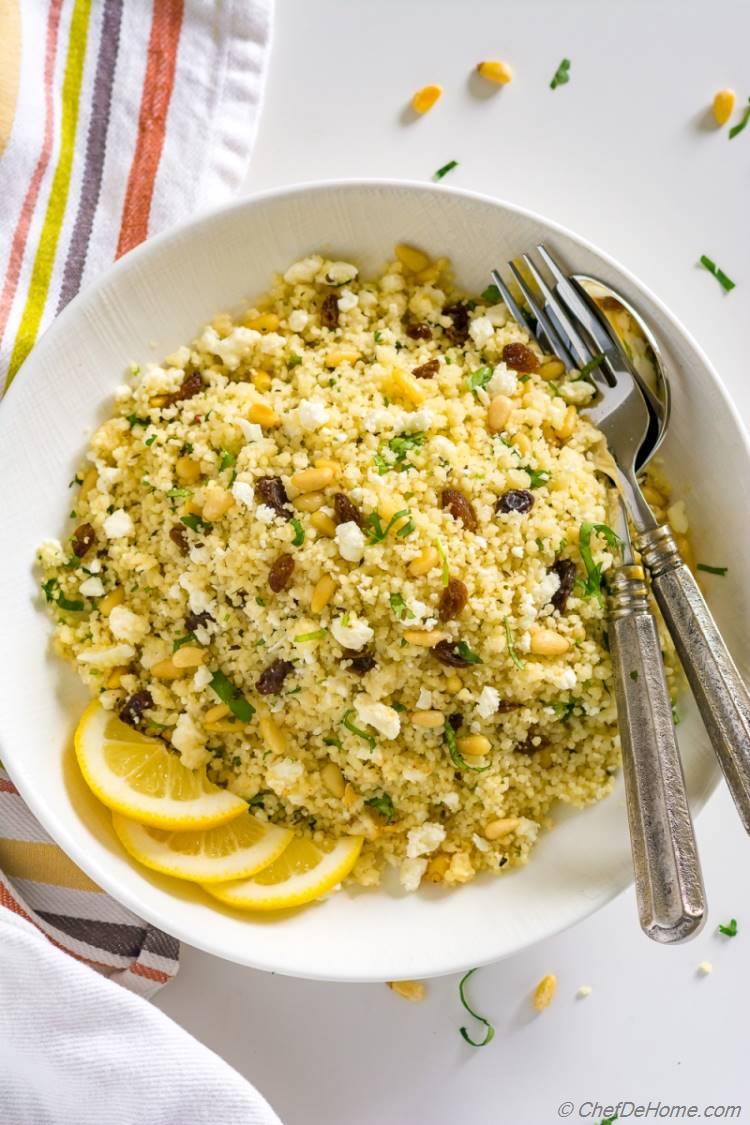 Few month's ago, I tried Lemony Couscous and Cauliflower Steak in Cheesecake Factory... I thought this recipe has to be on CDH. Today's recipe is not same but certainly my couscous and cauliflower pairing is inspired from that vegetarian main course. There were two highlights of that plate for me - roasted cauliflower and super lemony couscous. OMG! I loved it.
Honestly, my love couscous with lemon, specially in salads, is not new. These previous post on CDH - Chimichuri Shrimp and Couscous Salad, Lemon Herb Couscous with Asparagus had similar inspiration.
Couscous, as you know, is small grain-shaped pasta which absorbs earthy and spiced flavors very well. And acidity of lemon cuts through richness, and brings out flavor of spices. So lemon and couscous are made for each other. Couscous is pasta-of-choice in Mediterranean cooking. Today's salad has refreshing Mediterranean cuisines spices - such as paprika, cumin, oregano with fresh herbs, lemon, and of course pine nuts.
Oh, if you are fond of Mediterranean couscous? I have very delicious spiced Moroccan couscous recipe - Couscous Tfaya. A must try!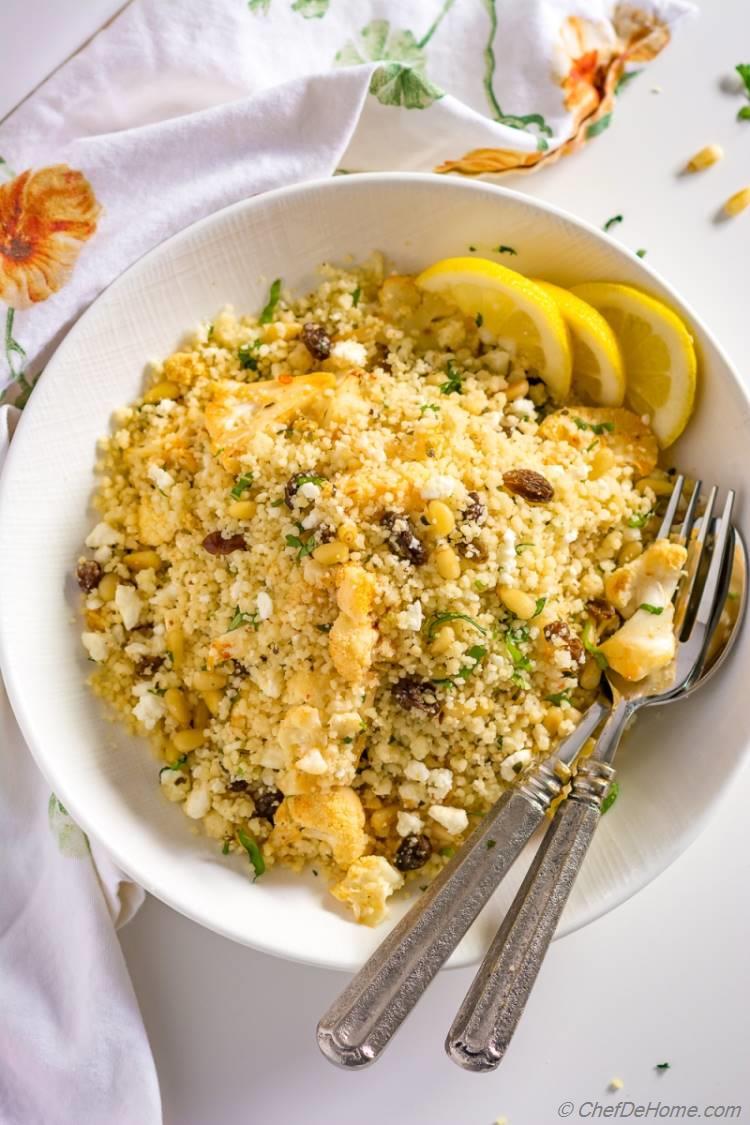 This recipe has two main steps which can be completed together. So the couscous salad comes together very fast!  
First step to prepare this Roasted Cauliflower Couscous Salad is - roasting the cauliflower. 
I set oven to preheat while cut the cauliflower into florets. I like to massage some oilive oil and salt on caluflower before baking. This makes cauliflower more flavorful. In about 12-15 minutes, cauliflower is crisp tender, slightly charred at edges and has smoky hint of mild paparika.
For more charred, roasted flavor, you can also broil the cauliflower for last 30 seconds. Or cook at higher heat for less time.
To keep cauliflower tasting fresh, I drizzle some lemon juce when roasted cauliflower is just out of the oven. Pure yumm!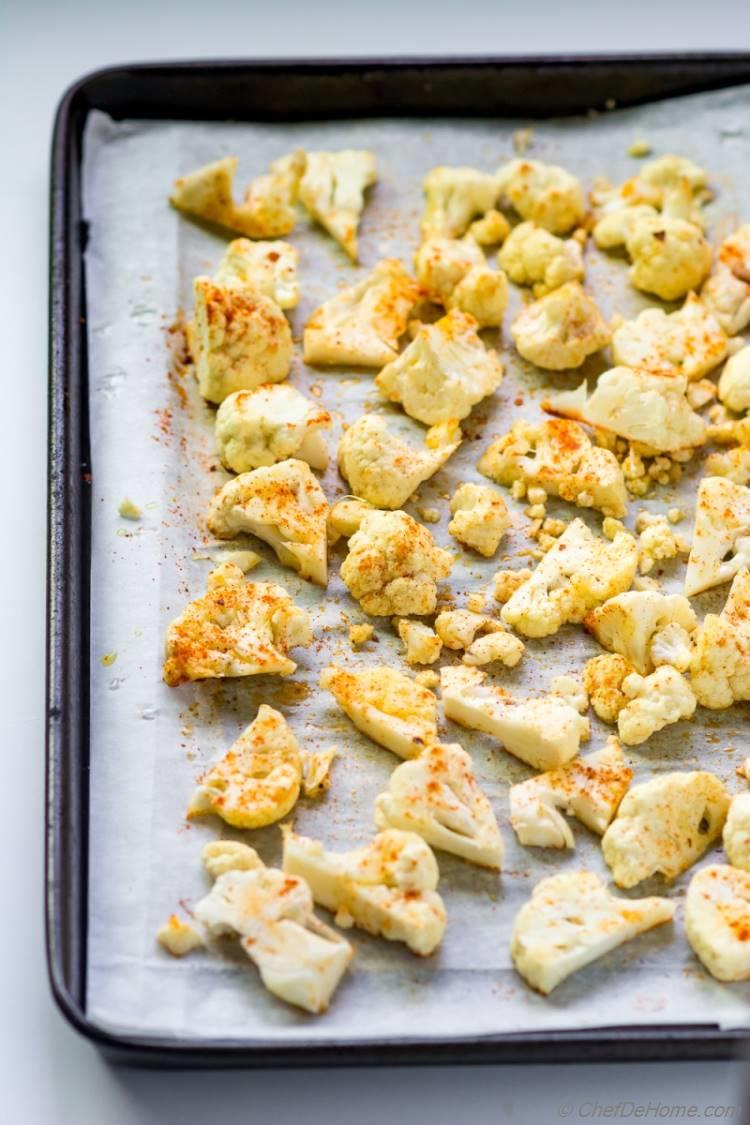 Once cauliflower is in oven roasting, I bring stock to rolling boil. This is, by the way, step two - cooking the couscous.
Before I continue.. I want to share with secret to prepare lite, and fluffy couscous every time!  
It is - keep it simple! Really! That's the secret, keep it simple!
Couscous is a lite and delicate pasta which can stick together to make lumps that is big no-no.
Then, how to cook couscous the simplest way? 
Step 1: To cook couscous, simply bring same quantity of water to rolling boil as quantity of pasta. For more flavor, you can use stock instead of water. Or season water with bouillon cube, salt+lemon etc. Once water start boiling, add dry couscous pasta, mix well, remove from heat. Cover tight immediately and set aside for 8-10 minutes.
Step 2: In this time, couscous will absorb all liquid and will be perfectly al-dente. Gently fluff it with salad fork or two chop sticks. 
If you follow above two steps, couscous will always be lite and fluffy as you see in these pictures.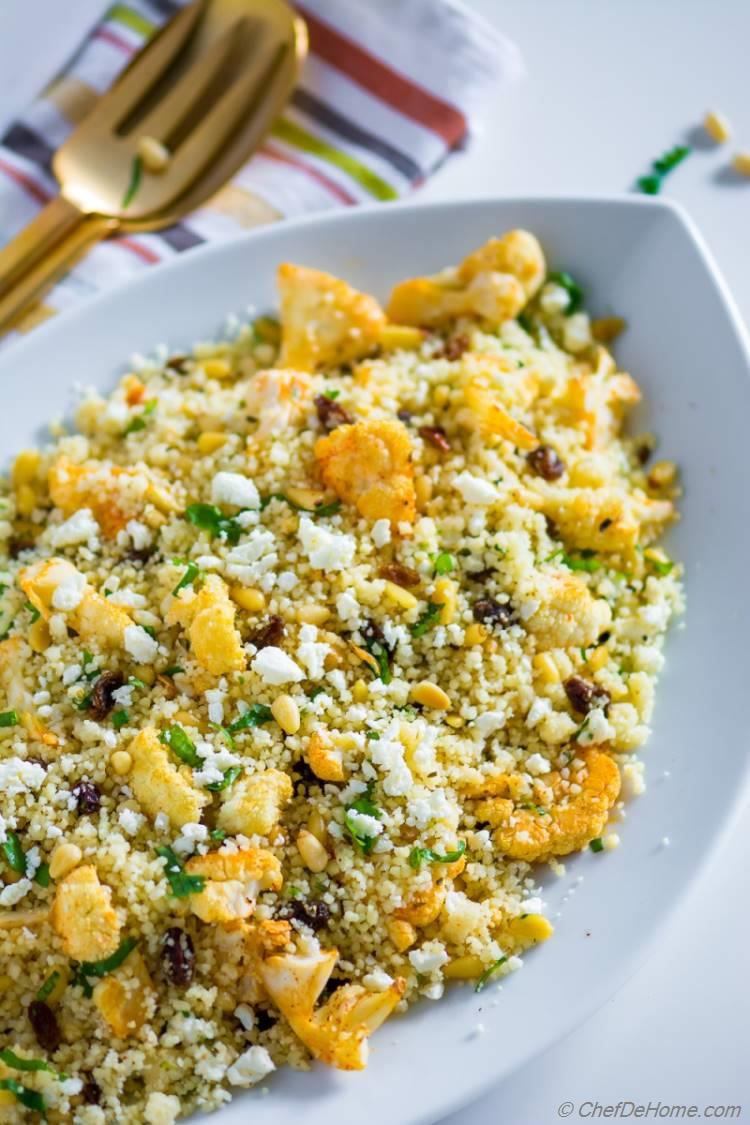 To prepare couscous salad, while I'm waiting for couscous to cook and cauliflower to cool. I assemble rest of the ingredients. Toast pine nuts, mix lemon-cumin-oregano dressing, and chop herbs.
Once everything is at room temperature, I assemble. Taste and adjust salt and add more lemon. (remember lemon makes this couscous, the star!)
This salad can be served at room temperature or chilled. If serving at a party, I recommend keeping salad chilled with ice bowl at bottom. This will keep feta fresh. Or serve salad at room temp and a side bowl of feta cheese for guests to add per taste. 

This recipe is my second-ish attempt in new kitchen and new studio. Still trying to understand the lighting... so pictures are not to my liking. But salad is so darn tasty that I could not resist sharing it. I hope you will enjoy!
You know what? I still have some salad leftover in refrigerator. I can treat myself for an early lunch today! :)
Wish you all a wonderful weekend! 
Craving for more?
Join us: Weekly Newsletter, Facebook, Google, Twitter, Pinterest
Shop products we use: CDH Amazon Shop (affiliate links)
Roasted Cauliflower Couscous Salad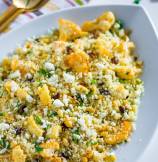 Total Time
Prep Time
Cook Time
Difficulty
Easy
Yields
Serves a Crowd
Serves
6
Ingredients
1 Cup

Couscous

(fine traditional couscous, dry)

1/2 Head

Cauliflower

(broken into florets)

2 tbsp

Olive Oil

(, plus extra for roasting caulifower)

1/4 Cup

Lemon

(juice)

1 tsp

Paprika

(mild)

1/2 tsp

Cumin Powder

1/2 tsp

Oregano

1/4 Cup

Fresh Herbs

1/4 Cup

Pine Nuts

(prefer raw, unsalted, *toasted)

1 tsp

Salt

(adjust to taste)

Bouillon Cube

(1/2 tsp or 1 cup vegetable stock)

1/4 Cup

Raisins

Feta Cheese

(2-4 tablespoon, adjust per taste)
Directions
1.

Bring 1 cup water will bouillon cube or 1 cup stock to rolling boil. Add in couscous, cover and set aside for 15 minutes. Once water fully absorbed, fluff with fork.

2.

Preheat oven at 375 degrees Fahrenheit. On sheet tray, place cauliflower florets, add 1-2 tablespoon olive oil, 1/2 tsp salt. Massage to distribute oil evenly. Sprinkle paprika on top. Roast in oven for 10-12 minutes until cauliflower is crisp tender. Once done, season with 1 tsp lemon juice. Set aside and let it cool.

3.

In a bowl, add lemon juice, olive oil, cumin, oregano, and salt. Mix well to emulsify. Add to cooled and fluffed couscous. Fold in fresh chopped herbs, and cauliflower. Refrigerate until ready to use. Fold in feta cheese and toasted pine nuts before serving. Enjoy!
Savita's Notes:
*Toasted Pine Nuts: To toast pine nuts, heat a dry skillet. Spread nuts in single layer. Let these toast until oil starts coming out and brown spots appear. Don't let'em over brown. Keep an eye as these are ready in 1-2 minutes.
© Chef De Home. All contents and images are copyright protected. DO NOT copy or re-use content/images/videos. For all content/post mentions with link back, contact ChefDeHome for permission.

Craving for more?
Join us: Weekly Newsletter, Facebook, Google, Twitter, Pinterest
Shop products we use: CDH Amazon Shop (affiliate links)
What would you like me to cook next?: Request a Recipe