Cheesy Baked Tortilla Chips
Cheese-layered baked spicy tortilla chips for party?! Just bring the salsa!!
Forget regular tortilla chips. Serve your guests cheese stuffed spicy baked tortilla chips. Just 15 minutes and these delicious chips fly from kitchen to party. This recipe ups the level of homemade baked tortilla chips making them delicious and better than bag of store bought chips. 
No matter, big party or small, there is always room for chips and salsa. Don't you think? 
I'm obsessed with serving chips and salsa in all get-together. It is so easy to make a salsa or dip and chit-chat continues while chips last in bowl. Often, I buy bag of chips and go fancy with dips such as 7 Layer Black Bean Dip, Fiesta Cheese Dip or Garlic Guacamole This recipe was surprise creation on one such day when I left my favorite bags of chips in store. It was super bowl, the big game-day. Hmm.. I had tortilla in refrigerator. But I neither wanted to fry chips and nor ready to serve plain simple baked chips. So I decided to go little fancy. I stuffed-up plain tortilla with a layer of fiesta cheese blend and some seasonings. What an amazing twist. It was like seasonings the chips from with-in. As if chips too are getting ready to watch the games.
Who did not ask me about chips that day! It was a crazy hit. Simple 4 ingredient recipe can change the chemistry of party. I'm a believer.
Trust me, everyone loved the idea while munching on crispy cheesy baked chips and was saying  - I need recipe. I'll bake these for my next party. I'll serve for my daughter's birthday. On and on it went..
Right there I knew I have a recipe to share on blog. This recipe is a revive from last year. I first shared it in 2017 but wasn't happy with all the pictures. Today, I updated recipe with my notes, few new pictures, and have video coming soon.
So, let's dig in!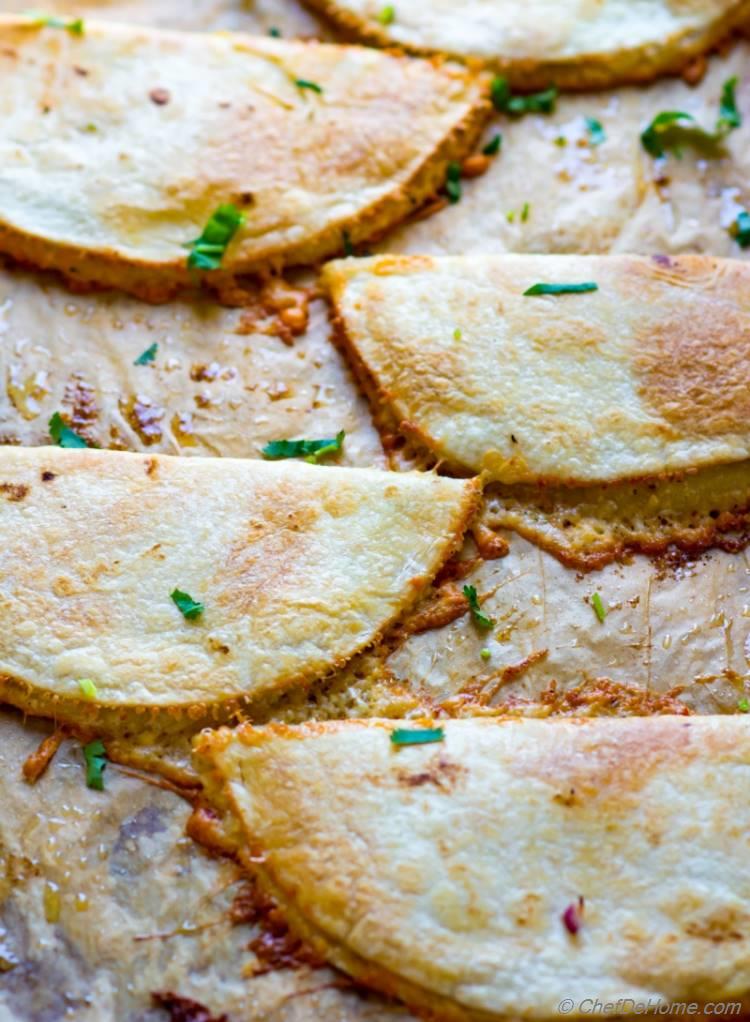 Simple Baked Tortilla Chips:
First of all, if you are here looking for simple baked tortilla chips recipe. Don't get disappointed. I can tell you that same instructions work for baking simple salted/or spicy seasoned tortilla chips as well. In-fact this is my go-to recipes to bake chips whenever. Simply brush/spray the wheat tortillas with some cooking oil and sprinkle some salt. Then bake in preheated oven until tops are slightly brown and getting crispier. Works like charm every time.  No oil needed, plus healthy delicious homemade chips to enjoy.
Cheesy Baked Tortilla Chips:
This is recipe with cheese stuffing can only be baked not fried. If fried, cheese will melt and ooze out.. So baking is the way to go. Plu sit is healthier. Only make sure to not over-stuff tortillas with cheese or you will have cheese-crisps to serve on side of tortillas. 
Like I went little crazy with filling few of the tortillas and I had cheese crisp hanging-out of a few chips.. Cheese crips taste delicious though. If you do want those, keep an eye when baking, don't let hanging cheese burn.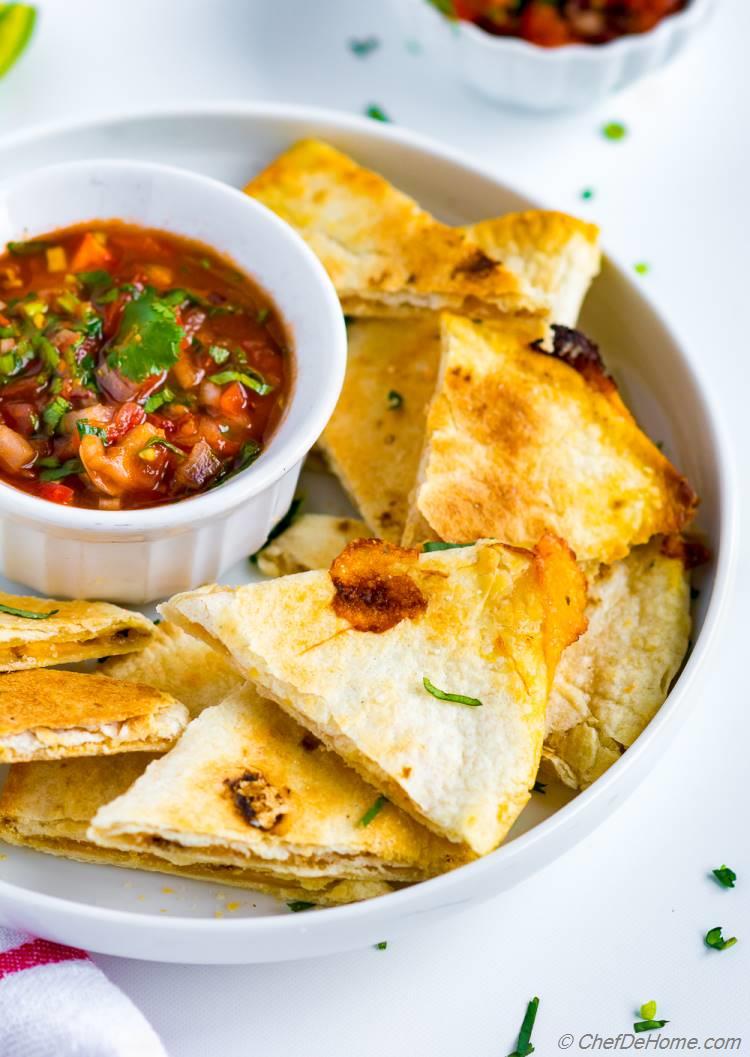 ...Only remember, little cheese goes a long way. It will spread while baking. For the picture below, I kept cheese about 2 tbsp to keep spread of melted cheese within tortilla. 
Don't these remind of quesadillas? 
In-fact you can bake quesadilla using the same recipe. Simply add your favorite toppings (I mean stuffing). Bring on onion, jalapeno, bell pepper, and shredded cheese. Don't add lot of cheese. Layer cheese below and on top of toppings. Don't fold in half but bake two tortillas like you would grill a quesadilla. That's it. You can bake mutiple quesadilla together to serve breakfast in hurry.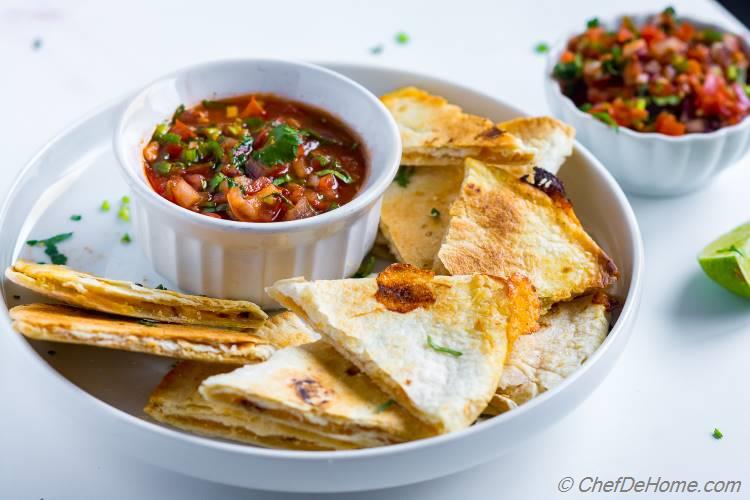 Hands down these baked chips have become our favorite things to serve in parties. If you planning to host a game-day party, or any get togther, bake a batch of these tortilla chips. Trust me, you will be so happy you did. 15 minutes and such delicious result.

Don't forget to bake a big batch, these disapper fast!
Enjoy!
Make these delicious party-dips to serve on side.
Cheesy Baked Tortilla Chips
share on pinterest

share on twitter

give feedback or read article reviews

print recipe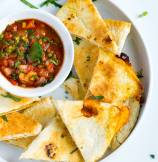 Total Time
Prep Time
Cook Time
Cuisine
Mexican
Category
Appetizer
Difficulty
Easy
Yields
4-6 Servings
(Serves:

4

)
Notes
No. of servings depends on serving size.
Ingredients
6-8 Tortillas

(medium, wheat tortillas)

1 Cup Four Cheese Blend

(or sharp cheddar)

1-2 tbsp Taco Seasoning

(or 1/2 hot sauce )

Oil Spray

Salsa

(for serving)
Directions
1.

Preheat oven at 450 degrees Fahrenheit. Line a large baking sheet with parchment paper.

2.

Spray parchment with oil spray. Line 5-6 tortillas. Place 2-3 tbsp cheese in middle of each tortilla, sprinkle 1-2 generous pinch of seasoning or spoon 1/2 tsp hot sauce (if using, you can also use both seasoning and hot sauce), and fold in half.

Additional Notes

Make sure to not spread cheese and place cheese only in middle so that it does not ooze out when baked.

3.

Spray top with oil spray. Sprinkle some salt. Bake in preheated oven for 5 minutes one side, take out flip with spatula (be carful and watch hot sheet pan) bake again for 5 minutes or until tops are light brown. (After first round of baking press all tortillas with back of a wide spatula or wide sauté pan for better spread of cheese.)

4.

Once baked, take out, let rest for a minute. Then, use pizza cutter to cut into chips-style wedges. Serve immediately with salsa. Enjoy!
© Chef De Home. All contents and images are copyright protected. DO NOT copy or re-use content/images/videos. For all content/post mentions with link back, contact ChefDeHome for permission.

Craving for more?
Join us: Weekly Newsletter, Facebook, Google, Twitter, Pinterest
Shop products we use: CDH Amazon Shop (affiliate links)
What would you like me to cook next?: Request a Recipe