This recipe is Copyright of ChefDeHome.com

Cheesy Baked Tortilla Chips
Forget regular chips! Serve your guests cheese-layered baked Chips for Super Bowl game party!!
This recipe surpass the expectation of homemade baked tortilla chips!! Forget regular chips, serve your guests, cheese-stuffed baked chips for big game day!! 
Sounds fun? Isn't it? 
No matter, big party or small, there is always room for chips and salsa! Don't you think? I'm obsessed with serving chips and salsa in all get-togethers. It is so easy to make a big batch and chit-chat continues while chips last in bowl.  
Often, I serve simple seasoned chips and go fancy with dips such as 7 Layer Black Bean Dip, Fiesta Cheese Dip or Garlic Guacamole! However, for special game-day like Super Bowl, I have decided to go little fancy. I stuffed-up plain chips with a layer of fiesta cheese blend and some seasonings. It is like seasonings the chips from with-in! As if chips too are getting ready to watch the games! ;) 
You won't believe, a simple 4 ingredient recipe can change the chemistry of party! Everyone will be loving the idea while munching on crispy cheesy baked chips and will be sure thinking  - I should bake these for my next party ;-)
Good part is, you know what they thinking! Knowing what's going on in your guest's mind!! Can it go better than that? Just saying! ;-))
So, let's dig in!
Simple Baked Tortilla Chips:
First of all, if you are here looking for simple baked tortilla chips recipe. Don't get disappointed. I can tell you that same instructions work for baking simple salted tortilla chips as well. In-fact this is my go-to recipes to bake chips whenever. Simply brush/spray the wheat tortillas with some cooking oil and sprinkle some salt. Then bake in preheated oven until tops are slightly brown and getting crispier. Works like charm every time and there is no greasy mess in the house.
Cheesy Baked Tortilla Chips:
Now, this is recipe, with cheese stuffing, can only be baked not fried. If fried, cheese will melt and ooze out... So baking work perfectly. Only thing to make sure is not to over-stuff tortillas with cheese or you will have cheese-crisps to serve on side of tortillas. ;)
Like I went little crazy with filling few of the tortillas and I had cheese crisp hanging-out of a few chips...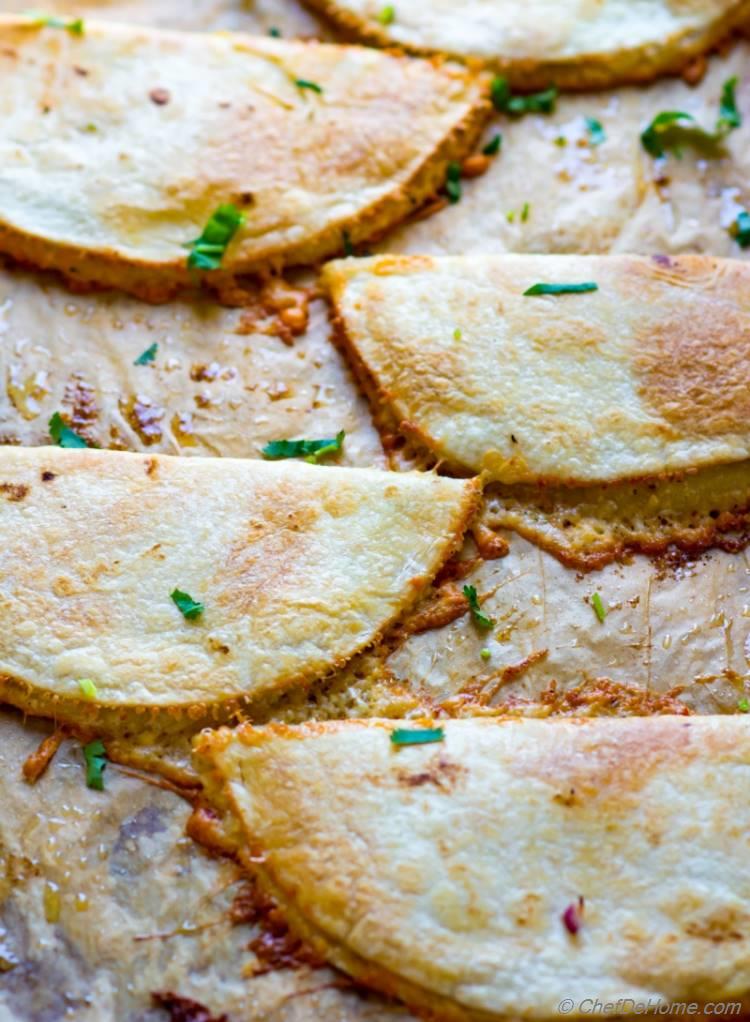 ...So, fill little less cheese and try to stay in middle line of tortilla where you fold. Cheese will spread while baking and will have a nice layer by the time chips bake.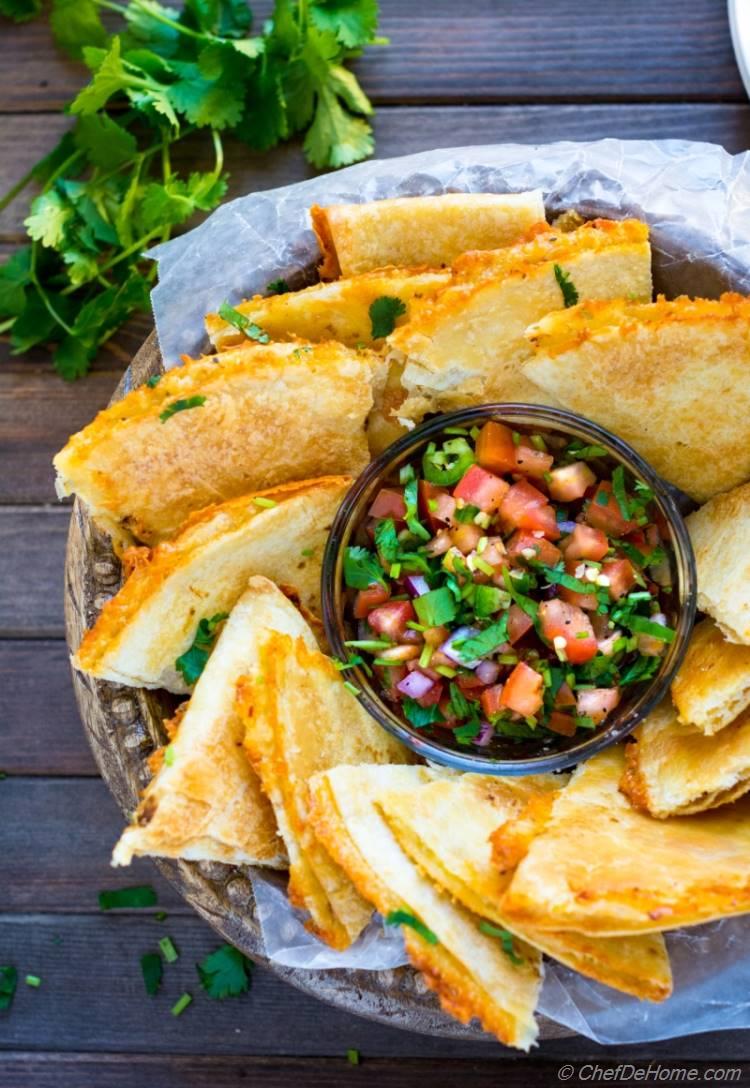 Hands down these baked chips have become my favorite things to serve in parties. If you planning to host a game-day party, bake a batch of these tortilla chips. Trust me, you will be so happy you did. :)
Have a wonderful day!
Cheers! -Savita
Make these delicious party-dips to serve on side!
Craving for more? Sign up for the Chef De Home Newsletter for a plateful of contents delivered to your inbox! And connect with me on Facebook, Google, Twitter and Pinterest for all of the latest updates.
Cheesy Baked Tortilla Chips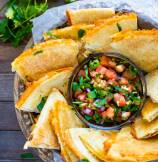 Total Time
Prep Time
Cook Time
Difficulty
Easy
Yields
4-6 Servings
Serves
4
Notes
No. of servings depends on serving size.
Ingredients
6-8

Tortillas

(medium, wheat tortillas )

1 Cup

Four Cheese Blend

1-2 tbsp

Taco Seasoning

Oil Spray

Salsa

(for serving)
Directions
1.

Preheat oven at 450 degrees Fahrenheit. Line a large baking sheet with parchment paper.

2.

Spray parchment with oil spray. Line 5-6 tortillas. Place 2-3 tbsp cheese in middle each tortilla, sprinkle 1-2 generous pinch of seasoning, and fold in half.

Additional Notes

Make sure to not spread cheese and place cheese only in middle so that it does not ooze out when baked.

3.

Spray top with oil spray. Sprinkle some salt. Bake in preheated oven for 7-10 minutes or until top are light brown. (After first 3 minutes, take out tray and press all tortillas with back of a wide spatula, then return to finish baking.)

4.

Once baked, take out, let rest for a minute. Then, use pizza cutter to cut into chips-style wedges. Serve immediately with salsa. Enjoy!
© Chef De Home. All contents and images are copyright protected. Please do not use content/images without prior permission. If you want to use recipe instructions, re-write the recipe in your own words, and link back to this post with credit to ChefDeHome for the Recipe Origin.