Chicken Dijon - Creamy Mustard Chicken
Skinless Chicken Breast coated in Creamy Dijon Mustard Sauce for a flavor packed, one pan skillet chicken dinner that needs 28 min start to finish. Mustard chicken is perfect creamy to serve on pasta.
Posted On:

Dec, 27
| Author:

Savita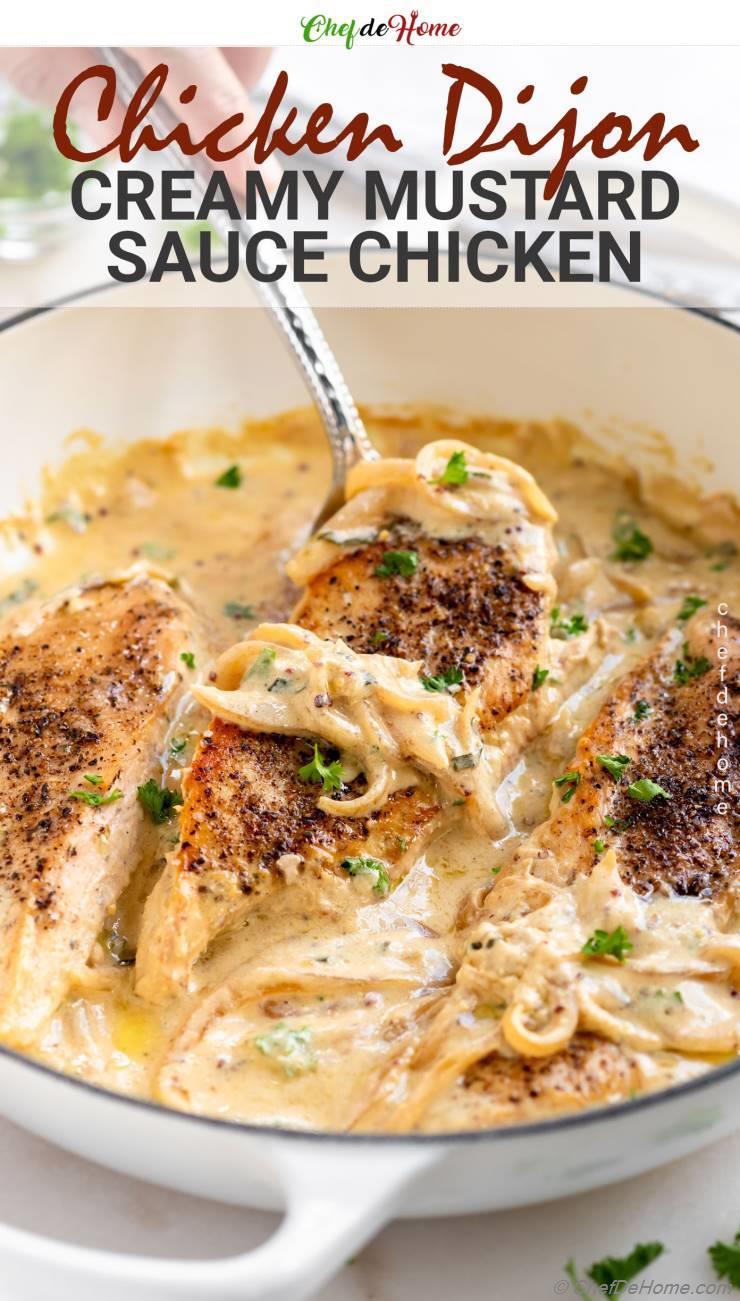 Chicken Dijon, chicken breast cooked with delicious Dijon (French) mustard and crème fraiche sauce. Creamy and flavor packed, in this recipe chicken breast cooks moist and juicy. Plus sauce gets boost of flavor from caramelized bits of chicken breast cooked in same skillet, tarragon and 2 kinds of mustard - traditional Dijon and whole grain mustard. You will love the flavors.
The best about Chicken Dijon is that it is a very quick and simple recipe, needs mostly pantry ingredients, and just 28 mins start to finish. Gluten free. Low-carb when served with salad or greens. 
Let's cook Chicken Dijon today!
Chicken Dijon
Chicken Dijon is a classic creamy French Mustard Chicken preparation where chicken is cooked in skillet with onions and a creamy Dijon mustard, tarragon, white wine and crème fraiche (French cultured cream) sauce. In America, Dijon Chicken name is often confused with sweet and sour Honey Dijon Chicken. This post is for the French Mustard Chicken Dijon recipe. (I'll also share Honey Dijon Chicken on blog in coming days.)
This recipe is inspired from Ina Garten's Mustard Chicken recipe. I'm fan of her simple cooking style yet bold flavor recipes. 

My special touch and flavor secrets for Chicken Dijon are: a little bit garlic plus pepper crust on the chicken breast.
Garlic compliment the creamy mustard flavor.
Skinless chicken breast is low-carb. Also pepper crust gives it extra flavor.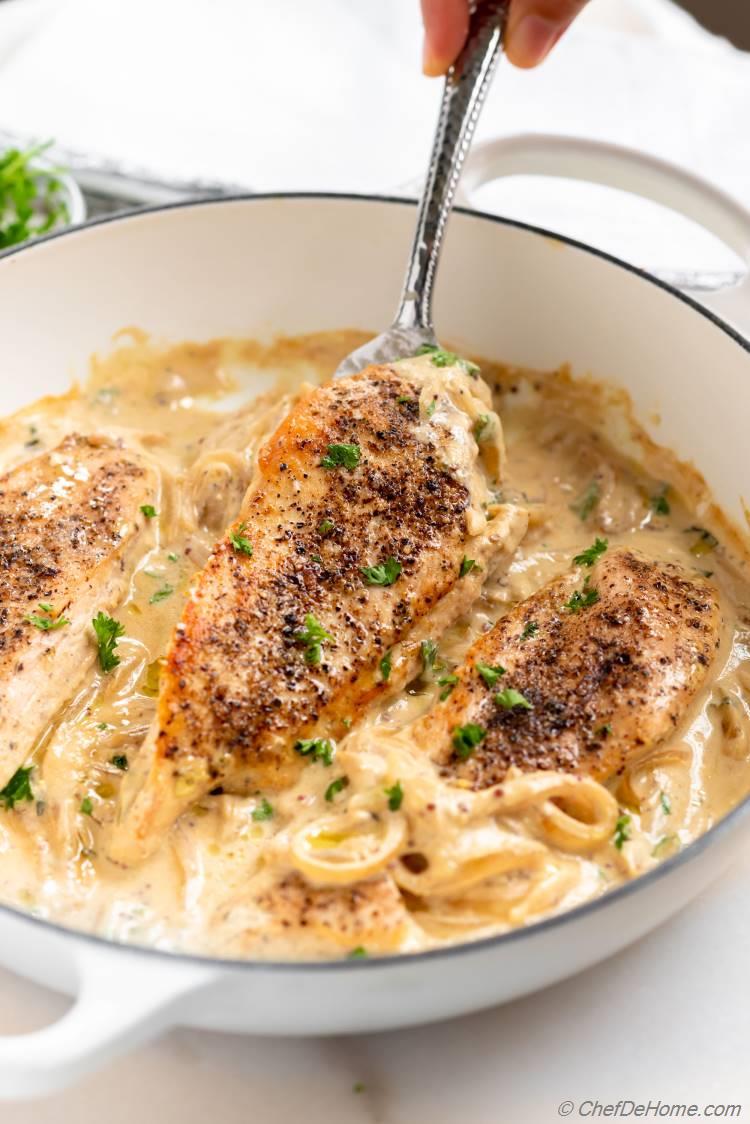 I'm sure you will love it.
What Do You Need To Make Chicken Dijon?
There are three main ingredients for Chicken Dijon i.e. Dijon mustard, chicken and crème fraiche (cultured cream). I use combination of whole grain and traditional Dijon mustard.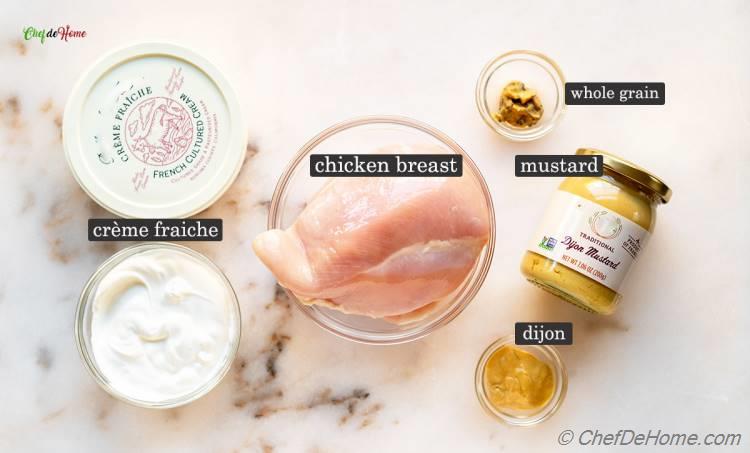 Here is the complete list of what you need to make Chicken Dijon:
Chicken Breast
Dijon and Whole Grain Mustard
Crème Fraiche (cultured cream)
Olive Oil
Chicken Stock
White Wine
Tarragon
Garlic (not traditionally used but I highly recommend it for this recipe.)
Salt and Pepper
Quickly Cooked Chicken Breast for Chicken Dijon
To speed up and even cooking of chicken breast, I use halved, boneless and skinless chicken breasts for this recipe. i.e. one chicken breast yields two pieces. 
To develop delicious pepper crust on chicken breast (our family favorite) and speedy even cooking, I do following:
Place chicken breast halves on a large sheet of parchment paper. Sprinkle half of black pepper and salt on the top. 
Flip the chicken so the bottom side is up. Sprinkle remining half of the black pepper and salt on the top. 
Cover the chicken with parchment and pound gently until chicken breasts are mostly evenly thick.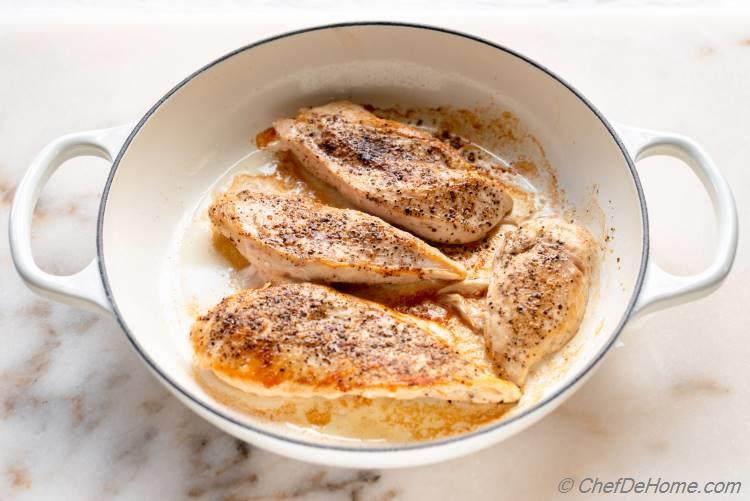 Above steps infuse the seasonings into the chicken, pepper curst is delicious, and chicken breast cooks very quickly (about 3 minutes each side for 3/4  inch thick cutlets). The crust is phenomenal. 
Creamy Mustard Sauce
Once chicken is cooked through, mustard sauce for chicken comes together in just 10 minutes.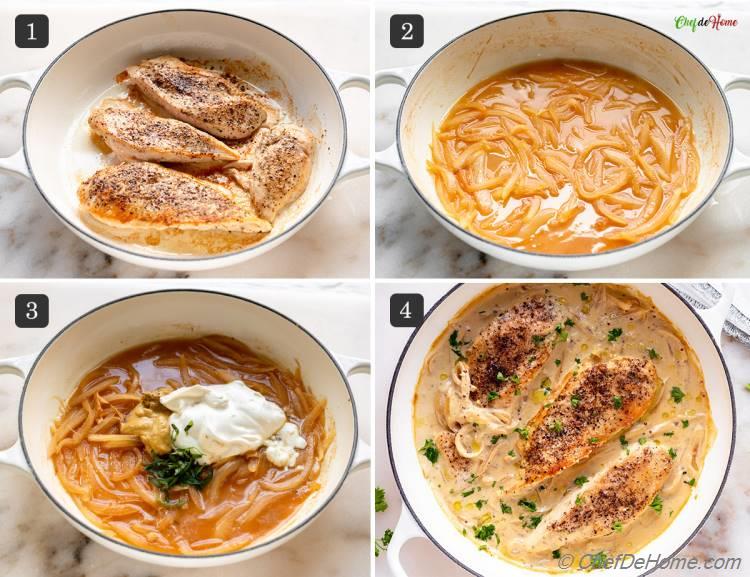 To make the mustard sauce, I sauté onions in the same skillet in which chicken was seared. Onions pick up all flavor bits of chicken from the skillet and become very delicious. Once onions are soft, a quick deglaze with white wine and stock, followed by adding Dijon mustard, tarragon and cream makes a creamy and delicious Mustard Sauce.
Add cooked chicken back in to warm up in the sauce. That's it. Creamy mustard chicken is ready to serve.
This Mustard Chicken recipe is extra flavorful because:
Chicken cooks in same skillet and onions pick all of the flavor from the caramelized bits.
Use of two kind of mustard brings out the mustard flavor in sauce (without making a too-yellow-ish sauce).
Garlic and pepper add bold flavors.
Chicken gets very flavorful, succulent when returned back to creamy mustard sauce. (moist, juicy, YUM)
While searing chicken, make sure to reserve the juices collected at the bottom of pan. These juices added back to cream sauce make sauce extra delicious!
What to Serve with Chicken Dijon
The best way to enjoy the creamy mustard sauce is to serve Chicken Dijon with pasta. Pasta such as Spaghetti or Angel Hair egg pasta. Naan or Pita Bread can also be served to scope the creamy sauce.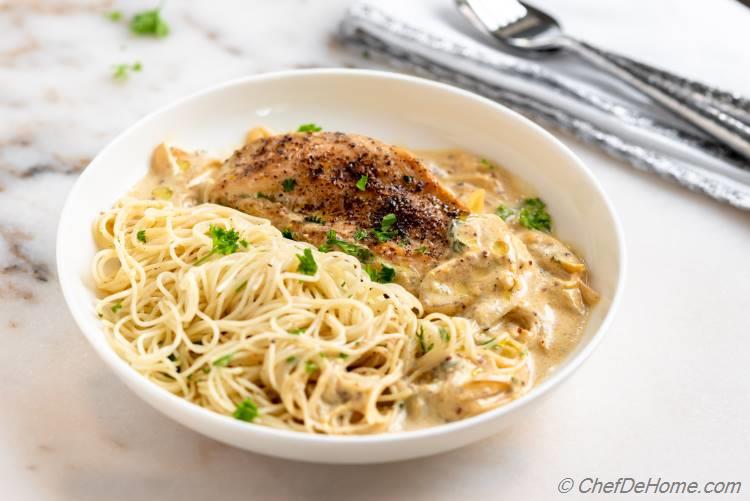 To serve low-carb, try zoodles made of zucchini, or cauliflower rice. 
Substitutes
If can't find crème fraiche then use sour cream. Sour cream and Crème Fraiche both are cultured creams. I often use on or the other for this recipe.
Regular heavy creamy can also work in place of Crème Fraiche. If using heavy cream, add 1/2 tsp lemon juice to replicate the tang of cultured cream.
If don't have chicken stock, use vegetable stock or use 1/3 of a bouillon cube mixed with 1/2 cup of hot water.
You can also cook chicken thighs (boneless and skinless) instead of chicken breast. Thighs cook even more moist and juicier. If planning to use chicken thighs with skin, adjust the cooking time accordingly. Also make sure chicken is fully cooked and skin is crispy before adding the liquid.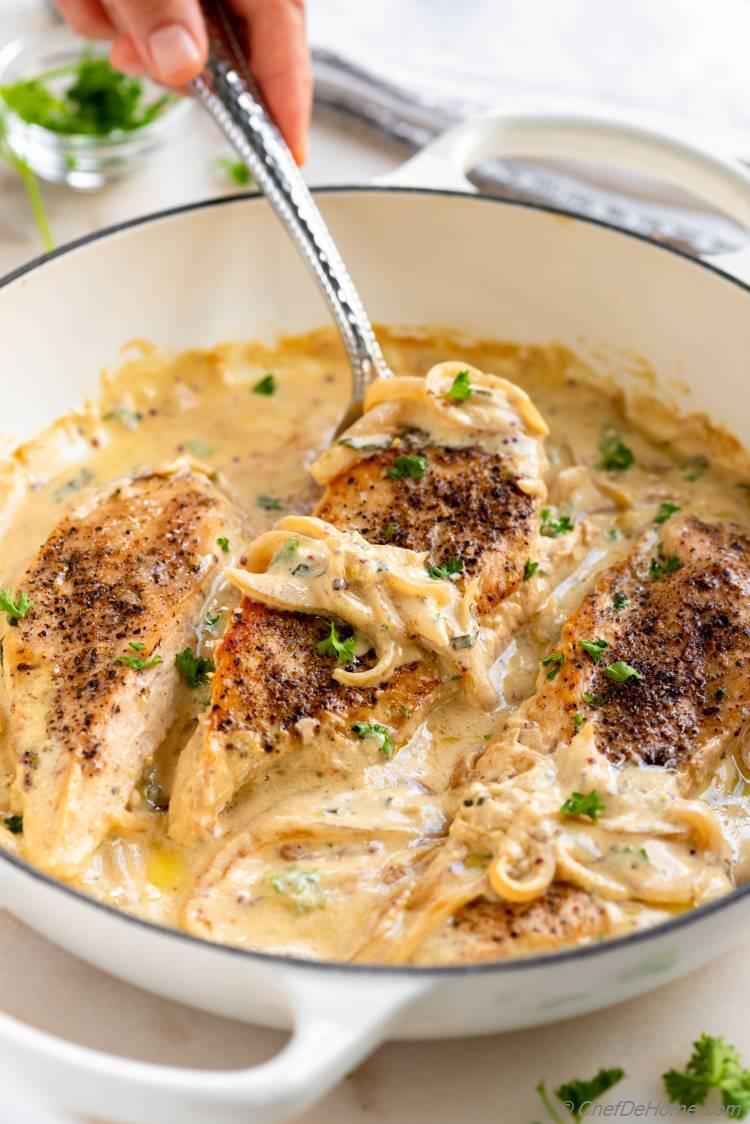 Friends, cook something different for the dinner tonight. This delicious and creamy Dijon Mustard Sauce Chicken will make dinner very special. 28 mins to make Chicken Dijon with side of pasta or cauliflower rice to mop the creamy sauce. Dinner is served! How good does that sound?! :-)
Pairing Ideas:
Chicken Dijon - Creamy Mustard Chicken
reviews

)
(10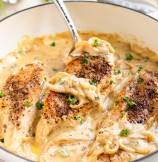 Total Time:
Prep Time:
Cook Time:
Cuisine:
French
(

Dinner, Main Course

)
Difficulty:
Easy
Yields:
family meal
- Serves:
4
Directions
1.

Season and Pound Chicken Breast

:

Slice each chicken breast length wise to two portions. Place chicken breast halves on a large sheet of parchment paper. Sprinkle half of black pepper and salt on the top. Flip the chicken so the bottom side is up. Sprinkle remining half of the black pepper and salt on the top. Cover the chicken with parchment and pound gently until chicken breasts are mostly evenly thick.

2.

Cook Chicken

:

Heat half of the oil in a wide heavy bottom skillet. Once skillet is hot, place seasoned chicken breasts in the skillet in one single layer. Once bottom side is golden caramelized (in about 3-4 minutes), flip chicken top side down to cook the other side. Scatter sliced onions on the sides of chicken. If needed lower the heat and make sure chicken is cooked through.

3.

Cook Sauce

:

Transfer cooked chicken into a plate (leave onions in the pan) and set aside. Add remaining olive oil and garlic. Continue cooking sliced onions, stirring often for 2-3 times or until onions are soft and slightly caramelized. Add white wine, chicken stock and bring to boil. Simmer on medium heat for additional 2 minutes.

4.

Finish Mustard Sauce

:

Lower the heat, add both mustard, chopped tarragon, and cream fraiche. Stir to combine. Simmer sauce for 1 minute until sauce comes together. Taste and adjust salt. Return chicken back to the skillet along with any juices collected in plate. Cook until chicken is heat through (about 1-2 minutes)

5.

Garnish and Serve

:

Garnish Chicken Dijon with fresh chopped parsley. Serve topped on pasta.
DID YOU MAKE THIS RECIPE?
Tag
@SAVITACHEFDEHOME
on Instagram and hashtag it
#SAVITACHEFDEHOME
© Chef De Home. Post content including video and photos are copyright protected.
We Think You'll Love