Chicken Ratatouille
An easy, less-time prep recipe for Chicken Ratatouille Casserole baked with herb chicken, layer of eggplant, squash and spicy bold-flavor garlic tomato sauce.
Posted On:

Aug, 21
| Author:

Savita
Remy's Ratatouille with Chicken for a complete meal!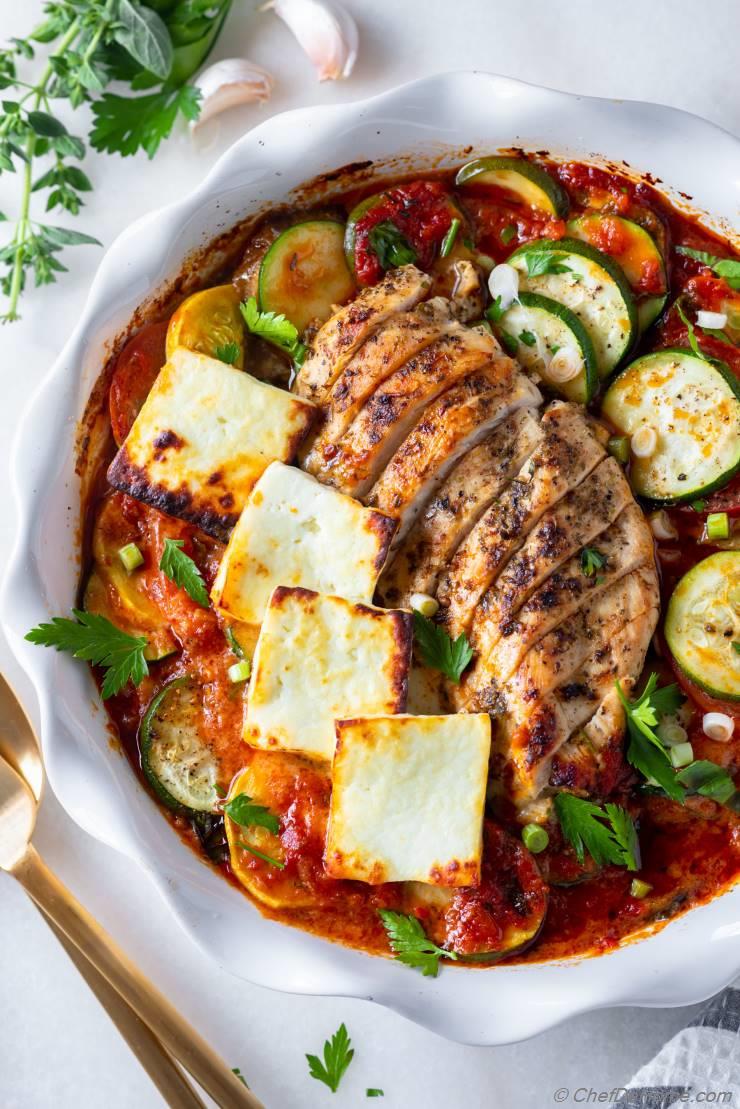 Guess what's for dinner? Spicy, delicious Chicken Ratatouille Casserole with colorful layers of squash, eggplant, garlic tomato sauce and herb chicken. This chicken and veggie casserole is perfect comforting family dinner. Serve Ratatouille over pasta or steamed rice and it's almost a one pot meal. Or serve with side salad and bread to scoop the delicious slow-cooked herb-garlic tomato sauce for a fancy family holiday feast. Gluten free. Keto. Can be dairy free. 
Inspiration behind today's Chicken Ratatouille Casserole was my Remy's Ratatouille recipe that you all loved so much. For this recipe, I bake quick marinated oregano-garlic chicken breast with the Ratatouille casserole.
This ratatouille is loaded with double load of flavor as chicken and sauce make each other delicious. As chicken cooks on top of the sauce it stays moist and picks up flavor from the sauce. In-return, the juices of marinated chicken make sauce even more flavorful. Pure yumm!
Overall, this is a flavorful meal where no one mind serving of veggies. Believe me, there are plenty of veggies in each serving. If you like comfort of one pot meal? Then this healthier casserole will be your favorite for family dinner!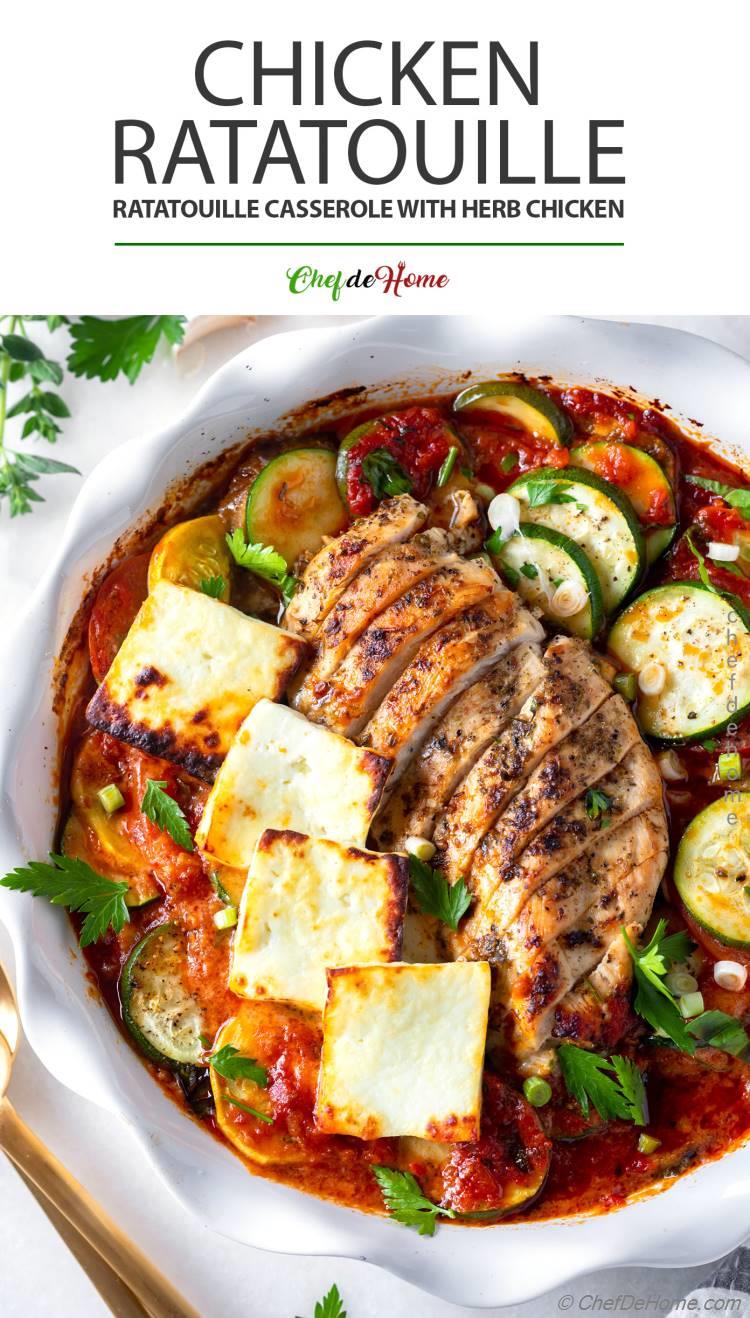 Other than flavor, Chicken Ratatouille is also my favorite for quick prep time. Unlike traditional Ratatouille, chicken ratatouille needs only 15-20 minutes of prep.
HOW TO MAKE CHICKEN RATATOUILLE
When I plan to make Chicken Ratatouille. I marinate boneless and skinless chicken breasts overnight. Next day, sear the chicken from both sides to lock in juices. This step is very important as it prevents chicken breast from getting dry when baked in oven. You don't need to fully cook the chicken but only until it is lite brown from both sides.
In meantime, I slices the squash, eggplant and tomato. If you have a madalian then slices becomes very easy. Or simply use knife to cut round slices.
To cut the prep time in half, I use a prepared Marinara Sauce as base tomato sauce for Chicken Ratatouille. My favorite brand is Rao's Marinara Sauce. If you like spice, then use Rao's Arabiatta Sauce. Or use any good quality tomato-basil sauce that you love with pasta.
Chicken, sliced veggies, and tomato sauce. These three are the most important ingredients for Chicken Ratatouille. Once you have these ready. It is time to assemble ratatouille.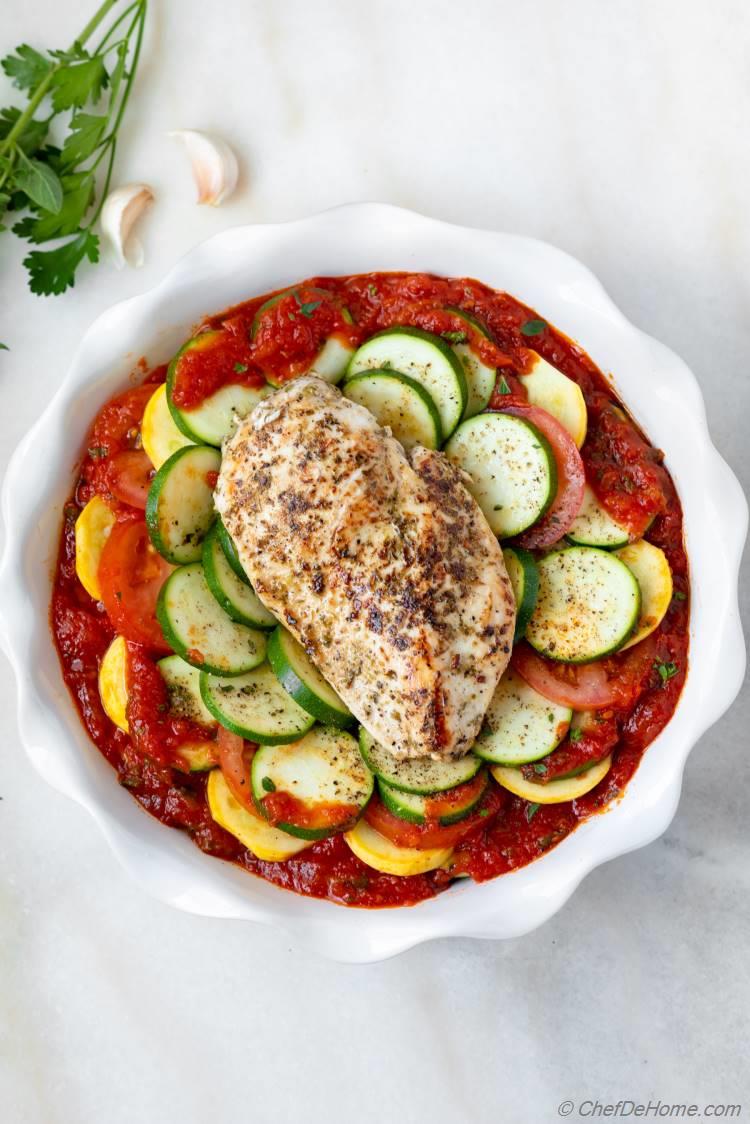 Use a 9.5 inch to 11 inch oven safe baking dish. Spray with cooking oil and add 1/2 of the tomato sauce with herbs and seasonings. Arrange peeled and sliced eggplant in one single layer on top. Top with layers of squash, zucchini, and tomato in an alternate fashion in a circular pattern. Pour tomato sauce on top starting from the sides and leave the center without sauce. (As shown in picture above.) Drizzle with olive oil, salt and black pepper. Place the seared chicken in the center. Cover loosely with aluminum foil.
That's it. Chicken Ratatouille is goes in oven! Bake until chicken is full cooked and sauce is bubbling on the sides.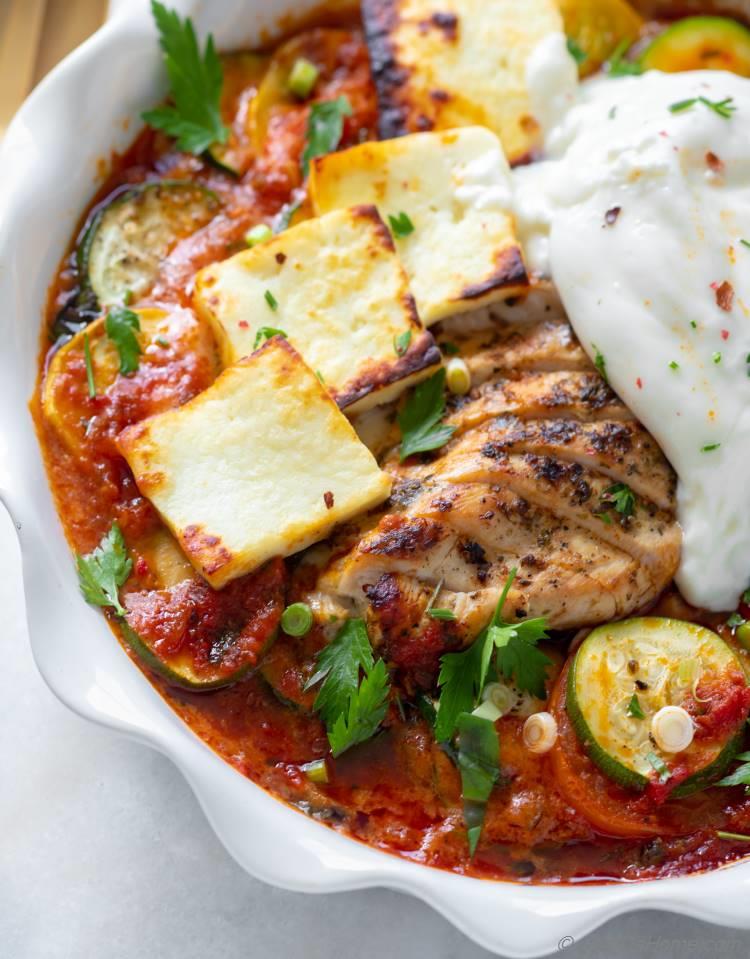 For a delicious finish, I use one more ingredient. Once Chicken Ratatouille Casserole is ready. I switch the oven to broiler, remove aluminum foil and top ratatouille with layer of halloumi cheese. Broil for 1 minute to bake the cheese. Salty Halloumi or feta, both work great for this recipe.
For me, a perfect bite of Chicken Ratatouille is - a scoop of bread soaked in delicious sauce, smidgen of feta with chicken and tender veggies. All in one bite! YUMM!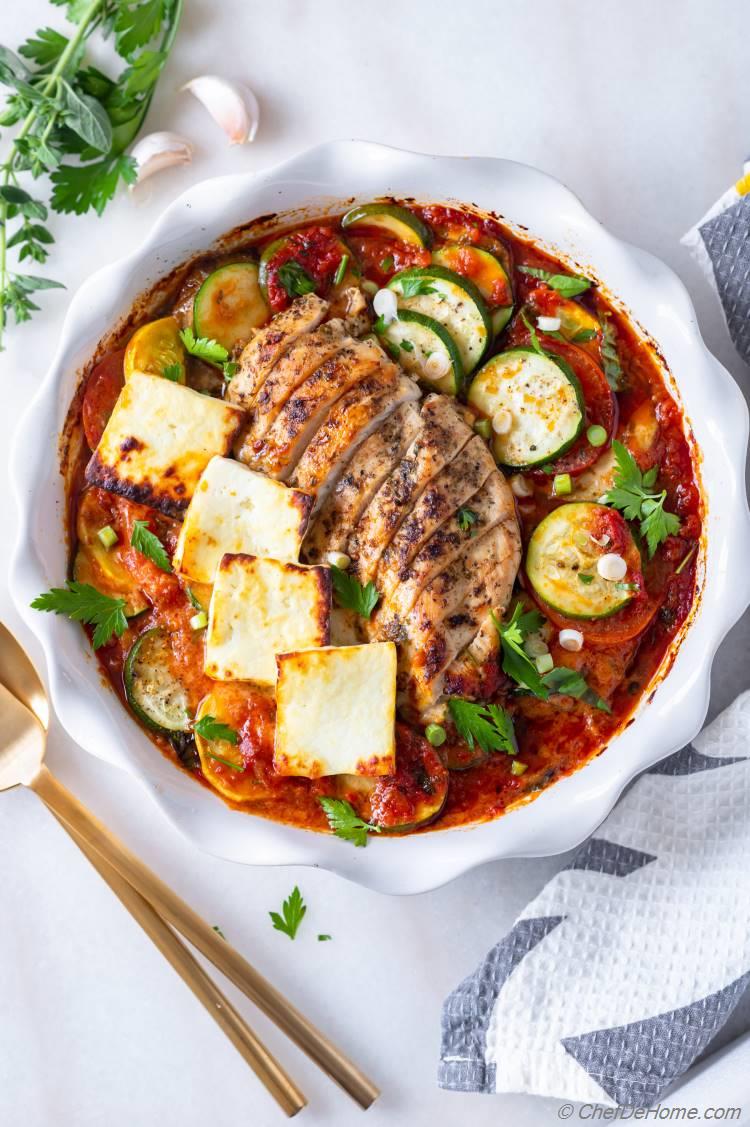 WHAT TO SERVE WITH RATATOUILLE
I often get emails related to what to serve with ratatouille. In vegetarian options, I recommend serving rice, a crusty bread, or pasta. All these are perfect to enjoy the delicious garlic-herb sauce that bakes with the ratatouille in the oven. In-fact, I love serving pasta and bread for guests. So that they can pick side of their choice. A lite green salad also brings fresh crunch to the meal. Here are a few recommended recipes in no specific order:
For today's dinner I served Chicken Ratatouille over pasta and side of Kale Caesar Salad.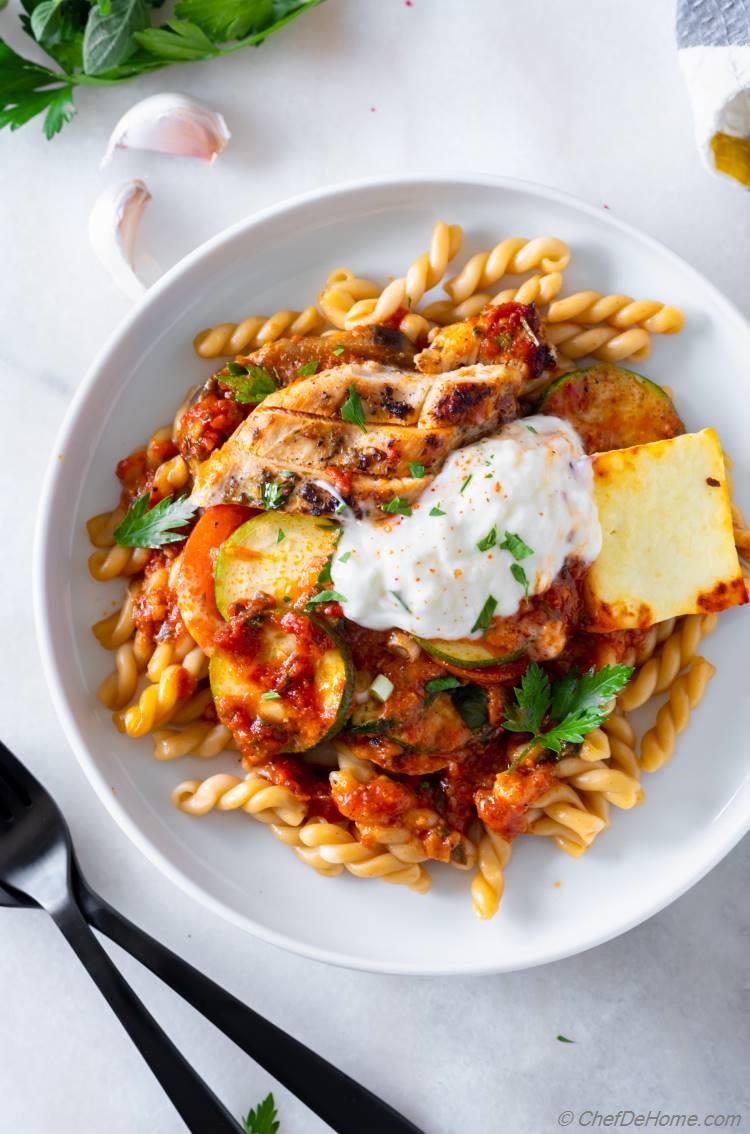 For all Ratatouille Movie lovers. Here are some of top favorite Ratatouille Recipes from blog:
Traditional Ratatouille
Easy Ratatouille Stew/Soup
Ratatouille Stuffed Zucchini
Orzo Pasta Tian (Ratatouille Pasta Bake)

I hope you will enjoy Chicken Ratatouille and all of these Ratatouille inspired recipes as much as we did! If you have never watched the Ratatouille movie? I highly recommend watching it. This movie can make any one fall in love with cooking. It's motto that "any one can cook" is what inspires me to keep finding new flavors and new recipes for you. You will enjoy it too! 
Happy watching and happy cooking!
Serve with Chicken Ratatouille: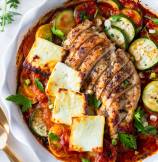 Total Time:
Prep Time:
Cook Time:
Cuisine:
French
(

Pasta, Main Course

)
Difficulty:
Easy
Yields:
4-6 Servings
- Serves:
4
(

No. of servings depends on serving size.

)
Ingredients
Herb Chicken
Ratatouille
Smart Swap: Replace Chicken with Turkey or Salmon.
Directions
1.

Marinate Chicken: In a bowl, add 1 tbsp olive oil, lemon juice, 1 tsp oregano, garlic powder, 1/2 tsp salt and 1/4 tsp black pepper. Mix well. Add chicken breast. Coat well in marinade and set aside to marinate while you prep rest of the ingredients.

Additional Notes:

For best results, marinate chicken for 30 minutes up-to overnight.

2.

Prepare Ingredients: Chop basil leaves. Set aside. Peel and slice eggplant to thin slices. Slice zucchini, squash and tomato to thin round slices.

3.

Preheat oven to 375 degrees Fahrenheit.

4.

Sear Chicken: Heat 1 tbsp oil in a non-stick pan. When oil is hot, transfer chicken to pan. Discard marinade. Cook undisturbed for 1-2 minutes, then flip and cook other side for 1-2 minutes or until chicken is golden brown from both sides and not pink. No need to fully cook chicken, just need to sear to lock in juices.

5.

Assemble Ratatouille: In an 11 inch broiler safe baking dish, add 1 cup of tomato sauce at the bottom. Mix in minced garlic, remaining oregano, paprika, half of basil, with generous 2 pinch of salt. Mix but still keep it distributed. Add eggplant slices at the bottom evenly in single layer. Leaving a 1/2 inch space from the edge of pie dish, arrange layers of zucchini, yellow squash, and tomato in circular pattern. Pour remaining 1.5 cup sauce all around the edges.

6.

Bake Ratatouille in Oven: Drizzle 1 tbsp of olive oil on veggies, then season with pinch of salt and pepper. Place seared chicken towards center on the top. Cover gently with aluminum foil. Bake at 375 degrees for 42-45 minutes or until chicken registers 160 on instant thermometer in thickest part. Let rest for 5 minutes. With help of pair of tongs, take chicken out on a cutting board. Slice. Place back on ratatouille.

7.

Serve: Set oven to broiler. Arrange slices of halloumi on the ratatouille on side of chicken (covering veggies). Broil for 1 minute or until cheese starts to brown at edges. (Keep an eye. Don't let cheese burn.) Take out and let rest for 5 minutes. Garnish with remaining basil. Serve, while still hot, with the side of a crusty bread, or pasta or rice.

Additional Notes:

Optional: Serve Ratatouille with sour cream or good quality Greek Yogurt on side.
Savita's Notes:
For best results, marinate chicken for 30 minutes up-to overnight.
Freeze Chicken Ratatouille: Chicken Ratatouille can be frozen fully cooked with chicken. You can either portion it and freeze. Or freeze the whole casserole. For best results, re-heat in conventional oven.
Dairy Free: This ratatouille is gluten free. For dairy free, skip cheese. Serve with side of vegan yogurt.
DID YOU MAKE THIS RECIPE?
Tag
@SAVITACHEFDEHOME
on Instagram and hashtag it
#SAVITACHEFDEHOME
© Chef De Home. Post content including video and photos are copyright protected.
We Think You'll Love