Grilled Garlic Cheese Naan Bread
Forget grilled cheese croutons! Try "Pan Grilled Garlic Cheese Naan Croutons", a new cheesy bread to soak into your favorite soup!
Posted On:

Jan, 21
| Author:

Savita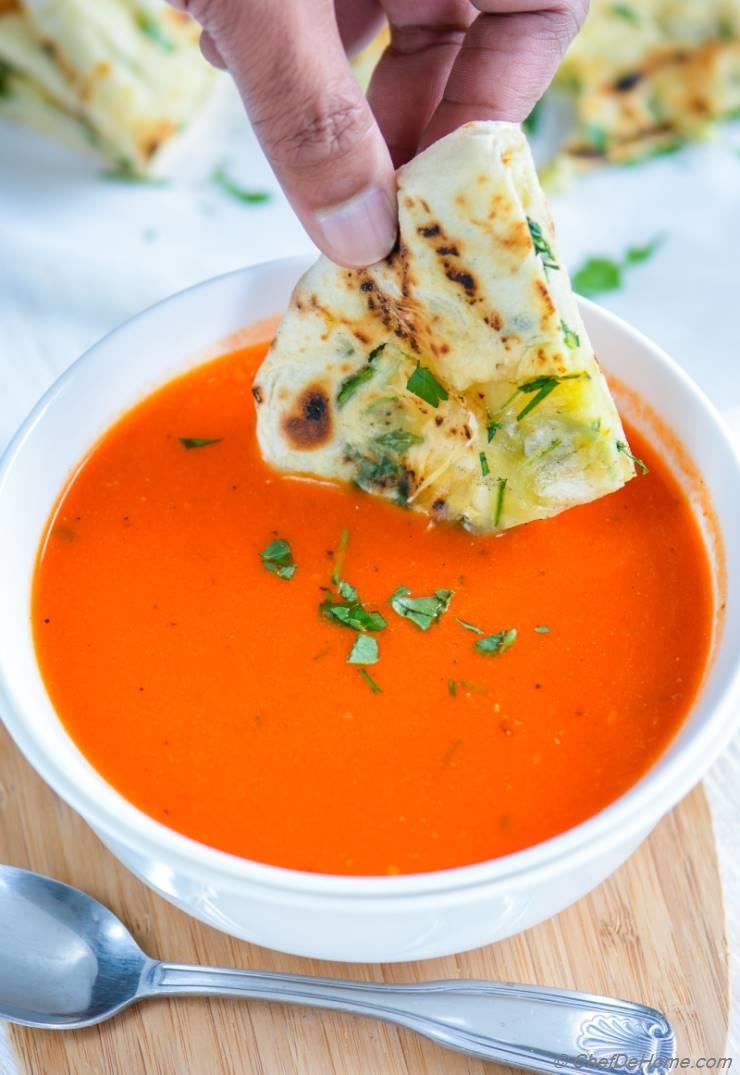 What happens when love for Garlic Naan goes beyond Indian Dinner?! Simple! I find everything "dunk-able" to enjoy my favorite bread. Really, a hot creamy soup or sizzling chicken curry, cheese stuffed pan-grilled garlic naan will make anything taste even more delicious.
Won't you agree?!
Honestly, my family loves homemade naans.... specially "garlic naan" so so much that we don't even need reason to enjoy a few... In breakfast or dinner, a naan bread in meal does not need a special occasion.
Not going too far, you know I love serving soups for dinner. Of course you know! That's all I have been sharing whole past week. So, guess what?! A pan-grilled cheesy garlic naan joins my soup dinner ALL the time. 
Before I forget, I must tell you that this naan has so many qualities of cheese stuffed bread that it is safe to even call it:
1) out-side-in pizza, charred to perfection
2)  a stuffed garlic cheese bread
3) even grilled-cheese-croutons, to dunk in a creamy tomato soup or a butter chicken! yummm! 
or a gorgeous soup which I'm going to share with you soon!
4) oh, or a made-from-scratch Mexican "Indian" Cheese Quesadilla!!
Okay, honestly, I really was so confused what should I call this cheese naan bread that I opted for the simplest name. You can eat it any way you like it ;)
Dough recipe for this garlic naan is pretty simple and close to my original Garlic Naan recipe. Only, instead of plain garlic naan, this one is stuffed with spinach and cheese filling.
Simple ingredients and simple Cooking Method
Ingredients to make naan are pretty pantry-friendly.... plain old flour, water, salt, yeast, garlic and cheese...... and cooking method is super simple too.... Plain old gas stove and a skillet/griddle.
Traditional Indian naans are cooked in very-hot clay oven known as Tandoor. At home, best way to cook naan is not conventional oven but gas stove and plain old skillet or a gas/charcoal grill. Direct heat of stove is really what makes naan crispy, crusty at the edges with traditional slight-charred taste. Almost like a stone-baked pizza out of a traditional Italian brick oven!
For it's simplicity, more than a recipe, in this post I'm sharing with you scrumptious ways to enjoy Indian garlic naan.
I often enjoy these cheesy naans as:
1) triangles in appetizer course with some marinara or hot curry sauce.
2) on side with any hot creamy soup.
3) for Indian-style Sunday breakfast.
4) last but no way the least, a homemade Indian Curry Dinner!
One naan bread.... endless possibilities!! How good is that?!
Just remember, exactly like grilled cheese croutons or any cheese bread, cheese stuffed naans are also best when served hot, just out of skillet and always.... I mean really, always... dunk in hot soup/curry/dip to enjoy every bit of comfort these bring with it.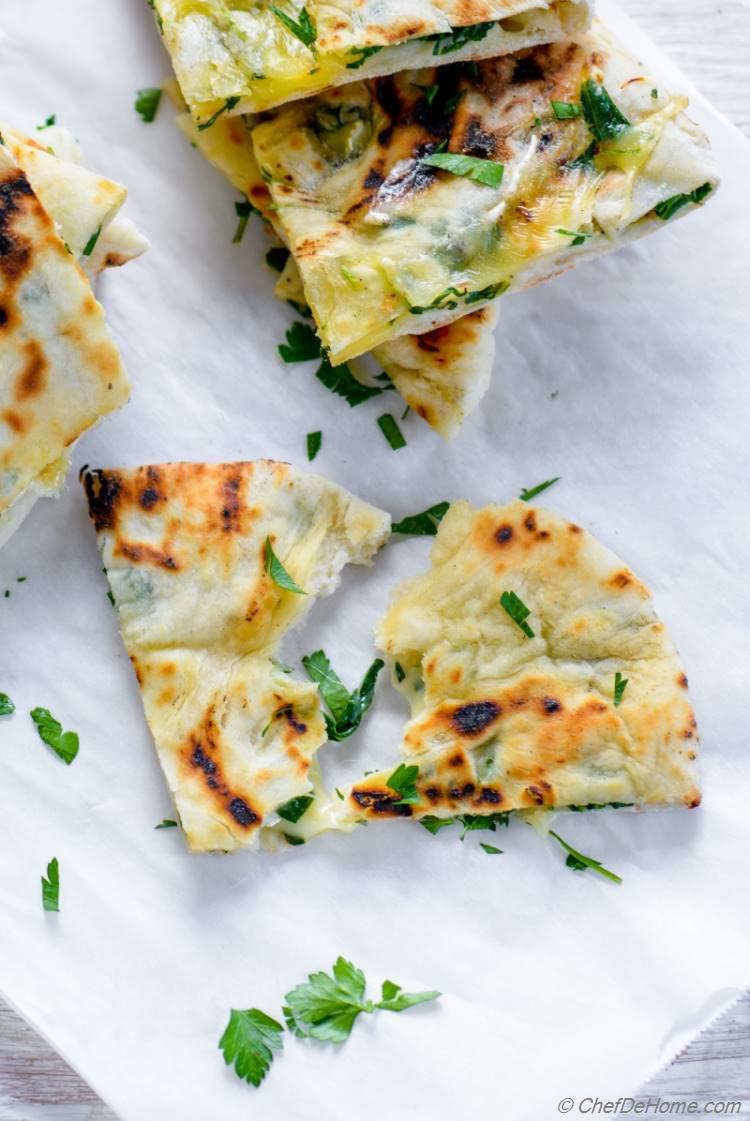 Since Naan dough does not require too much kneading... I often make the dough while I'm starting to work on the soup. A classic one-pot-soup takes 35-40 minutes start to finish and by the time soup finishes, naan dough is ready to turn into cheesy garlic croutons. 
Freeze the dough or Make Fresh!
Just so you know, naan dough also freeze beautifully. Exactly like pizza dough.
However, I prefer making a fresh dough since time it takes to thaw frozen dough is almost same as time it takes to make fresh garlic dough. So, why am I sharing idea to freeze naan dough?
Well, specially when I have all plans to make some soup or Indian curry to serve with naan for dinner... I transfer the frozen dough from freezer to refrigerator in the morning. In evening, while soup cooks, cheese naans are ready in no time!! Really, 15 minutes and you are ready to serve the dinner!
No-Yeast Version?
Oh, and if you are allergic to yeast or just because you want to, try this same grilled cheese naan recipe but without yeast. I got you covered with is No-Yeast naan recipe. Use the dough as per no-yeast recipe and stuffing instructions in this recipe for no-yeast version.
One thing is certain, these naans will sure make anyone forget store-bought naan. I know, I often say this whenever I talk about my garlic naans....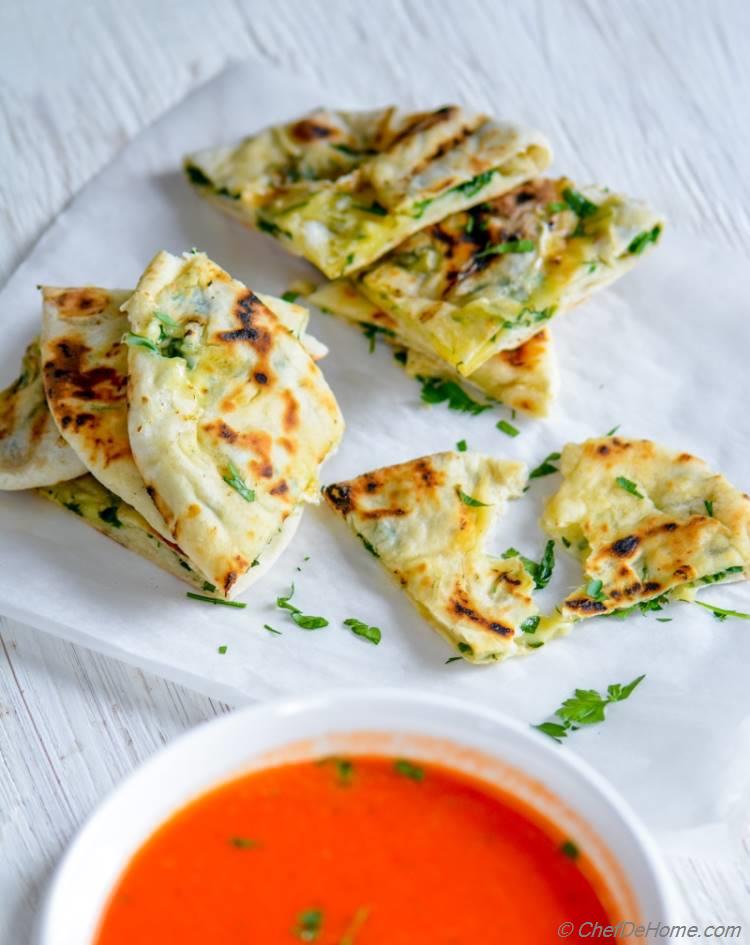 ...but you get it right? Homemade is the best!
For Cheese Naans, No Butter necessary (for a change) ;)
Okay, enough about yummy melting cheesy goodness of these naans.
Now, I must tell you that these naans don't need that generous brush of melted butter.
Ask me, why?
Well, no matter how much I love butter on naan... Cheese Naan really don't need layer of butter. Plus, since we dipping'em in hot soup or curry, the layer of butter is absolutely not required.
So no butter and also, there is a good serving of whole wheat. This, you can only get in homemade naans.... restaurants will not be that conscious for yaa ;-)
Freeze Instructions:
The beauty of homemade naans is that you can freeze them for later use. Both cooked or uncooked. Since it made-at-home, so freshness is sealed right in the beginning and then perfect Homemade Indian Food any day of the week! Check the instructions to freeze here.

Let's head straight to the recipe! Enjoy!

Now you have the Naan Croutons! Let's make creamy soups and curries, then swipe those bowls "clean"!
Grilled Garlic Cheese Naan Bread
reviews

)
(2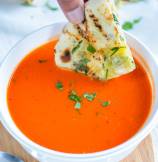 Total Time:
(Idle Time:

60 mins

)
Prep Time:
Cook Time:
Cuisine:
Indian
(

Side Dish, Bread

)
Difficulty:
Easy
Yields:
4-5 Naans
- Serves:
5
(

Total Time includes Idle Dough Rest Time

)
Ingredients
Garlic Naan Dough
Cheese Stuffing
Smart Swap: Use all Wheat Flour for a Whole Wheat Naan!
Directions
1.

Lukewarm 1/2 cup water, add sugar and yeast. Let it sit until foamy. (about 10 minutes.)

2.

Add lukewarm milk, wheat flour, garlic paste, all purpose flour (all but leaving 1/4 cup), oil, salt over bloomed yeast.

3.

Mix all ingredients. Add 1 tbsp remaining flour at a time until dough comes together. Knead the dough briefly, just for 1-2 minutes in the bowl. Dough will be little wet. If feels too wet or sticky, add 1/2 tbsp flour more at a time. Dough should not be very dry.

4.

Coat the bowl with 1 tsp oil, add dough and coat in oil. Cover with plastic wrap and then with clean kitchen towel. Leave to rise at warm place until double in size. (1-2 hrs)

5.

This is how it looks after about 1.5 hrs. Punch down the dough and transfer to work surface (flour dusted board)

6.

Heat an iron skillet or heavy-bottom pan.On a flour dusted board, divide dough into 4-5 equal parts.

7.

Roll each dough to a (about 2-3" wide circle) round shape. Top with one portion spinach, one portion cheese and few pepper flakes (optional)

8.

Fold dough from all sides, then gently roll to a 5-6 inch circle.

9.

Place one rolled naan on heated skillet/griddle and let it cook for 1-2 minutes or until yeast action shows tiny bubbles all over the naan.

Additional Notes:

While you roll next naan, keep the rolled naans covered with kitchen towel.

10.

Flip the naan, place it on direct gas flame until slight charred and cooked on other side (just 10-15 secs max) Always keep a tongue/spatula handy to lift or flip the naan.

11.

Remove cooked naan with pair of tongs and place next naan on skillet/oven, repeat until all naans are cooked. Slice cooked naans into triangles and serve hot with you favorite curry and enjoy!
Savita's Notes:
Amount of flour needed can be a tbsp more or less based on quality of wheat and weather conditions. Always start with 1/4 cup less flour, then add 1 tbsp at a time until desired dough forms.
Cooking time is estimated as it depends on method opted and also on size of skillet/sheet pan. It will take less time if you cook multiple naans at once.
DID YOU MAKE THIS RECIPE?
Tag
@SAVITACHEFDEHOME
on Instagram and hashtag it
#SAVITACHEFDEHOME
© Chef De Home. Post content including video and photos are copyright protected.
We Think You'll Love