Ground Lamb with Peas
Keema (Minced Meat) Matar (Peas) is traditional meat dish of India. Most commonly prepared with lamb's minced meat. It is very versatile dish, make it once and enjoy many ways…. Try it once and we are sure you will make it soon again…
Pairing Ideas:
Keema Matar
share on pinterest

share on twitter

give feedback or read article reviews

print recipe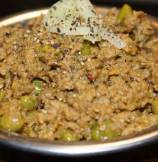 Total Time
Prep Time
Cook Time
Cuisine
Indian
Category
Curry, Main Course
Serves
2
Ingredients
1/2 Cup Green Peas

1 lbs Lamb

(Ground (minced))

1/2 Cup Red Onion

(Or White Onion)

4 Garlic

(Cloves)

1 tbsp Ginger

(Paste Or Grated)

1 tbsp Canola Oil

1/2 tsp Cumin Seeds

1 tsp Grill Mates Chicken Seasoning

1/2 Cup Tomatoes

2 Hot Green Pepper (small)

1 tsp Coriander Powder

Salt

(To Taste)

1 tsp Turmeric

1/2 tsp Red Pepper Powder
Directions
Hide Step Photos
1.

Grind onion, ginger, garlic, green chilies, tomato to a coarse consistency.

2.

Heat oil in a pan. Add cumin seeds and grinded onion mixture , fry till light brown. Add turmeric and fry for another 1 minute. Add ground lamb meat and fry while breaking apart meat chunks to small pieces with Spatula (till pink color from meat disappears and oil starts to separate from lamb).

3.

Key of making good Lamb Keema is frying mixture for little longer then required time. So add 1 tbsp Coriander Powder, Salt and 1/2 tsp Grill Seasoning (Or use 1/2 tsp of Chicken Masala) and continue frying for 5 more minutes stirring every 1 minute.

4.

Now add 1 cup water and simmer on medium low heat till keema is done to your liking. (If using pressure cooker, add only 1/2 cup water). On high heat, let liquid (left water) evaporate and you one see oil separated from lamb. Add Peas (Pre boiled Or Frozen) and fry additional 3 minutes on medium heat. Serve hot with Bread Or Chapaati.

4.

Serve hot with Bread Or Chapaati. Use Leftover to make spicy tasty tacos Or Keema Parantha. Check recipe in Similar Recipe Section.
© Chef De Home. All contents and images are copyright protected. DO NOT copy or re-use content/images/videos. For all content/post mentions with link back, contact ChefDeHome for permission.

Craving for more?
Join us: Weekly Newsletter, Facebook, Google, Twitter, Pinterest
Shop products we use: CDH Amazon Shop (affiliate links)
What would you like me to cook next?: Request a Recipe