Mexican Chipotle Tofu Sofritas Taquitos
Oh yes, I'm talking about Chipotle Mexican Grill's Sofritas! Again!!
Posted On:

Feb, 23
| Author:

Savita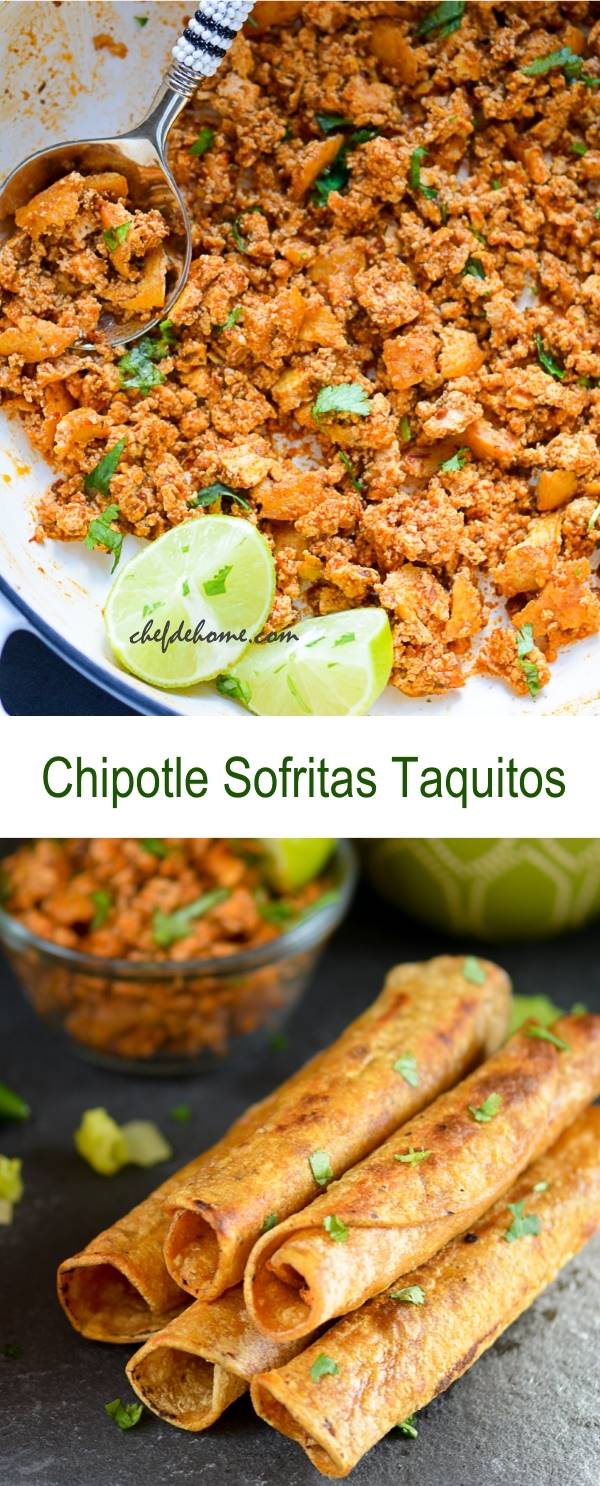 For all Chipotle Mexican Grill's Sofritas fans, I'm sharing today, a new way to eat Chipotle Sofritas!
i.e. Crispy Taquitos (or flauta) stuffed with your favorite vegan Chipotle Tofu Sofritas!!!
drum rolls!!!! :)
You know, I'm huge fan of Chipotle Mexican Grill's food and have shared recipes with you whenever I make their new recipes at home! and especially, Chipotle Sofritas, ommm yummmm yummm. I can't have enough of it! I make sure to keep a batch of Chipotle Sofritas Marinade/Sauce in refrigerator. Whenever, Vishal wants only chicken for dinner, I'm all the more happy to eat vegan, homemade Tofu Chipotle's Sofritas, with some fresh salsa and rice! In-fact, I even, sometimes, brais chicken for Vishal, in same marinade.... comes out pretty darn tasty! every time!
As I often say, Chipotle Mexican Grill deserves a big round-of-applause for offering delicious, gmo-free, hormones-free, farm-raised meats, and even vegan options like sofritas for their fans! ( please note, I've not been paid by Chipotle Mexican Grill for this post. Though, they are welcome to send some free meal coupons, :), this chef de home can happily dine-in Mexican Grill, day and night :) )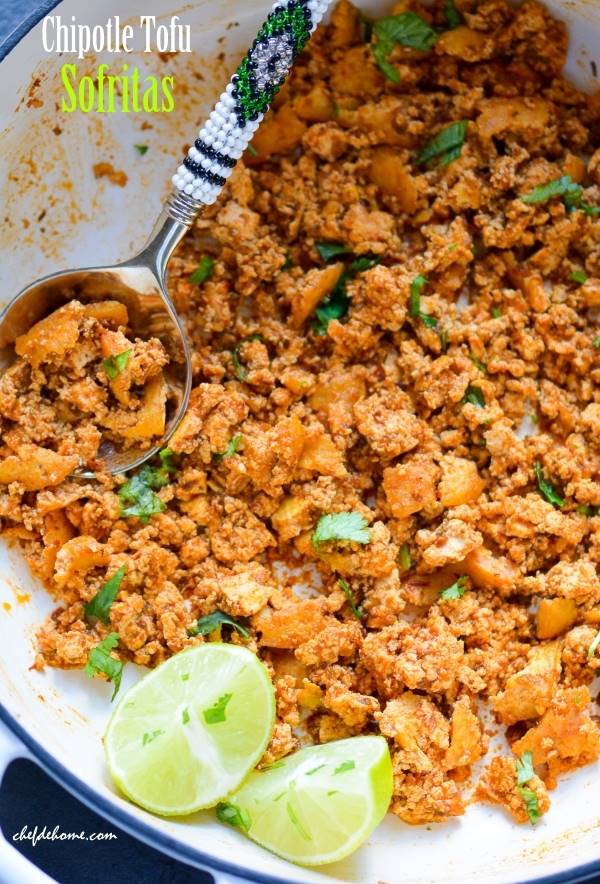 Since we have perfected the Chipotle Tofu Sofritas Copycat recipe and you have approved it.....
I decided to give you one more way to eat your favorite sofritas!
stuffed in crispy corn tortillas....
Sofritas Taquitos for snack time!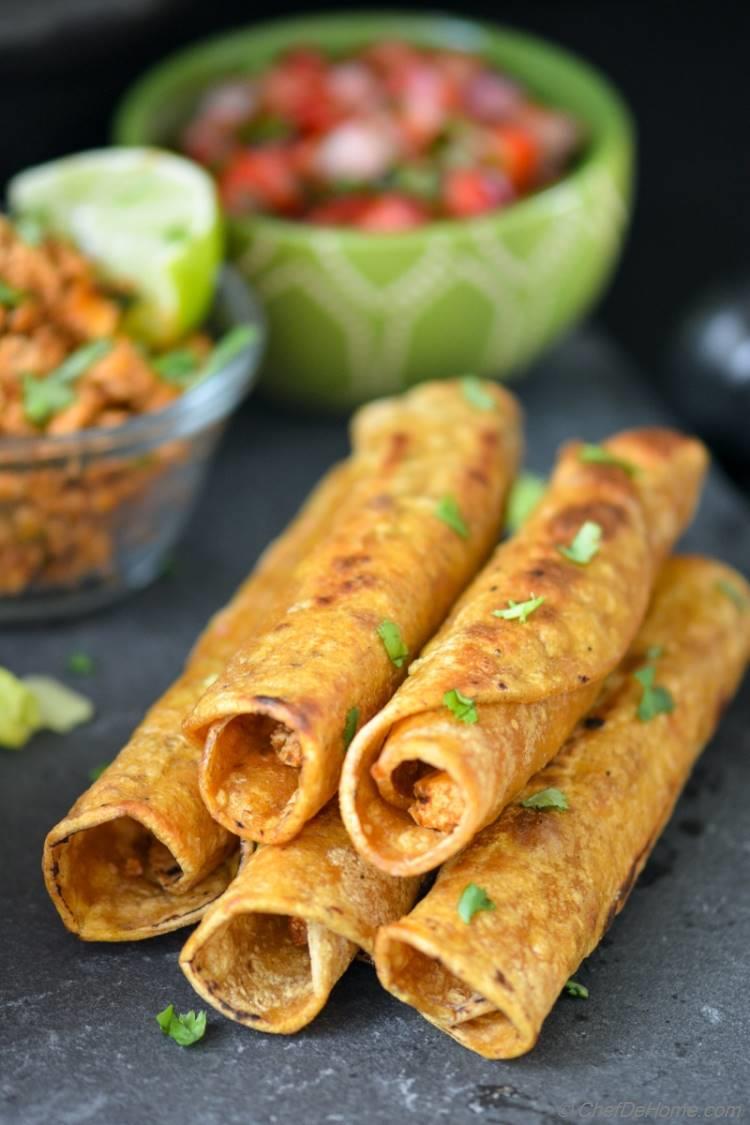 Let me sum-up this new way to eat Tofu Sofritas, taquitos, recipe for you all:
1) Sofritas are vegan, gluten free, and are very easy to prepare with this step-by-step recipe. For your comfort, I've repeated sofritas's sauce recipe steps again. You don't have to follow my previous recipe to cook sofritas.  and YES, it is a TRUE COPYCAT of Chipotle Sofritas.
2) Sofritas Taquitos are also vegan and gluten free. Shallow fried in very less oil.
3) Taquitos can be perfect for serving in party, for snacking on-the-go, and guess what, Taquitos are NOT sold in Chipotle Mexican Grill :)
4) However, if you are time pressed, just go buy sofritas from Mexican Grill and make these Taquitos for your party in-house!! How good does that sound??
5) Also, sharing a bonus recipe of homemade fresh and zesty Strawberry Salsa to serve with Taquitos!!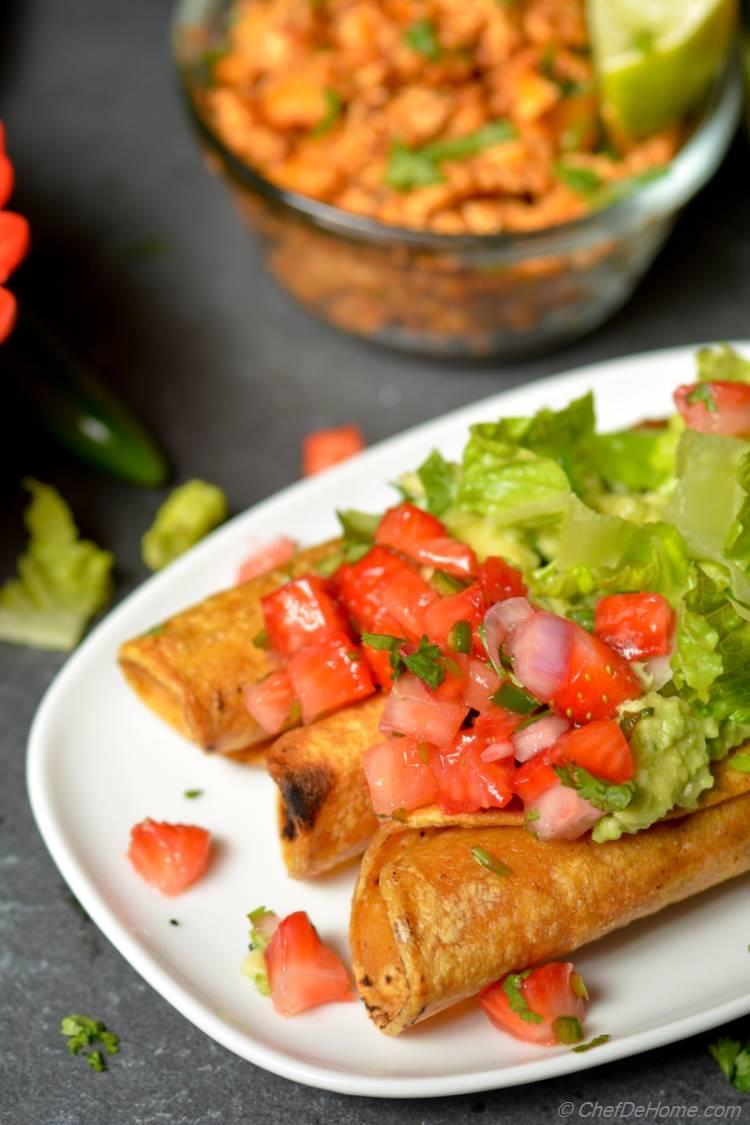 Sofrito Marinade Sauce yields 1 cup. One pound tofu needs about 1/2 cup of the sauce or a little more if you prefer spicy.  Leftover sauce will stay good in refrigerator for a week. You can quickly make Chipotle Sofritas or Taquitos at home, in not time, again!!!
All steps of Homemade Taquitos with delicious Sofritas, at home, in a quick glance....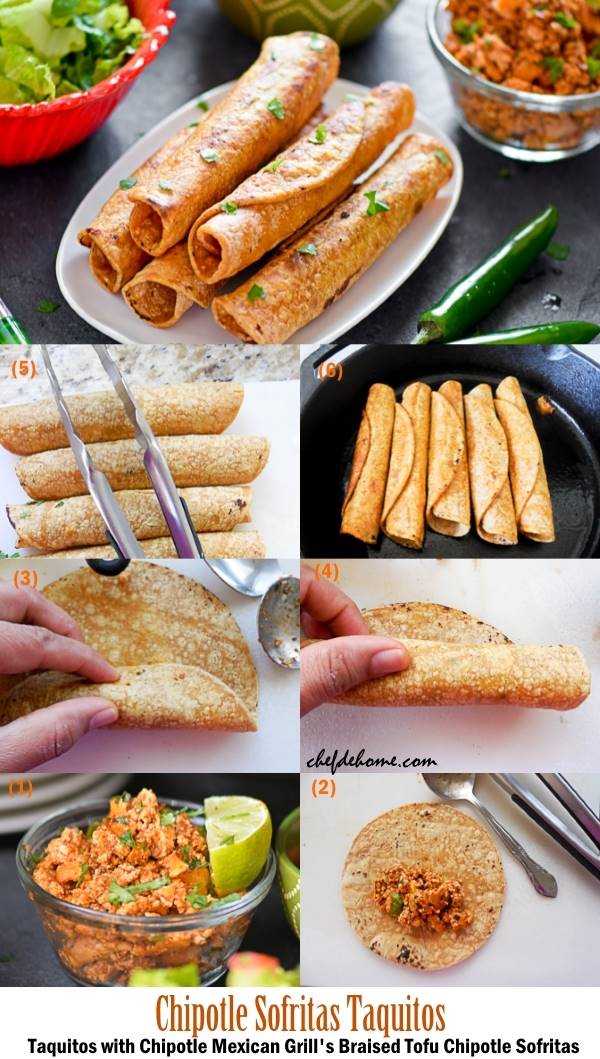 Don't forget to sign-up for ChefDeHome Newsletter today, for more Chipotle Mexican Grill's Recipe and lot more delicious ideas to eat healthy yet yumm-licious!.
Happy Cooking!!
Cheers!
~Savita
Chipotle Mexican Grill's Sofritas and other favorite recipes:
Mexican Chipotle Tofu Sofritas Taquitos
review

)
(1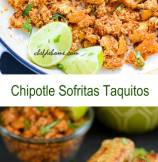 Total Time:
Prep Time:
Cook Time:
Cuisine:
Mexican
(

Snack, Main Course

)
Difficulty:
Easy
Yields:
12 Taquitos
- Serves:
4
(

1 cup sofritos is good to cook 2-3 pounds of tofu

)
Ingredients
Chipotle Sofrito Sauce
Tofu and Taquitos
Strawberry Salsa (for serving)
Smart Swap: Replace tofu with seasonal vegetables or white meat chicken per your liking!
Directions
1.

Start with roasting the pepper. It took me 5 minutes to beautifully char this poblano! Let cool a little, then remove seeds and scrap-off skin of poblano. set aside.

2.

For sauce, in a blender/food processor jar, add chipotle pepper, adobo sauce, poblano pepper, garlic, cumin powder, oregano and tomato paste.

Additional Notes:

Tomato paste I used is Monte Amore Tomato Paste, You can use any good quality tomato paste or tomato puree.

3.

Add olive oil, salt, lemon juice, sugar, and 1/4 cup water/vegetable stock. Process to make a fine puree. Set aside.

4.

To prepare Tofu - Pat dry tofu with paper towel to soak any moisture. Heat 1 tbsp oil in a non-stick pan, add half of tofu and shallow fry until crisp from both sides. (about 3-4 minutes each side). Repeat with remaining tofu. Drain prepared tofu on paper towel to soak excess of oil while you finish frying rest. Once cool enough to handle, shred the tofu with hands or small chop it with knife.

5.

Make Sofritas - In a wide pan, add 1/2 cup of sofritas marinade/sauce prepared in step 3. Saute stirring frequently until oil starts to show on side. (just 2-3 minutes) This ensures raw garlic taste is gone and also flavor develops with cooking sauce. Add shredded tofu and 1/4 cup water.

Additional Notes:

I shredded tofu with hands today, so as to have fine mince for filling taquitos

6.

Cook until water has almost evaporated, leaving behind soft but not saucy sofritas.

Additional Notes:

I let water evaporate because I want to fill it in corn tortillas. If eating with rice or beans, like you get in chipotle, you can leave sofritas bit saucy too!

7.

Taquitos - Heat 1-2 tbsp oil in a iron skillet. When oil is heating up, warm tortillas in microwave or on open flame so that they are pliable and easy to work with. Also mix corn starch with water and set aside. Put 1-2 tbsp filling in each tortilla.

8.

Roll it up to the end, then seal the edge with a brush of starch (if using)

9.

Roll half of tortillas, keep placing seem-side down on a platter while you roll next. I often put a tongue or wide spatula on rolled taquitos to keep'em intact while I roll rest!

10.

Cook 6 taquitos in hot skillet until crispy from all sides. Mean while, roll the remaining tortillas and repeating 7-10

11.

While last taquitos batch is cooking, make strawberry salsa by mixing the salsa ingredients given in ingredient list. Taste and adjust salt. Serve taquitos topped with strawberry salsa, lettuce and enjoy!! Enjoy homemade Chipotle Mexican Grill's food!!
Savita's Notes:
If sauce still feels spicy to you, consider adding 1/2 tbsp more sugar or 1 tbsp more tomato paste,. Also you can use just one adobo pepper and instead add one more tbsp adobo sauce for flavor.
DID YOU MAKE THIS RECIPE?
Tag
@SAVITACHEFDEHOME
on Instagram and hashtag it
#SAVITACHEFDEHOME
© Chef De Home. Post content including video and photos are copyright protected.
We Think You'll Love