Grilled Hot Cheesy Chicken Calzone
This shop has been compensated by Collective Bias, Inc. and its advertiser. All opinions are mine alone. #KingOfFlavor #CollectiveBias
Posted On:

Sep, 9
| Author:

Savita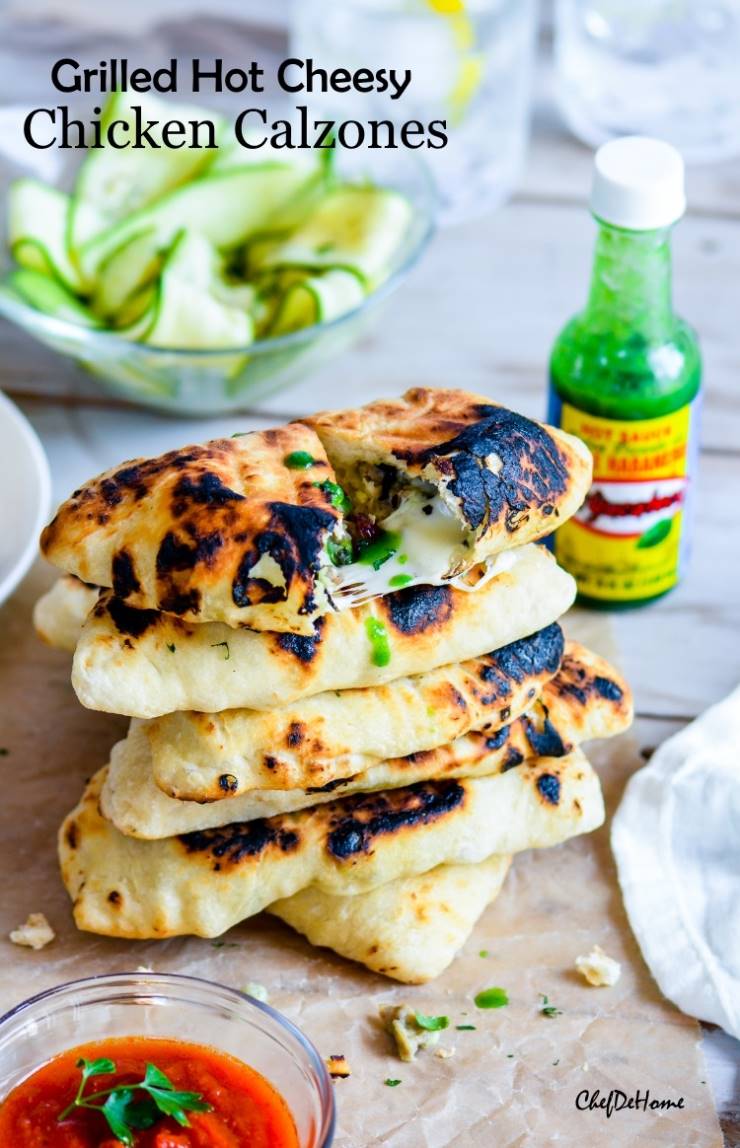 Sharing with you, mini grilled Chicken calzones filled with aromatic, flavorful and spicy chicken, spinach, and oozing cheeses! With delicious flavor of El Yuateco Green Habanero Sauce, these stuffed pocket are delicious way to please hungry cheering crowds!  Oh- and the fact that these calzones are grilled not baked make'em perfect for tailgating!
Just like you, we love enjoying game day in front of TV with friends, and family! What a foodie like me likes the most? It is the opportunity to serve and share delicious homemade food!
I'm sure you will agree, grilled or baked....... tailgating or in front of TV...... No Game Day gathering/party is complete without few pizzas and big platter of hot chicken wings! Isn't it? So I thought why not share with you an easy appetizer recipe that combines these two delicious game day favorites in one!
These Cheesy Chicken Calzones are no-mess, easy-to-grab with crusty (rustic pizza-like) fire-grilled crust which holds inside a flavorful hot Green Habanero Sauce coated chicken and melting cheeses! Served with side of marinara sauce for dipping..... This, my friends, is a game day appetizer with scrumptious twist!
Sounds yummy?! What do you say?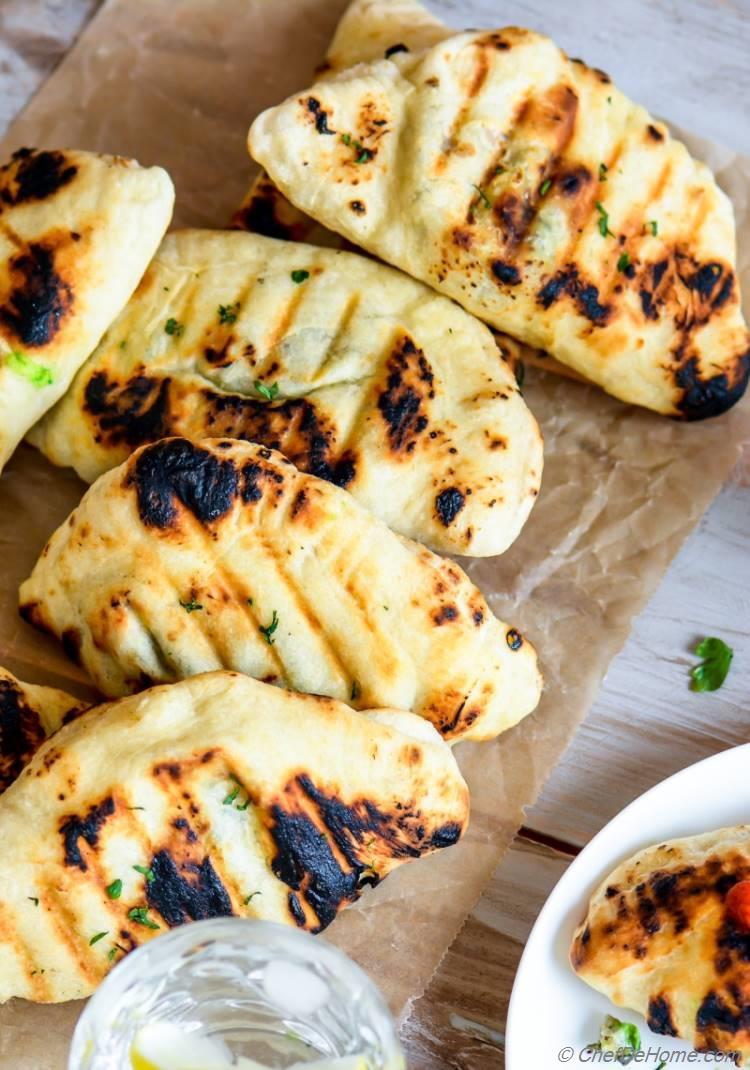 These Grilled Hot Cheesy Chicken Calzones are clearly one of my Italian favorite food wrapped-up with my Latin favorite chili and spices!
My game-day parties have to have spicy food. Since my friends know I'm Latin spice and chili fanatic, they would often request (actually demand) spicy food. This time, I decided not to share classic game day food: pizza and hot chicken wings, and still serve my friends an ultimate mouthwatering, spicy, cheesy appetizer.
So I made Hot Chicken Calzones which are:
1) Easy to assemble and cook (no need to stand in kitchen for hours). 
2) Perfectly hearty, handy, and comforting like pizza!
3) Deliver the "spicy" promise of hot chicken.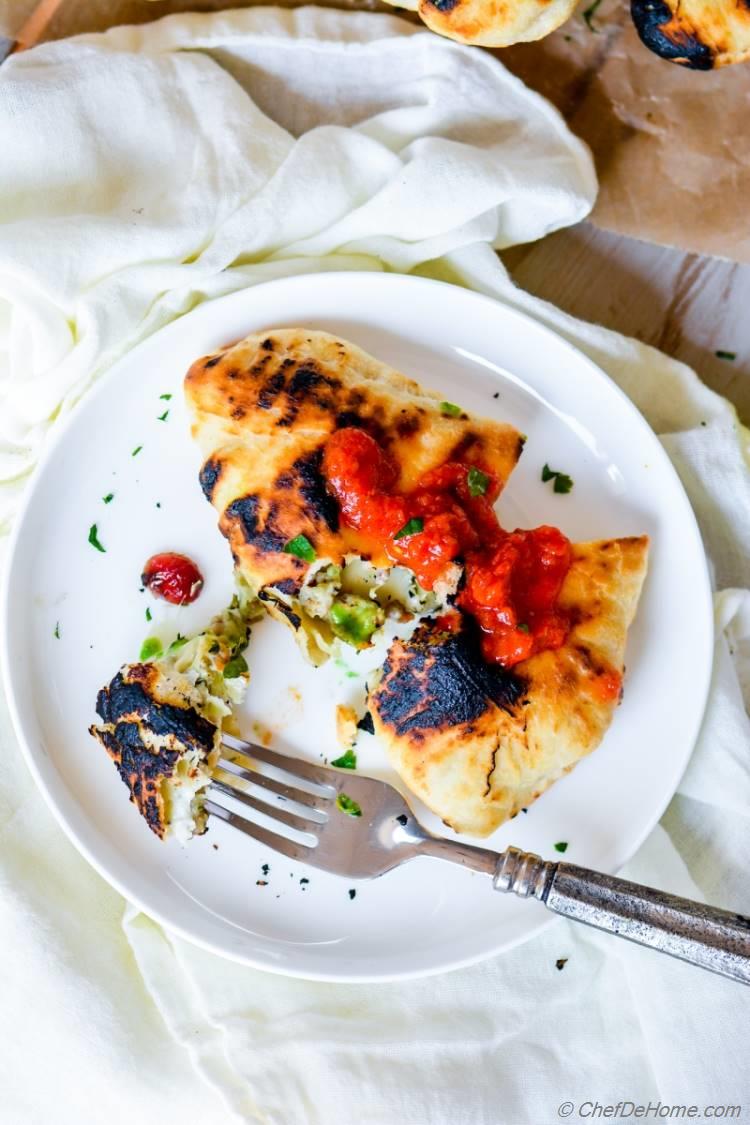 When I think of Hot Sauce, only one brand comes in mind - El Yucateco Hot Sauce(s). During my recent visit to Walmart, I grabbed few bottles from the Hispanic aisle along with chicken, frozen spinach, and other ingredients.
El Yucateco Hot Sauces are made with fresh habanero peppers, garlic, and spices! What I like most about El Yucateco Hot Sauce, is that it has very flavorful hot and spicy bite, and very less vinegar taste with no artificial coloring.
And boy, do they deliver on promise of HOT Sauce? Oh, yes! 
El Yucateco Green Habanero Hot Sauce which I used for these Chicken Calzones is one of my favorite! You can actually taste fresh crisp habanero pepper flavor not just a sour and salty vinegar-y taste like other hot sauces. Heat of habanero peppers blend perfectly in cheese, chicken, and spinach....  makes every bite scrumptious... Not burning hot, but bursting with spice and pepper flavor! In my opinion, this sauce was perfect to bring out the deliciousness of chicken and spinach!
My other favorite is, El Yucateco Habanero Red Hot Sauce. For this recipe, I picked Green Sauce, but Red Sauce is equally delicious with subtle tomato and fresh habanero pepper taste. You can use either of the two for the Chicken Calzones recipe.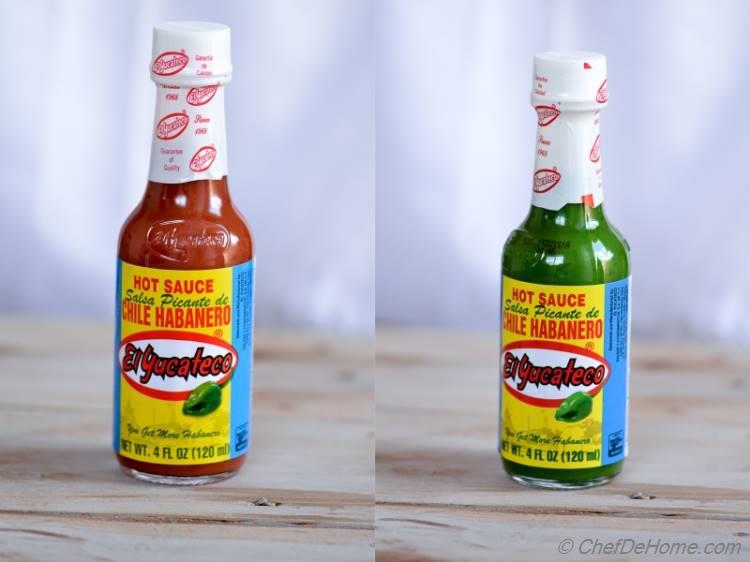 Or if you want to add some smoky roasted habanero flavor into these chicken calzones, El Yucateco has a Black Label Reserve Hot Sauce. This sauce is newly introduced by El Yucateco. Anyone who loves hot, spicy and specially smoky food must try this sauce. Like, if you are "Spicy Chili" fan, I highly recommend trying it. You know what? I even love adding it to a Chocolate Mole sauce! Chili and Chocolate! Irresistible!
Last but no way the least, El Yucateco also has a XXX Habanero Hot Sauce. Gosh! It is HOT! XXXtra Hot with approx. 12,000 on the scoville scale. 
Now, back to my Chicken Calzone. :)
Let me summarize for you, why should you serve these easy Italian Chicken Cheese Calzones for next football party?!
1) Mini grilled calzones are perfect petite, hearty and handy game-day party food.
2) On the grill, the calzones dough gets crusty and charred on the outside, but stays fluffy and moist in the center. No one.... simply NO one will stop on one! ;-) (make some extra!)
3) Flavored with Green Hot Habanero Sauce, cheesy chicken, and spinach, these calzones are like pizza-and-hot-chicken-wings-in-one! 
4) With this easy recipe, no need to make dough from scratch, purchased pizza dough or thawed dinner rolls work great! 
5) 16 Calzones need just 35 minutes (only 20 minutes cooking) and these will fly from your grill to guest's plates!
6) Make Ahead: You can make chicken stuffing, at-least a day in advance. Or if not planning to grill, just bake all Calzones at once in oven! (instructions included with recipe)
So, are you ready to ditch the delivery?!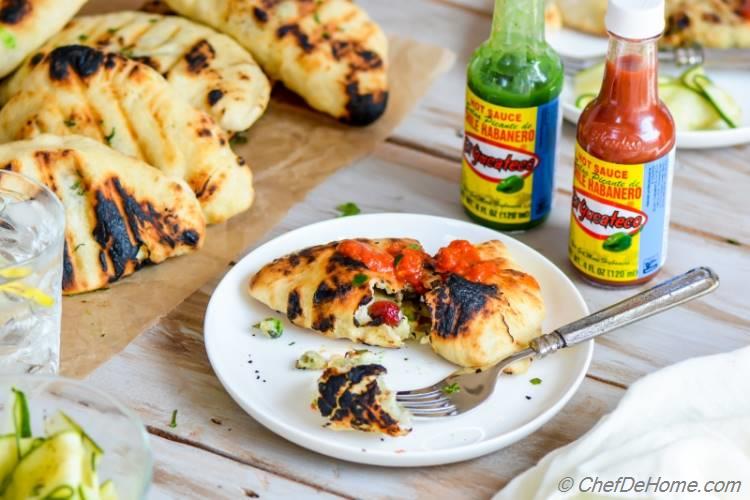 I hope you enjoy my delicious and spicy take on Italian Chicken Calzone with El Yucateco Green Habanero Sauce. Check out more of El Yucateco sauces and hot sauce inspiring recipes on their official website here. I would love to hear your favorites.

Have a great day and enjoy the games! -Savita
Few more game day chicken appetizers:
Grilled Hot Cheesy Chicken Calzone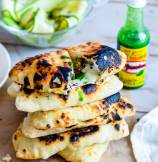 Total Time:
Prep Time:
Cook Time:
Cuisine:
Italian
(

Snack, Lunch

)
Difficulty:
Easy
Yields:
16 Mini Calzones
- Serves:
8
Ingredients
Calzone Filling
Calzone Crust and Serving Suggestions
Smart Swap: Replace chicken with ground turkey or ground lamb.
Directions
1.

In a skillet, heat 1 tbsp olive oil. Add chopped onion and saute until soft. (about 2 minutes). Add garlic, ground chicken, 1/4 tsp salt, oregano and cook stirring and breaking chicken to smaller chunks for 3-4 minutes. Then add thawed spinach and continue cooking until water fully evaporates and chicken is fully cooked, little brown and crispy here and there. (2-4 minutes). Add in chopped parsley and remove from heat.

2.

Transfer cooked chicken to wide bowl and let cool fully. In meantime, transfer the thawed pizza dough onto a work surface and divide into 16 small equal portions. Cover with clean kitchen towel and set aside while you finish working on filing in step 3.

3.

In room temperature cooked chicken, add shredded mozzarella, parmesan and El Yuateco Green Habanero hot sauce. Mix well, taste and adjust salt, and set aside.

4.

Roll each dough ball to a 2 inch wide and 4 inch long oblong. Place 2 tbsp of filling on one half of the dough, top with half slice of mozzarella cheese (optional, not shown in this picture).

5.

Wet the edges of dough circle with wet hand and fold in half. Seal the edges with back of a flour-dusted fork. Brush the top with oil and set aside on a sheet tray. Roll and fill rest of calzone dough by repeating step 4 and step 5.

6.

Preheat an outdoor grill or an iron griddle. Place the calzones (as many as you can fit on the grill and cover. Cook until the dough is firm and risen, about 4 minutes.

7.

Turn and grill the other side, another 4 minutes. Repeat step 6 and 7 until all calzones are ready.

Additional Notes:

If the outside is done before the inside, move to a cooler part of the grill to finish cooking all the way through.

8.

Serve hot grilled calzones with side of marinara for dipping. Serve and enjoy!
Savita's Notes:
Are you hosting an in-house Football Game Day party? You can also bake these calzones without any additional effort. Just preheat oven to 400 degrees Fahrenheit. Using a sharp knife, cut a slit on the top of each calzone. Bake until golden brown, about 25 to 30 minutes.
You can also make 8 larger calzones instead of 16 smaller calzones.
DID YOU MAKE THIS RECIPE?
Tag
@SAVITACHEFDEHOME
on Instagram and hashtag it
#SAVITACHEFDEHOME
© Chef De Home. Post content including video and photos are copyright protected.
We Think You'll Love