Avocado Fried Egg Toast with Tomato Jam
Make breakfast special with homemade easy tomato jam topped on crisp breakfast toast with creamy avocado!
Posted On:

Feb, 28
| Author:

Savita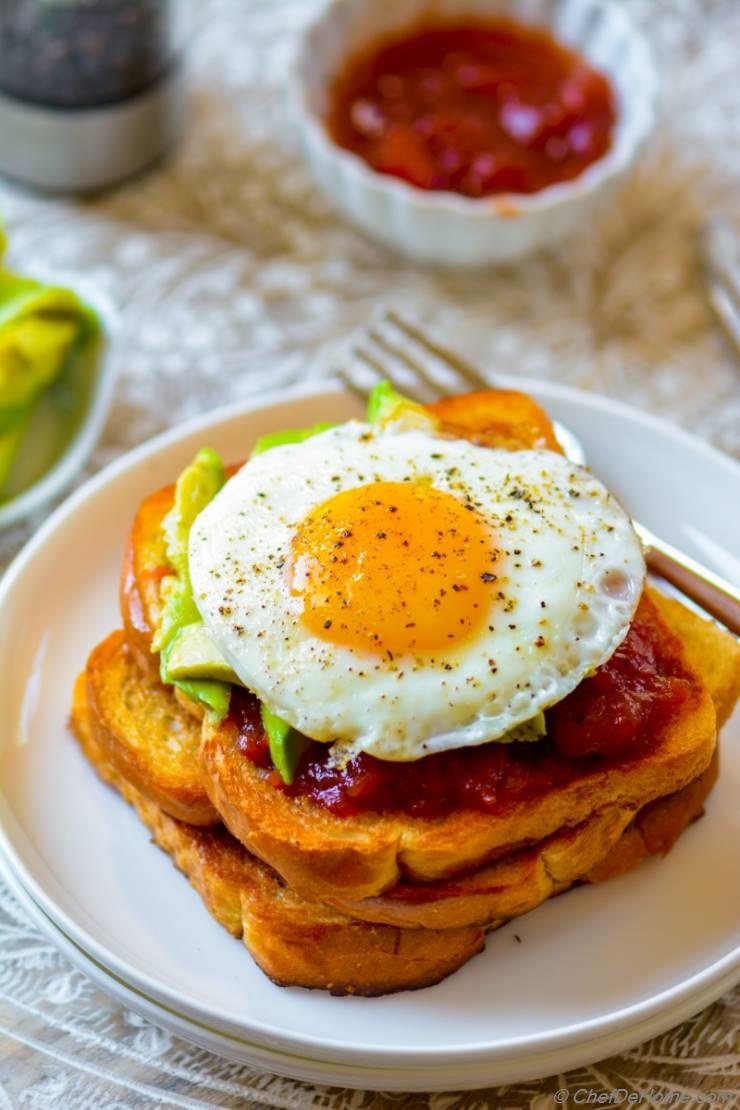 Crisp breakfast toast topped with delightful sweet tomato jam, creamy avocado and fried egg.
Also, sharing a quick and easy fresh tomato jam recipe which is great on a simple avocado toast or also perfect to layer in sandwiches (special favorite with kids). 
As someone always says.... Breakfast is one important meal of the day and it is important to have a good breakfast to start day fit and focused. If you have picky eaters then breakfast should not just taste good but look delicious too. You know what I mean?! ;) 
Now, few days in week are so busy that I struggle to think anything beyond toast. Seriously, I'll not lie to you. Fact is, Food Bloggers also struggle to put a thoughtful dish on dinner/breakfast table sometimes. Essentially, this is why all of us curate recipes... pin inspirations.... follow blogs and buy cook books... to keep something new and exciting coming to dinner/breakfast table. Isn't it?
Last week, I shared with you a week full of lite, delicious and zippy Mexican food - some Mojo Chicken Bowl, Shrimp Tacos, and Chipotle Sofitas Breakfast Casserole! Yumm!! :-) 
This week, not sure of another Mexican Week but planning to bring lots of color to your food plates with a few easier, healthier, and crave-worthy recipes. Like today's gorgeous fried egg, avocado, and tomato jam toast!  
Okay, tell me? Do you believe "Colorful food makes day even more special?! Specially when picky eaters also finish the whole plate!" :)
? ?
ditto here!!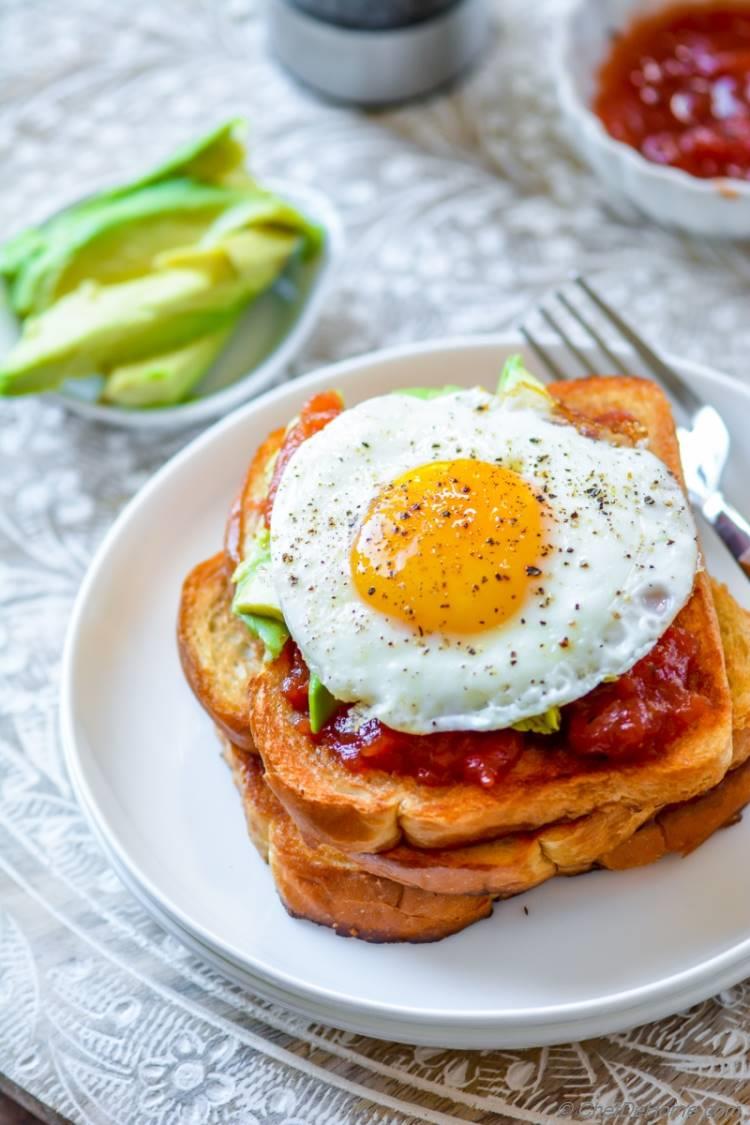 For me, sharing recipes on blog (specially breakfast) with you give me opportunity to be more thoughtful, committed to bring bold and healthier flavors and also increases my collection to cook for my family. :) Super win-win!!
So I thought to start week with a colorful breakfast - a simple toast topped with delectable lush tomato jam, creamy avocado, and a crispy sunny-side up egg. Really, a few simple ingredients make this simple breakfast toast idea, super special. 
I'm sure you see a lot of Egg and Avocado Toasts around the internet, in magazines and where not! :) Star of this simple egg toast is : homemade quick tomato jam which is as delicious as it looks.

Oh, and good news is this toast can be a "Lunch" as well. For lunch, my only suggestion would be to mash the avocado and spread on toast before adding tomato jam. In simple words, sandwich tomato jam between avocado layers. Avocado will hold the sandwich and jam together and will prevent it from getting soggy.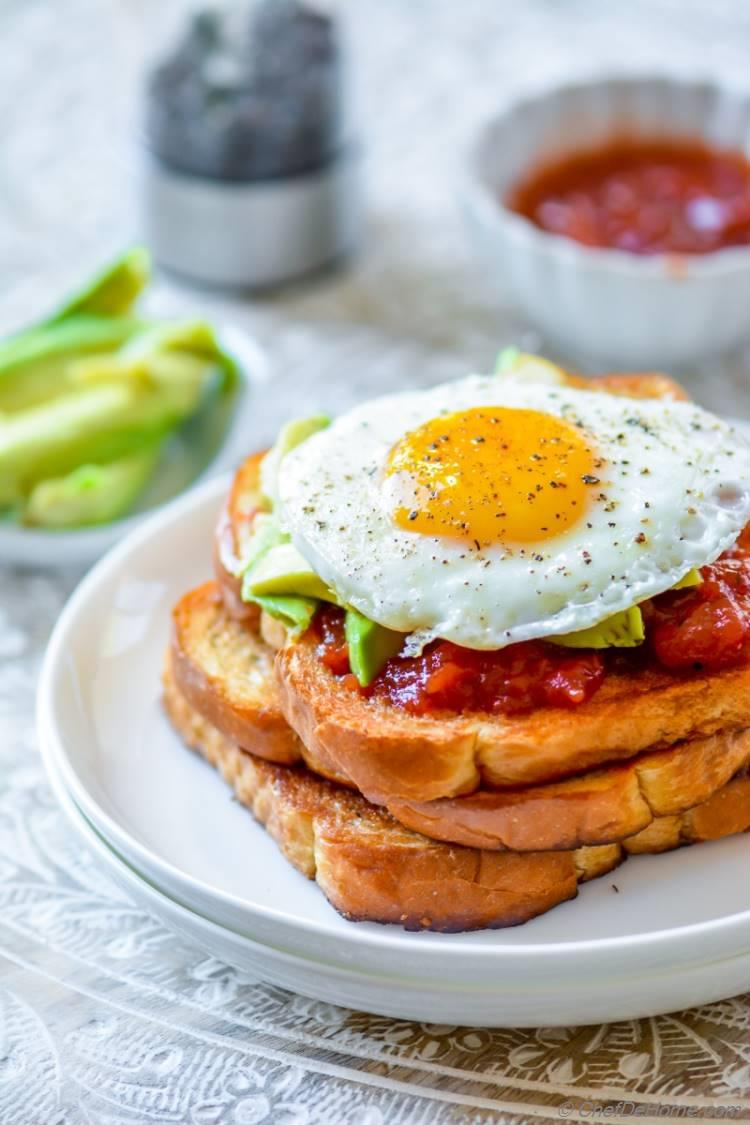 This 20 minutes tomato jam recipe is my fix to utilize extra tomatoes in refrigerator, and also delicious excuse to eat an avocado toast for breakfast. Thing is, my better half is not so fan of avocado but looove fried egg on toast. On the other hand, I'm fan of avocado toasts but can't eat raw egg preparations.
So, clearly this avocado toast has fried egg because Vishal love'em and avocado because I'm addicted to a morning avocado toast. Tomato jam is one ingredient on this toast which is favorite of both of us. Some days when Vishal refuse to eat egg toasts just because I can't eat eggs... (how sweeeet, know?) I make Indian Salted Paratha Roll (pan fried flat bread) for both of us, and with generous layer of tomato jam and mashed avocado. Gosh, it tastes so so good! (I will save the details for some other day or today's bread toast will feel neglected. ;) )
This jam is not as sweet as most store-bought jams are. I have tried to keep it lite sweet and savory.... Also just subtle spiced so kids can also enjoy it. Speaking of which, this jam can be wonderful treat for kids. Specially if they like egg toast..... tomato jam egg toast will be sure their favorite. If you don't feed your kids half fried eggs, you can also top this toast with scrambled eggs instead.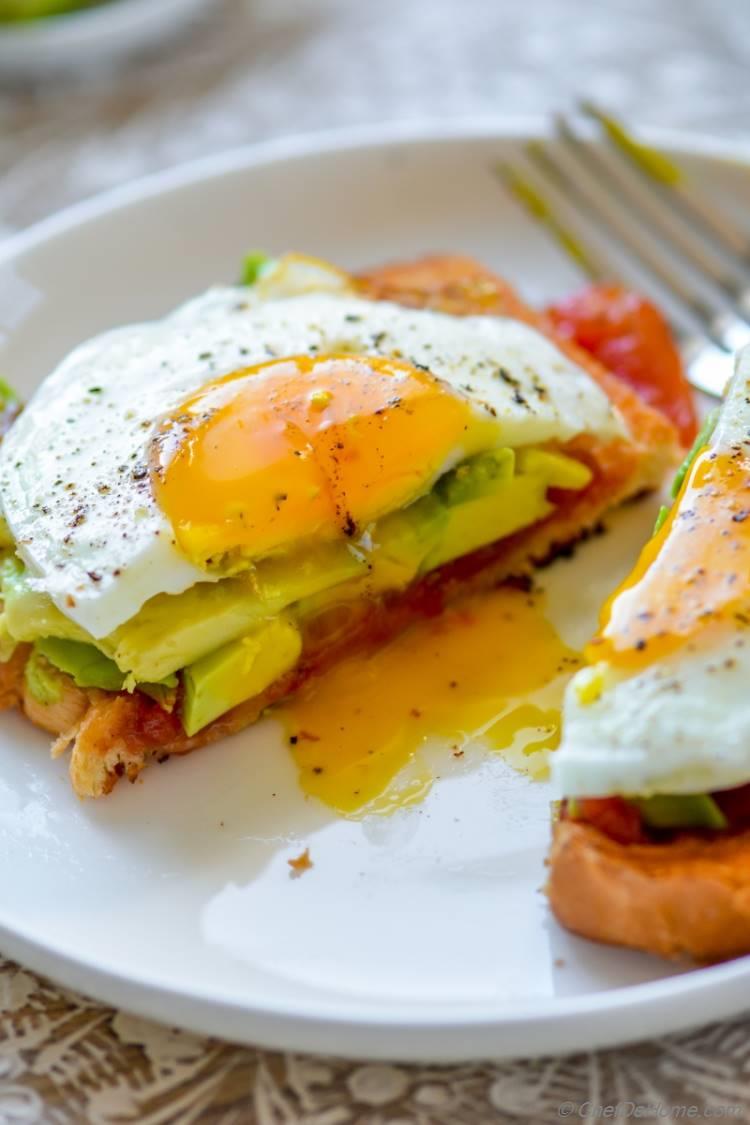 Making of quick tomato jam is as easy as it sounds. I start by boiling a pot of water and throw in tomatoes to blanch'em quickly, then shock in ice-cold water to easily peel off skin. (you can also skip this step and use store-bought unsalted can of whole tomatoes.)
Once tomatoes are ready, I heat olive oil in a non-reactive, preferably steel, sauce pan. Crush and add peeled tomatoes to pan with seasonings and sugar.  Cover the pan and let tomatoes simmer until I toast the bread and fry eggs for making sandwich.
By the time I finish rest, tomatoes are soft, sugar has released sweet juices from tomatoes. Just a simple step to add corn starch and jam is ready to serve. To save time, I usually make a small batch of tomato jam over the weekend and don't bother to can it. It anyways stays good in refrigerator for 4-5 days. Also, I'm hardly ever able to save it more than 2 days ;) Why bother to can?! Right?
Color of jam depends on quality and type of tomatoes used. If you follow the recipe exactly then flavor will be spot-on. Just make sure to use juicy ripe tomatoes and not raw or overripe which are dull in taste.
PS: If you can't find ripe tomatoes, please use canned unsalted whole peeled tomatoes, slightly crushed.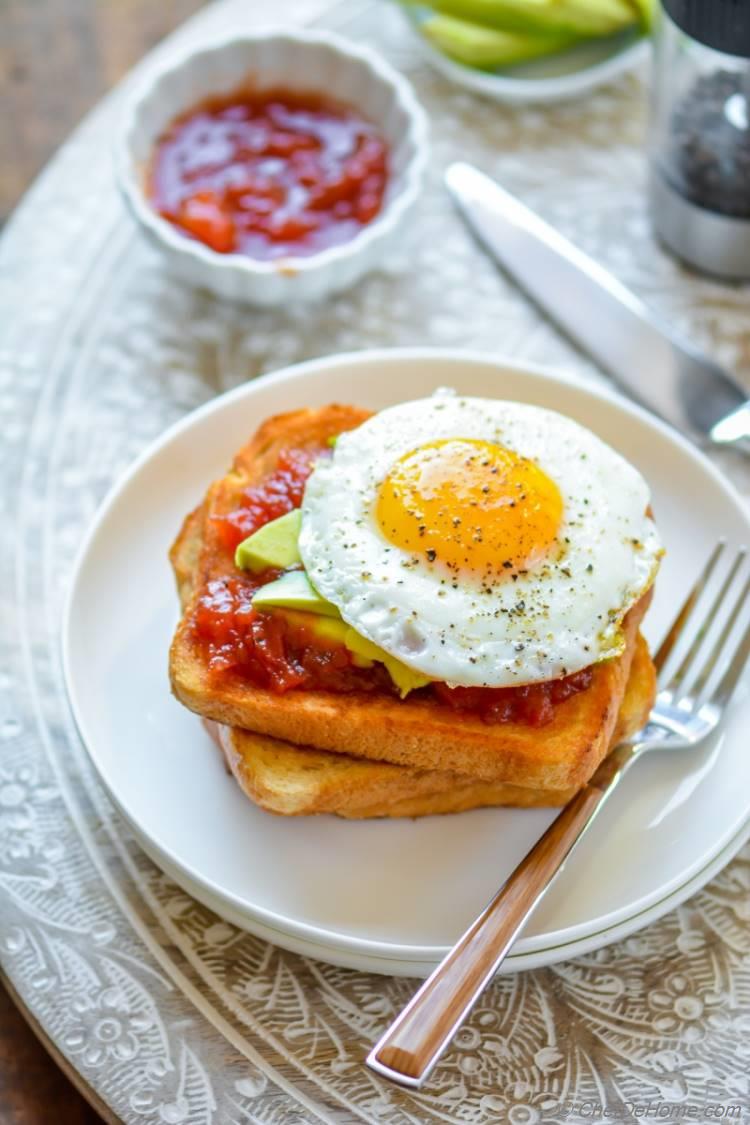 Since Egg is adding a layer of silky creaminess in this egg toast... I want to share with you few tips to fry perfect egg with fully cooked whites and still runny yolk.
1) Instead of using just oil to fry egg.... add half butter and half oil. Butter has high smoke point which well help crispy-up and cook egg whites better than oil alone.
2) Start frying egg at low-medium heat instead of high heat. High heat will crisp egg very fast but egg whites near yolk will be still raw.
In simple words, a perfect fried egg equals to (=) a low-slow non-stick pan, butter and oil half-and-half,  with eggs left alone to cook slowly will yield best sunny-side up fried eggs ever! But don't just take my word for it. try it, please :)

This Avocado Toast is so simple, I'm not sure what else should I say about it. I think I can end today's post saying - bon appetit! And I'm happy to add some colors to your breakfast plate today :)
Keep Smiling! -Savita
Few more egg recipes:
Avocado Fried Egg Toast with Tomato Jam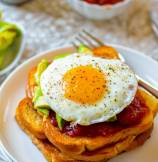 Total Time:
Prep Time:
Cook Time:
Cuisine:
American
(

Breakfast, Preserve

)
Difficulty:
Easy
Yields:
2-3 Servings
- Serves:
2
(

No. of servings depends on serving size.

)
Ingredients
Tomato Jam
Avocado Toast
Smart Swap: Don't have time to make jam? Replace jam with some pan-fried bell peppers.
Directions
1.

Bring pot of water to rolling boil. while water boils, in a wide bowl, add water and ice and set aside. When water start boiling, add tomatoes and boil until skin start to loosen. Remove tomatoes from boiling water and immediately put in ice water to stop cooking. Once tomatoes cool a bit, peel off the skin and coarsely chop.

2.

Set a steel pan to heat on medium heat. Add chopped tomatoes, lemon juice, with sugar, salt and cinnamon. Cook on medium heat until tomatoes are cooked, juices thicken (20-25 minutes). Now, mix corn starch in 2-3 tablespoon warm water until fully dissolved. Add to cooking tomatoes and cook for more 5 minutes. Remove from heat and let the jam cool.

Additional Notes:

Jam yields 1 cup. Consume jam within 4-days. Store in refrigerator in an air tight container.

3.

Set a non-stick skillet heat at medium heat. Brush bread with room temperature butter and set aside. Add 1/2 tbsp butter in heated skillet and break eggs. Leave to cook on medium heat until egg-whites are cooked, sides are crispy yet yolk is runny. (5-6 minutes)

4.

Remove eggs in a plate, add bread to same skillet and leave on low heat to toast until nice and crispy from both sides. (2-3 minute each side)

Additional Notes:

You can toast bread in toaster.

5.

To assemble, top two of the toast slices with generous spoonful of tomato jam, slices of avocado, and one fried egg each. Serve immediately. Enjoy!
DID YOU MAKE THIS RECIPE?
Tag
@SAVITACHEFDEHOME
on Instagram and hashtag it
#SAVITACHEFDEHOME
© Chef De Home. Post content including video and photos are copyright protected.
We Think You'll Love