Creamy Potato Salad without Mayo
Easy and ridiculously creamy potato salad without mayo made creamy with two simple egg-free ingredients.. Gluten Free and Egg Free
Posted On:

Nov, 1
| Author:

Savita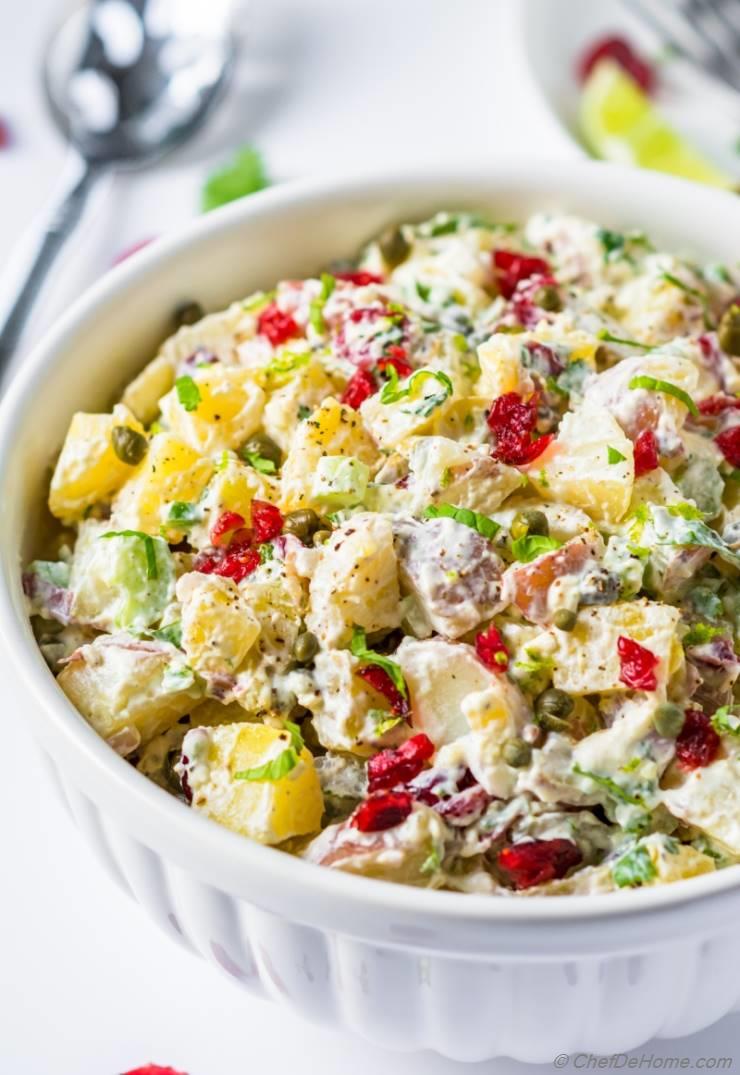 Simple, easy and ridiculously creamy potato salad with combination of red skin potatoes and golden potatoes, crunchy celery, sweet cranberries and creamy sour cream dressing without mayo.
This is a kinda potato salad which  everyone can enjoy! All who love potato salads and all who can't eat it when it has mayo! I replaced mayo with two creamy ingredients to keep it egg-less yet as creamy as a potato salad with mayo.
As I always say, thanksgiving sides are my favorite way to get the taste of holiday. 
Since we are officially in Thanksgiving month - November.. I felt there is no better way to start the week but with a homemade creamy potato salad. Yes, creamy salad but without mayo which makes it vegetarian and suitable for people like me who can't eat mayo.. 
Yesterday, I decided to take a day off. Since it was Diwali on Sunday... We were so so busy whole weekend.. cleaning, decorating, cooking and eating. :) Yesterday was also Halloween and I was participating in a community bake sale which added yet another layer of cooking in my schedule...
Boy, was I busy?! Lost in flour and butter! No, I did not make cupcakes or cookies but jack-o-lantern hand pies stuffed with potato filling but flour and butter were still needed. :)
At one point I was thinking.. Why did I take so many projects of cleaning/cooking in such tight schedule?! In Vishal's words - this is spirit of festivals and holidays... We want to do all we can to make them special. So true! Isn't it?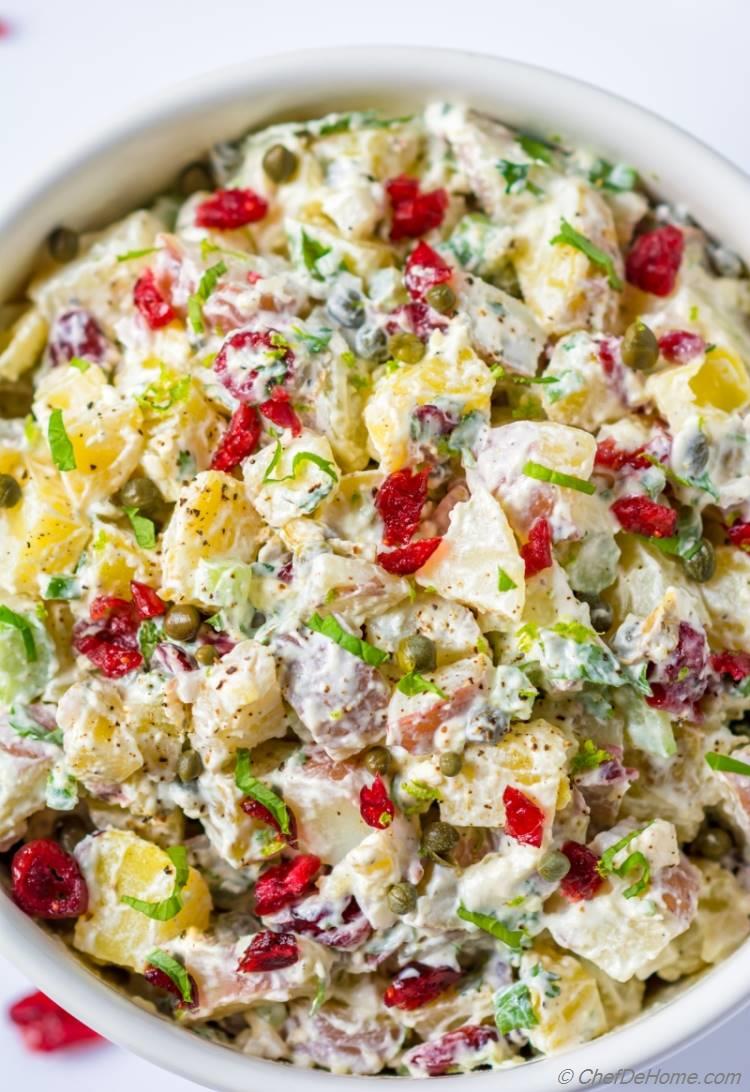 Speaking of holidays. Since we moved to US, a few more holidays made into our lives - Halloween, Thanksgiving being two main ones. If you wondering why Christmes is not in my new-holiday list? Christmas had been part of our holiday celebration since my younger brother was born on 25th December. Growing up, I remember taking him to church every Christmas just as we went to Indian temple to seek blessings of God.
My contribution to thanksgiving and Halloween grew more when I started blogging. However, I have always been thanksgiving-sides-lover than turkey. Somehow a part of me wants to roast a whole turkey but I usually contain my enthusiasm to roasting Cornish hens. Since it is just two of us..  small bird roast makes perfect sense.
That was my turkey story but sides! I'm a huge fan of. Remember when I shared Leftover Sweet Potato Pies last week? That was outcome of my love for sweet potato casserole (THE amazing side in thanksgiving dinner).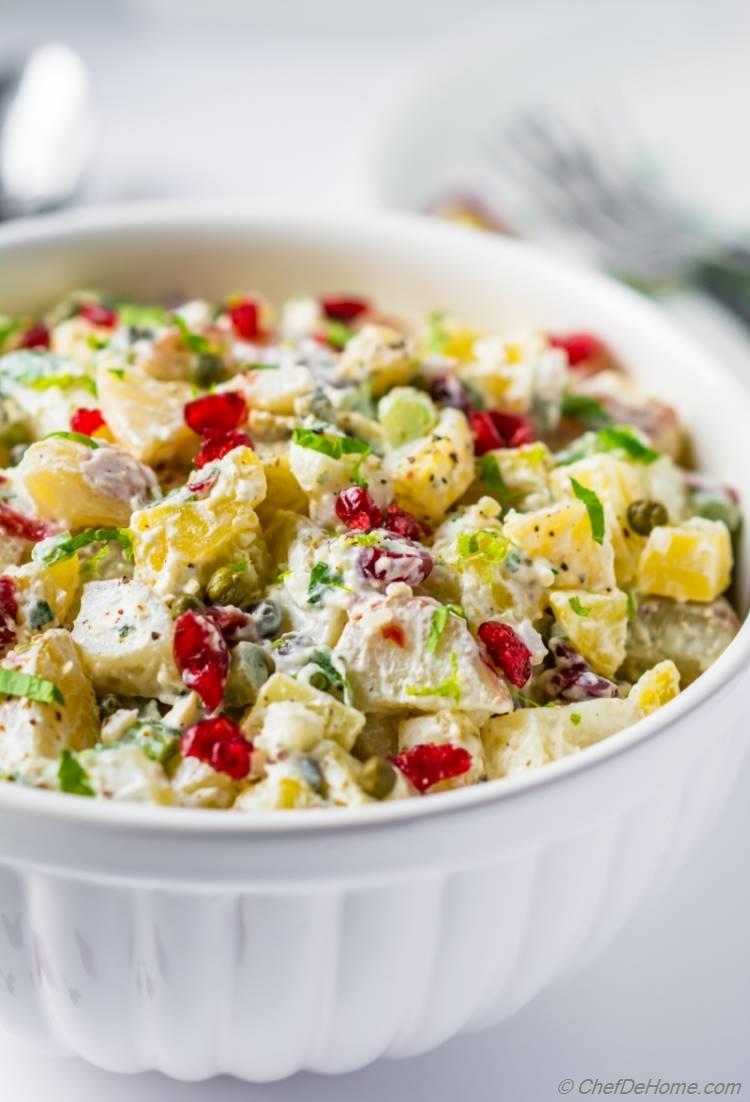 Yet another favorite of mine is thanksgiving salads.. or I should say Potato Salad. It is amazingly delicious and comforting part of TG meal. I first had creamy potato salad in office thanksgiving potluck. I literally went for third serving but not felt very good later. Turned out, that creamy salad had mayo. Mayo contains eggs which does not agree with me.
Since then I'm vary of trying potato salads in potlucks, buffets or restaurants. Instead I love carrying my own no mayo potato salad which is just as creamy as mayo but is egg-less. Often, it vanishes quickly from potlucks than mayo-version.
Actually, I recommend every party or gathering should have one potato salad without mayo. Don't you think?! First, because it is so easy and takes only 5 minutes to assemble. Second, everyone can equally enjoy it. Those who can't eat mayo and everyone else too.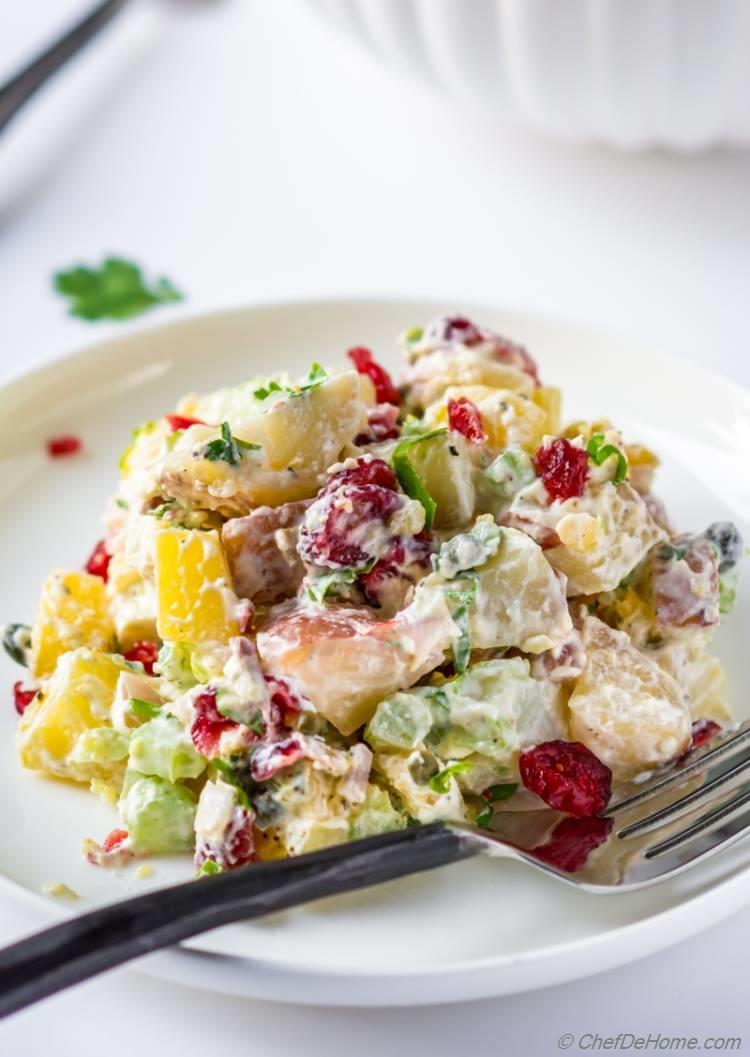 As I said earlier, this potato salad recipe is very very easy!
To make potato salad, I first boil the potatoes. If I'm time pressed.. I pressure cook or microwave the potatoes. Both methods are relatively quicker than boiling. Only caveat is you have to watch to avoid over-cooking potatoes. Over cooked mushy potatoes are no good for salads. If you are unsure, best way is to boil them and check couple of times in last 5 minutes with a knife. If it pierce easily in potato that means potato is cooked through.
I like to use mix of red and golden potatoes for this salads but you can use all red potatoes as well. I peel off golden potatoes just for personal preference and leave red ones with skin-on to give some natural color to the salad. It is important because we eat with our eyes first! And red skin of potatoes pop in cream-based white-ton salad.
Once potatoes are cool enough to handle, I dice them and set aside to further cool down when I prepare rest of the salad ingredients. After giving quick dice to veggies - celery, shallots, and herbs.. I assemble dressing for salad in a big bowl. Later I add all ingredients including diced potatoes in same bowl and toss them gently to coat all potatoes evenly in creamy and tangy dressing.

That's it! You guys, creamy red potato salad is ready to rock!
Honestly, I had a blast this weekend while making lots of food and enjoying the spirits of festivity. I hope you enjoyed too?
Let's get back to regular weekdays! Count down begins for Thanksgiving!
-Savita x
Few more delicious potato sides for your thanksgiving feast:
Creamy Potato Salad without Mayo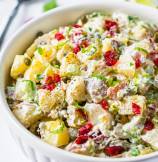 Total Time:
Prep Time:
Cook Time:
Cuisine:
American
(

Side Dish, Salad

)
Difficulty:
Intermediate
Yields:
6 Cups Salad
- Serves:
6
(

No. of serving depends on serving size.

)
Ingredients
Potato Salad
Creamy Potato Salad Dressing (no mayo)
Smart Swap: Replace cranberries with fresh pomegrante seeds.
Directions
1.

Prepare veggies - Boil potatoes in water until potatoes are knife tender. Once cooked, dice boiled potato into bite-size pieces. Also, small dice celery, shallot, jalapeno (if using). Chop herbs and set aside.

2.

In a wide bowl, add sour cream and cream cheese and whisk to combine until smooth. Add remaining dressing ingredients with generous 2-3 pinch of black pepper and salt. Top with diced celery, onion, herbs, capers, cranberry, and potatoes.

Additional Notes:

For best results, let potatoes cool down before mixing into dressing.

3.

Toss potatoes in dressing until dressing fully coats the potatoes. Taste and adjust salt/lemon juice. Transfer to a serving bowl. Garnish with more fresh herbs, cranberries, and black pepper (to taste). Serve and Enjoy!
Savita's Notes:
Sweetness of cranberries and crunch of celery are two of my favorite components in this salad. If you don't like cranberries you can use pom seeds. But I highly recommend using one of the two.
DID YOU MAKE THIS RECIPE?
Tag
@SAVITACHEFDEHOME
on Instagram and hashtag it
#SAVITACHEFDEHOME
© Chef De Home. Post content including video and photos are copyright protected.
We Think You'll Love