Egg Curry Tikka Masala
A meatless Monday dinner with flavorful spiced marinated boiled eggs in creamy Tikka Masala Sauce. I call it - Egg Curry Tikka Masala
Posted On:

Apr, 16
| Author:

Savita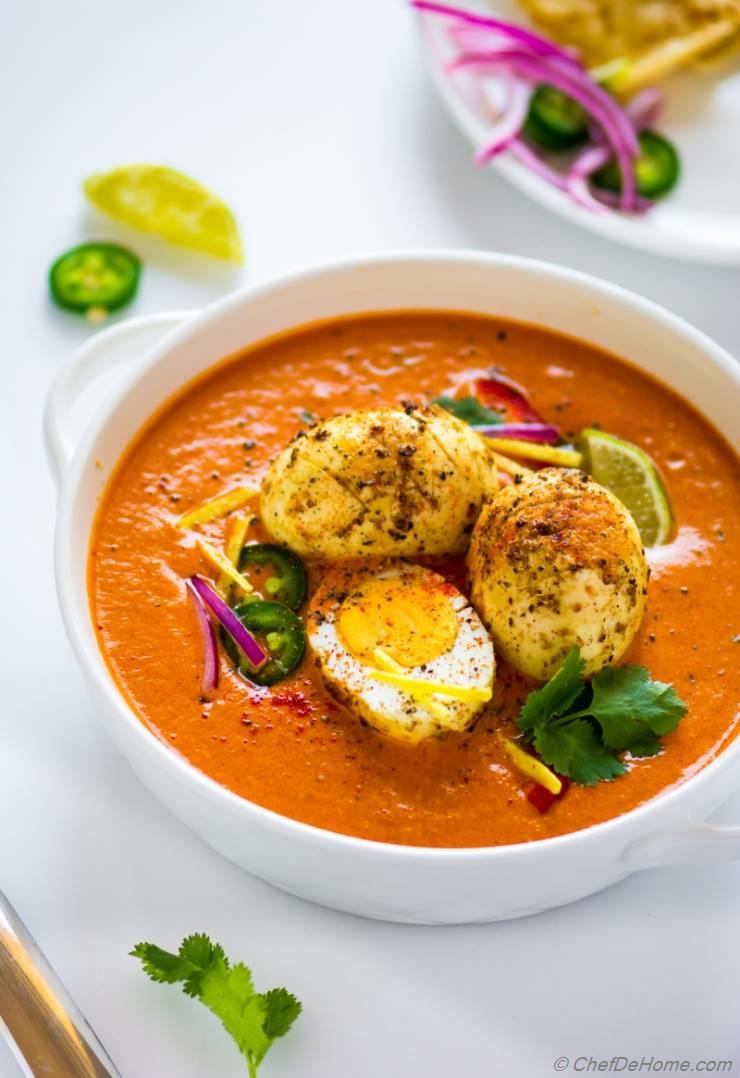 Egg Tikka Masala or Egg Curry Tikka Masala - A spicy meets savoury Indian curried egg main course with everyone's favorite silky, creamy tikka masala gravy! No chicken or paneer, let's try something different for dinner! 
Is tikka masala only limited to chicken or paneer? Not really! In my kitchen, I use tikka masala sauce a lot more way than you would imagine. Truth is, tikka masala is a delicious base sauce which will compliment any protein. Especially when I forget to thaw chicken, I marinate eggs and cook just as chicken tikka for a flavorful Egg Tikka Masala. 
(marinated curried eggs? Oh, yes! more on this ahead)
So, this recipe is for all my friends who love Tikka Masala... and love egg curry!! You know the best part?! Since eggs, quintessential breakfast staple, are often in refrigerator.. it saves me a grocery trip and I still can enjoy egg tikka masala for dinner.
Oh, if you have some leftover Easter deviled eggs? Use them for this recipe and turn leftovers to a meatless Monday dinner!
Sounds good? Let's get cooking Egg Curry Tikka Masala!!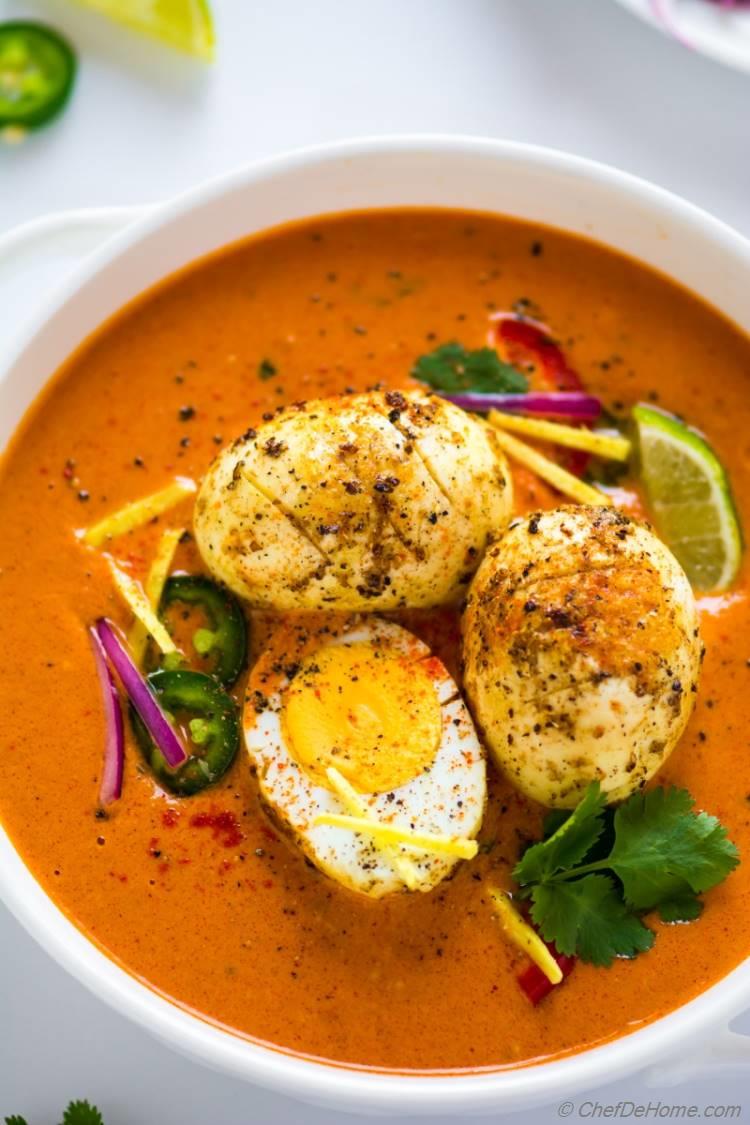 There are three components of any good Tikka Masala dinner!
Curried Eggs a.k.a Chicken Tikka (Spice coated and roasted Tandoori Chicken pieces)
In this recipe fried eggs took place of chicken making it Egg Tikkas. There is funny story behind why these fried eggs made base for my Chicken Tikka style egg tikka masala recipe.
After marriage, when I started making egg curry for Vishal. He will often ask me to pan-fry boiled eggs and I will always say - Why would I have to fry boiled eggs. Eat as-is ;)
Poor guy ate every time but one day, he said : I will make egg curry dinner.
Since he will always take four times the time I take to cook...I said, let me finish everything but egg curry.
He pan-fried the eggs before adding to curry. He took longer than I took to finish whole meal but that was okay... because that day, dinner was very delicious. One because I worked less :) Second because of fried eggs! (this is our secret, don't you ever let it out. ;))
Since then I became fried-curried-egg-curry-fan! This simple step makes eggs so delicious and flavorful that I always find opportunity to season and fry eggs. Andhra Egg (Anda) Curry, Pasta with Fried Eggs are two of my favorite recipes so far. This egg masala, is third.
For this recipe, I scored (made shallow cuts) the boiled eggs, marinated them in tikka-masala style spices, lemon and garlic masala. Then, pan fried to seal in the same tikka flavor in eggs. It will even be more delicious if eggs are sliced in half or quartered. I fried those whole for better pictures.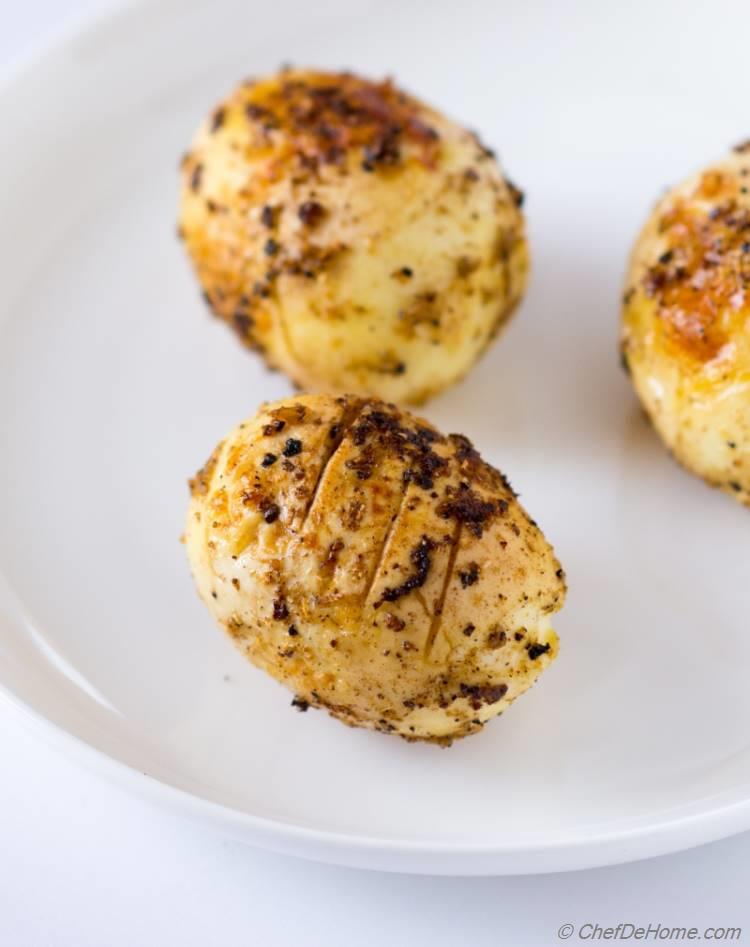 Tikka Masala Sauce: Chicken/Paneer/egg tikka and tikka masala are made for each other. Tikka masala is very simple yet flavor-packed tomato-based sauce. I hate it when some restaurants try to over-think it with lots of oil, and sugar. Few weeks ago, we ordered tikka masala from a local Indian restaurant.. I was so disappointed to see sauce swimming in red oil and tasted like sugary-tomato-jam. I feel bad for everyone who will eat that sauce and think that's what Tikka masala is. :(
Friends, it is very easy to check a good Tikka Masala Sauce. The real sauce will have a deep orange-red hue, just a little shine of oil (no oil swimming pool), silky and smooth consistency due to touch of cream, very subtle sweetness, and flavor of spices coming through in every bite. If it is anything else than this.. It is not a Tikka Masala sauce! Best is to make some at home. In this recipe, I have added some cashew paste for richness. 
Tikka masala is so simple, I even have a 5 ingredient shortcut Tikka Masala Sauce recipe to make it with limited Indian pantry.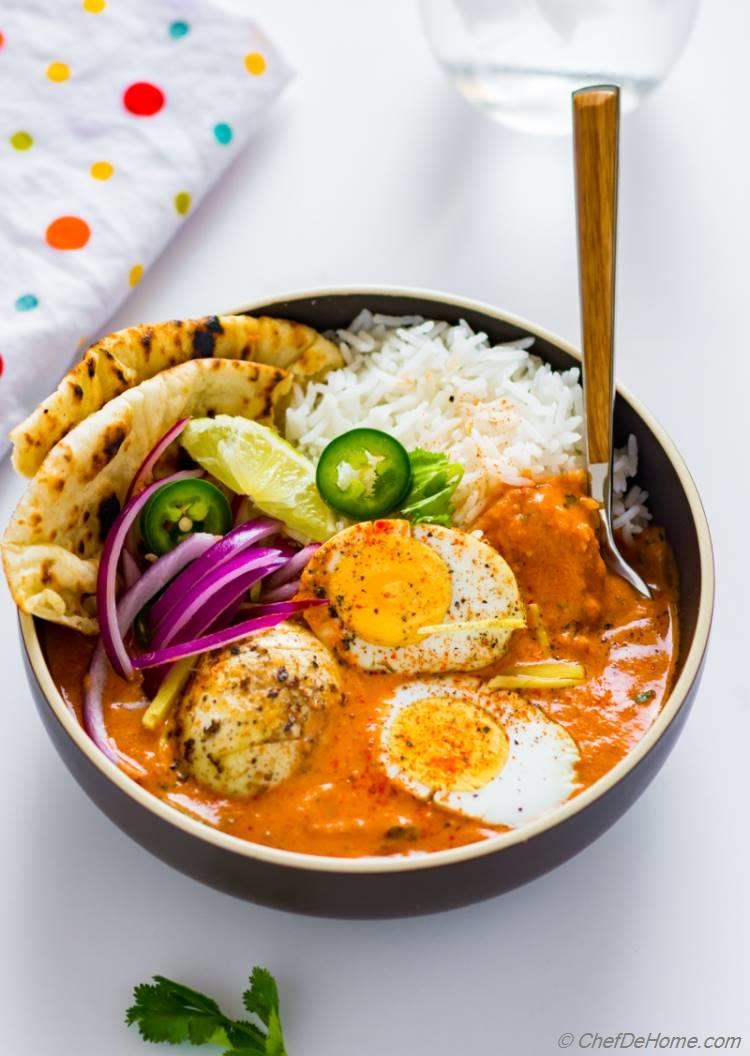 Naans or Chapati: You did not see this coming? Did you? Honestly, tikka masala or egg curry... For that matter, any curry dinner is in-complete without side of a rustic Indian style bread such as naan or chapati (wheat flat bread). I mean seriously! There is something extra delicious about scooping gravy with flat bread! Specially this egg curry is meant for chapathi! So make some at home or buy some to serve on the side!
If you wondering to try some more Indian Egg Recipes or just want to learn, how to make egg curry? I have few delicious recipes to explore:
1) Classic Egg Curry
2) Kohlapuri Egg Curry
3) Spicy Andhra Style Egg Curry
4) Scotch Eggs (Nargasi Kofta)
5) Omelete Masala Egg Curry

Make some curry, make some naan, enjoy a delicious homemade dinner tonight! I recommend saving some tikka masala sauce.. then make some Tikka Masala Pasta in just 10-12 minutes for one of the weekday dinner!
Wish you a wonderful day ahead!
-Savita
Some rice side ideas to serve with Egg Curry: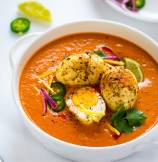 Total Time:
Prep Time:
Cook Time:
Cuisine:
Indian
(

Curry, Main Course

)
Difficulty:
Easy
Yields:
2-3 Servings
- Serves:
3
(

No. of servings depends on serving size.

)
Ingredients
Marinated Curried Fried Eggs
Tikka Masala Sauce
Directions
1.

Score (put thin shallow cuts) boiled and peeled eggs. Mix all the egg masala in a small bowl and rub on eggs. Leave aside to marinate.

2.

Heat 2 tbsp oil in a wide, heavy bottom sauce pan. Add marinated whole eggs and let them fry (don't move too much) until crispy and brown from all sides. Remove in a plate.

3.

Whip clean the pan, add 1 tbsp fresh oil. Add garam masala, sugar and cashew paste, cook for 1 minute stirring often.

4.

Add tomato puree mixed with 1 cup of water, and salt. Mix well. Bring to boil, cover and cook for 20 minutes at medium heat or until sauce has reduced at bit and thickened.

5.

Now add chili powder, and heavy cream. Mix well and simmer until sauce thickens. Taste and adjust salt and chili. Add eggs, sliced in half or whole, cook 2-3 minutes until eggs are heated through. Add chopped cilantro. Finish with butter (if using). Serve and enjoy!
Savita's Notes:
**If you can't find cashew paste. Soak 8-10 cashews in hot water for 10 minutes. After 10 minutes, discard water and pulse cashews in food processor to make a paste.
DID YOU MAKE THIS RECIPE?
Tag
@SAVITACHEFDEHOME
on Instagram and hashtag it
#SAVITACHEFDEHOME
© Chef De Home. Post content including video and photos are copyright protected.
We Think You'll Love